On Sunday, July 17, 2011, Sean Hogan of Cistus Nursery, Portland, Oregon, gave a talk at Flora Grubb Gardens in San Francisco, California, entitled "The Art of the Rosette." I've visited Cistus Nursery twice, so I know first-hand that it's every inch a horticultural destination, in the same league as such legendary West Coast nurseries past as Heronswood and Western Hills. To have Sean Hogan so frustratingly close, a mere 300 miles away, proselytizing about succulents and agaves, one of my favorite subjects, was maddening. Over the last couple weeks I wheedled, cajoled, and outright begged MB Maher, also in San Francisco, to attend the lecture, maybe take a few notes and grab a couple photos. Which, despite a busy weekend schedule, he kindly did.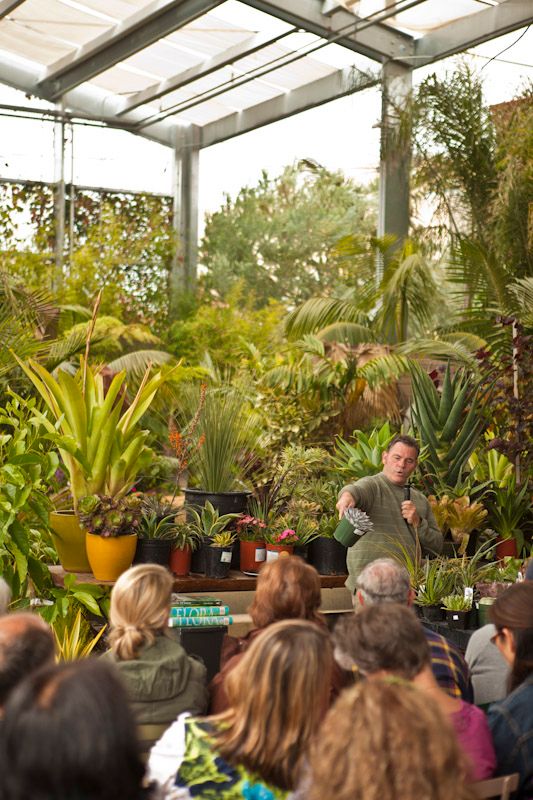 Sean organized the talk around some fabulous rosettes:
Bromeliads, aloes, manfredas, eucomis, yuccas, and some of the smaller agaves.
Bromeliads discussed were terrestrial, such as puyas, and it was while on the subject of puyas that Sean acknowledged the masochism required to grow these spiny plants, even speculating they may have carnivore tendencies, since small rodents have been known to become impaled and trapped on their thorns. Hechtia texensis, a hardier terrestrial bromeliad similar to a dyckia from Texas/Mexico, was also given special mention.
I'm linking to photos from that excellent resource, the Plantlust site, which lists many of the Cistus plants discussed, such as Tradescantia sillamontana from the limestone mountains of Northern Mexico, where its cobwebby leaves mimic and disappear against the limestone formations. An admitted "opuntia freak," Sean singled out for discussion Opuntia fragilis, native to a range stretching from Arizona up to Oregon and beyond, to the Peace River in Northern Alberta, Canada, as it happens also the former range of the North American buffalo, who unwittingly propagated this shy-flowering opuntia through pads hitching a ride in the beast's shaggy coat. (I hope I'm keeping the notes straight on that anecdote. Perhaps a bit of MB Maher's poetic license strayed in?)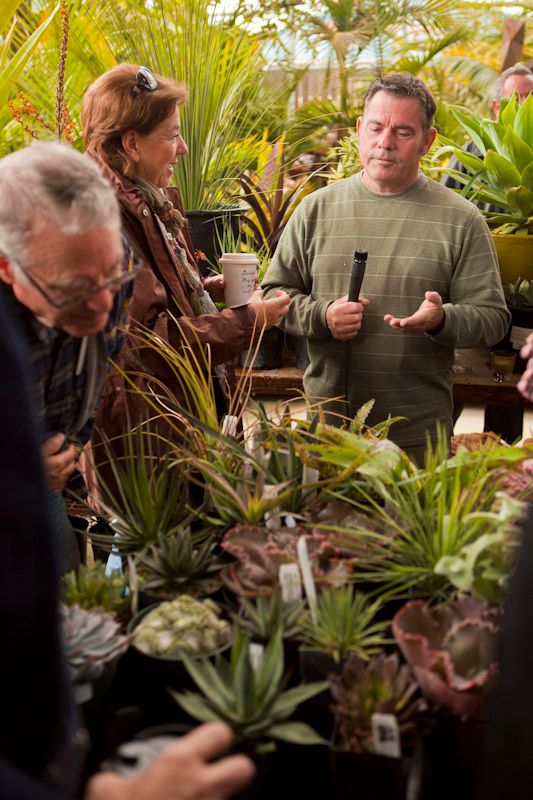 The diminutive aloe hybrid 'Brass Hat' was singled out as particularly fine for container culture. Also cited for fabulous rosettes were the manfredas and their complicated hybrid spawn like 'Spot' and Mangave undulata 'Chocolate Chips.' Below is my photo of my Mangave 'Bloodspot.' Such wonderful studies in rosette architecture.
Eucomis, the pineapple lily, are to be appreciated for their tolerance of poor drainage. Their fast-growing, strappy leaves and dramatic summer flowers can enliven relatively static succulent plantings. I agree that they're fabulous summer bulbs, in the ground or in containers. Sean feels yuccas are underused, underappreciated, and includes Yucca rostrata 'Sapphire Skies' in his top ten list of favorite plants, a spherical beauty hardy to zone 7 with almost a grassy texture. Also mentioned were Yucca nana, named just 12 years ago, from western Utah, hardy to zone 5, planted to good effect rising up out of iceplants and echeverias, as well as Yucca angustissima 'Southside.' A green roof project in Portland, Oregon included in its design 300 Yucca rostrata to add summer interest and structure, since vernal plants also used were summer-dormant. One-half inch of water three times during summer is all it takes to keep the yucca flourishing.
As far as agaves, there are lots of size options, since a vigorous agave poorly sited is a terrifying thing. The americanas can grow larger than a VW bug. Sean showcased some of the choice, smaller agaves, such as Agave schidigera 'Black Widow' and 'Shira ito no Ohi.'
Below is my photo of another schidigera selection I've had at home a couple years, 'Durango Delight,' about 4 inches high. (Edited to correct ID. This is indeed 'Black Widow.')
He did stress, however, to include varying sizes and heights of agaves in the landscape, and not to be afraid of including the occasional large specimen. Sean also emphasized that succulents are like goldfish, in that they will adapt to the size of their container, staying small when confined.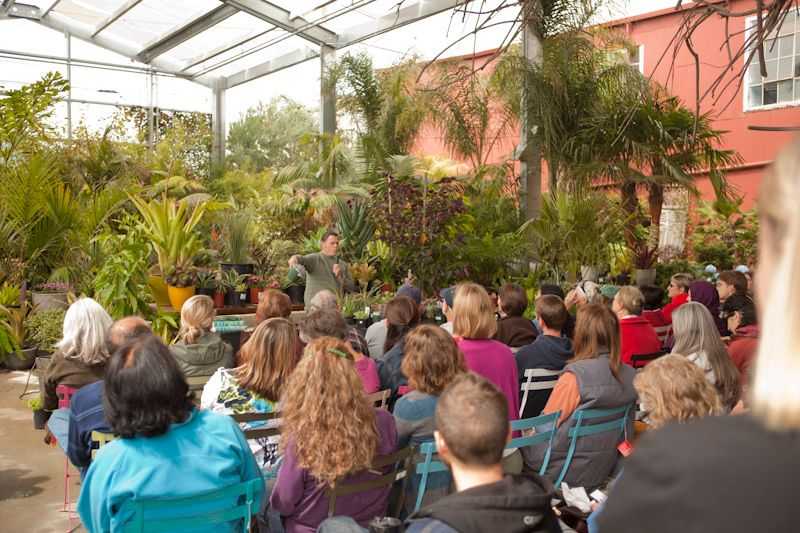 Apart from being unable to bring home an Agave funkiana 'Fatal Attraction,' I almost feel like I was there.
Huge thanks to MB Maher, for covering this wonderful lecture by Sean Hogan and to Flora Grubb Gardens for hosting such an exciting horticultural event.