Studying taxonomic classification and "keying" out the physical characteristics of plants almost 18 years ago was incredibly absorbing, but the detailed vocabulary has mostly slipped from memory from disuse. Still, it's a rare occasion that I look at a salvia without noting their square stems and opposite leaves. Salvia madrensis must have the squarest stems of any salvia I've ever grown. First year I've grown this salvia, whose yellow flowers are budding up as the days slowly, almost imperceptibly shorten.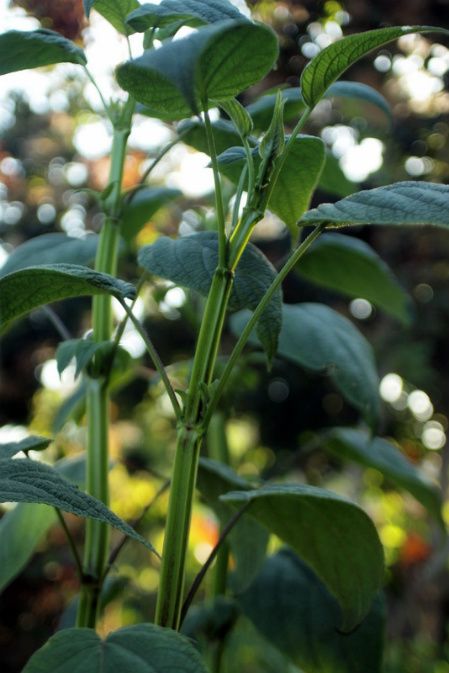 We've all heard the expression "plant porn" used frequently. But vegetable porn? I thought the fruit of Trombetta di Albenga, the climbing Italian summer squash, would curve and loop in interesting shapes. I was hoping to have several gourds dangling, but so far the vine seems to be putting its energies into this one rather assertively elongated gourd. A mesmerizing 3 feet in length, we're wondering how many more feet it can possibly grow. I've read it has a faintly artichoke-like flavor, which has to be one of the most wondrous flavors to spring out of the earth, but it's becoming almost impossible to consider this bizarre curiosity as food.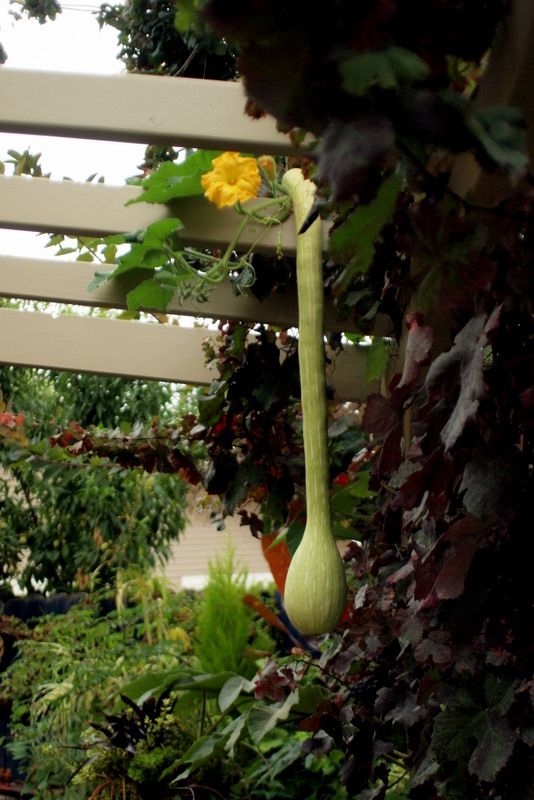 Another salvia, 'Wendy's Wish,' with square stems not nearly as prominent as S. madrensis, is blooming strong again as fall approaches.
Both the salvia and Musa sumatrana share strong appetites for compost and deep mulches, so have forged quite the partnership.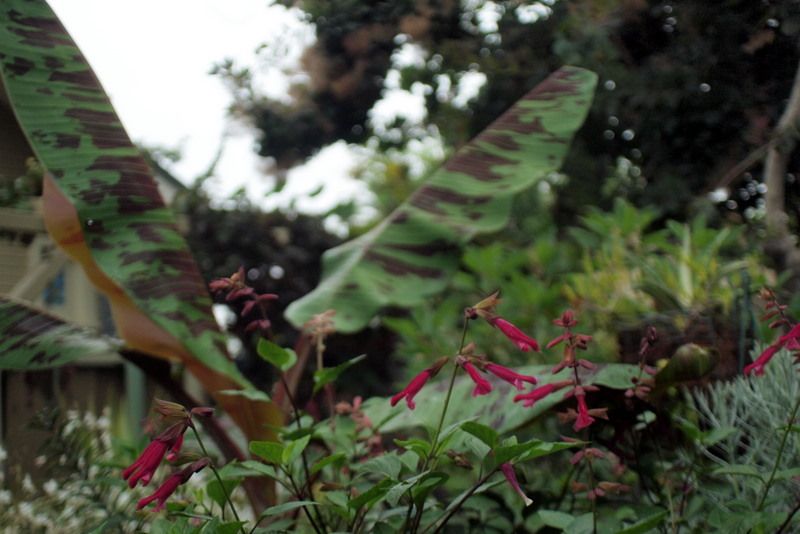 From botanical curiosities to the avian kind. I never see roosting spectacles such as this at home. In fact, I got so excited at this twilight massing of birds that this became the final image with my old lens. I dropped the camera on the cement bathroom floor of a rest stop on Highway 5. The body of the camera miraculously survived. I'm waiting for a new lens to arrive and have borrowed a 24 mm in the interim. Boy, had I bonded with that 50 mm.