A rare sight in Southern California. There's a garden on a bluff near a popular dog walking spot that has big, established clumps of this anemone blooming in fall, along with giant stands of Romneya coulteri, the Matilija poppy, in spring and summer. I'm sure there's got to be other plantings of this anemone around town, but no others come to mind at the moment.
These are photos MB Maher took of this great fall-blooming plant in Battery Park in New York City last September, a planting designed by Piet Oudolf.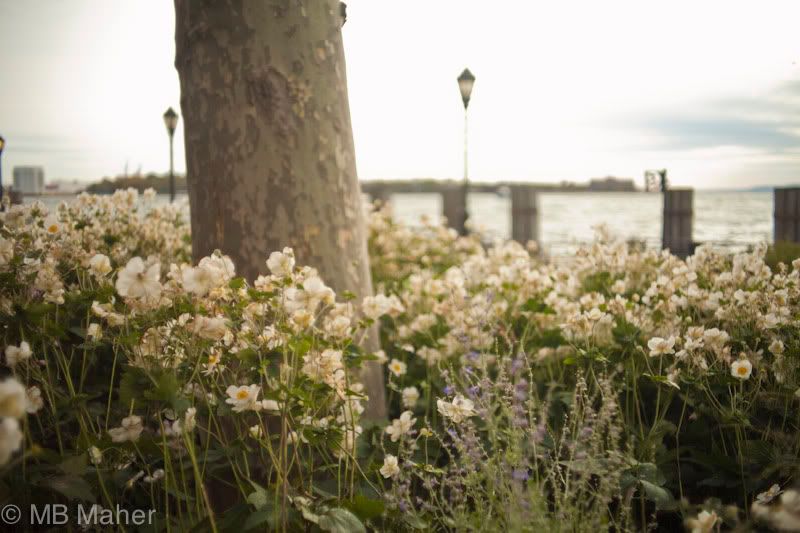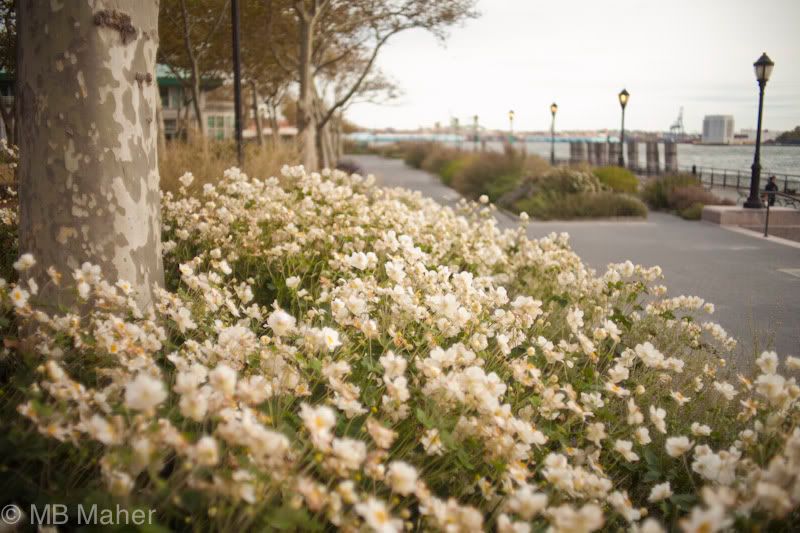 Yesterday I was working in Beverly Hills, a city with an impossible parking situation. I scribbled myself notes to feed the meter every two hours and did manage to avoid a parking ticket. On the third and last trip to feed six quarters into the meter, a short walk further down the street to stretch the legs brought me up against the front garden of a house planted with seemingly nothing but huge, overgrown, woody roses and enormous clumps of Japanese anemones in bloom, both pink and white. Stopped me in my tracks.
Single white anemones, my favorite, in Battery Park, NYC, September 2010.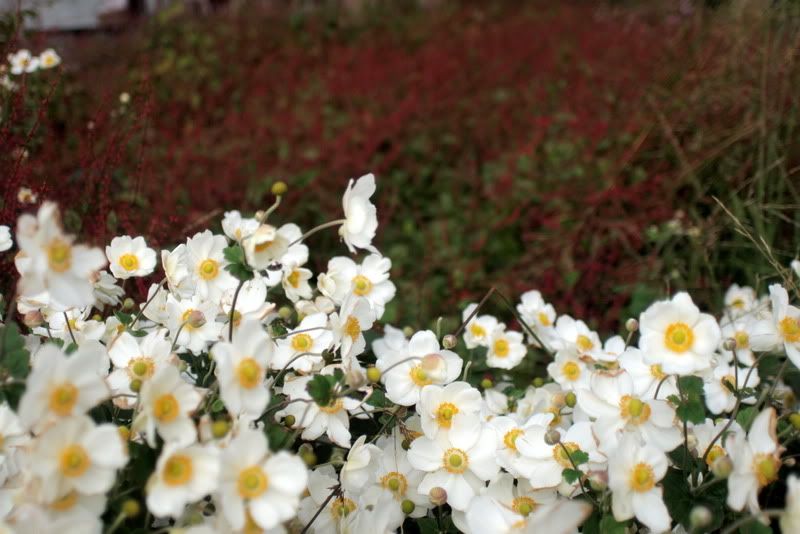 There was a friendly dog in a wicker bed leashed to the front gate, and we silently flirted, which amounts to me making Harpo Marx faces, him wagging his tail. A woman in the distance looked to be tying a vine up to the front of the house, her back to me. After a few moments I heard myself blurting out, "I love your Japanese anemones!" And then instantly cringed. What would she make of such hooliganism? But she whipped around before I had time to flee the scene, and without hesitation rushed over, unleashing the dog so we could cement our budding friendship, and then she and I chatted anemones like old friends.
No wonder there's so many garden blogs — we're all starved for plant talk. She said she was astonished that I knew the daisy's name, that no one else had shouted "I love your Japanese anemones!" from the sidewalk before, impossible as that seems to believe. I asked her opinion of why they're rarely seen locally. She was inclined to attribute their rarity to the difficulty in getting them established. (That's certainly true, but what's also true is that there's very little actual gardening going on in Southern California. One-time landscaping then ongoing maintenance of it, yes; gardening, no.) And then pointing to the pink-blooming ones in her parkway, she observed that, once established, they're impossible to eradicate. The parkway anemones were flourishing in some fairly mean and dry conditions. I told her I've yet to have success getting any established. She pointed to the pink blooms and asked, "Do you like that color?" I really prefer the white, but nodded yes, whereupon she nipped back to the porch, returning with roots wrapped in paper and handed them to me. At that point, I wanted to hug this woman and her little dog and spend the rest of the afternoon helping tie up vines, but I had to get back to work, so left the house of anemones and roses, stopping to deposit the package in the car. A rather nice unintended consequence of the lousy parking situation in Beverly Hills.