Now that it's October, the grapevine wreath I hung on the fence mid-summer doesn't seem half as silly.
The pink flowers are from a nearby Asarina scandens, which has been galloping over the fence.
The wreath is one I made for a Christmas past from the grapevine on the pergola.
In combining the two, asarina and grapevine wreath, I had vague ideas of encouraging a living wreath. And so it is.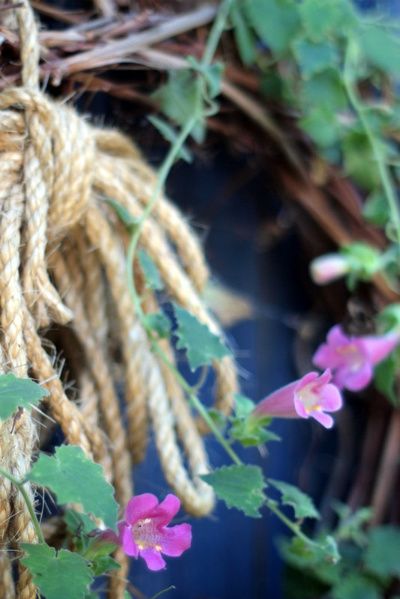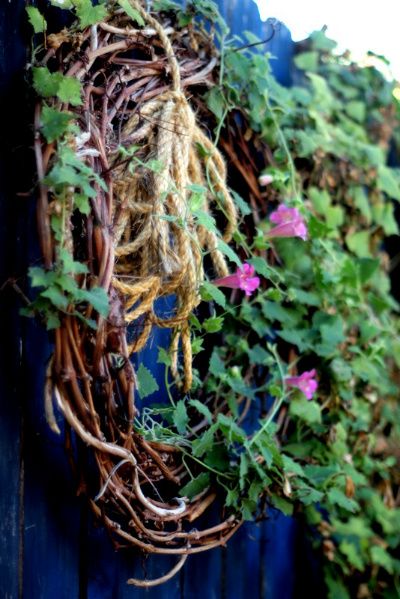 The asarina is grown as an annual elsewhere, but can be (and has been) perennial here.
It has an amazingly loopy and arabesque-making habit of growth, creating natural swags.
Never one to have much pink in the garden or get heavily into seasonal/holiday decorating, this is definitely a passing fancy.
The asarina also comes in purple and white forms, either of which I'd prefer to this pink asarina.
The asarina has become a short-timer now that it's starting to crowd the Monterey cypress.
The three Cupressus macrocarpa 'Citriodora' are now past fence height and ready to take over responsibilities as a privacy screen next year.
Summer foolishness turns into a ripening display of the changing seasons. Proving again that context is everything.