By the first week of December, any activity that's not directly holiday related can seem a bit, well, selfish. But it's also the time when the bulbs that have been prechilling in a crisper drawer in the fridge since September, which require at least six to eight weeks of this treatment to flower here in zone 10, need potting up. Most of the bulbs were mail-ordered mid-summer for fall delivery, with a few kinds picked up locally. One year for the holidays I gave away vases and jars of forced paperwhites, which imposed a lofty purpose on the winter bulb operations. This year no bulbs were given for gifts. All for me. And that was really what the shelving ruckus was about. I knew there'd be lots more pots on the ground, about eleven more, and room needed to be made. These are by no means all the pots.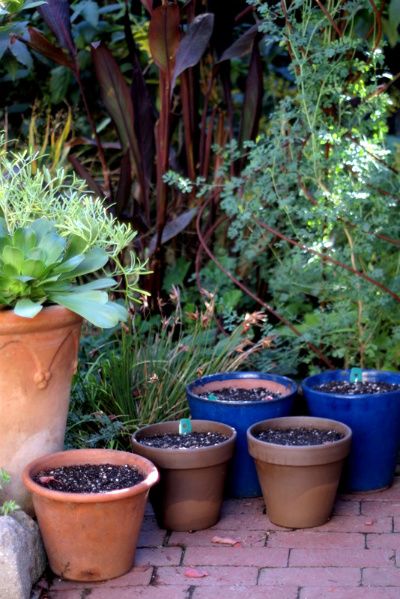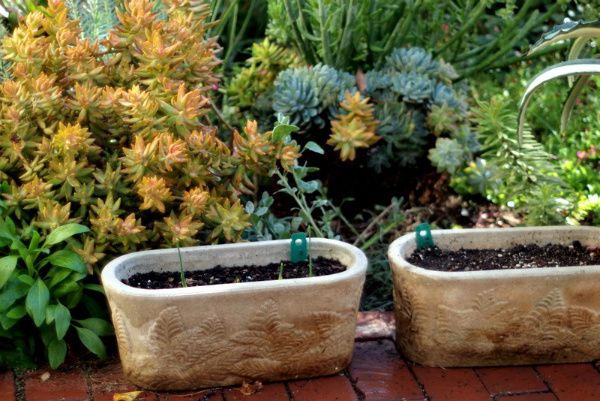 Buying potting soil at a local nursery, I just happened to bump into Echeveria imbricata, possibly one of the most dizzyingly geometric of all echeverias. I've always wanted to build up a big supply of this echeveria's offsets to let it spool out into a ground-hugging carpet of those intricate, clockwork rosettes but never seem to run into it for sale. That urn's been kicking around for years, holding everything from plant labels to tools, and even though it has a proper drainage hole, until today it's never been planted.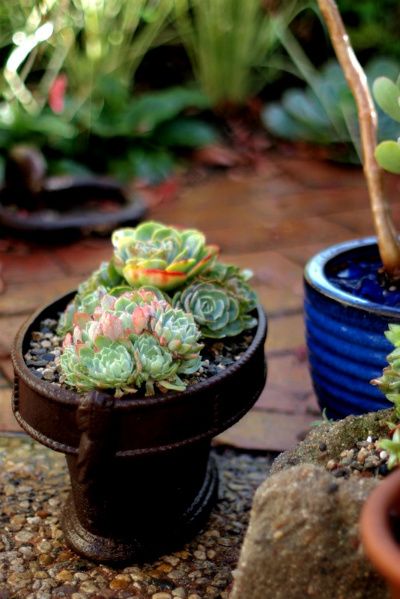 At the opposite end of the urn is another echeveria I picked up the same day, E. secunda, also a hens-and-chicks type, which except for smaller and tighter rosettes seems almost identical to E. imbricata. One of the benefits of going to nurseries a lot is knowing when something out of the ordinary comes your way, like E. secunda. A plant can be common as dirt elsewhere but rarely seen in your own neighborhood. (Plant Purchase Rationalization No. 42.)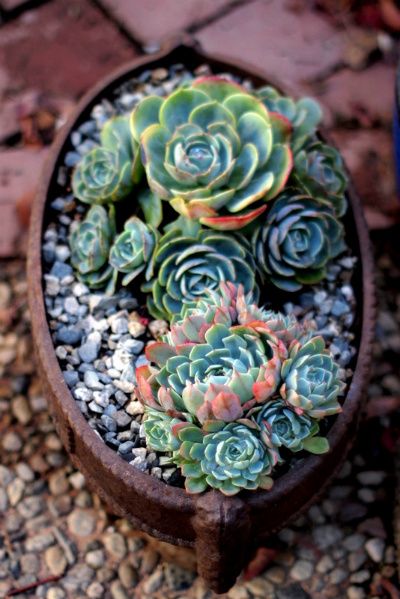 Selfishness aside, I think we can still bring this around to the holidays. Imagine a gift of Echeveria imbricata brimming over the undulating rim of the Poppy Pot from Potted's Campo de Fiori line of mossed terracotta planters. (And in case any of my family is reading this, the Poppy Pot goes at the top of my list too.)
Some years it can be so difficult to transition into the gift-giving season. Thank goodness there's a few more weeks left to practice.