The Los Angeles Times ran this piece in their Pro Portfolio section on Monday, December 26, and it really deserves another look. The article profiles the home garden of Katherine Spitz, of Katherine Spitz Associates, Inc., Landscape Architecture.
The Pro Portfolio format allows for the designer to describe their project, in this case, her home garden, in their own words. This little snippet reveals what may be a timeless conflict:
"Our biggest issue was the lawn. I wanted less and my husband wanted more. It has been incrementally reduced but remains an issue. Concrete pavers replaced lawn around the circular fountain in front of the follies."
Here's the "before" photo, with lawn still in place: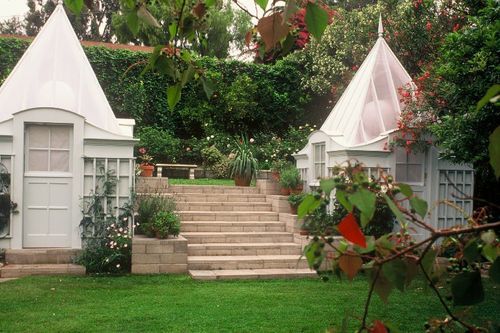 I showed Marty both photos and asked for his honest preference, then about fell out of my chair on hearing his answer.
He prefers the photo with the lawn. Even though the luminous top photo looks like it was lit by Terrence Malick, with the windows of the twin follies gleaming gold behind the balletic arch of the fountain jets over the reflecting pool — he prefers the lawn. There is clearly an emotional attachment to well-mown turf grass that eludes me. As more frequent droughts and water scarcity necessitate increasingly smaller (or entirely absent) lawns, will it be men who mourn the loss the most?
Feel free to try this test at home.

Checking my choice for a title, I find via Google that it's been used a mere 1,800,000 times. The Internet is certainly one of the most effective means to disabuse one's self of any pretense of originality. Still, the title stays. I'm referring to lawn mowers, of course.