I'm referring to a club in the informal sense, with really only one criterion for membership. And that is to push on past the inevitable early disappointments associated with growing clematis until one is found that will bloom in your garden. Because, let's face it, apart from the challenges zone 10 offers, the clematis is a flowering vine with a fearsome reputation everywhere for doing unnerving things like wilting in full bloom overnight. With such a temperamental reputation, clematis weave in and out of fashion but will always have a rabid corps of enthusiasts.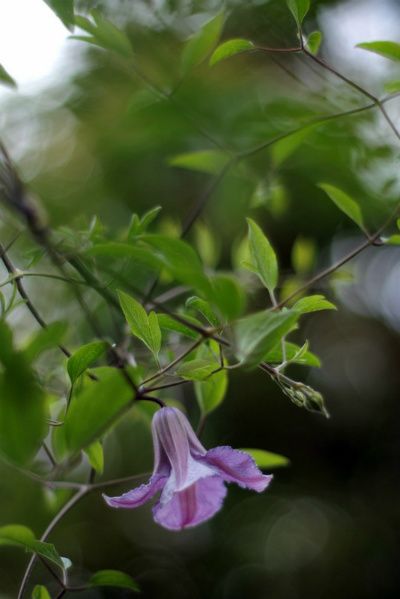 A clematis in bloom is a rare sight in zone 10 Southern California. The jackmanii hybrids are faithfully offered for sale at local nurseries, but bringing one of these home is a surefire way to propagate the myth that clematis just will not grow in zone 10. The smaller-flowered viticellas are much more suitable here. Clematis have roughly the same needs as roses as far as nutrients and water consumption, and I've been leading the garden in a leaner direction, so it's been a long time since I've had a clematis in bloom. In the past I've always kept to the easier viticella varieties like the stalwart 'Madame Julie Correvon,' which are much less finicky about growing conditions than the jackmanii hybrids, but I really do prefer the subtle beauty of the viticellas and species clematis in any case. Among the viticellas, 'Betty Corning' has a reputation as being one of the easiest and most vigorous. Stunning too.
Care for Clematis viticella varieties involves pruning back to a couple strong buds in January/February leaving about 12-18 inches of vine. Rather than planted directly in my clayey garden soil, 'Betty Corning' is growing in a tall, terracotta pot placed directly on the soil adjacent to a climbing rose, which also acts as its trellis, the pot filled with fluffy, nicely aerated potting soil and lots of compost. Growing the clematis in a pot also has the advantage of keeping me focused on a regular watering schedule, like I would any summer container, with the benefit that water runoff goes back into the garden soil, and the clematis roots can wander through the drainage hole to find a deeper root run as the vine matures. I've been situating summer containers of tropicals this way, too, directly on garden soil, so there's no water runoff waste. As with most clematis, it takes at least three years for them to make the leap from cranky malingerer to one of the most elegant flowering vines one can grow. I bought Betty in 2008 when the late, lamented Chalk Hill Clematis had a going-out-of-business sale.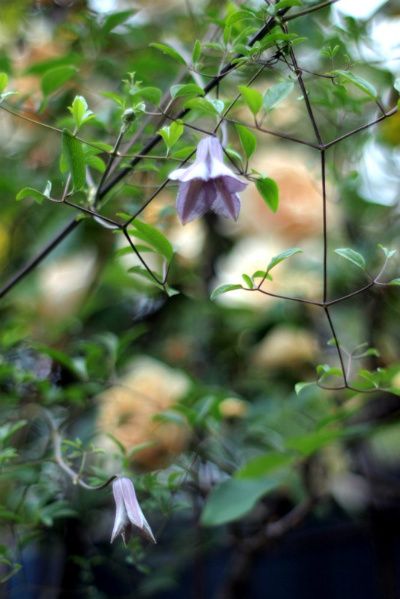 Joy Creek Nursery
has a wonderful clematis list, including lots of interesting species, and they currently carry stock of 'Betty Corning' as well as many other viticella varieties.