The tulips are planted, and now the vegetable bin in the fridge is once again restored to its rightful purpose of chilling vegetables. I went beyond the required six weeks of prechilling this year, but overchilling is not the problem that underchilling is. I think this year is a new record, 12 pots in total, not all of them in this photo.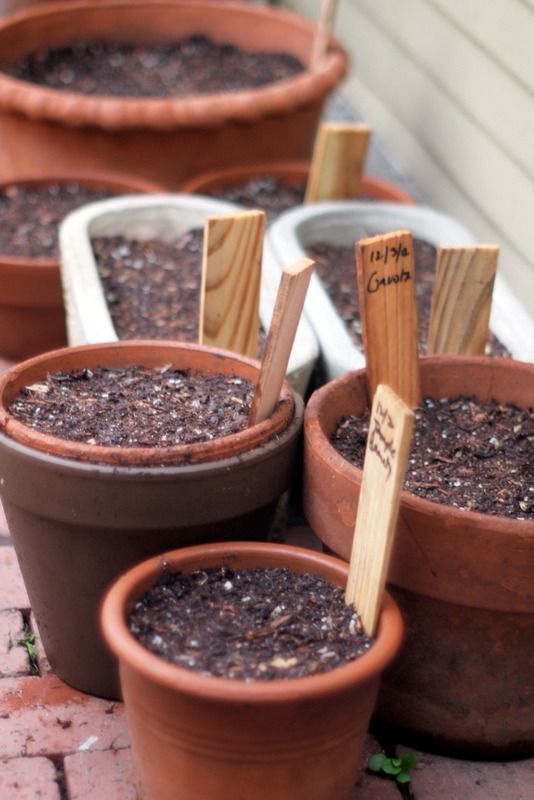 Waiting for the tulips to bloom, I'm noticing how the silver-leaved plants really stand out in December when so much of the garden is a subdued brown. I've been binging on them again, especially since there's so many new ones available to try, like the sideritis from the Canary Islands.
I'm getting these from Annie's Annuals & Perennials when available.
I think this one with the larger leaf is Sideritis oroteneriffae.
Judging from its blooms over the summer, I think this is Sideritis syriaca.
Glaucium is another one whose rich, silvery leaves are so appreciated this time of year.
You can bank on silver-leaved plants being tough as well as beautiful, insisting on minimal irrigation.
I was glad to find Senecio viravira again at a plant sale last spring. I grew it in the garden for years, renewing it when needed from cuttings, then became exasperated with having to continually trim it back. It is easily capable of covering 5 feet of ground in no time. It wasn't long before I missed growing it; of course, then I couldn't find it anywhere. Such a good plant for containers too. Incredibly easy from cuttings.
A silver new to me, found just today, Othonna cheirifolia, a South African succulent from Native Sons.
I've been reading about this one for years, but sometimes in print they sound too good to be true and just have to be seen in the leaf to be believed.
In person, this little one doesn't disappoint.
Far Reaches Farm lists it to zone 7a and say they grow it outdoors unprotected:
"A favorite of ours from South Africa. We have this growing in front of our greenhouse and the first winter we mulched it and covered with a tarp. No damage. The second winter we just threw a tarp over it and no damage. Then finally we didn't protect it at all and there was no damage at 17F – even the flower buds were unscathed. Yellow daisy flowers are lovely over the glaucous succulent foliage."
Gertrude Jekyll admired it as well, quoted from my beat-up "Gertrude Jekyll on Gardening":
"A striking and handsome plant in the upper part of the rockery is Othonna cheirifolia; its aspect is unusual and interestig, with its bunches of thick, blunt-edged leaves of blue-grey colouring and large yellow daisy flowers."
It's possible to overdo silver, I suppose, but it always arrives on the most tempting leaves, like puya.
Silver sliding into blue in the attenuata hybrid Agave 'Blue Flame.' Sometimes the plant namers really nail it.
Backlit by Libertia peregrinans.
Speaking of agaves, Lincoln Avenue Nursery in Pasadena has a 20 percent sale ongoing, and their range of succulents is very good, including
4-inch pots of the spiral aloe, Aloe polyphylla. Best to try this heartbreaker in a small, inexpensive size.
They even had gallons of one of my big agave crushes, Agave parrasana 'Fireball,' which I've never seen offered for sale outside of plant shows.
As well as another agave crush, Agave lophantha 'Quadricolor.'
I'll have to separate these two soon ("He's touching me!!")
Some of the stock at Lincoln Avenue Nursery.
I was tempted by some variegated Euphorbia ammak in small sizes, but not small enough to drive home with me.
And I suppose by now all the plant geeks have heard the sad news that the source for extraordinary agastaches and all things xeric, High Country Gardens, has closed. The wonderful blog prairie break has more on HCG's closure.