I admit I'm a vulgarian, if there was any doubt left. By February I'm starved for brash and garish, even though it violates the subtle order of nature that has spring unfolding with a delicacy that builds by degrees to a late summer, over-the-top crescendo. I go straight to over-the-top, and containers of gaudy tulips are the perfect vehicle for strong, fleeting boosts of color. I wouldn't want masses of them, but a few in a pot are visual antidepressants on long stems, my go-to designer drug for jumpstarting spring. The species don't like the chill-free winter here anyway, so that preempts any debate about the quiet beauty of species tulips versus the gypsy caravan hybrids. These hybrids are artificially chilled for six weeks in the garage fridge then go straight to the compost heap after blooming. This is the first pot of tulips to flower, the hybrid 'Boston.'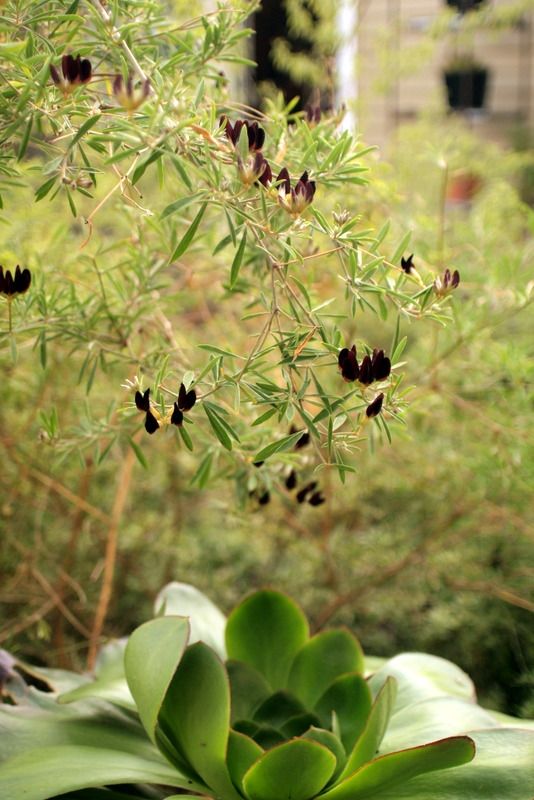 Lotus jacobaeus would be wonderful draping over a low wall. I've clipped this one back quite a bit to keep it from smothering plants below, like the tall Aeonium 'Cyclops.' Its shrubby-but-lax framework is about 3 feet high now, kept upright with a rebar stake. A light background propels the velvety dark blooms. I like it against the pale leaves of the variegated Australian mint bush (prostranthera), and the lotus is thin enough in growth to weave through the shrub without harming it.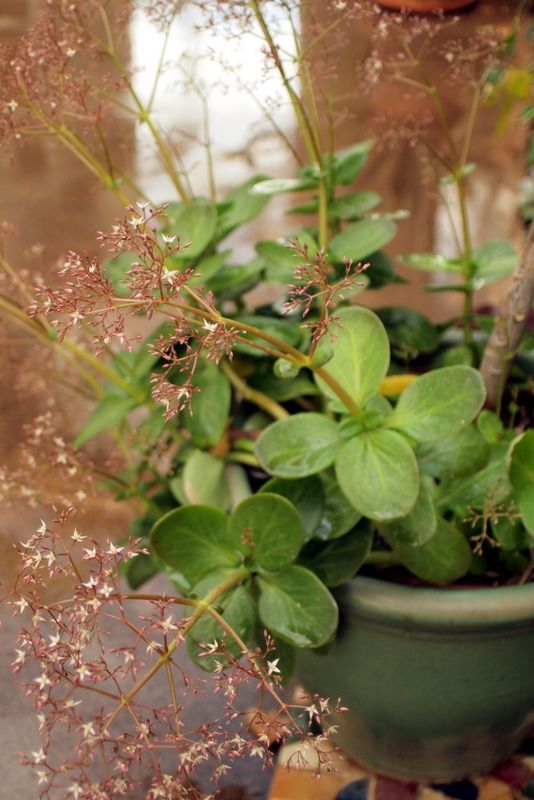 When there's so many amazing succulents to grow, why choose the modest Crassula multicava? Because of its supernova show in spring, when it hoists those starry bloom structures over simple, dark green leaves. It would make an elegant ground cover at the base of palms. Here it's sharing space with a potted cussonia. The crassula has a similar foamy effect to London's Pride (Saxifraga umbrosa) or heuchera in bloom, neither of which grow in such rugged conditions for me.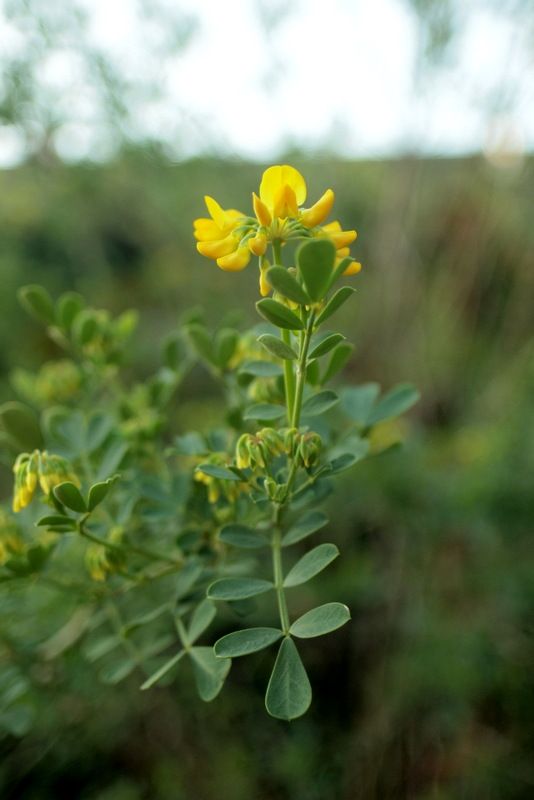 Like the lotus, another lax member of the pea family, coronilla, has really started to bloom in the mini heat wave we're having the past couple days. This shrub is supported and wound through a tuteur and has grown past the eaves of the garage roof. Its overall effect is that of a gigantic rue, except rue stinks and coronilla smells lovely.
More brash. Love the moroccan toadflax, an annual that blooms well through the winter and spring here. Hasn't self-sown yet, so I keep bringing in a few plants in fall.
I have just a few clumps of the Corsican hellebore, which is all the space I can spare, though I could have lots, lots more. It carpet-bombs the garden with seedlings.
Lots of emerging gardens to explore at May Dreams Garden, where Carol is to be congratulated for hosting Bloom Days for seven years this February.