Lawns are vanishing all over town. The chief ringleader and instigator is the Long Beach Water Department, with their irresistible Lawn-to-Garden Turf Replacement Program. Quite a few of my neighbors have already taken advantage of this program the past couple years, and more applications for the $3K rebate are being accepted now. There will be an upcoming tour May 18 to showcase some of the gardens that have taken up LBWD's offer. Last evening I snuck a driveby look at one of the houses on the tour.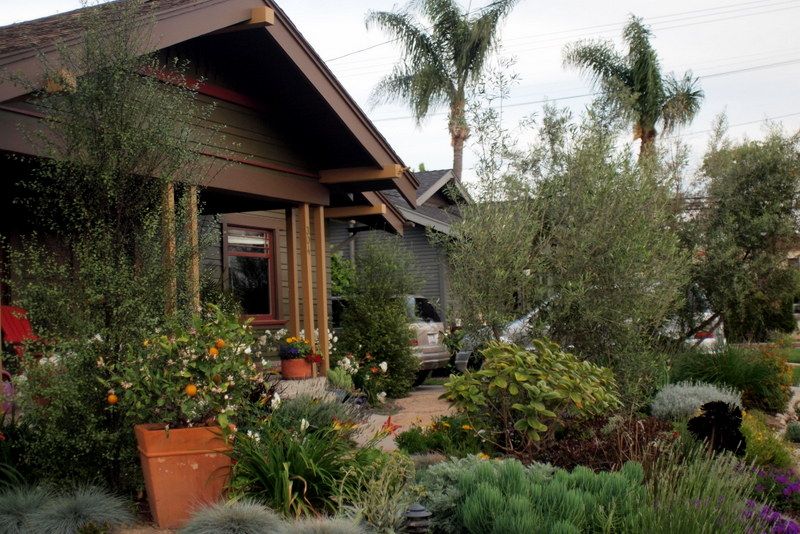 Close to the house, behind the potted orange tree is a tall, diaphonous Pittosporum tenuifolium. In back of the Tibouchina urvilleana, center, is an olive tree.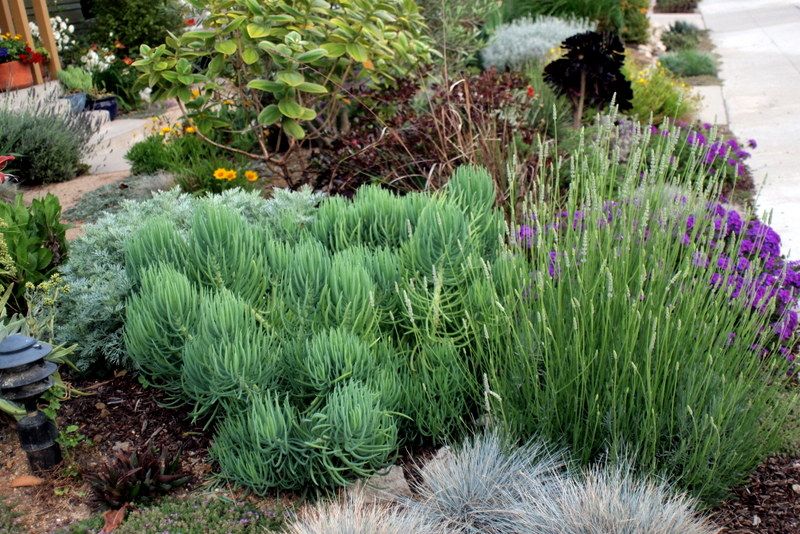 Blue Chalk Fingers, Senecio vitalis, Festuca glauca, lavender, and a glimpse of Verbena 'Homestead Purple.' There were Iceberg roses, gaillardia, aeonium, daylilies — lots of blooms to come for summer. Lots to interest people, birds, insects.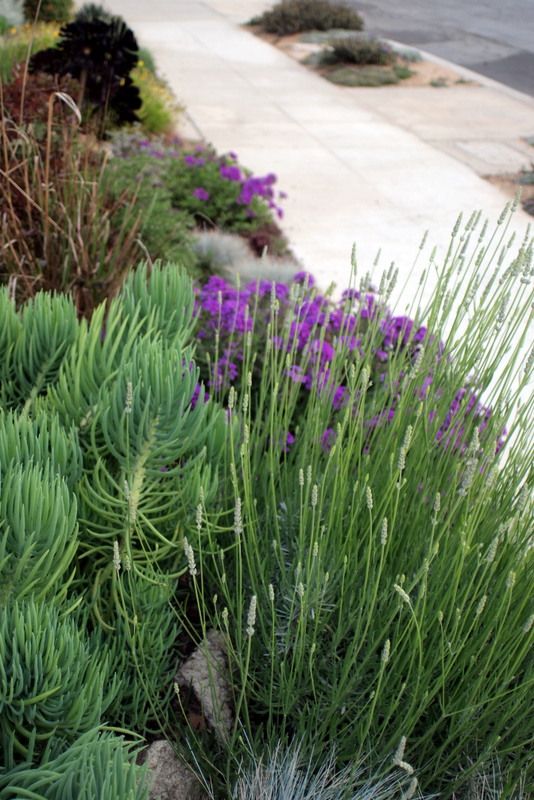 The parkway has been deturfed too.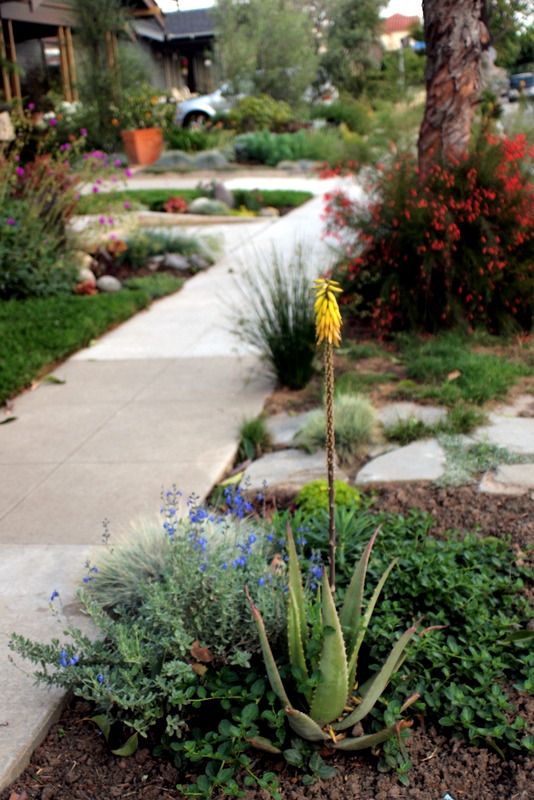 And losing the lawn seems to be going viral in this neighborhood. Dark green ceanothus swirls around an aloe and Salvia chamaedryoides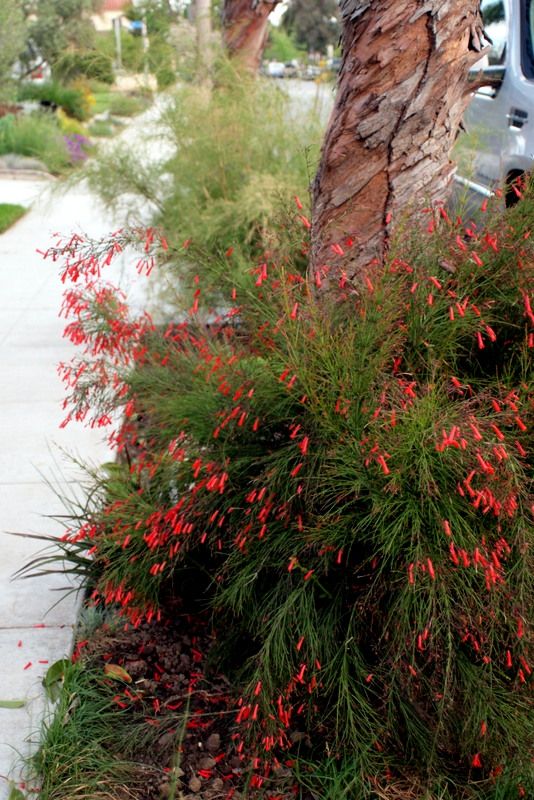 A fountain of the firecracker plant, Russelia equisetiformis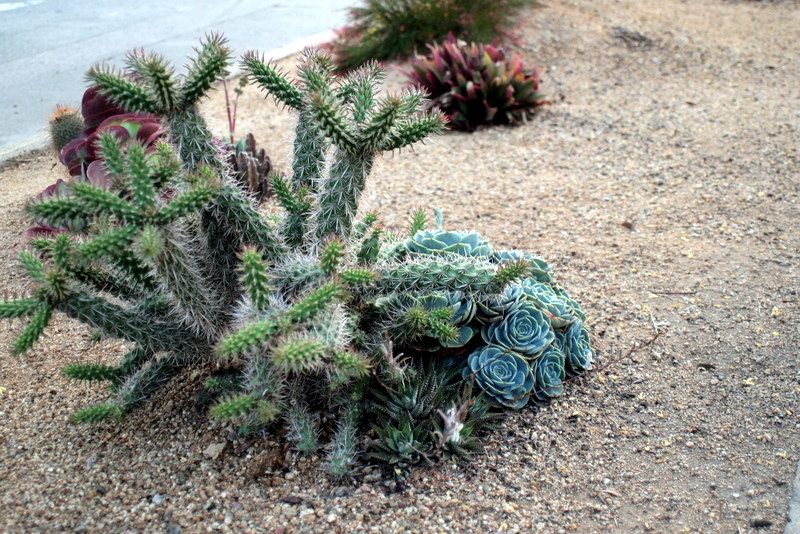 Cylindropuntia and echeverias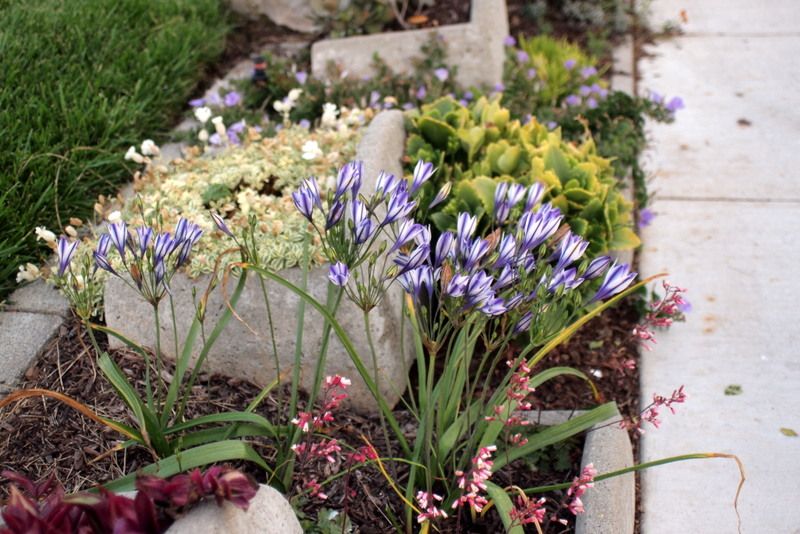 When lawn is removed the fun begins, and these garden makers really seem to be enjoying themselves. I'm guessing this little bulb is a babiana. (Dustin Gimbel confirmed in a comment Triteleia 'Ruby'). This lawn is being nibbled away at the margins, but I'm predicting it won't be long before it vanishes completely too.
Agave potatorum nestled up against verbena.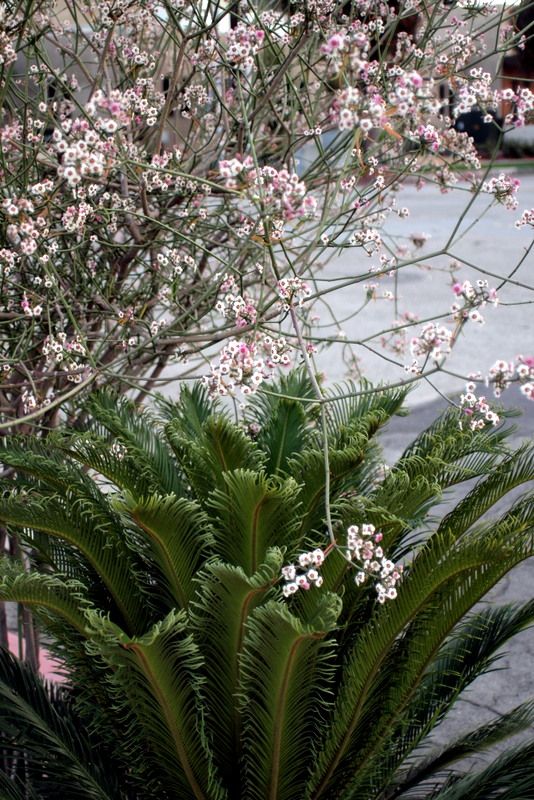 I noticed this intriguing beauty growing in the parkway a couple houses away. Not the sago palm, but that foaming, pencil-stemmed wonder with the wax flower-like blooms. The Baja spurge, Euphorbia xanti
Try to imagine it not squished against a telephone pole. There were three of these euphorbias in the parkway, one around the corner.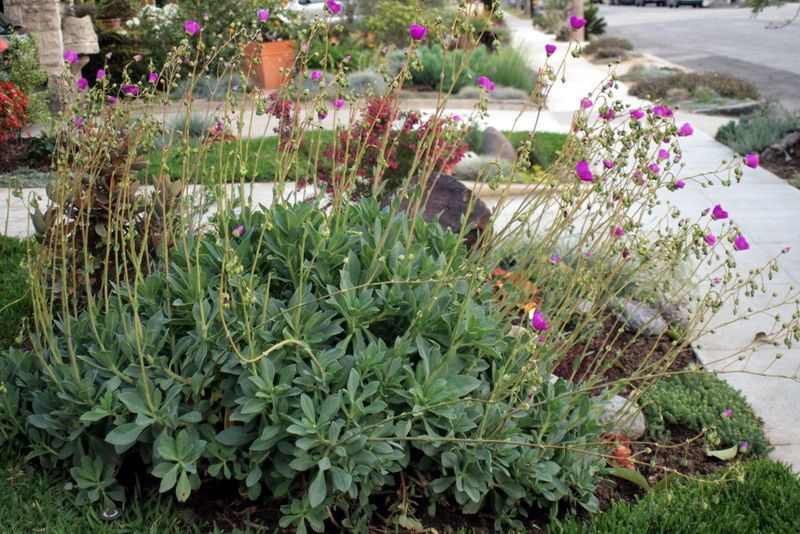 Everyone's love affair with Calandrinia spectabilis continues. A couple blocks away, an entire lawn was replaced with this plant. The landscape cloth used around the crowns of the young plants was too hideous for a photo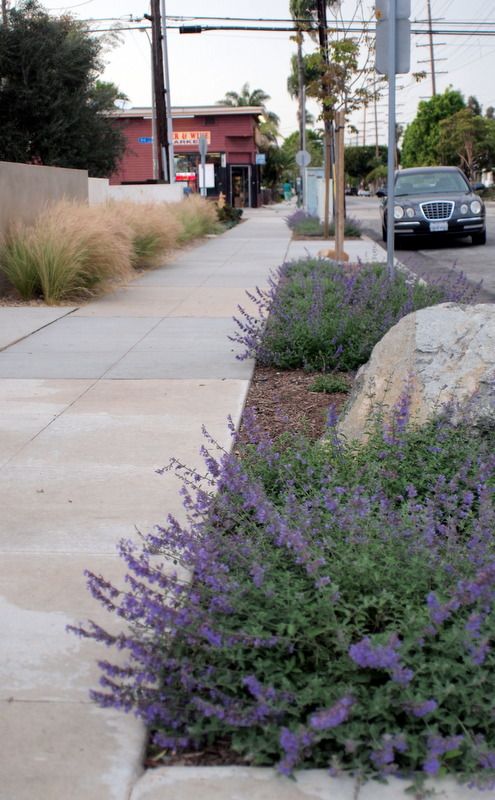 An interesting contrast to these personal gardens lies diagonal across the street from them. Just four months ago, architects Abramson Teiger finished a major renovation of the Temple Israel, including the landscape. Long sweeps of feather grass, a problematic self-sower, and nepeta anchor the front of the temple.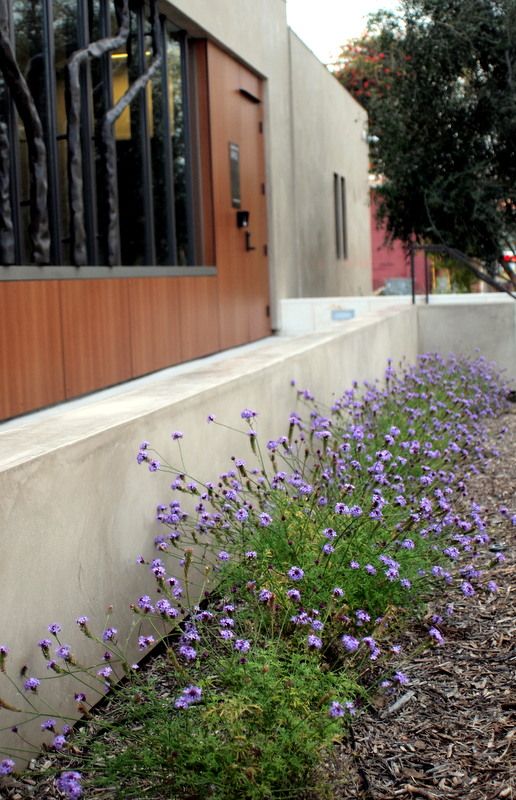 With the prominence succulents continue to enjoy for their evergreen, year-round good looks, it's unusual for new landscaping projects to include perennials, even evergreen shrubby ones like Verbena lilacina, a California native. I love the needlepoint detail against the concrete work and their billowing effect. Despite their many attractions, billow is one verb that can't be used with succulents.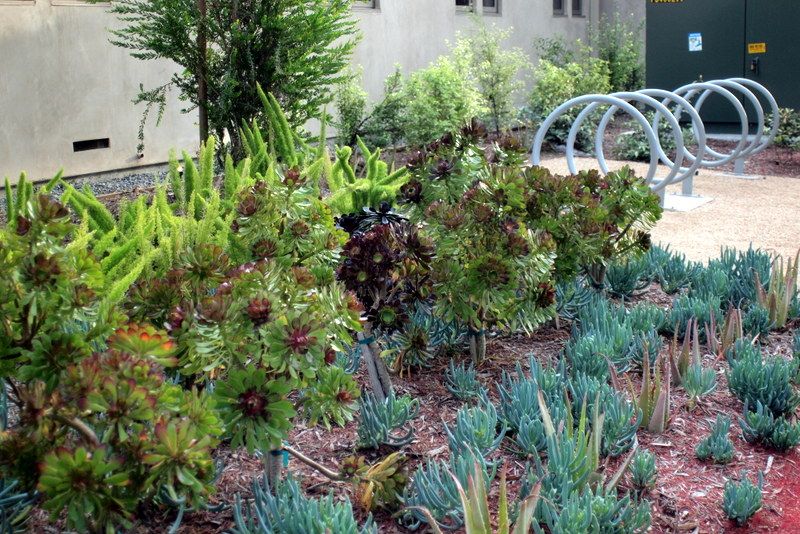 Though succulents are included here too: Senecio mandraliscae, aloes, aeonium. Meyer's asparagus fern in the back. What looks like red-dyed mulch are fallen petals from the callistemon bottlebrush trees overhead in the parkway.
Anigozanthos, the kangaroo paws, in the foreground. I couldn't get close enough to these trees for an ID, but they had an Australian look to them.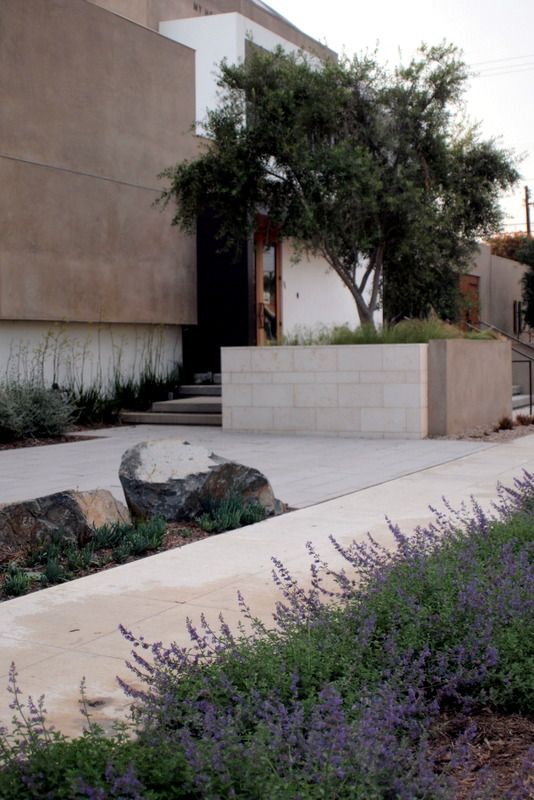 In the fading light, against the building can just be seen the slim outline of more anigozanthos, the shrubby Teucrium azureum to the left.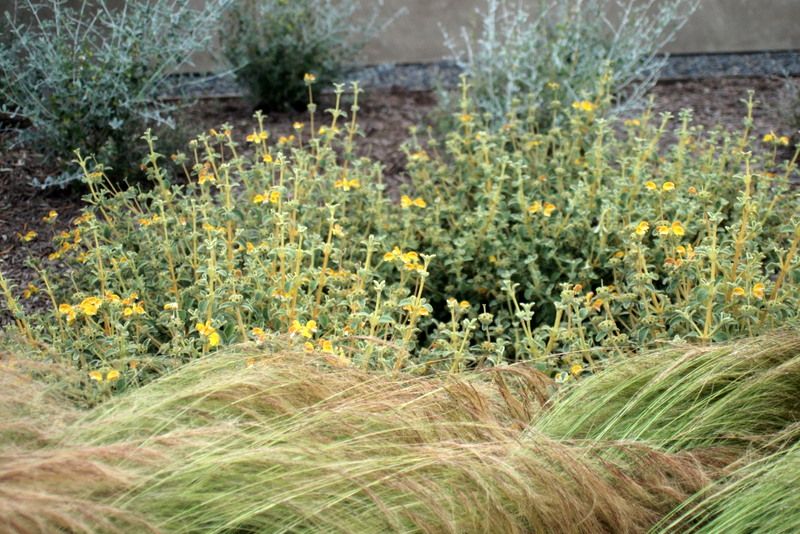 Feather grass, phlomis, with Teucrium azureum in the rear. All these plants are as drought tolerant as succulents, though their upkeep and cutback needs differ.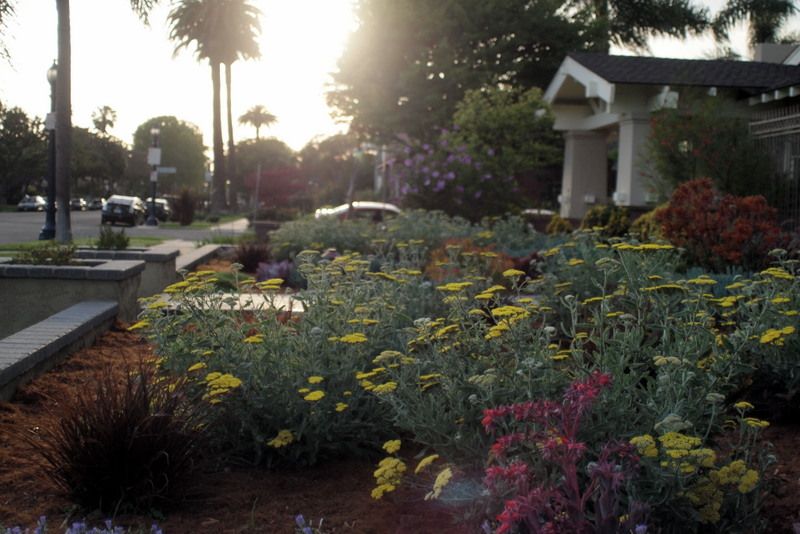 A few streets away, a front lawn has been usurped by Achillea 'Moonshine.' All over town, whether commercial projects or residential, the hissing of summer lawns during the hot, dry days of summer is becoming a relic of the past.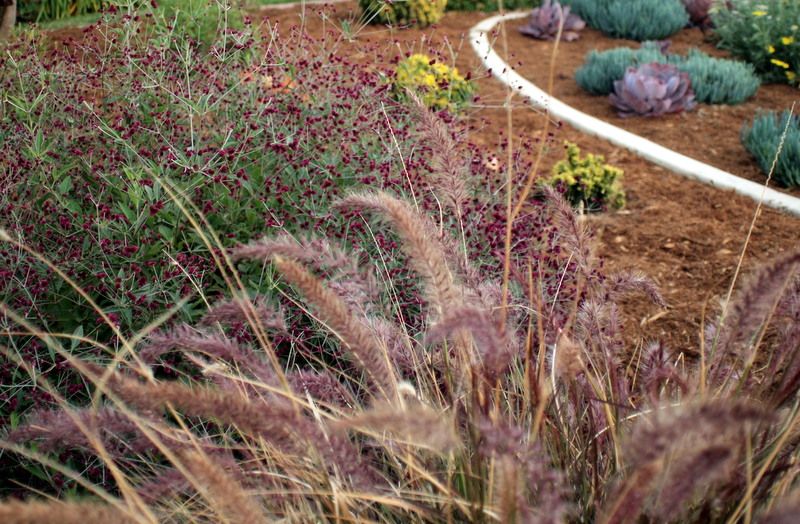 And another lawn vanishes under succulents, pennisetum, and a cloud of Gomphrena decumbens.