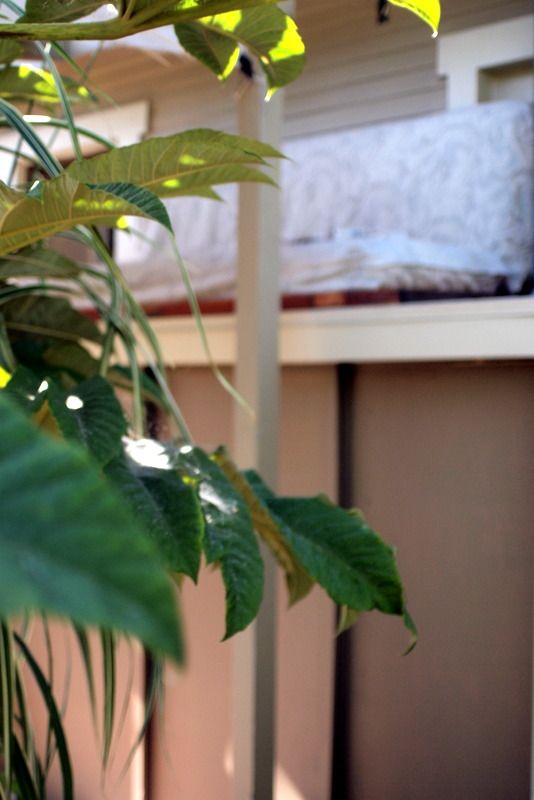 It's August and I'm craving a summer camp experience. Unfortunately, the summer camp bus left 40 years ago. So up there is my designated summer camp 2013.
I admit accommodations are rustic and no-frills, but a short trip up the ladder rungs turns an ordinary August day into something wildly mildy adventurous. When home I probably climb the ladder loaded with armfuls of stuff to read, with or without pistachios, several times a day. It's this summer's preferred punctuation to extended sentences of work and errands. Often I drop the book or magazine I'm reading mid-paragraph to sit back and revel in the lofty view. At the birds cutting diagonally through the garden like it was Beggar's Canyon. At the truly abysmal flying skills of Japanese fig beetles. At my neighbor's peach tree, its branches loaded with fruit, some of it hanging over my side of the fence. At the cypresses in the distance, some dying, interspersed with palms lining the street south of mine. Why are the cypresses dying? I always wonder. Yesterday the clouds were arrayed in that elaborate feathering known as "fish scales" making it a "mackerel sky," one of my very favorite skies.
Down below, behind the sliding doors is the laundry shed; up above, bliss.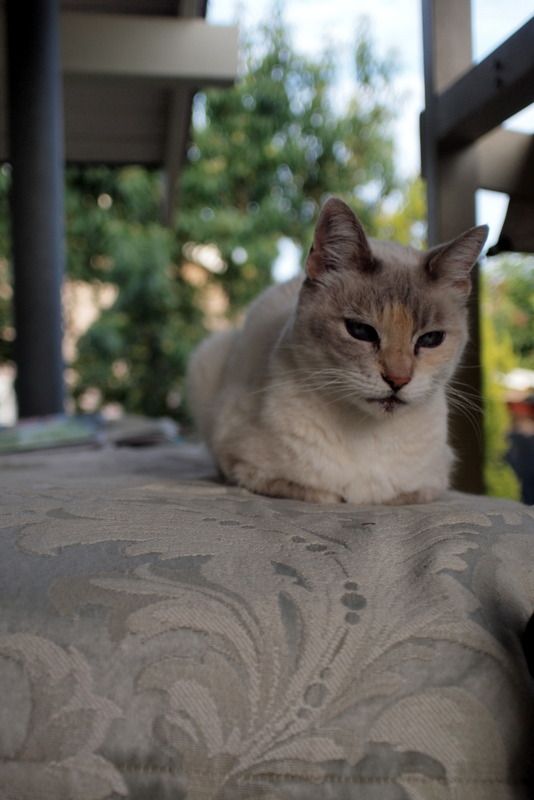 Often there's already a camp buddy or two up there waiting.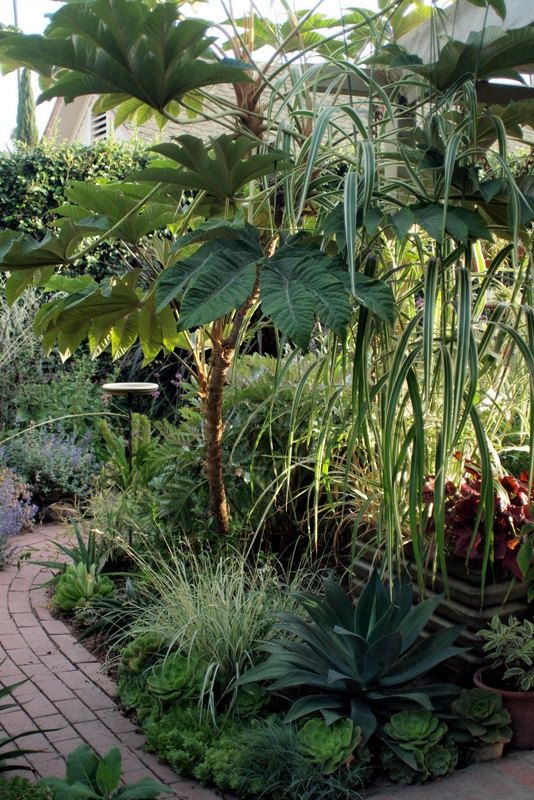 The breezes are freshest up here, and the views are godlike, gazing over rooftops or looking down on my little creation. Yesterday I fell asleep up here for 20 minutes or so. Hard asleep.
What got me so dozy late yesterday afternoon was undoubtedly the sensory overload of a bromeliad show and then some nursery hopping. A large lime green pot almost became the water garden I vowed to make this summer, but I kicked that can down the road again and instead brought home Beschorneria albiflora and Colocasia 'Blue Hawaii,' pictured above. Managing the ecosystem of a water garden, however small, just seems too complicated for August. That's a pretty nifty dodge I highly recommend: think up a complicated, expensive proposition, consider it carefully from all angles, wisely decide to postpone the final decision, and then reward yourself for such judicious self-control.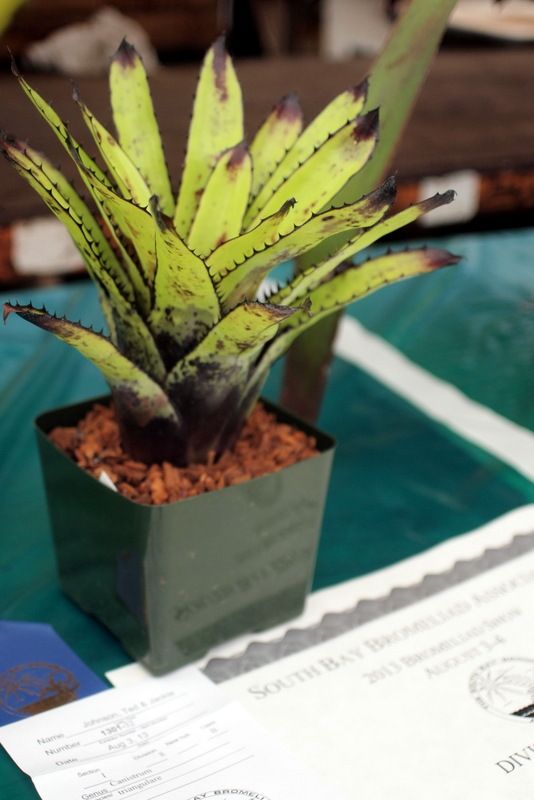 The bromeliad show and sale was sponsored by South Bay Bromeliad Associates. I should have posted advance notice of the show but found out about it rather late. Shows like this are the most affordable way to acquire offsets of some very cool plants.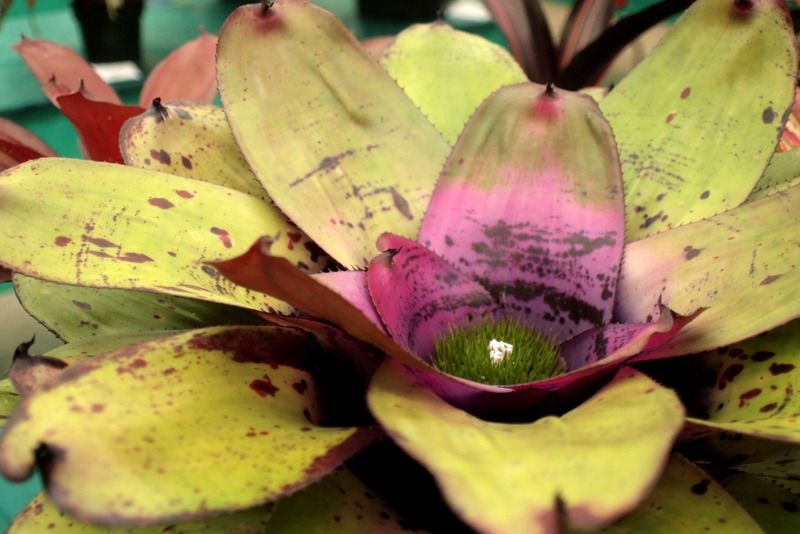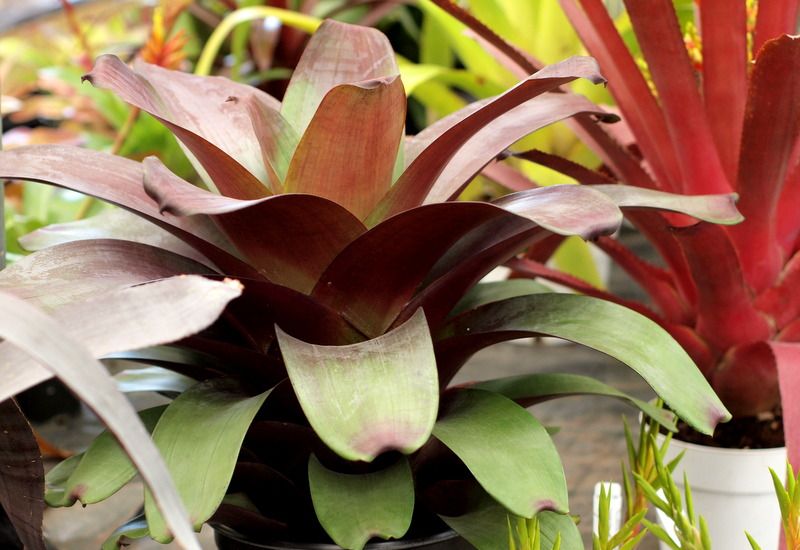 Though there will always be the unattainable. Alcanterea 'Volcano Mist' ($150)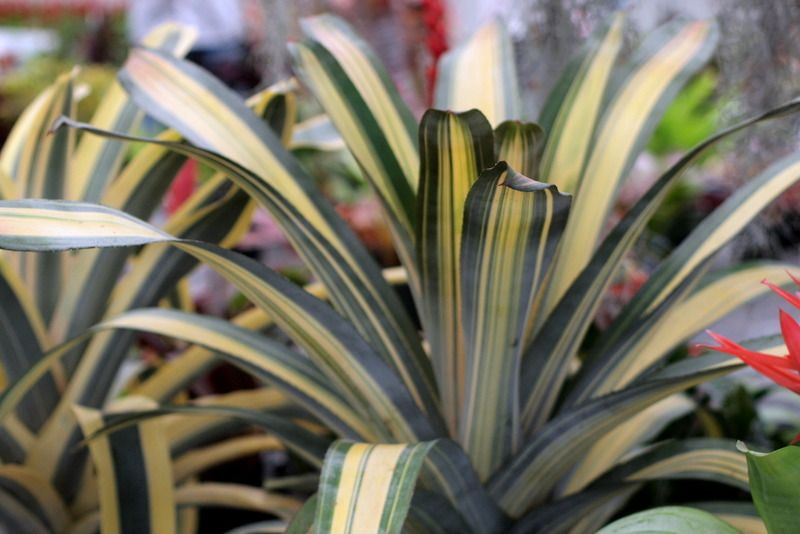 An aechmea agave-like in substance and subtle coloring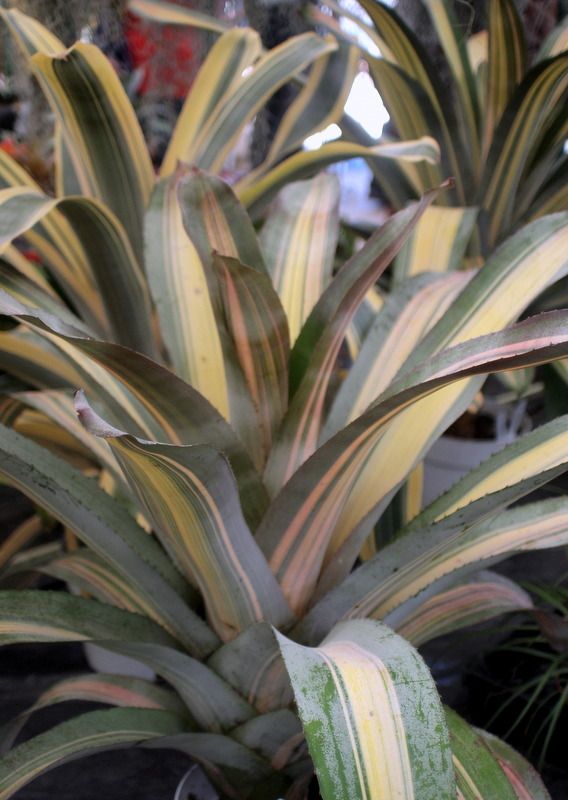 Aechmea 'Loies Pride'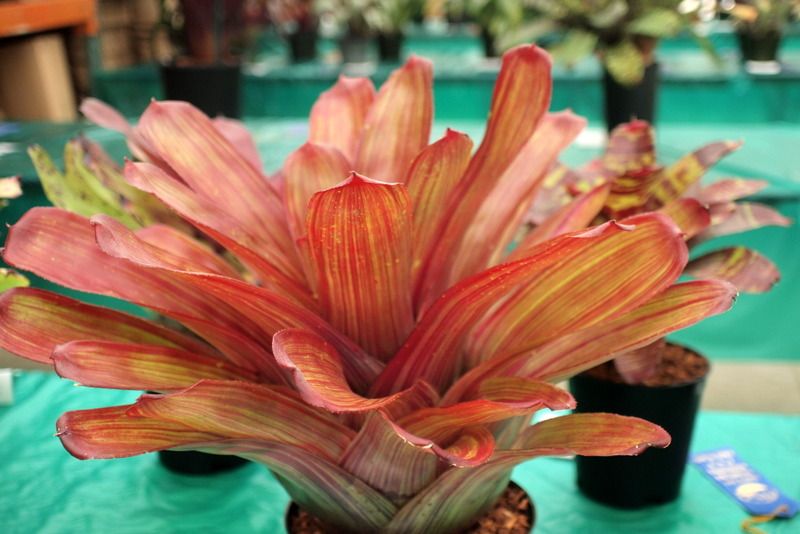 Plenty of not-so-subtle too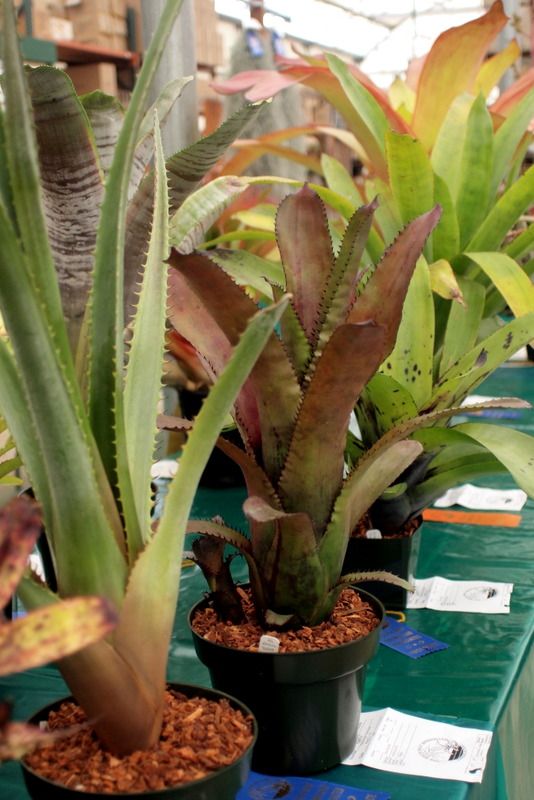 I loved the dark reds streaked with chartreuse, like the dark-thorned Aechmea nudicaulis in the center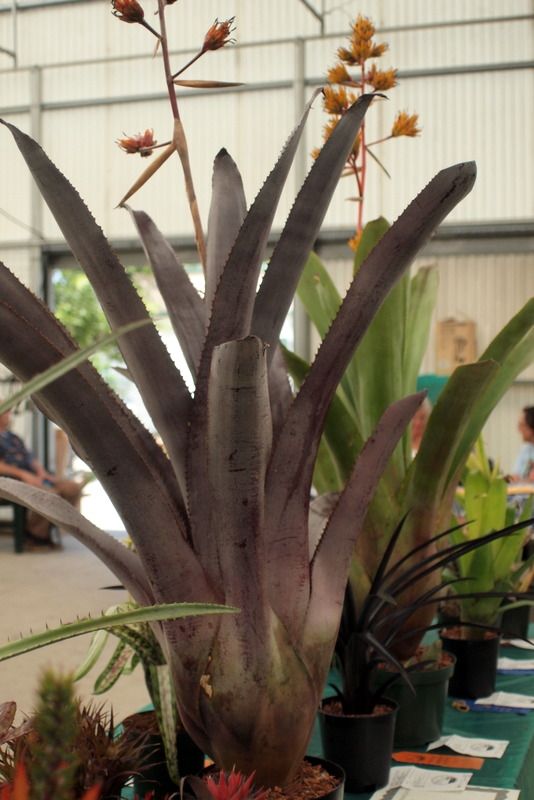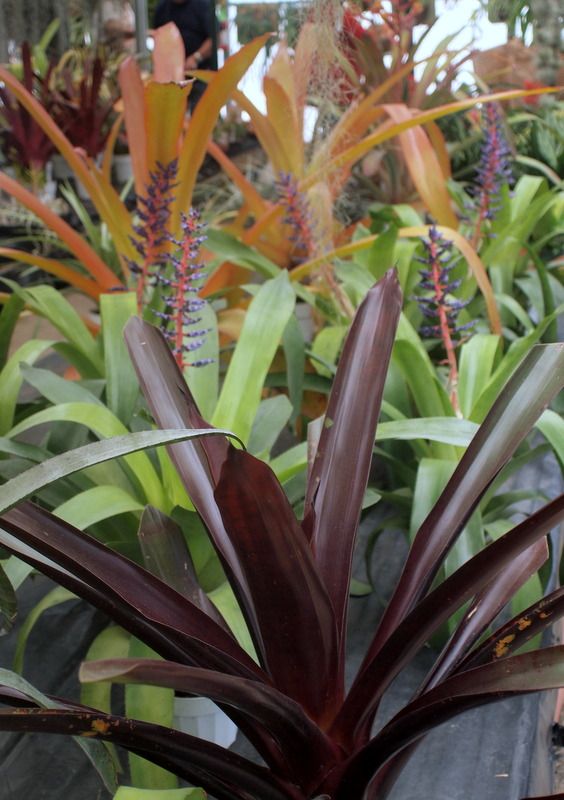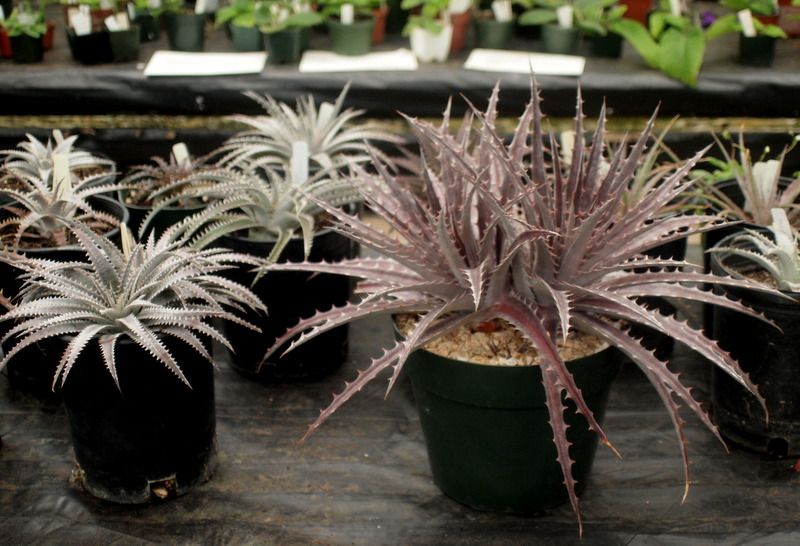 Exquisite dyckias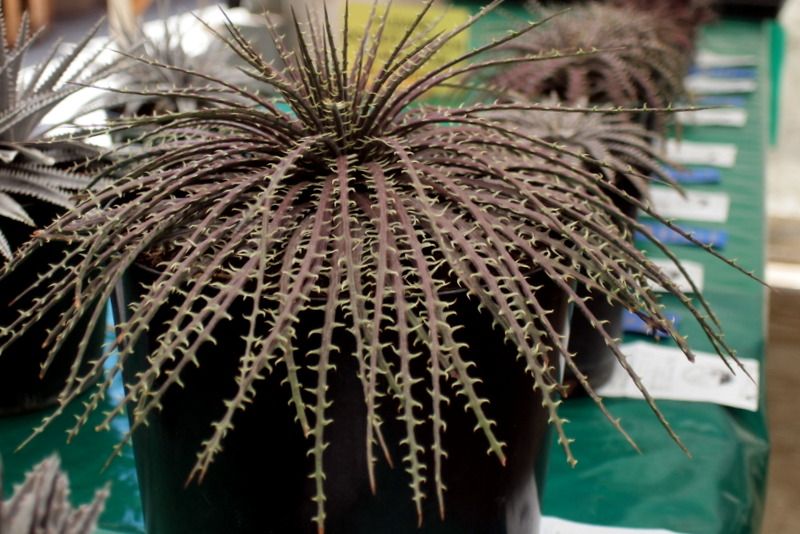 Dyckia dawsonii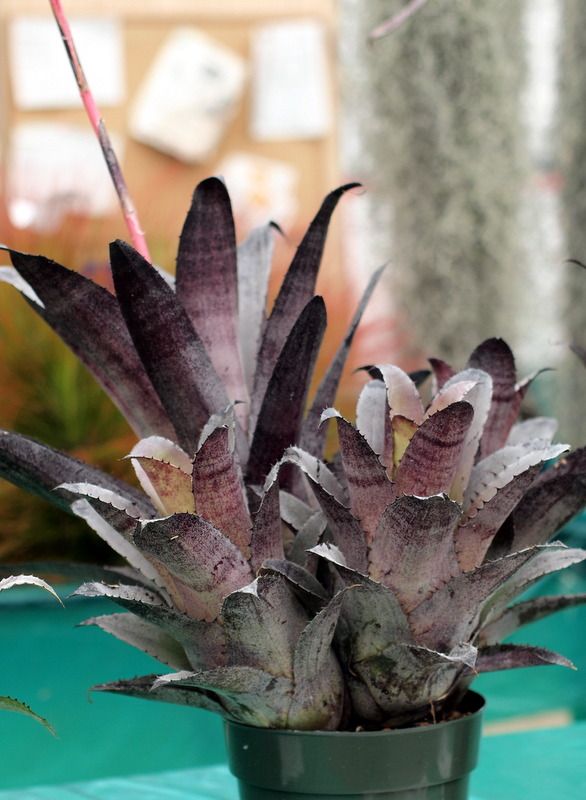 I really gravitated to the bruised, purply bromeliads like this Hohenbergia 'Leopoldo Hortstii,' but prices can get scary.
Similar coloration in Bilbergia 'Violetta' for $10. Deal.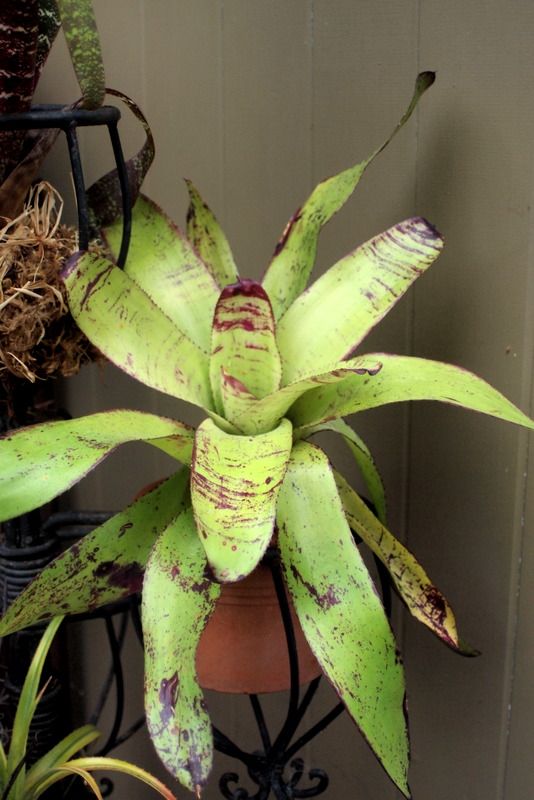 A Neoregelia concentrica hybrid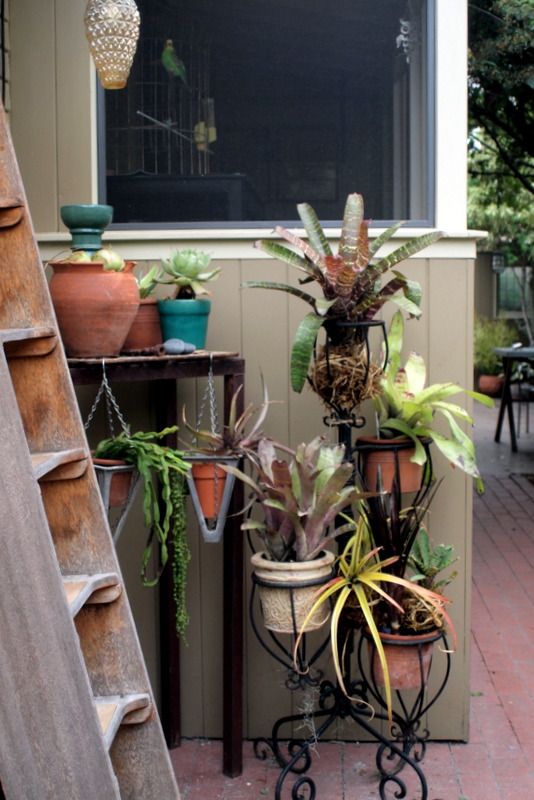 Most of the broms are sizing up on the east side of the camp, where there's half-day morning sun. I think Peewee the parakeet, who's camped out in the bath house, approves of this location for them too.
Now excuse me while I pack a few more things for summer camp. (And since I've technically never been to a real summer camp, let me know if you have any good camp stories.)