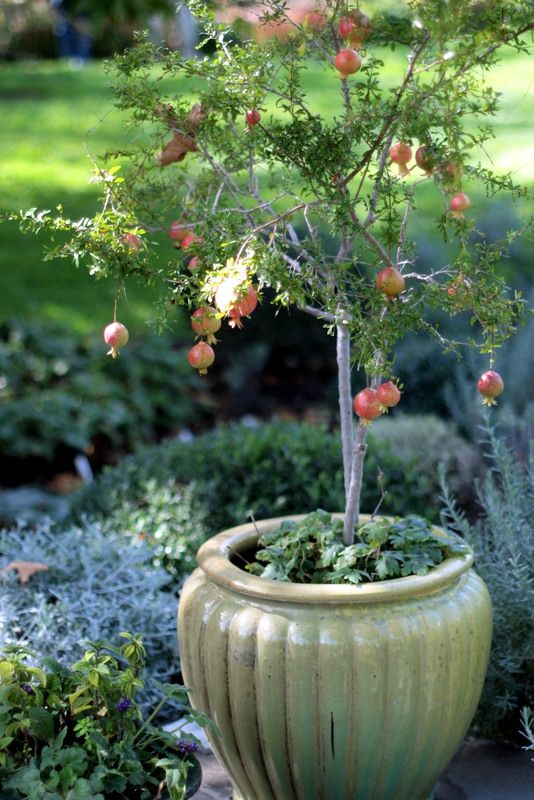 Potted dwarf pomegranate

Southern California Horticultural Society sent out a "Coffee in the Garden" invitation to its members for a late October visit to Donivee Nash's garden in Arcadia, redesigned by Judy Horton in 2009. Participation in hort. society events in the past always seemed to founder on the anticipated sludge of freeway traffic, but this one was 10 a.m. to 1 p.m. on a cool, foggy Sunday. Most of LA would still be gently snoring under the covers, I reasoned. That I ended up being an hour and a half late as a consequence of the 710 freeway shutting down when two semis caught fire just stiffened my resolve to attend as many such events as possible, whenever and wherever, because there's really no grace period on the freeways anyway. Arriving late and rattled, I fell in with a group following the designer Judy Horton around the garden, trying to gauge what topics had been covered so I wouldn't annoyingly repeat the same questions. If I did, Ms. Horton was gracious enough not to let on.
The Garden Conservancy provides some illuminating background on the Nash Garden in their Open Days Program from April 2013:
"Donivee Taylor Nash was brought up in Delaware surrounded by the rich culture of nineteenth-century estate gardens—Winterthur and Longwood included. She brought these gardening roots to this 1938 New England-style saltbox thirty years ago. Although the house and landscape have grown and changed, its park-like graciousness is still very much in evidence. Donivee is a collector of beautiful specimen plants; over the years she added roses and perennials to the existing English-style gardens. She added a poolside pavilion (a miniature version of a Beatrix Farrand design at Dumbarton Oaks) to the west end of the pool, which is a cool oasis in hot summers. In 2009, when the couple wanted to unify the backyard and reduce water consumption, they called upon well-known garden designer Judy Horton who accomplished the transformation of their landscape. Out went much of the lawn, in came eighteen trees, including a sycamore grove to screen the tennis court, a birch grove underplanted with hundreds of Japanese anemones, and a mixed grove surrounding an antique Japanese lantern. A fig tree garden was added east of the tennis court, and an olive terrace south of the house. Mediterranean plants are now artfully planted near the living and dining rooms. The golden rain tree (Koelreuteria paniculata) still shades the patio as it has for decades, but now is accompanied by a fresh palette of lavender, silver, white, and chartreuse."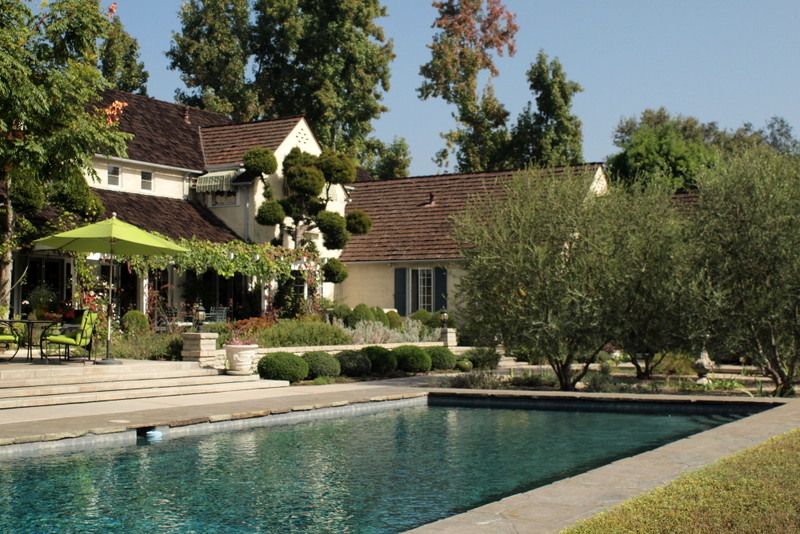 In its current form, this is a mediterranean-inspired garden that celebrates the light that pours in and bathes the earth 33 degrees north of the equator.
I've had a love/hate relationship with this brilliant light all my life.
(When I was young and wanted nothing but to leave, it was intrusive, unforgiving, a relentless glare. Now love has the upper hand. Just keep a lime green umbrella handy.)
The estate-like spaciousness is emphasized by broad, low hedges of westringia, teucrium and rosemary, which are also sometimes clipped into balls or left to run in long bands along the lawn that has been greatly reduced and reproportioned by Ms. Horton. These tough shrubs require little supplemental irrigation. It's interesting to view this garden's recent transition to a more water thrifty profile in light of November being the 100-year anniversary of the
Los Angeles Aqueduct
. The aqueduct's chief designer William Mulholland envisioned semi-arid Los Angeles would "blossom like a rose," a prophecy many of us have come to realize became fulfilled at much too high a cost.
I love the trick of breaking free from the belt of trees at the perimeter and planting new trees forward into the lawn, adding more depth and interplay with shapes and planes.
The remaining lawn seems to become less assertive a feature in its own right and is integrated into the overall landscape as just another choice of ground cover.
The golden light of the foothills sets the fine-leaved mediterranean plantings shimmering.
Strong, smooth blades of iris pierce the gravel, which the Santa Barbara daisy Erigeron karvinskianus freely seeds into, as does Verbena bonariensis.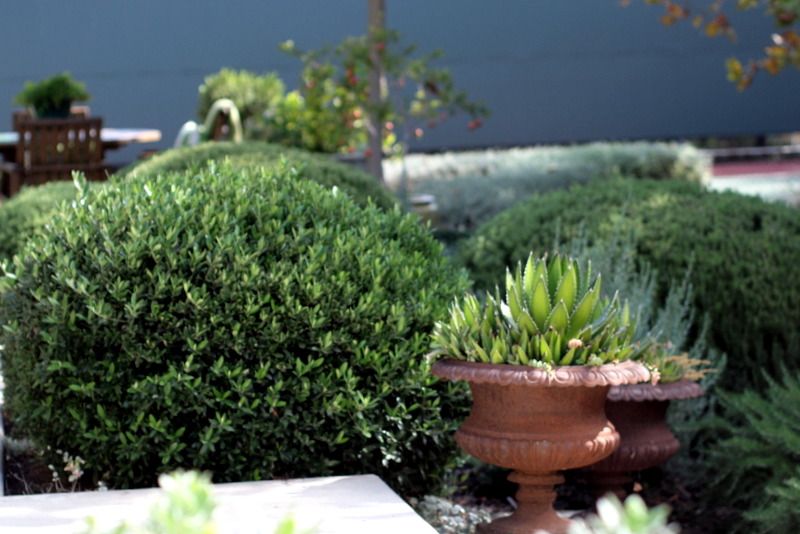 Ms. Horton said this supposed non-fruiting olive tree fruited this year.
The sweep of a glittering landscape is everywhere emphasized as with this choice of underplanting with Cerastium tomentosum.
Near the house the garden was full of salvias in bloom. Japanese anemones too.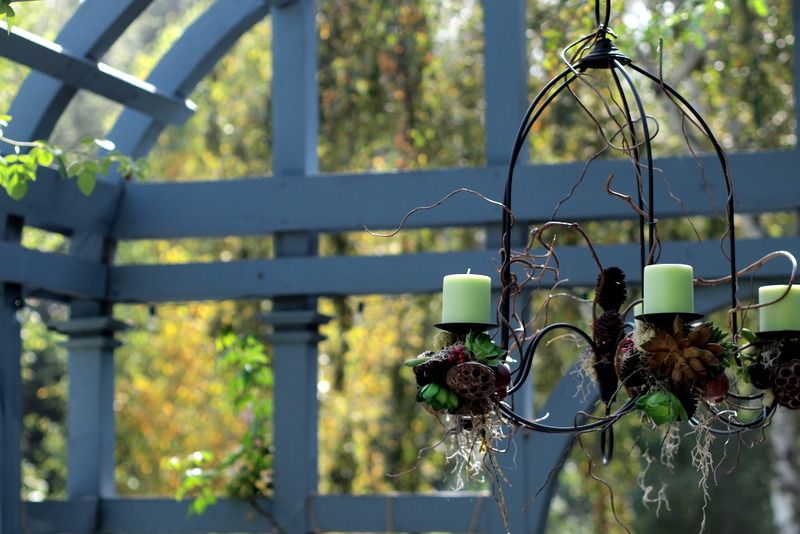 Detail of the Dumbarton Oaks-inspired pool pavilion
The planting of roses fronting the property along the street speaks to the evolution of the garden from English-inspired rose garden to its sleek and lean lines today.
Having arrived late, I stayed until the coffee things had been cleared away. Some gardens are just hard to leave.