Now that we all have a new phrase in our meteorology lexicon ("polar vortex")*, it's time to entertain our cold-blasted friends with talk of plants from warmer climes. Along with the unexpected germination of several triangle palm seeds (Dypsis decaryi), the coronilla also surprised me this year with more than a dozen seedlings. The mother plant was grown from a single cutting taken of the variegated form as it was collapsing in August a few years ago. (Variegated or non-variegated is fine by me.) Coronilla, like lots of plants from the mediterranean climate regions of the world, are not long-lived. Its very lanky form is supposedly limited to 2 to 3 feet. Since I never see this plant locally, I can't be sure if mine is an outlier, topping as it does the garage roofline. Its sprawling stems were threaded when young through a spiraling tuteur, and now a froth of rue-like, ferny leaves and, beginning in January, scented, clear yellow flowers billows up and over the top of its cinched-in shape. Coronilla blooms on new growth, but hard pruning is to be avoided, so I just clean it up after the major bloom period is over in spring, though it does throw a few flowers all summer. Twiggy tracery, tiny blue leaves, flashes of yellow like sunshine snagged in its stems. Sometimes I think this plant has a fan club of one (me), so it's nice to find out I'm in good company. English plantswoman Derry Watkins lists it as a favorite too. Coronilla sails through our ever-lengthening dry season. One of those plants damned with the faint praise of having a "subtle beauty." I've gotten so used to this beloved plant being ignored by visitors, that when a gentleman helping us hang gutters on the garage inquired about it, I didn't know what to say. You're talking about this plant? I asked him incredulously, grabbing and shaking one of its branches. Indeed he was. He declined my offer of seedlings, but later was seen googling "coronilla" on his smart phone. Proving again there's a first time for everything.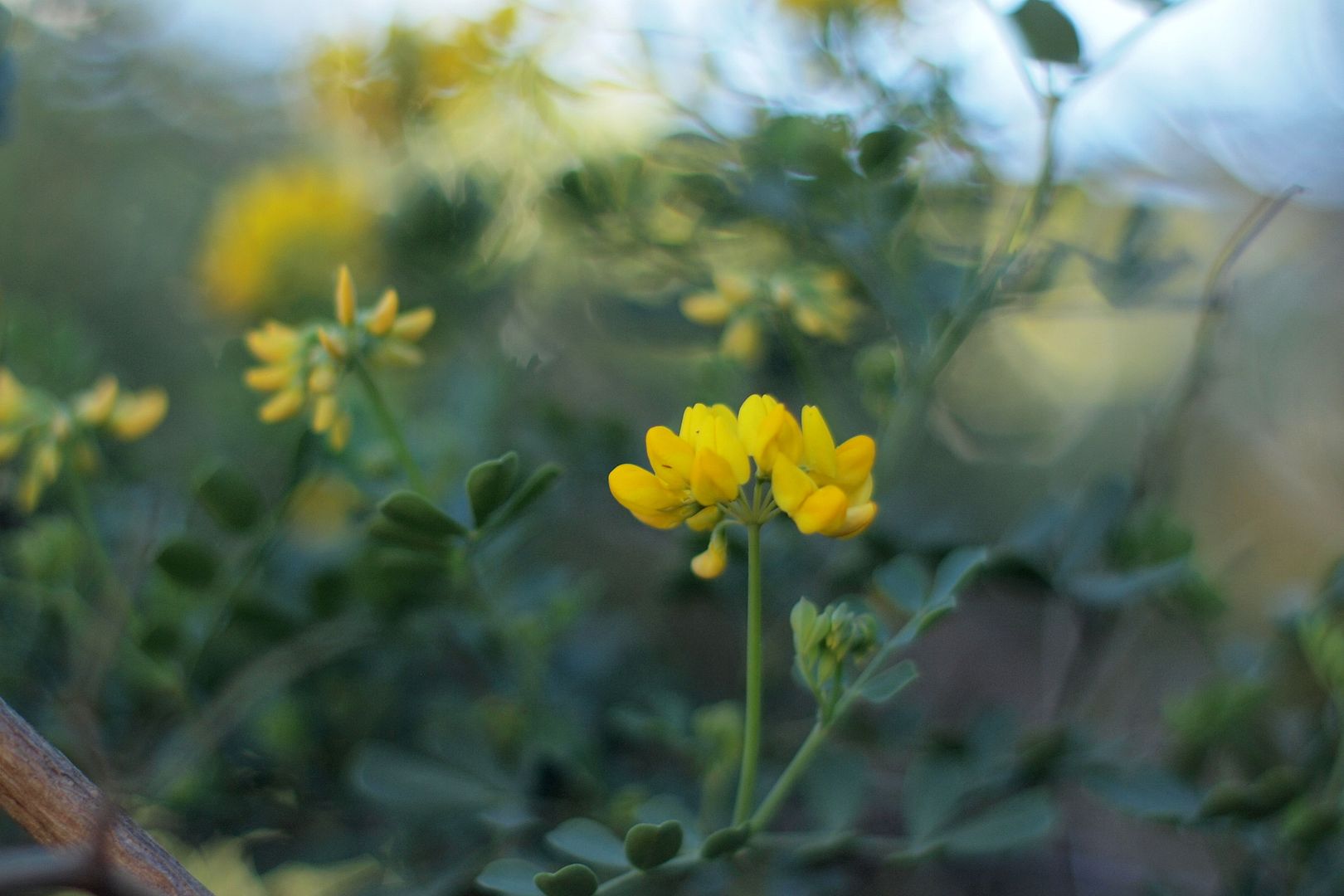 The crown-like flowers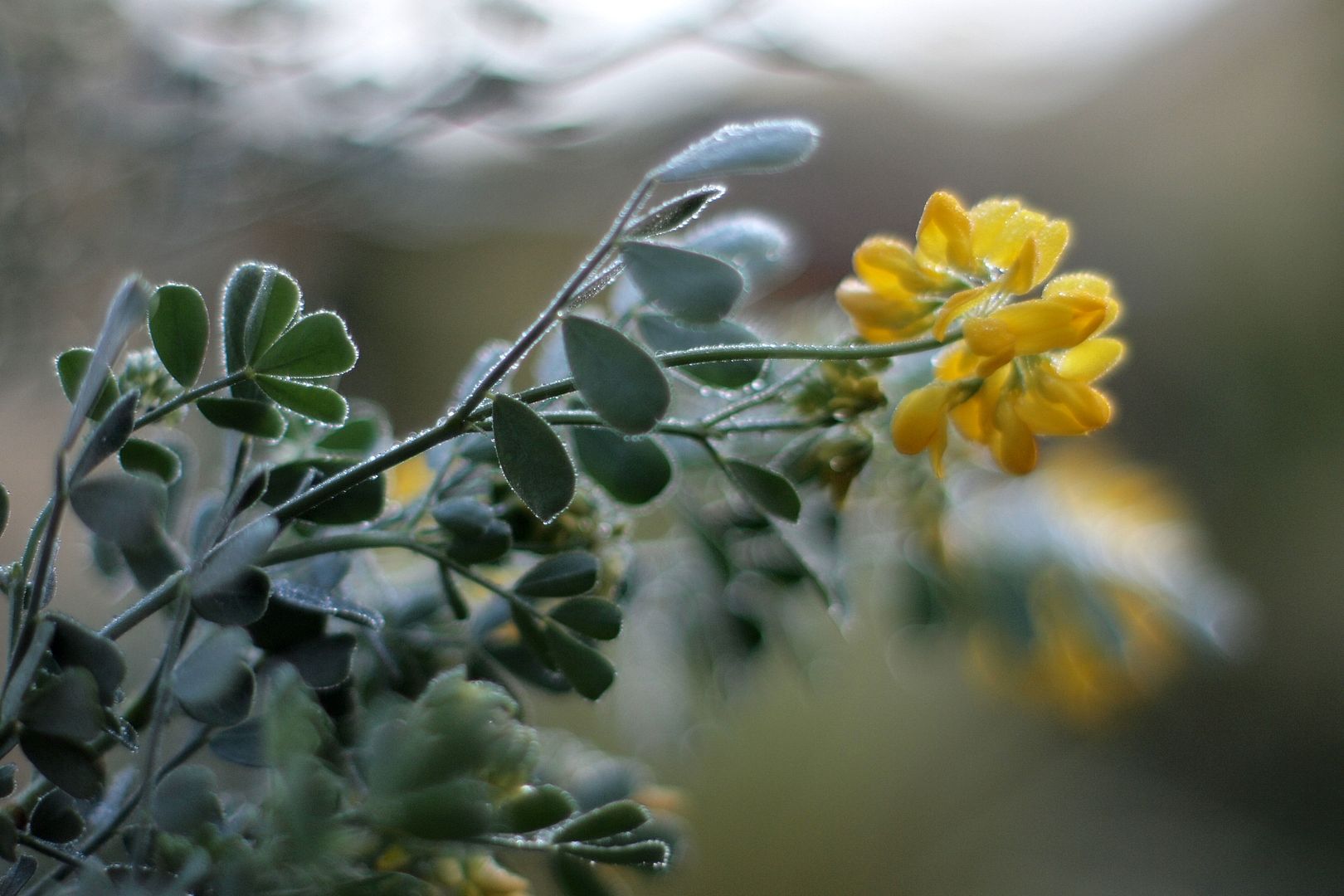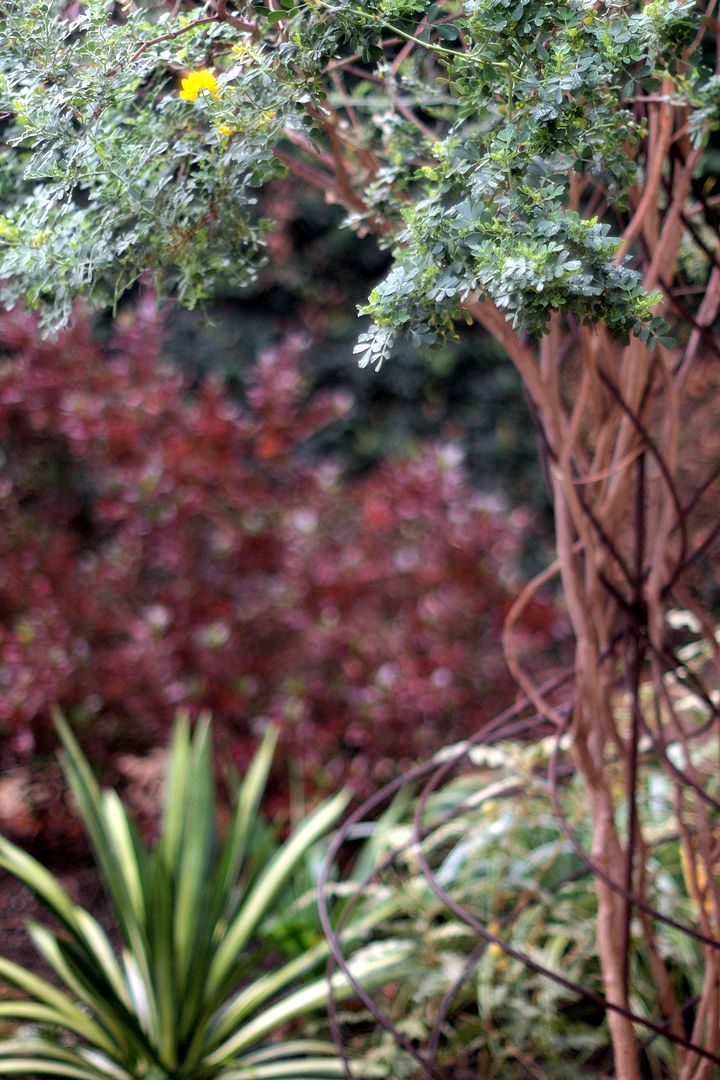 Lanky stems cinched in by the iron tuteur
Absorbing patterns and scented bloom for mid-winter. For zone 8 or cool greenhouse. I'm including coronilla in Loree's discussion of favorite plants at her blog Danger Garden.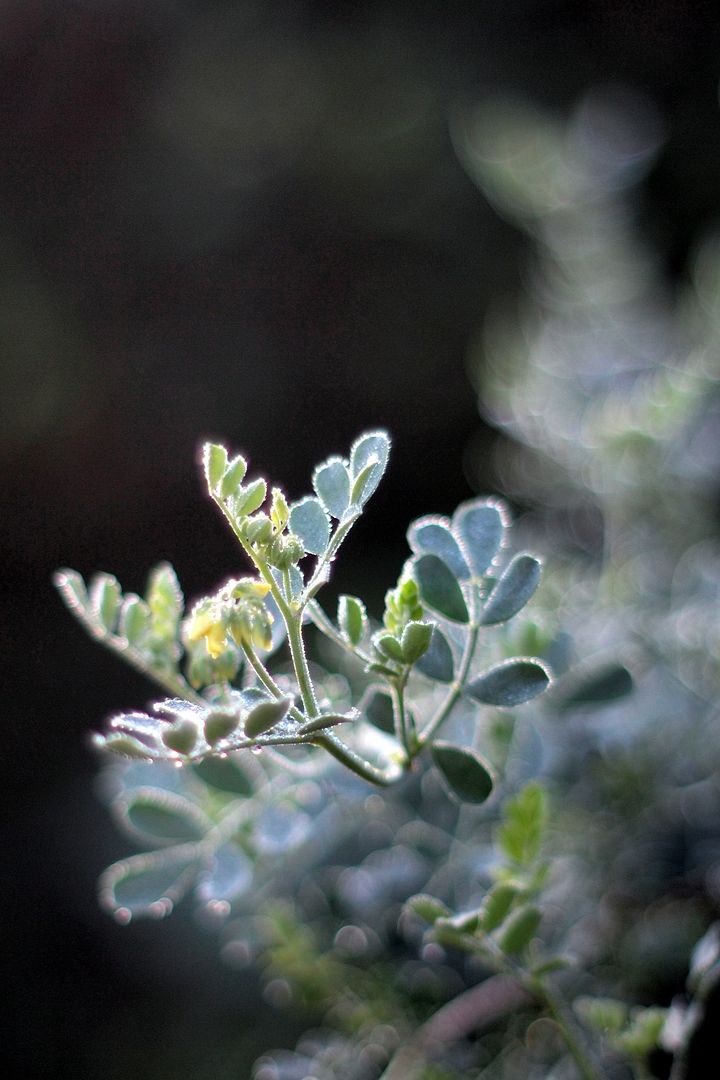 *"Polar Vortex Causes Hundreds of Injuries As People Making Snide Remarks about Climate Change are Punched in Face." (It's humor.)