"The more successfully a city mingles everyday diversity of uses and users in its everyday streets, the more successfully, casually (and economically) its people thereby enliven and support well-located parks that can thus give back grace and delight to their neighborhoods instead of vacuity. " ― Jane Jacobs, The Death and Life of Great American Cities
I would just respectfully amend Ms. Jacobs' wise words with the happy addition of a suffix — "well-located parklets" — because parklets are making quite the difference in street life here in Long Beach.
What is a parklet, you ask?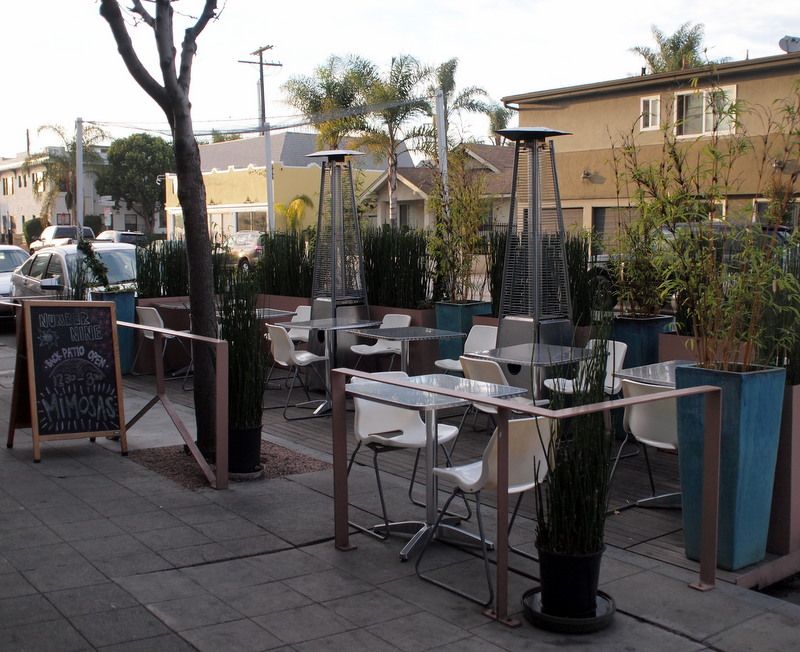 This is a parklet. Maybe you've already brunched or sipped a margarita in a parklet in your hometown, if home is New York, San Francisco, or Philadelphia. San Francisco started the parklet boom in 2009, and Seattle is including plans for parklets in 2014. This is one of the first parklets in Southern California, installed back in 2012. You'd think in the land of eternal sunshine we wouldn't have to hack the streets to shoehorn in places for people to congregate, that it'd be understood that sunshine and blue sky are our most important local commodities. But it's well known that Los Angeles long ago ceded the street first and foremost to cars at the expense of neighborhoods, which has always infuriated me about my hometown, so every little victory counts.
The idea is as basic as it gets. After obtaining a permit from the City, a couple of parking spaces are commandeered, a deck/platform laid down to extend the pavement grade, and the perimeter bulwarked with planters. The initial expense is covered by the business, as is the maintenance. Other than some low-key grumbling about loss of parking, they've been instant successes, with multiplier effects rippling through the neighborhood. More dining, more shopping, more slow feet on the street instead of fast wheels. Gossiping and laughing among agaves, phormiums, cordylines, and bamboo will always be my preference.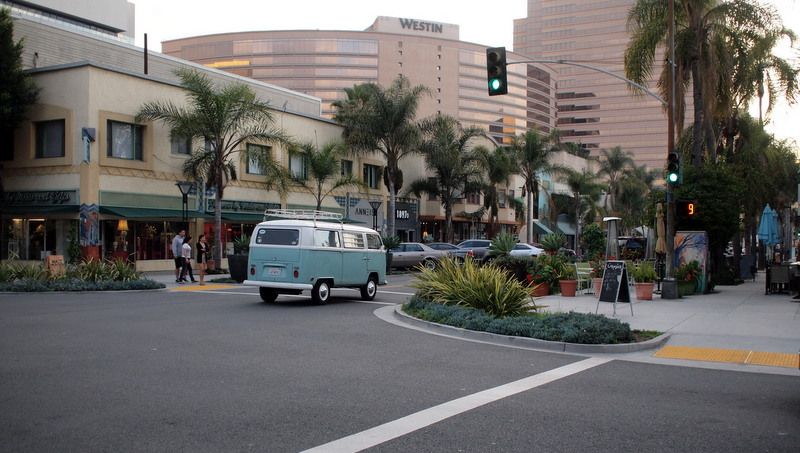 About a mile away from the parklets, closer to the old downtown, Marty is driving his bus past a "bulb-out," planted with phormiums and blue chalk fingers. Unlike the parklets, which are temporary and relatively cheap to undertake, with the cost carried by the local business, this involves construction crews and a much bigger budget to widen the sidewalk and extend the curbline farther out into the street.
Whether parklet or bulb-out, it's been so refreshing to see the needs of pedestrians considered for a change, not just cars.
Studio One Eleven is the design firm that spearheaded these local parklets and offers a downloadable parklet toolkit here.