I was up in the Bay Area for two days, helping to launch a vegetable garden, which was just enough time to squeeze in a couple brief plant shopping forays at Flora Grubb Gardens and Annie's Annuals & Perennials. At both nurseries I found rhipsalis, that filmy epiphytic cactus that was born to spill from hanging pots under my shady pergola. Unknowingly, I bought Rhipsalis burchellii from both nurseries, which is fine with me since rhipsalis has been generally not easy to find.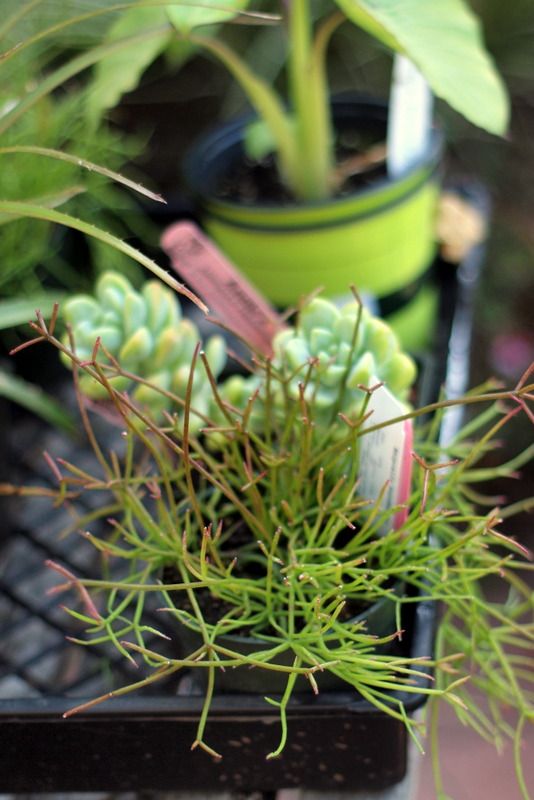 Rhipsalis burchellii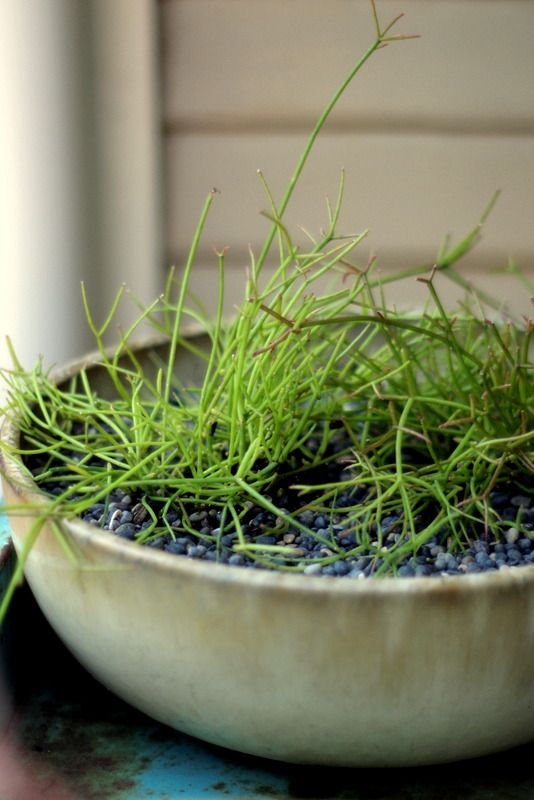 Both burchelliis were planted into this low bowl to bulk up to a substantial, hangable size.
Flora Grubb's also had a rhipsalis with a slightly chunkier leaf, Rhipsalis sulcata, bottom rung on the left.
Top rung, on the right, Colocasia esculenta 'Lime Fizzy' was found at Flora Grubb's. Stumbling on desirable plants in small, inexpensive sizes is my kind of plant lottery.
Bottom rung, on the right, Sedum x adolphii 'Golden Sedum' was from Annie's. There was an aureate, pulsating glow emanating from the table holding pots of this succulent.
Another lime-green/gold succulent, top rung on the left, Sedum treleasi, was also found at Annie's, and about a half dozen other things I've been planting all morning.
More soon on them, but just wanted to give a head's up on the rhipsalis.
(get 'em while they're hot)