The self-guided Mary Lou Heard Memorial Garden Tour stretches from my hometown in Long Beach to about 50 miles south, as far as San Clemete and Mission Viejo. For much too short a span of time, but long enough for so many to become diehard devotees, Mary Lou had the best selection of plants in the South Bay, very much in the style of Annie's Annuals & Perennials up in Richmond, California, which I think was still wholesale when Mary Lou closed her doors. I was there, along with dozens of other admirers who came to offer our warm thanks that day she closed in 2002, too sick and weak to keep the nursery open any longer, and she died very soon after. Maybe one or two others have tried, but no other local nursery of its kind, with a passion for plants that dared to resist mass-market tastes, has succeeded since the day she locked the gates for the last time.
There were a couple houses on the tour about a mile from me, so those are the ones I chose to attend and drop a stipend in the donation jar for Mary Lou's favorite charity, The Sheepfold.
Lazy sloth that I am, freeway driving holds no appeal after a busy workweek. But it was well worth attending the two close to home last Saturday, if only to see this vine in full, heat-aroused glory.
The owner didn't know its name, but it's got to be Passiflora vitifolia, the Grape-Leaved Passion Fruit.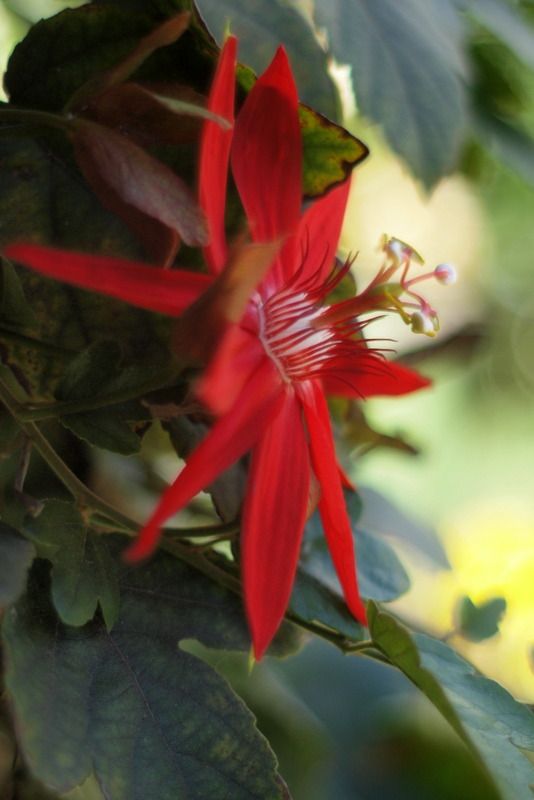 Also goes by Crimson Passion Flower, and why wouldn't it?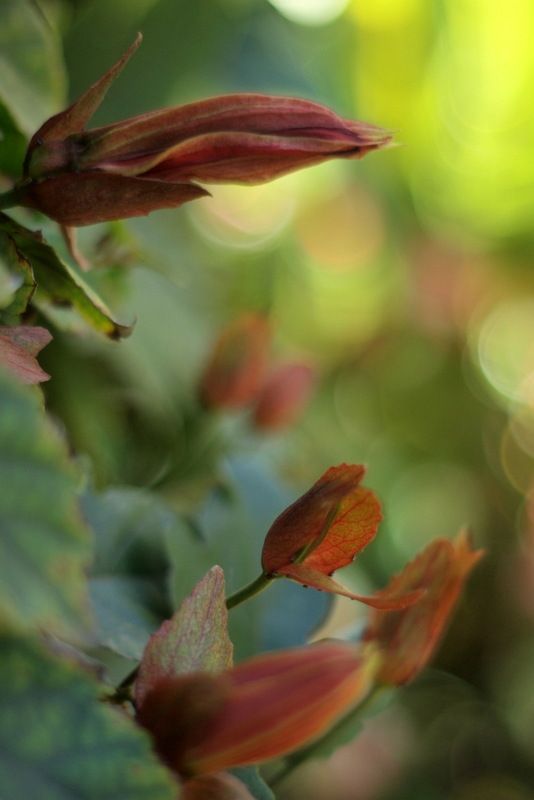 Buds and bracts were seductively rusty in tone, backed by lush and healthy leaves. It was overall just a stunning vine that the owner admitted was too much for its small trellis to handle. The owner also said never again to opening his garden for a tour. Battling the effects of the heat wave pre-tour had frazzled his nerves. The rest of the garden was in a style that the owner characterized as cottagey, with unhappy roses that had fried in the strong sun, but enormous and healthy, mite-resistant fuchsias for the shadier areas, both some of Mary Lou's favorite plants, so I know she'd be pleased. And people clamor to have their gardens on this tour, so even if some drop out there are plenty waiting in line. Mary Lou's legacy tour is still as strong and vibrant as its namesake.