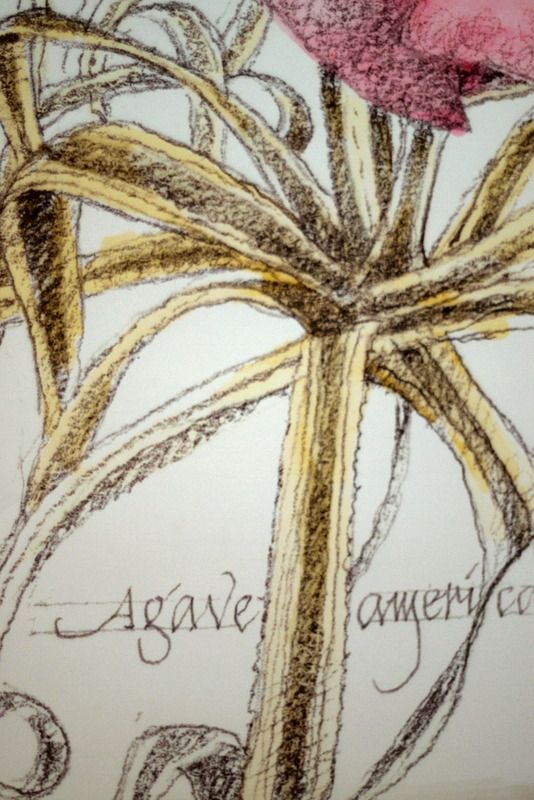 Detail of mural in the new reception hall at Rancho Los Alamitos.

I don't suppose there's the smallest chance we'll ever see a "bullet train" built that runs to Portland, Oregon, since the voter-approved Los Angeles-to-San Francisco high-speed train has been delayed two years and still faces an uphill political battle. Whether by train or plane, a girl can dream of buying a ticket for next weekend to hear Bay Area artist and garden designer Shirley Watts give a talk sponsored by the Hardy Plant Society of Oregon entitled "The Artful Garden" at Portland State University's Hoffman Hall, 1 p.m., Sunday, February 15, 2015. Coincidentally, Shirley was in Los Angeles briefly last week, and we met up at Rancho Los Alamitos, where I had the benefit of her discerning perspective as we strolled the grounds. Typical for me, I see plants, plants, agaves, plants, more plants, where Shirley will remark, What an odd figure-eight amoeba shape they put the lawn into here! Must be California modernism seeping into the early rancho style. The low adobe walls, the original cement pottery, the placement of a bench, none of it escaped her quick eye, and my visit was that much richer for her comments and musings. With her deep knowledge of plants and antennae exquisitely tuned to the romance and atmosphere of a place, I couldn't have enjoyed the visit more if it had been led by one of the Rancho's docents.
That Saturday I arrived an hour early to wander the gardens, so I'll leave you with my photos of plants and more plants, and the occasional horse (Preston, the two-year-old Shire).
For the full-bodied pleasure of viewing gardens through Shirley's eyes, you'll have to hear her speak this Sunday.