Is that a water pistol in your pocket or are you just happy to see me?
I've been hearing from friends in the retail nursery business that the new water restrictions have them very worried. Indeed, I've been told retail sales for April were most discouraging.
Yet botanical garden plant sales this spring, which understandably bring out the most avid plant lovers, have been mobbed.
Undaunted, unbowed, we're still in search of a new plant love, just like every spring before this momentous one, but keeping a closer eye on our latest infatuation's potential drinking problem.
(At Fullerton Arboretum's outdoor Green Scene, this year's darling was Pimelia ferruginea, helpfully in full bloom. It seemed to be in everyone's cart.)
But since the announcement, the confusion and dismay of the lawn-and-foundation-shrub crowd is palpable. There's even panicked talk of deploying Astroturf.
A simple, reasonably easy-to-maintain, preferably inexpensive solution to the space between the sidewalk and front door is wanted now.
Local nurseries have a huge opportunity to lead the masses into a dry garden oasis, possibly by more focus on small display gardens instead of benches and benches of summer "color."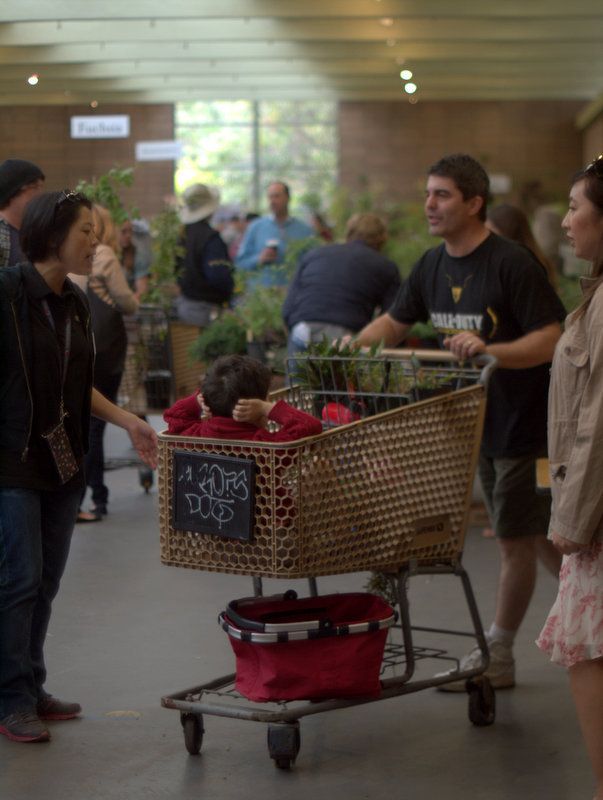 Now, this is a plant sale. San Francisco Botanical Garden plant sale 5/2/15. Shopping carts!
Along with Fullerton Arboretum's Green Scene, I've attended the Huntington and the San Francisco Botanical Garden sales.
These photos are all from SF, a plant sale I'd never attended before. Was it worth the 6-hour drive? Absolutely, every minute of it.
(Plus, I got to stop in and give Mitch a hug for his birthday later in the week.)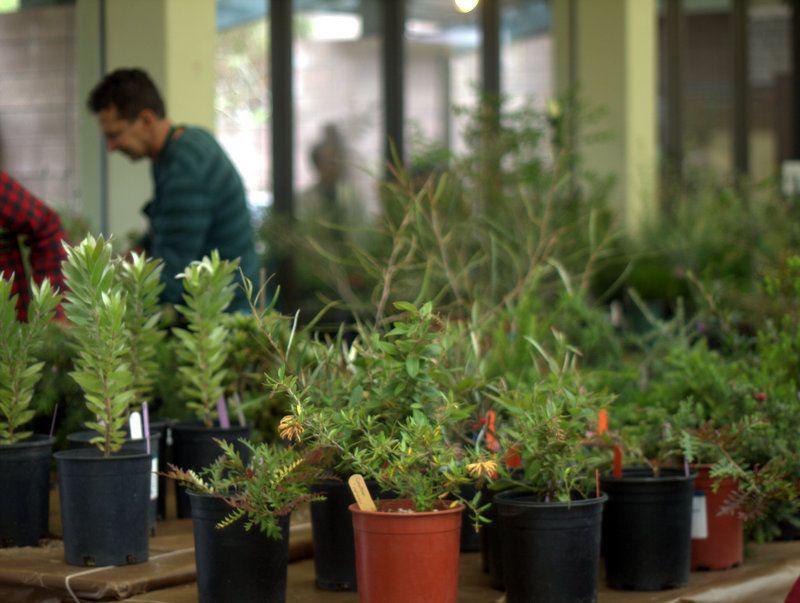 Prices were unbelievably low, the selection much more rarified than the plant sales in SoCal.
I lingered long and hard at the proteaceae table. That's Grevillea juniperina 'Molonglo' in the foreground.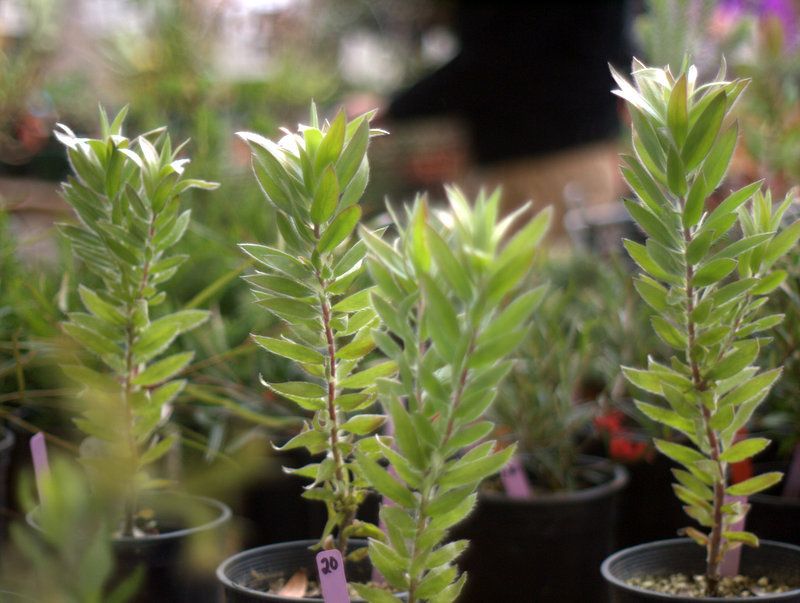 Here was the Leucadendron argenteum I've been waiting for, but ultimately I passed. It's a big beast.
I took a chance instead on a Protea neriifolia, which probably won't get very big in my garden, if you take my meaning…
A book table was a nice touch, but I didn't spend too much time here (any!). The variety of plants was way too distracting.
Some desirables were sitting not on sales tables anymore but in somebody else's cart, like this bomarea. In somebody's unattended cart.
That moral dilemma might be too much for some attendees. Fortunately, I was forearmed with the knowledge that life in Los Angeles for bomareas is a struggle for survival.
After a couple years, mine is still alive, but just barely. Sometimes it's so hard to distinguish that fine line between still getting established and fading away entirely.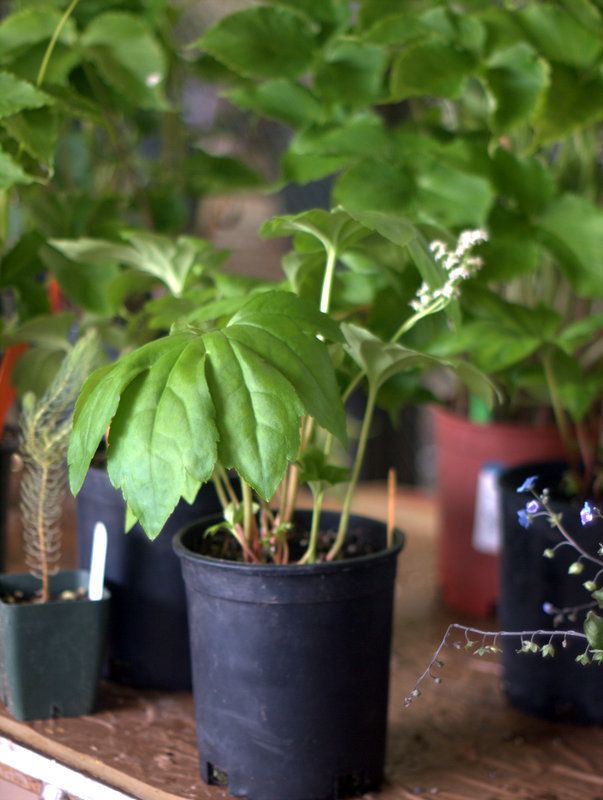 Oh, there was plenty of juicy looking stuff, like Mukdenia rossii. Walk away, just walk away.
Now we're talking. There was a huge California native section too.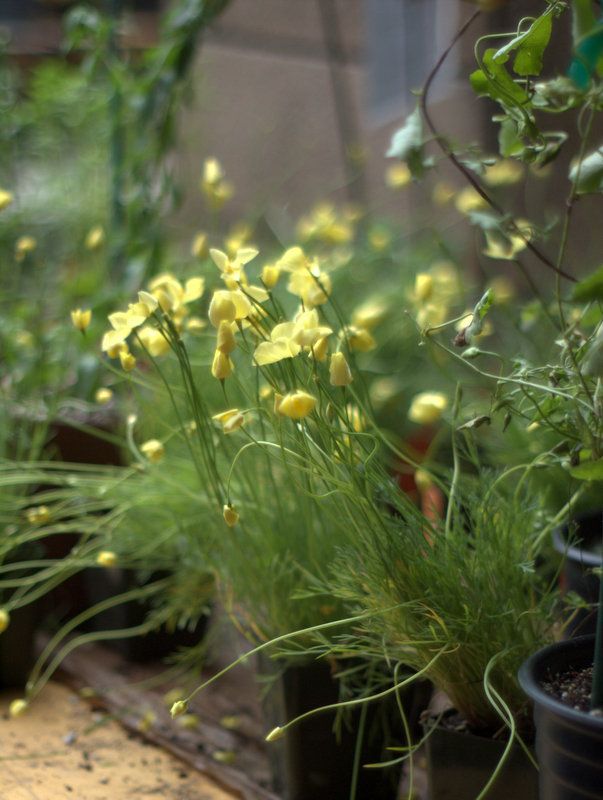 Lemony flutterby poppies.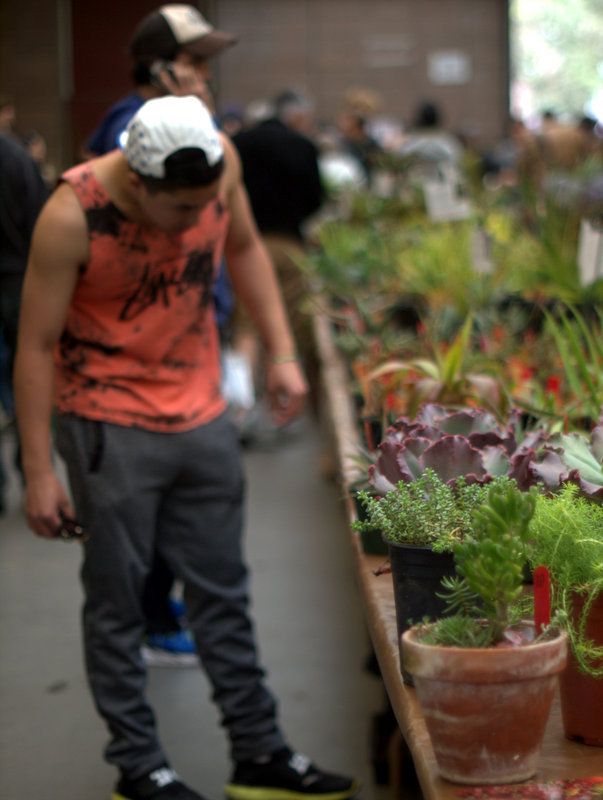 And a big succulent selection, of course.. I think the only area SoCal has SF beat is in agaves. Not a big selection in SF.
But then that's what the Ruth Bancroft Garden plant sales are for. I wish there had been time to stop by this trip, but there just wasn't.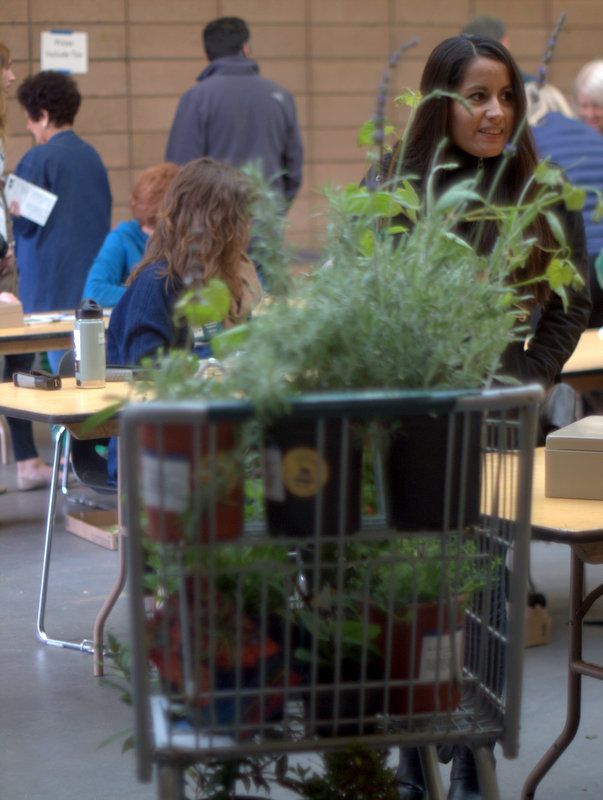 I've been thinking of lavenders a lot too. Absolutely nowhere to put them at the moment.
Plant sale haul at home. Protea neriifolia, Leucadendron laxum, Plectranthus zuluensis. The white dierama in bloom was too cheap to pass up.
(But I do apologize in advance for moving you to my garden, the renowned graveyard of dieramas.)
The dierama was planted near Eryngium pandanifolium and Rudbeckia maxima, both of which wouldn't mind it moist but tolerate drier conditions when established.
(Rudbeckia maxima was found at the Green Scene plant sale.
I spotted the rudbeckia's big silvery paddle leaves at a display garden at Fullerton Arboretum and tracked it down to their store, The Potting Shed.)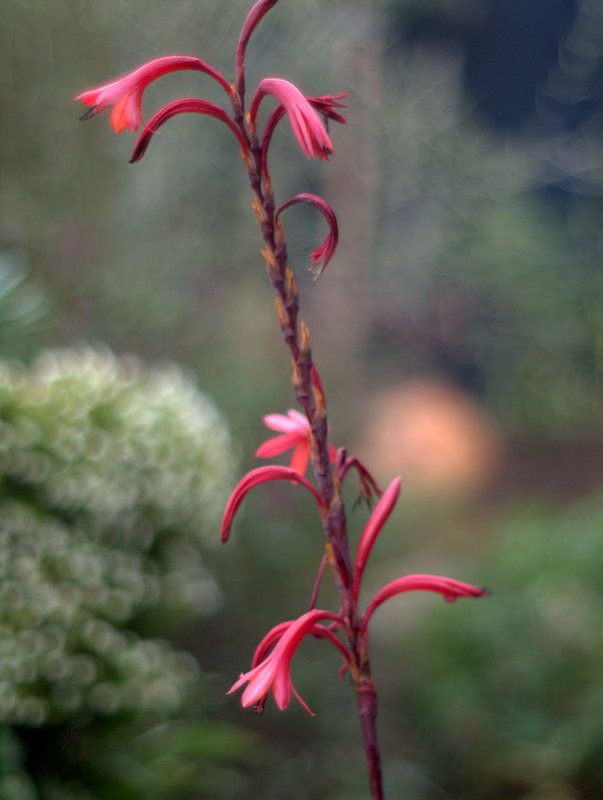 And this marvelous creature came home from SF, too, a species watsonia.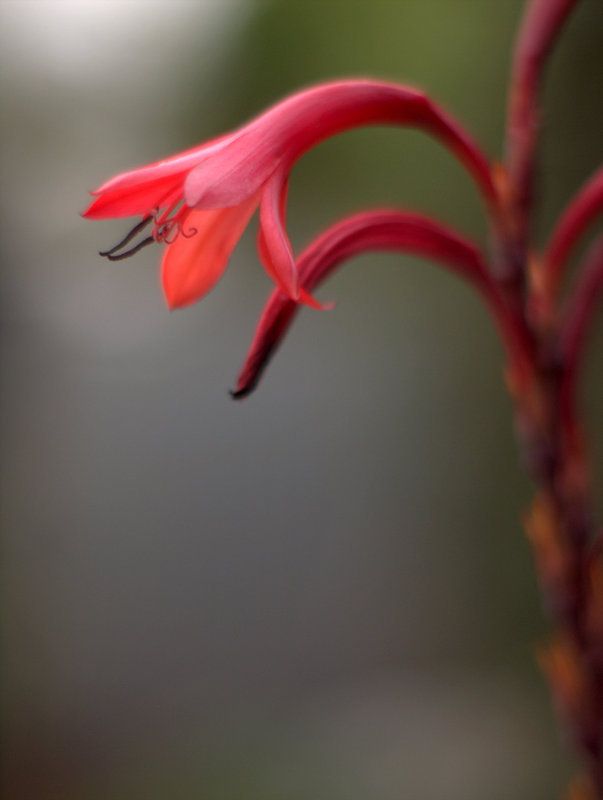 I've grown the garden hybrids of this South African bulb off and on, which bulk up fast and get bigger than phormiums.
I got a bit bored with the pink and white selections of those. This one's color reminds me of Nerine sarniensis.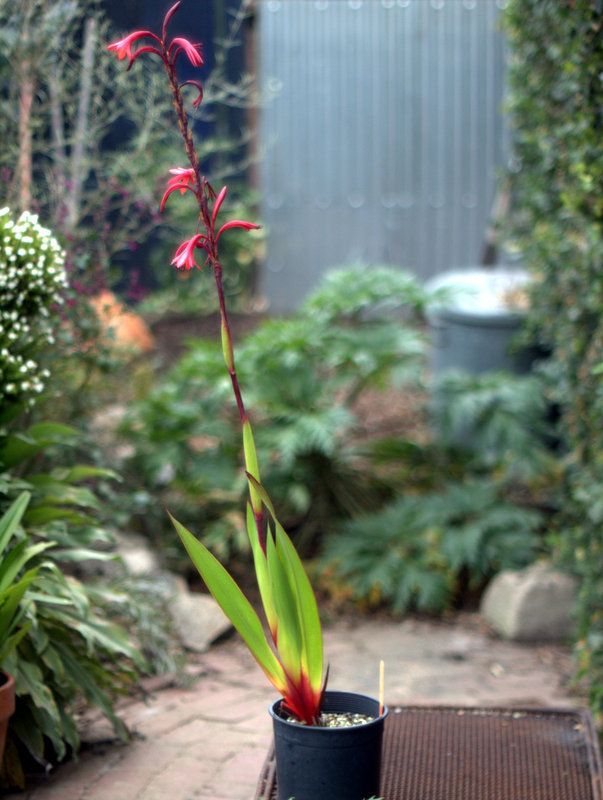 With a pronounced seductive red flush on the stems and leaves.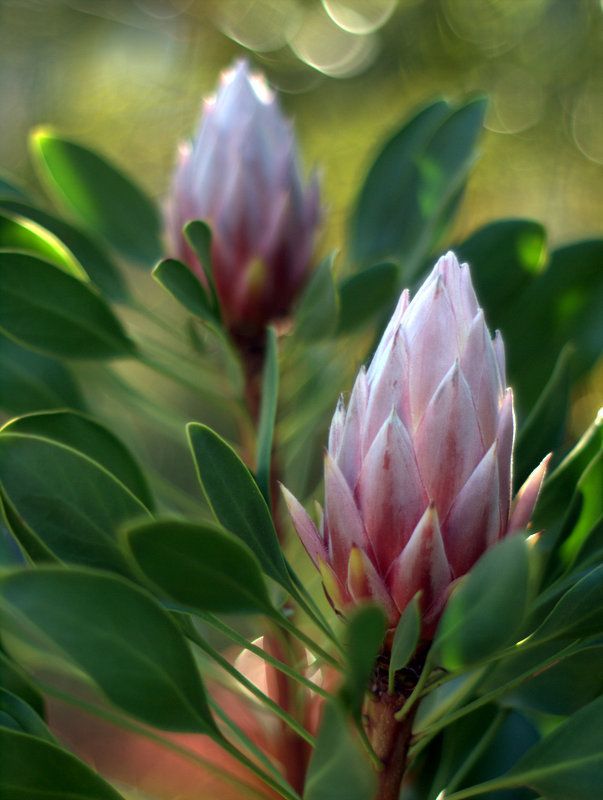 Coincidentally, I bumped into a Protea neriifolia in bloom that weekend at Flora Grubb Gardens.
FGG is where I found my Mother's Day present, a new container for my Cussonia spicata, which literally busted through the old one.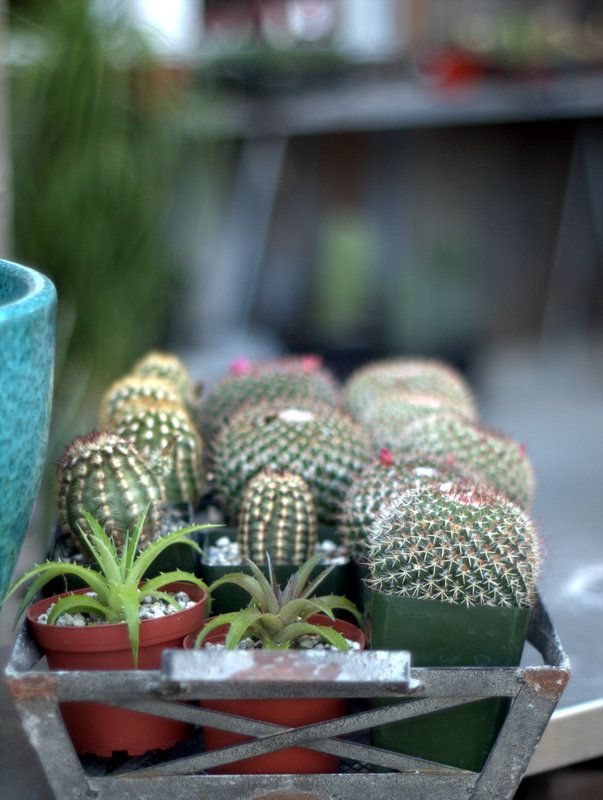 And a happy Mother's Day to all you mothers of invention, gardens, kids and/or animals. May you find a new pot for your growing cussonia!
The skies have turned cloudy and, believe it or not, slightly rainy, so I've turned my attention to getting the vegetable garden sorted out, beans planted, tomatoes tied up, etc.