The summer containers in nondrought-stricken gardens can become quite a virtuoso display. I've understandably pared things down the past few years but am always amazed at how even a relatively small group of pots can exclaim "Summer!"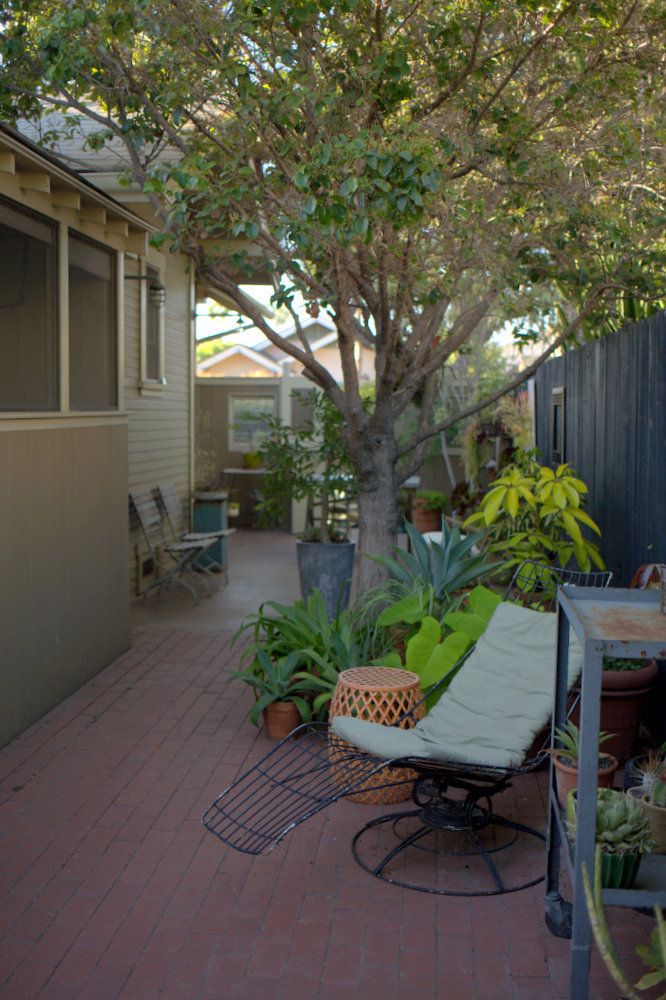 All the pots scattered through the garden become candidates for a massed summer display. I appreciate how growing a single species to a pot means it can be a focal point at one time of year and part of a big group display at another time. A good place for summer staging is around the Chinese Fringe Tree (Chionanthus retusus) which bisects the long, narrow patios on the east. Now that the tree has fully leafed out and all the flowers have fallen, I've massed pots on either side of the tree to take advantage of its dappled light.
A chaise in dappled light isn't a bad idea either. A Mid-Century Homecrest, it needs a touch-up of black paint but is the most comfortable lounger, like floating in zero-gravity.
(Thanks again to Shirley Watts for hauling it down from Alameda in her truck.)
This group of pots has been gradually accumulating here the past month or so, pulled from all over the garden. The chartreuse Xanthosoma 'Lime Zinger' was moved in when it gained enough size to make an impact. Unlike so many colocasias, this tropical reliably returns from winter dormancy year after year. I turn the whole pot on its side and leave it outdoors in winter. I have lots of small, slow-growing agaves in pots, but I like having a couple good-sized potted agaves to mass for summer. There's a couple pups here of 'Blue Flame' and 'Boutin's Blue,' both of which don't mind some shade. The golden Schefflera 'Amate Soleil' was fine in full winter sun but definitely needed dappled shade by June.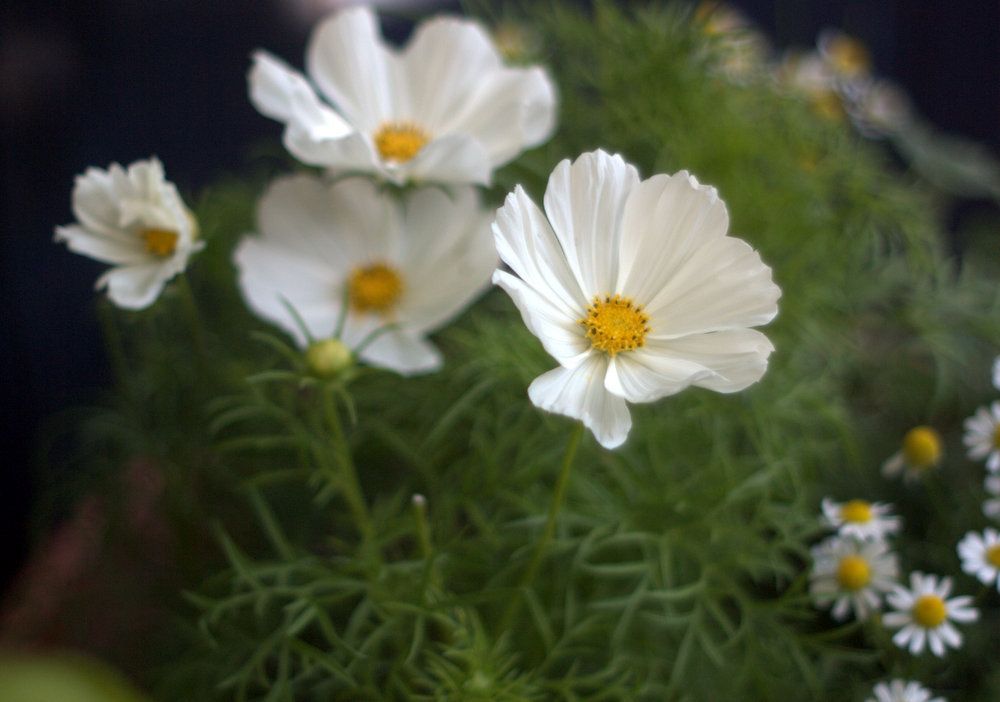 The pots of mostly foliage are easy on the water budget, and water from the shower handles all the containers. The latest addition is a big pot of cosmos, chamomile and silver-leaved horehound/marrubium, a gift to the bees.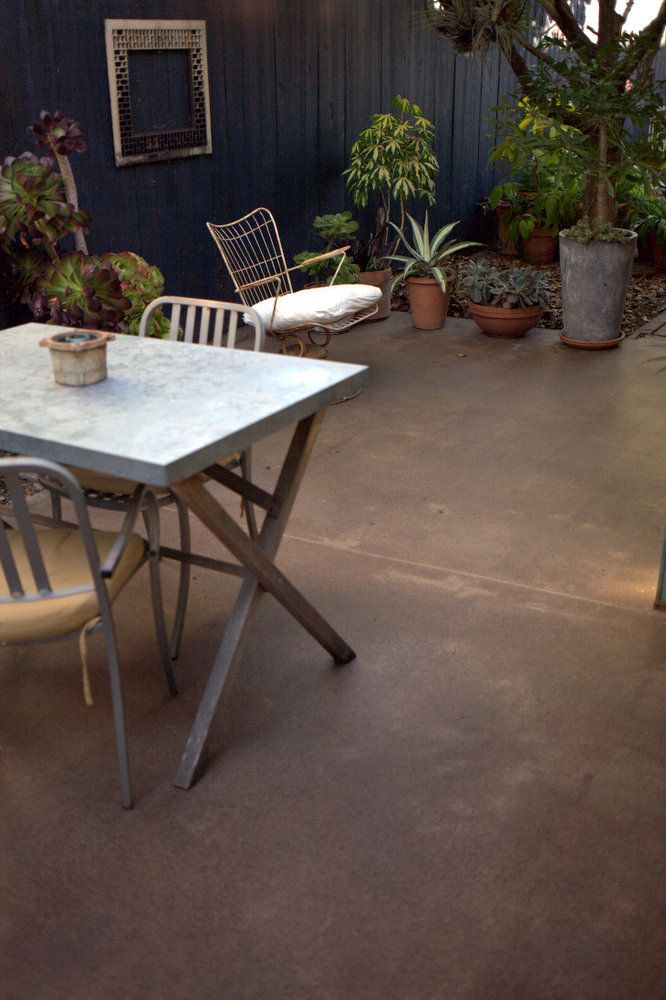 Looking from the other end, Cussonia spicata in the tall grey pot is doing so much better in the dappled light after wintering in full sun.
Variegated manihot, potted succulents, and closer to the table the huge Aeonium 'Cyclops,' also moved here to escape full summer sun.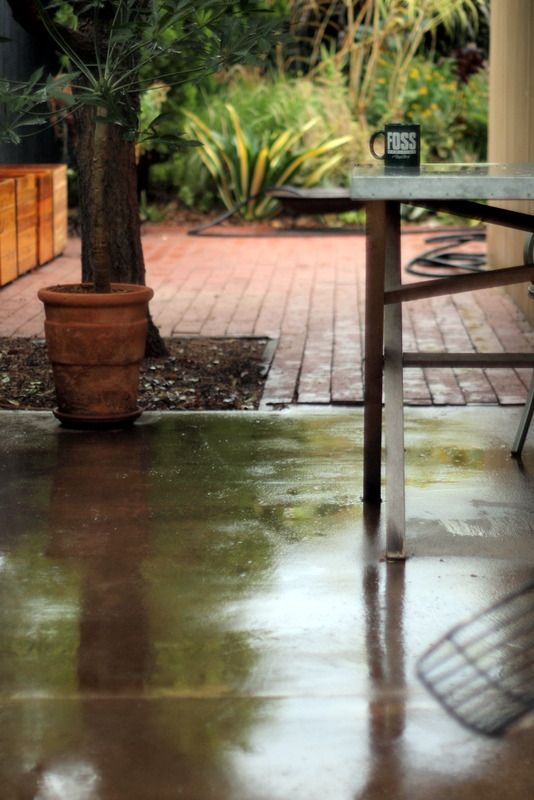 The base of the fringe tree is unplanted, covered with a mulch of its own leaves year-round. The view after August rain last year (see post here). I've since broken that coffee cup, a favorite from a local tugboat company. And Mitch took those wooden planters up to his garden in San Francisco. Before my neighbor planted palms on his side of the fence, this little patio used to be a heat trap by mid-day and went mostly unused until evening. As a native Angeleno, it's taken me a lifetime to appreciate the slim footprint of the ubiquitous palms and the lovely shade they cast.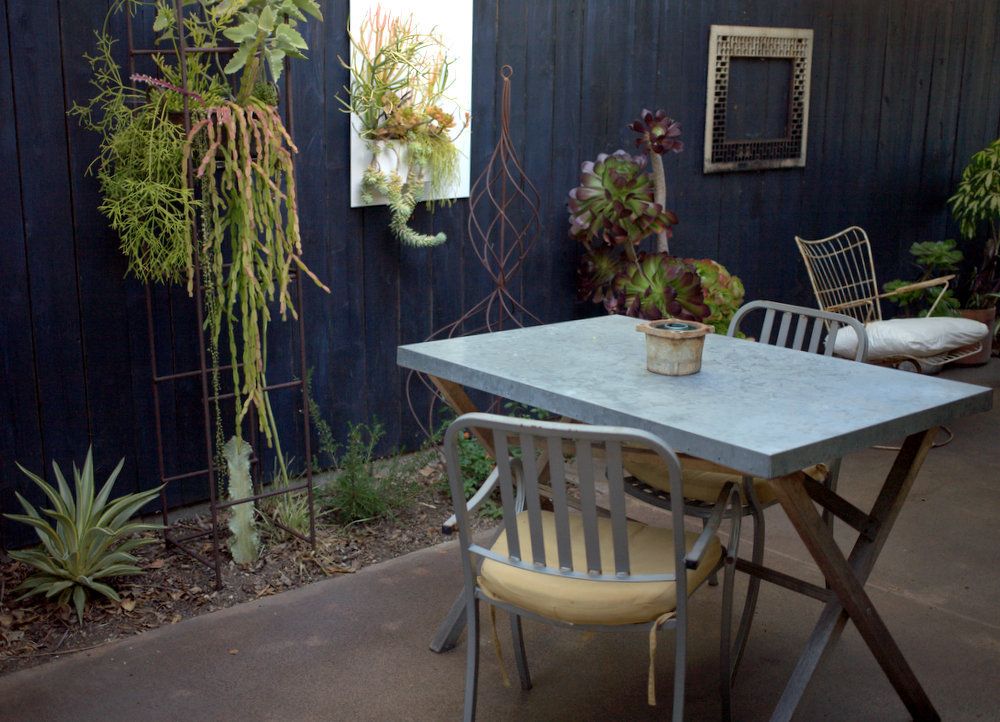 I've been playing around with that tall iron stand for 20 years or so. When I saw photos of Maurizio Zucchi's home, I felt both validated and incredibly envious. The little Euphorbia ammak at its base has a long way to grow to make an impact. I'd so love to find some more iron scaffolding for this patio. The twisty tuteur supports a marmalade bush, Streptosolen jamesonii, I'm hoping can be trained up through its spirals. The empty frame is part of the floor grate to the broken heater we inherited with the house.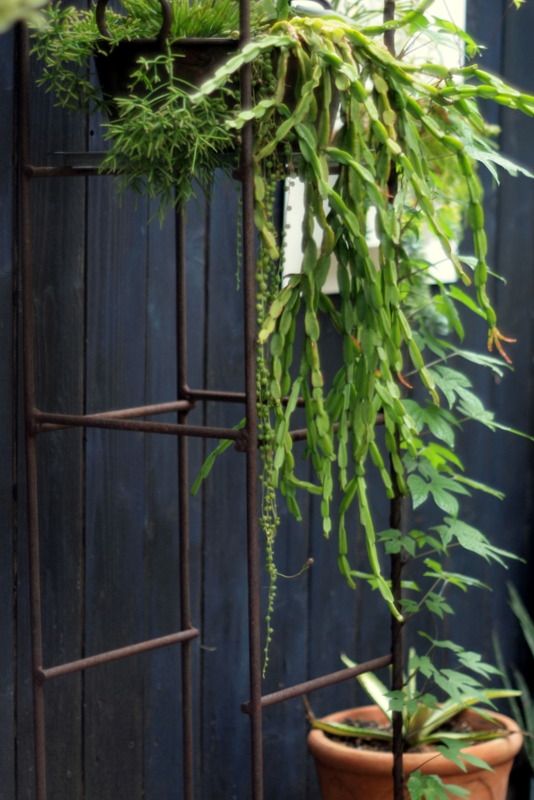 Last summer the vine Mina lobata grew up the iron stand's girders, wilting in the afternoon sun. I found a seedling of this vine that's been potted up to try in morning sun/afternoon shade.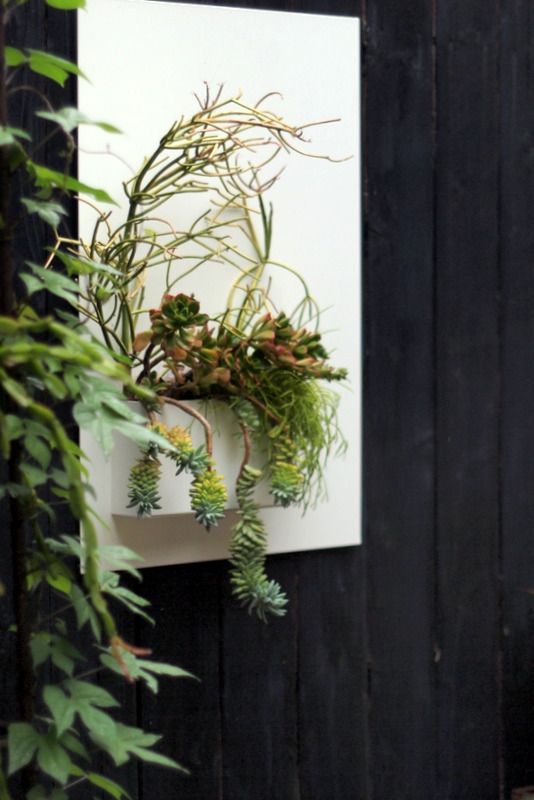 Potted's City Planter was planted up last summer and has been bullet-proof ever since.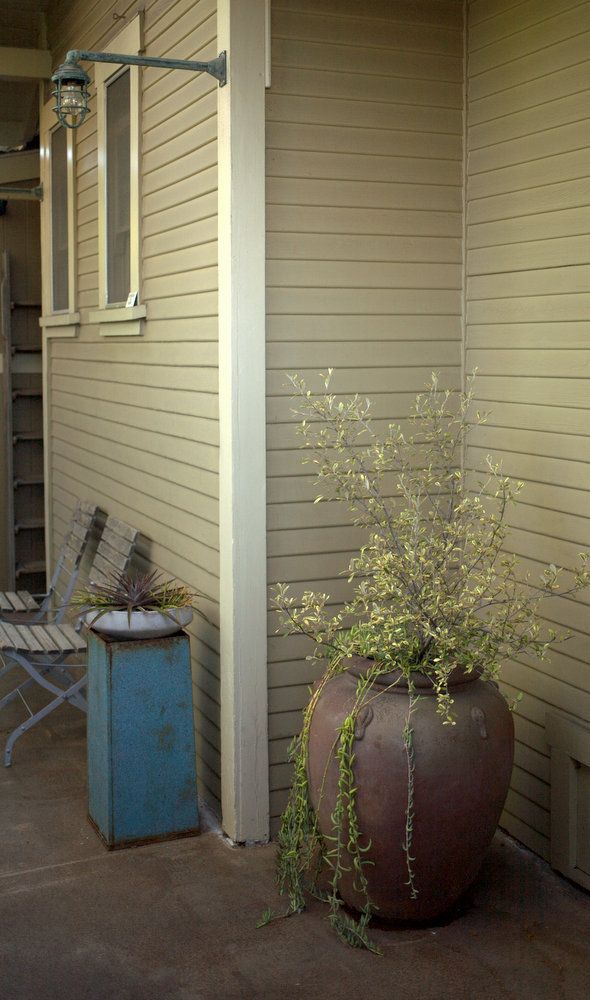 Hopefully this will be the last time I move this monster pot for a few months. Showing is one of two lamps salvaged from Warehouse No. 1, the oldest warehouse in Los Angeles Harbor. Marty kept a little workroom in the basement of the cavernous warehouse when he worked for the Port of LA, so we have a strong affection for the old relic.
The remaining rosette of the huge clump of dyckia I just removed this week from the front garden. Dyckias and year-round tree litter are just not a good combination. I was so sick of the mess.
I know a lot of pots of tender plants are on the move out of basements and greenhouses, where they vacationed like winter snowbirds. Sometimes I wonder if the pots in this frost-free garden don't have just as many miles under their rims.