As a kid, sneaking with my best friend into the unoccupied bedroom of her older sister and marveling at her sophisticated possessions, I still vividly remember finding the Rolling Stones' album "Aftermath." The older sister immediately rose several degrees cooler in my estimation. In my naivete, though, I assumed that you were meant to play the album only after you did your math homework. What a strange universe I inhabited, where the Rolling Stones cared about your report card. I've had a fondness for that word ever since.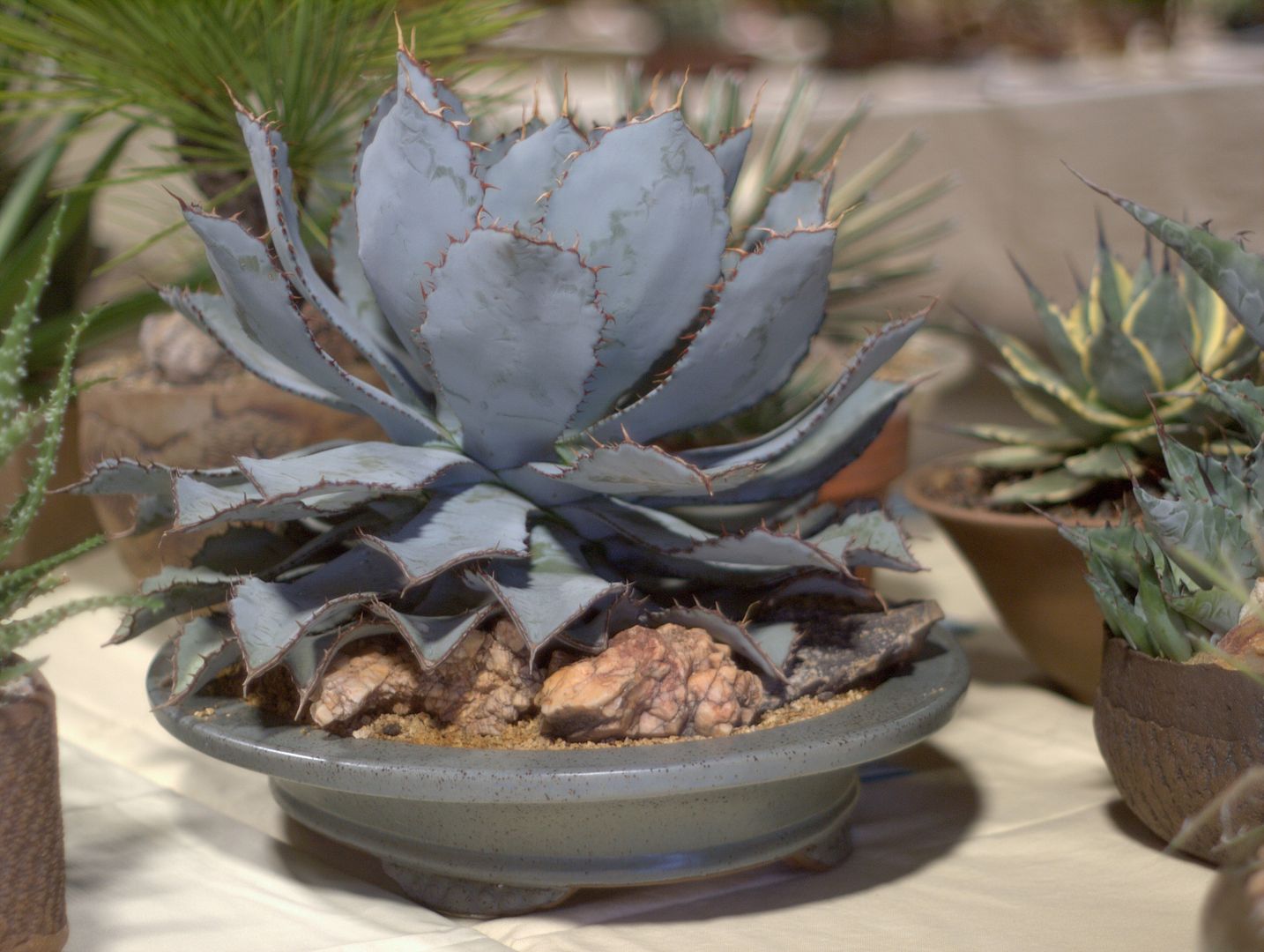 And my usage here is not quite correct, since it refers to "the consequences or aftereffects of a significant unpleasant event," and the show and sale were anything but unpleasant. I was at the show early on Friday before setup was complete, and this entry didn't have a tag yet. Reminds me a lot of my (now deceased) Agave guadalajarana.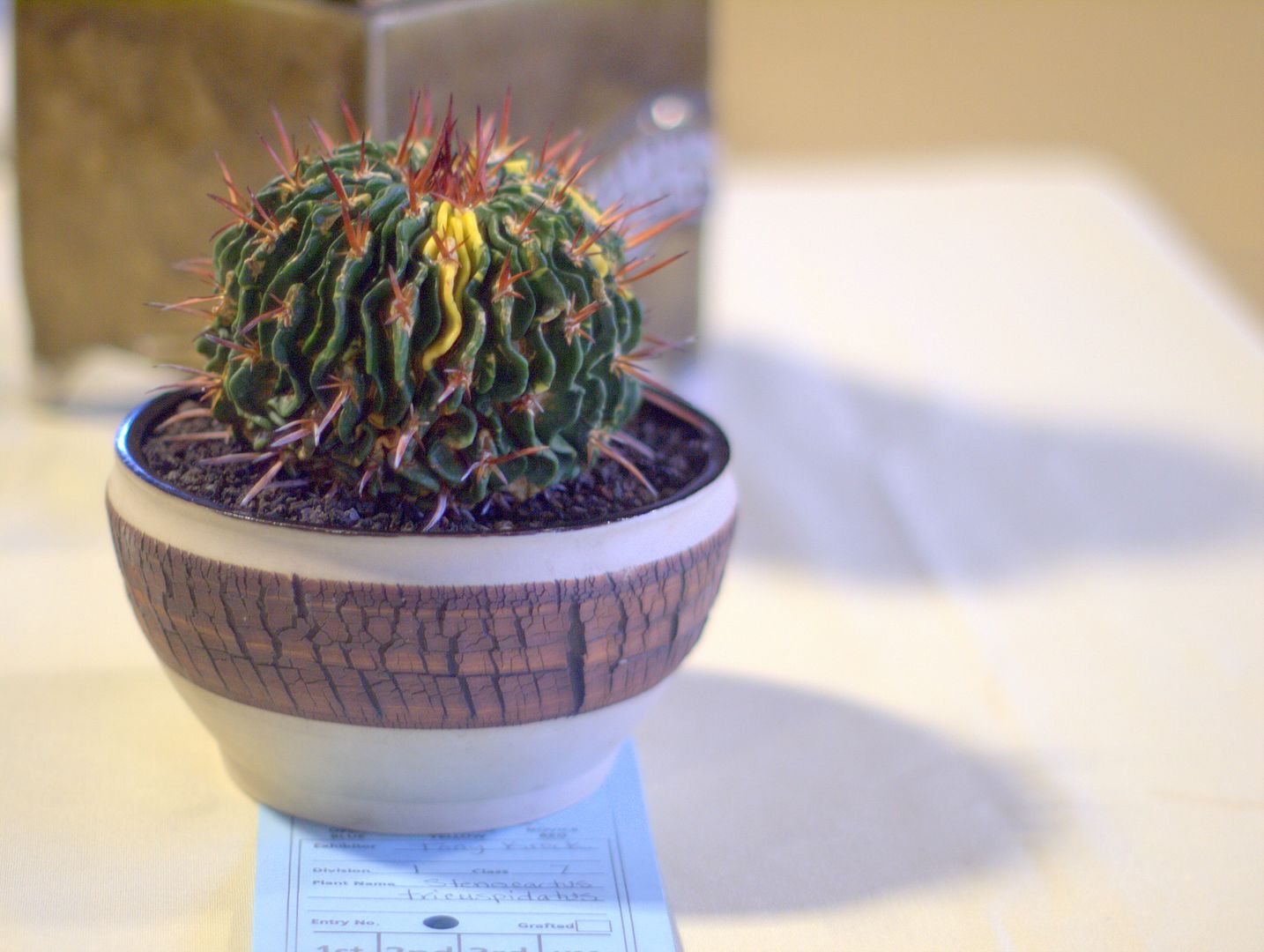 There's been a lot of posts on the show on Facebook, where I saw more of this same Stenocactus tricuspidatus.
I didn't get the name on this astrophytum, just liked the pale silver against the matte red glaze.
There's a distinctive look to the pottery sold at the succulent shows.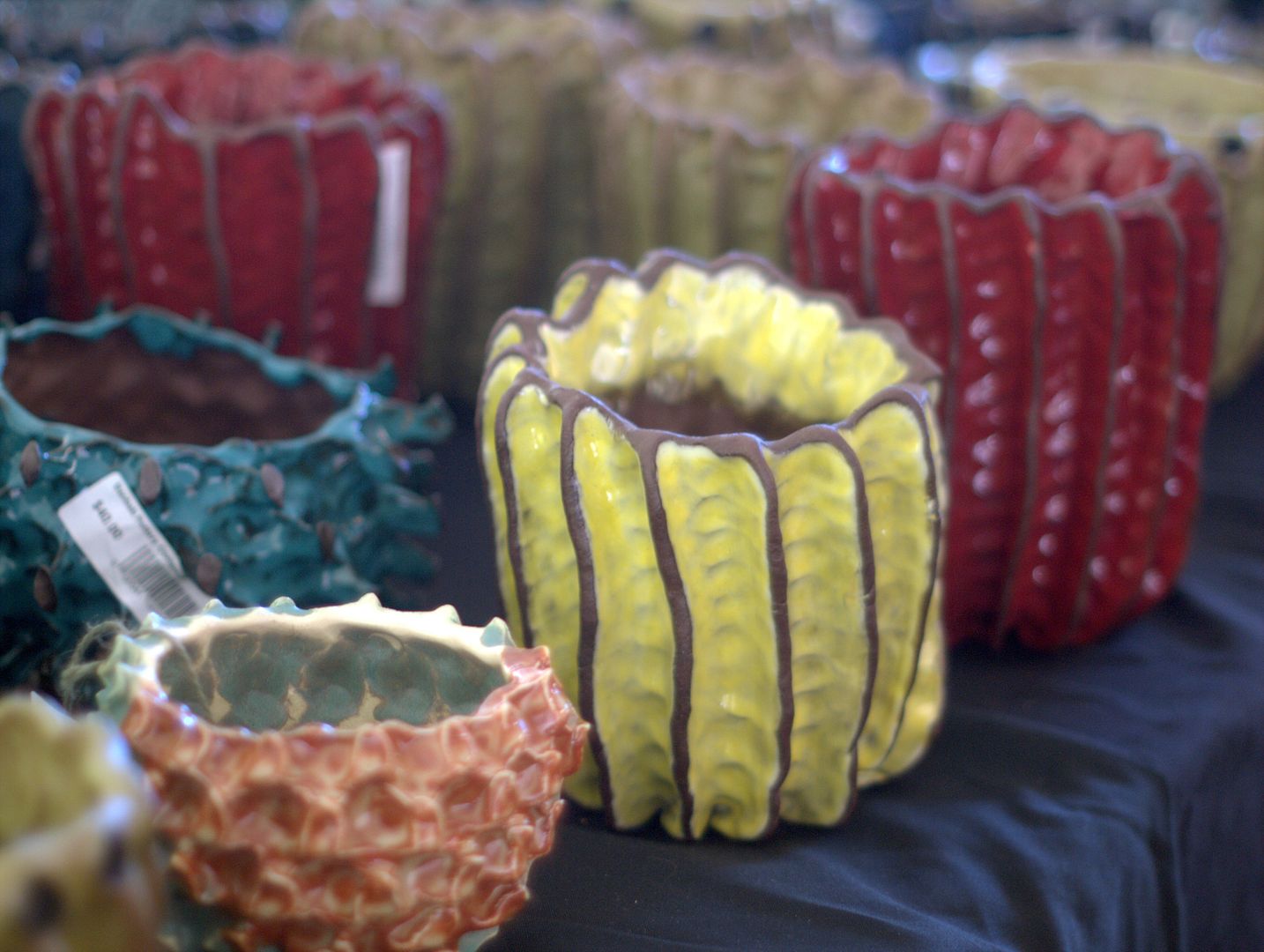 I finally broke down and bought a very small pot, not exactly in this style.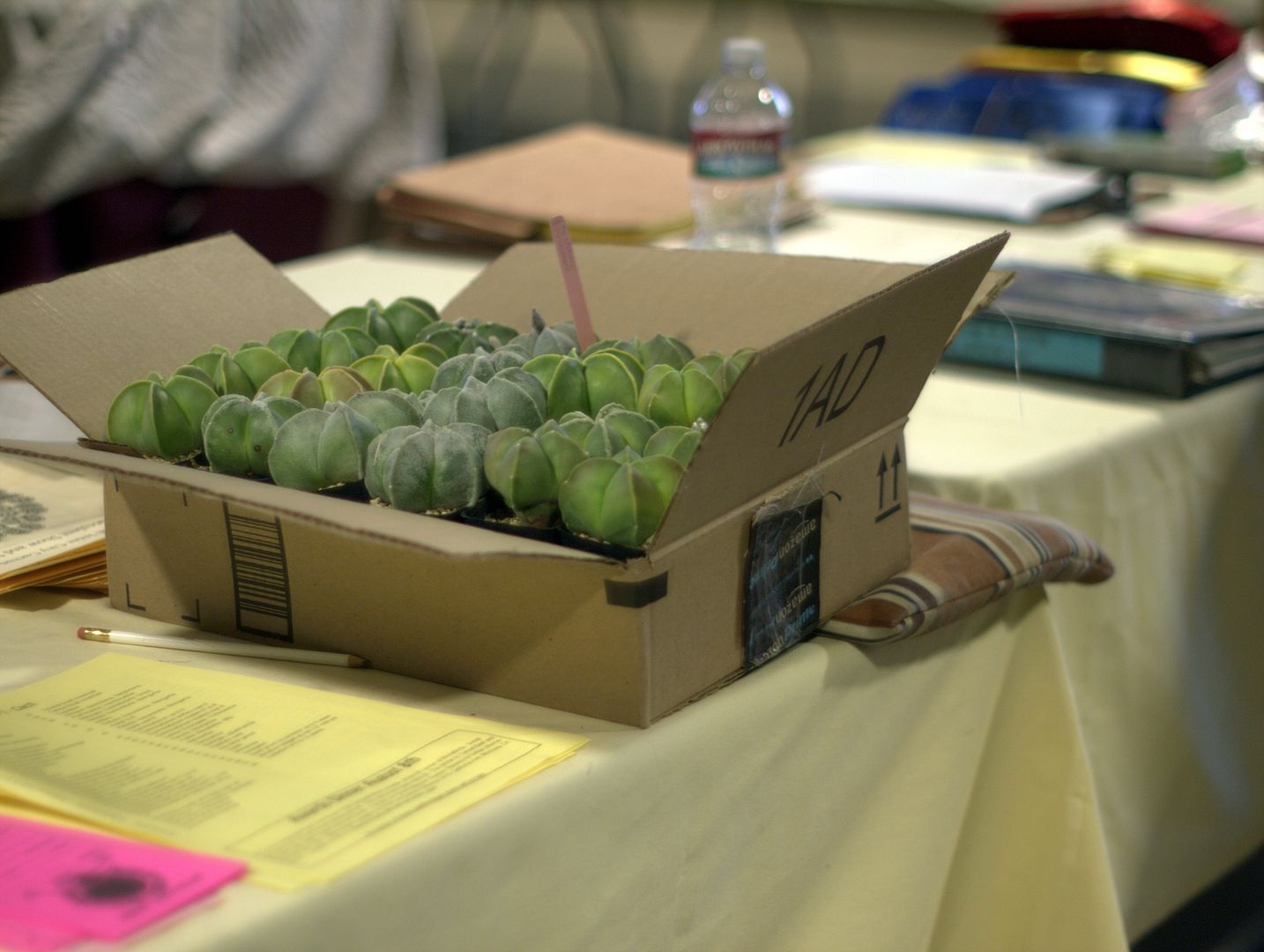 Isn't this as appealing as a box of cupcakes?
This ceramicist's pots were very distinctive, reminding me of vertical basalt outcroppings. *I got his card and promptly lost it. Potted at one time carried his line of pots.
Unlike the specimens at the show, most of my potted succulents are generally biding their time and making size until they're planted in the garden. They don't stay specimens for long, unlike these beauties which will spend their lives in pots. I tend to think of landscape first, not collecting. But something about this monochromatic confection called out to me. Gymnocalycium ragonesei. I usually try to resist, because I really don't need a collecting habit and a zillion small pots to look after. But then "need" has nothing to do with it, right?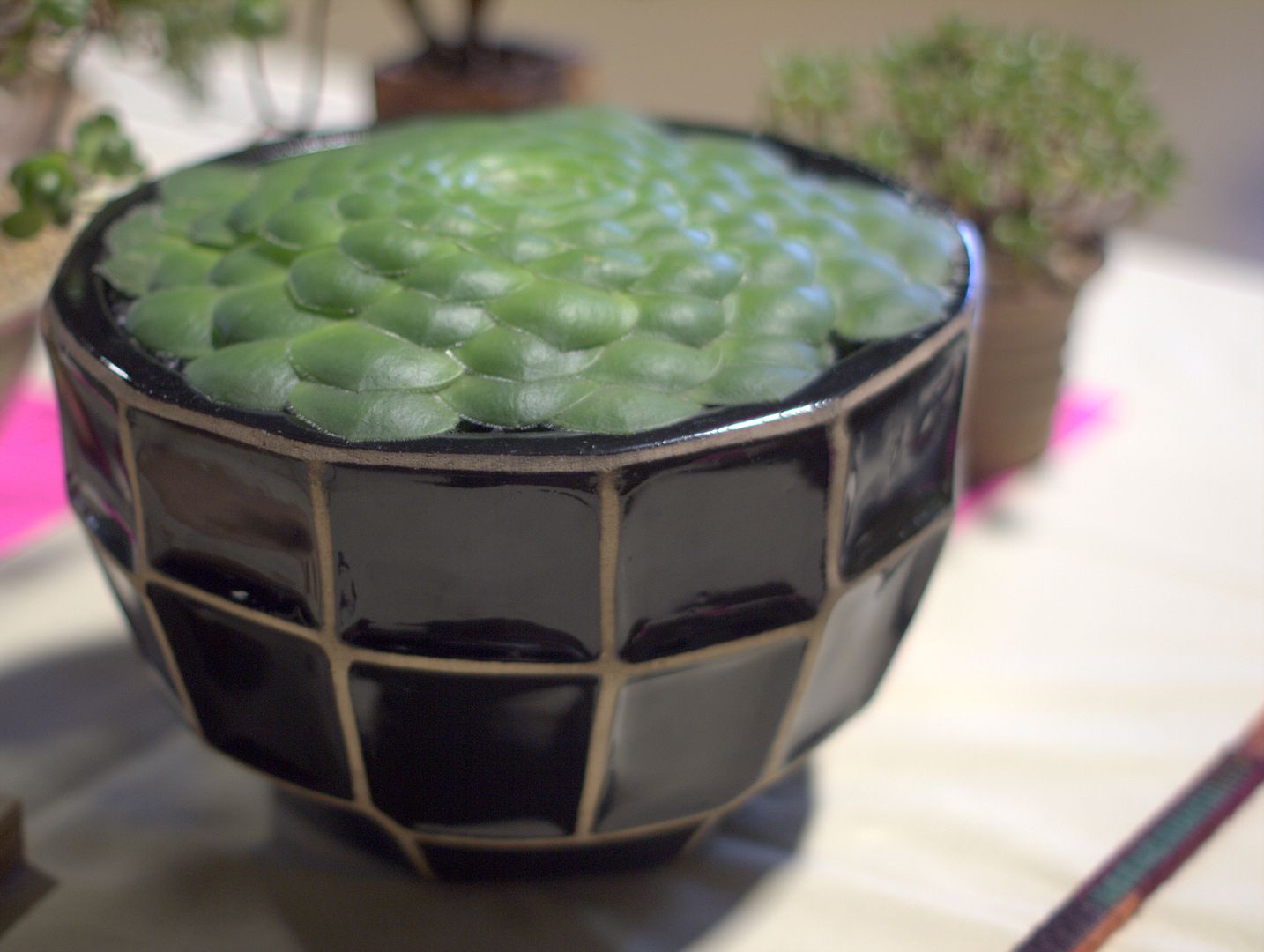 Aeonium tabuliforme in a very cool, multi-faceted pot.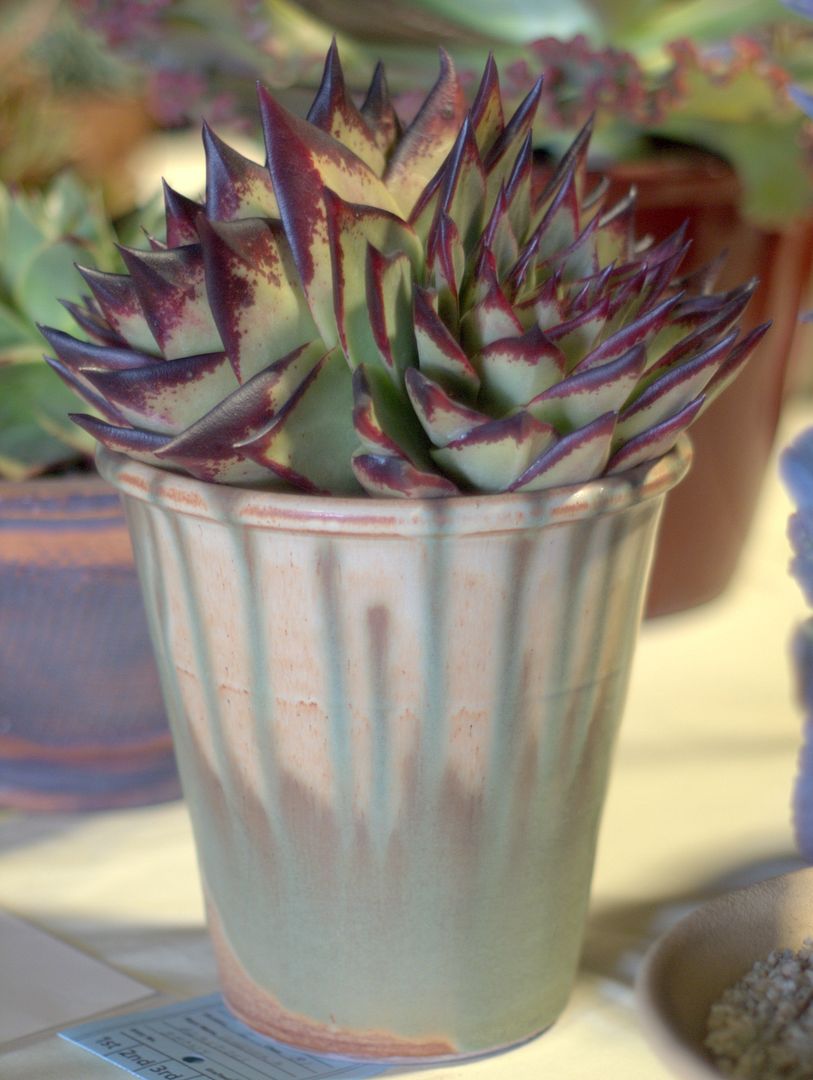 Echeveria agavoides 'Ebony.' This time there were quite a few for sale too. It's very slow to offset, hence the rarity and high price. I was told that these dark edges were obtained at the expense of the overall plant, which was showing fading from the sun. Looked fine to me.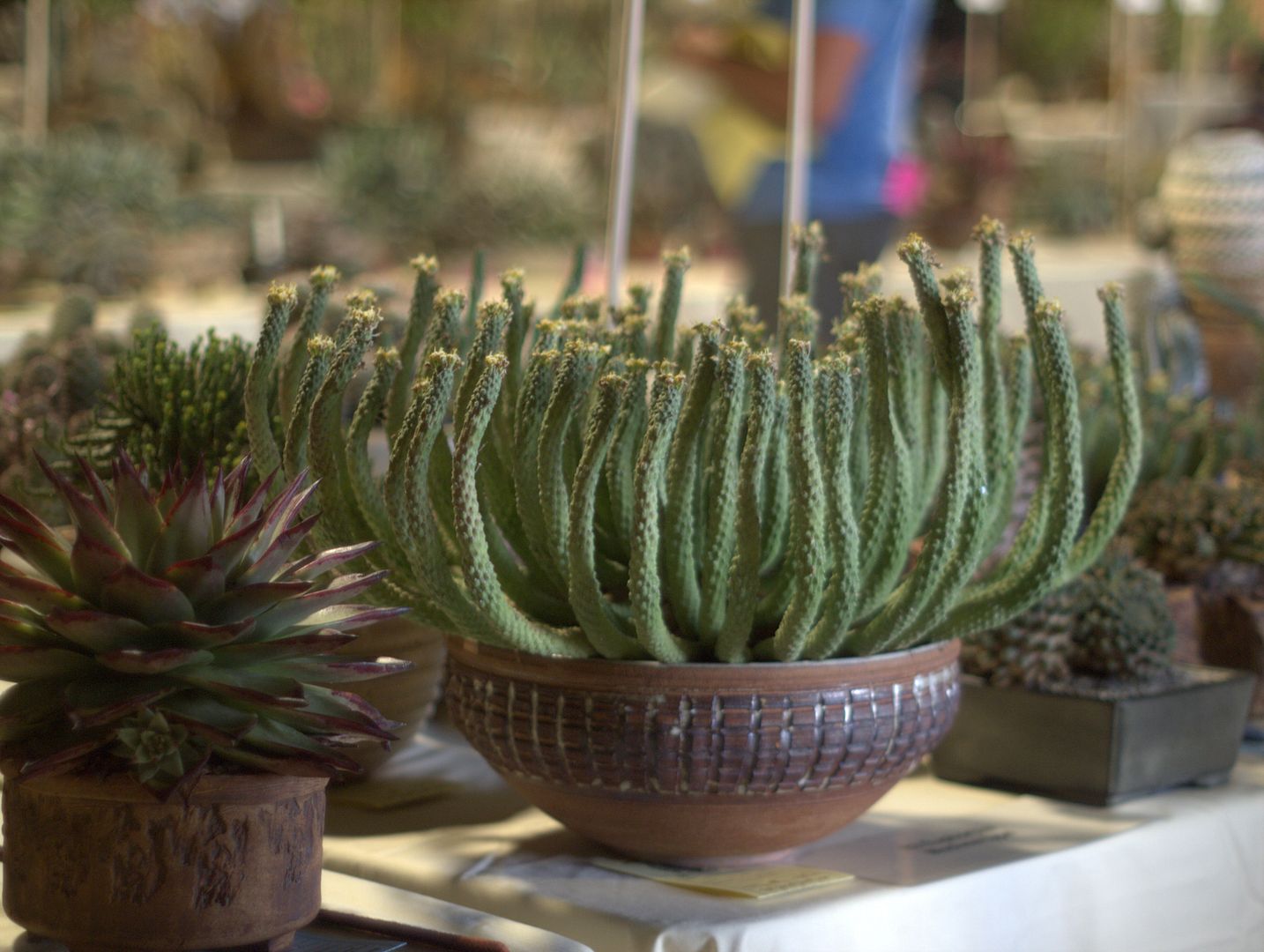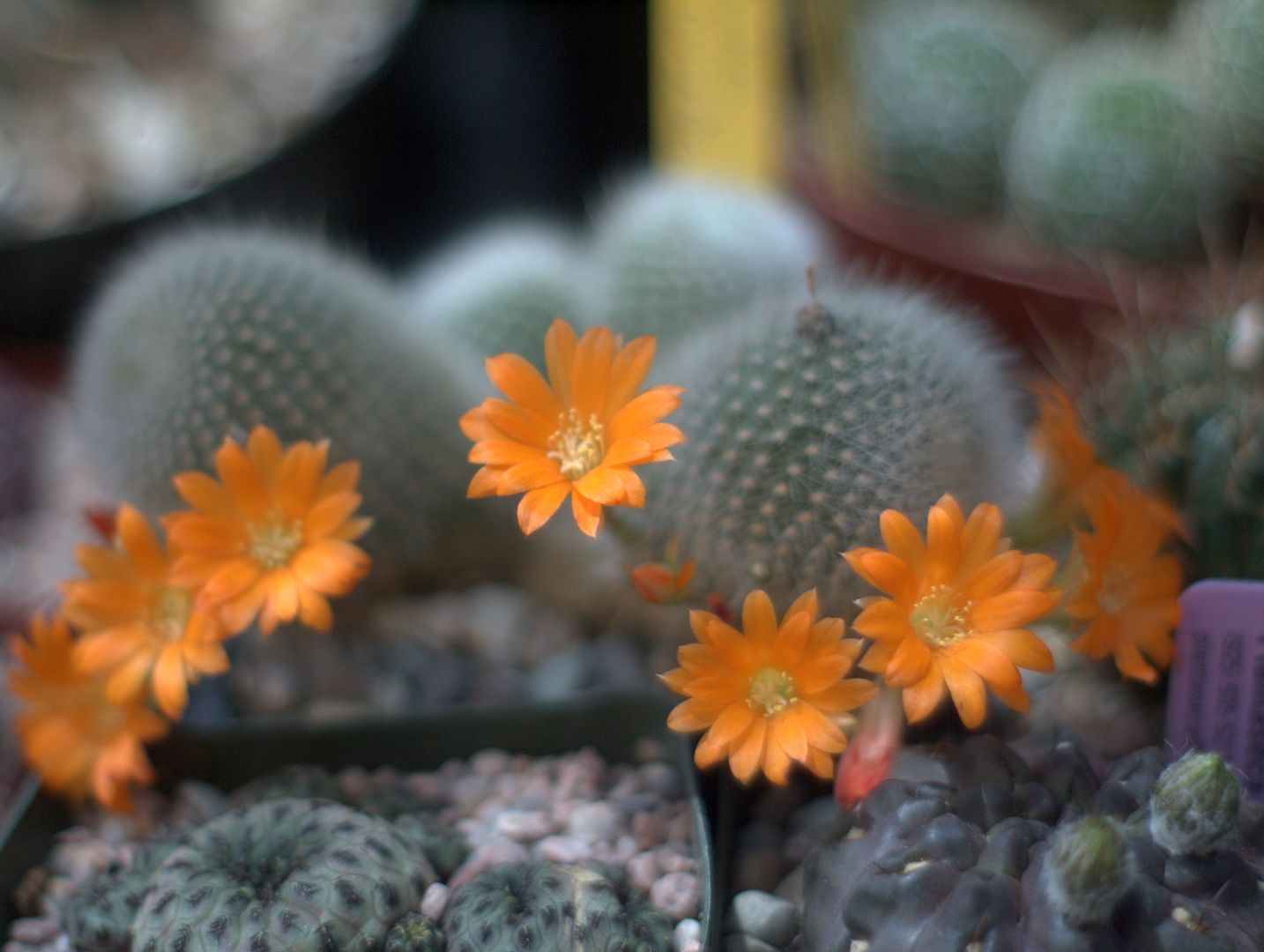 So what did I bring home? Aeonium 'Mardi Gras' from Altman Plants is supposedly going to be unleashed at big box stores everywhere this year. I couldn't wait. This was the only one I saw at the show.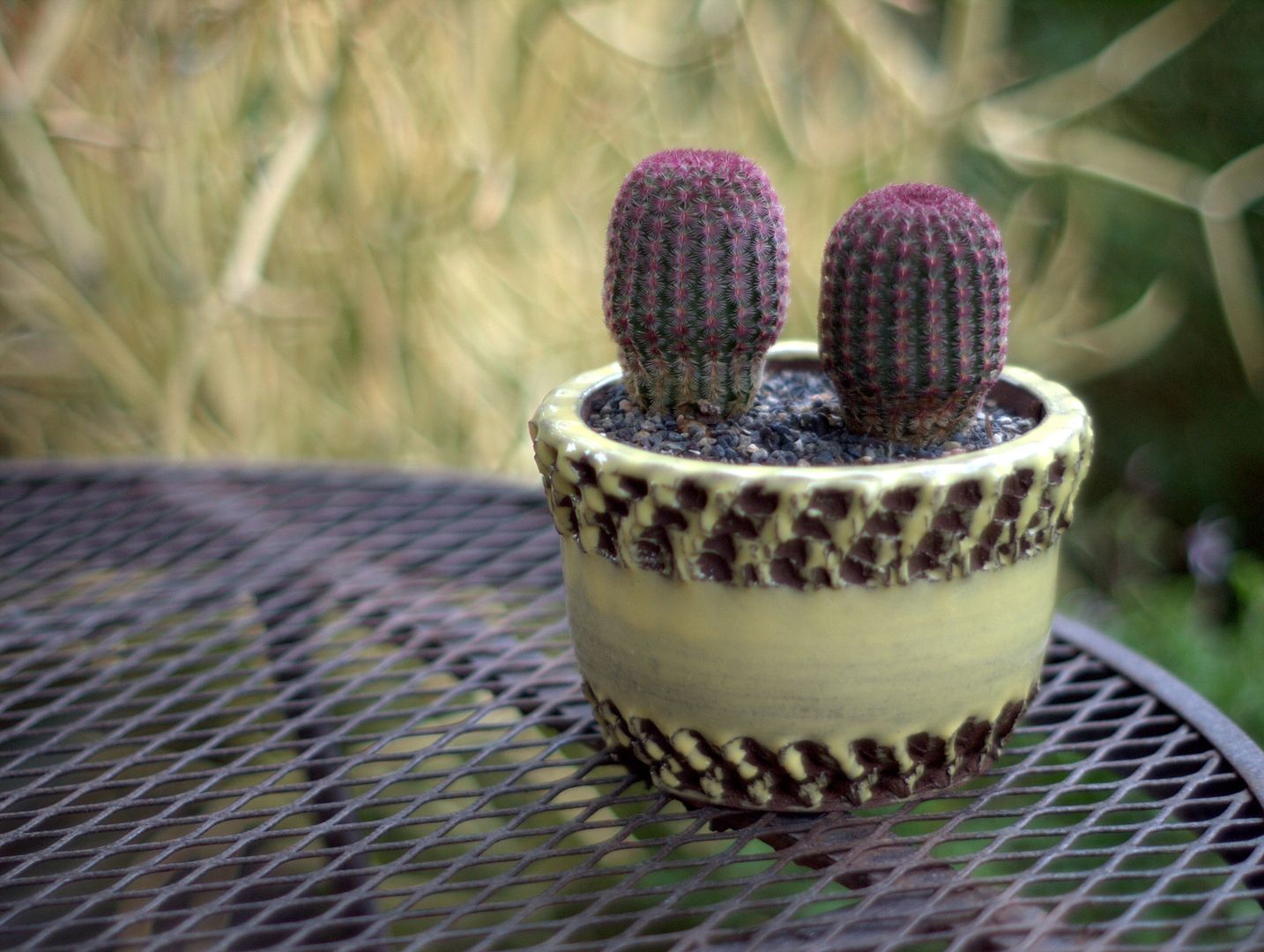 Here's the little pot I brought home, with Echinocereus rigidissimus var. rubrispinus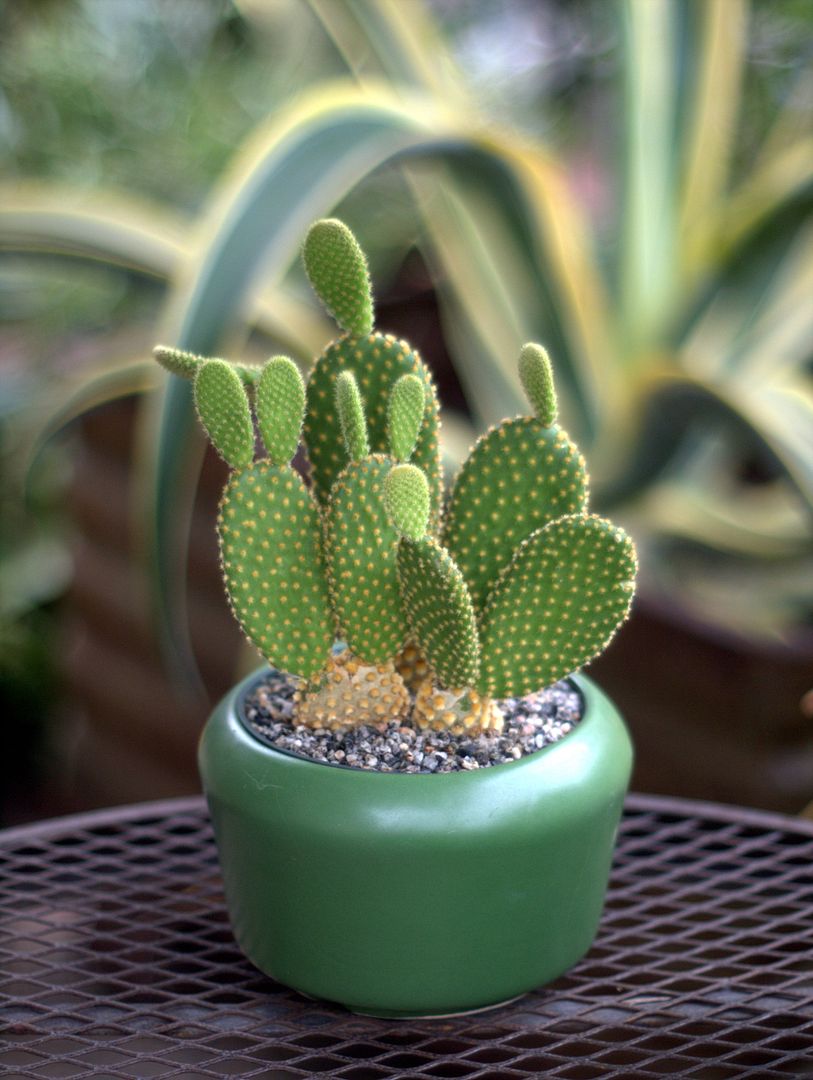 My first opuntia, O. microdasys. The cashier tried to warn me against bringing it home. "You know about the glochids, right? I'm from Tucson and can handle anything spiky, but those glochids are the worst." It was intended for the front gravel garden, but I don't think I can risk harming the corgi. So it stays in a pot or becomes trade bait.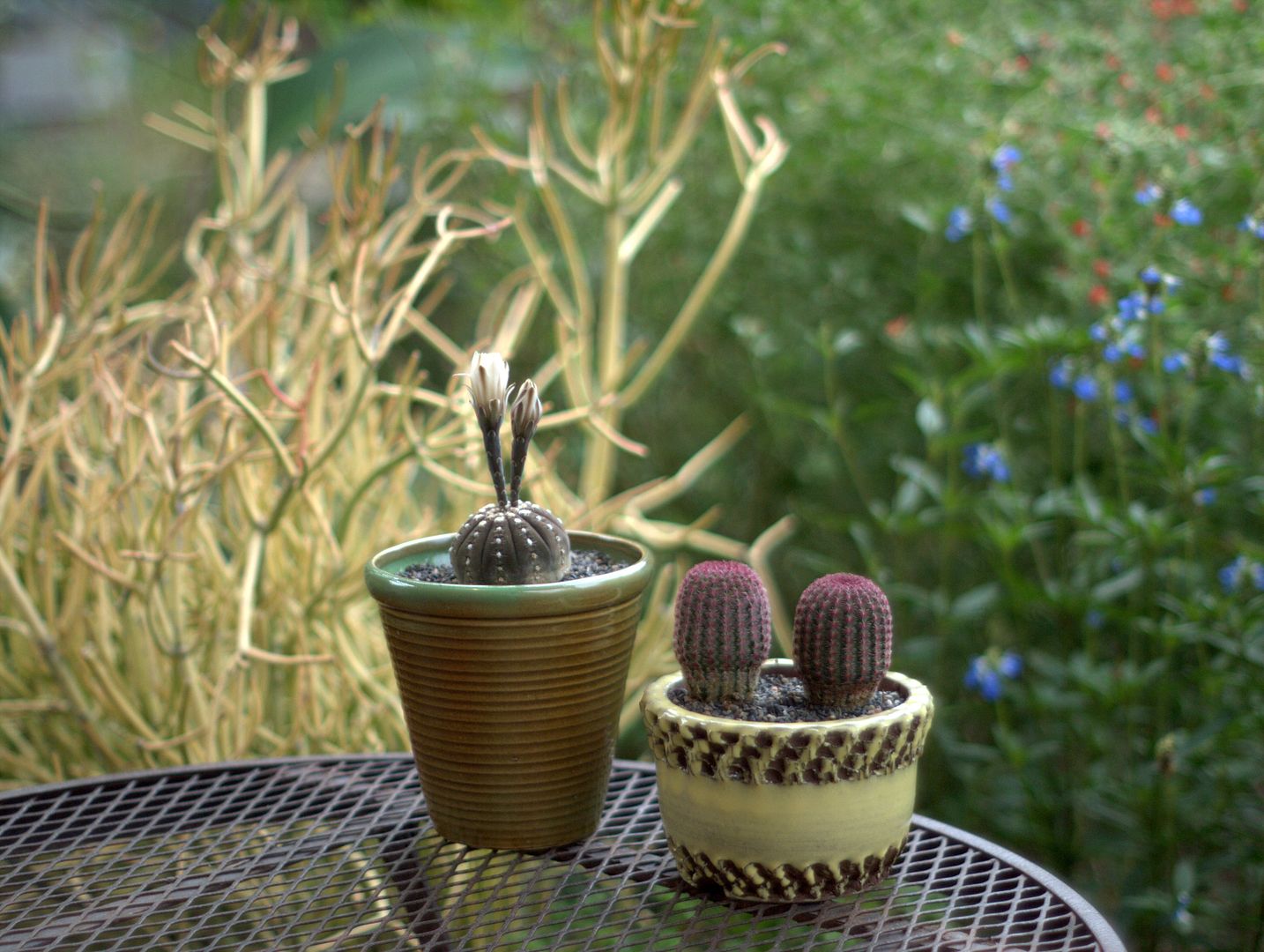 The Gymnocalycium ragonesei I couldn't resist on the left. I'm trying very hard to remember their names without looking at the tags.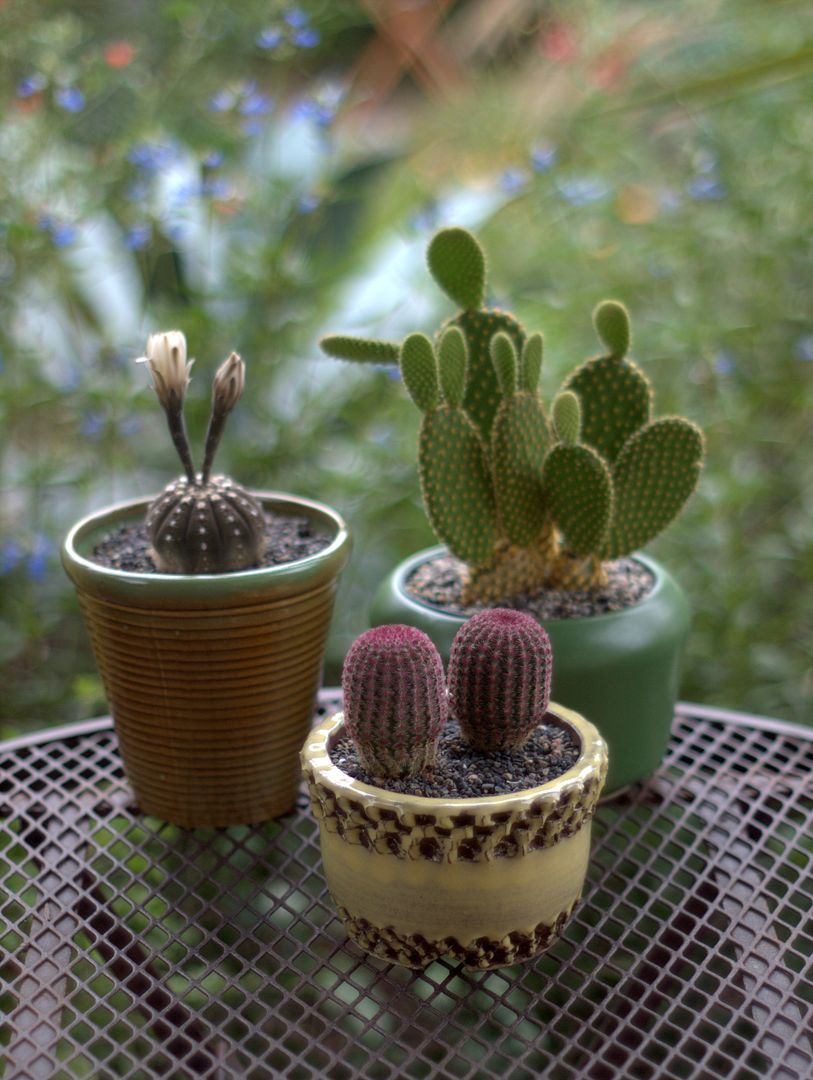 All three together for their group portrait. That's Mr. Opuntia waving in the back on the left right. A variegated Agave parryi var. truncata came home too but has already been planted in the front garden.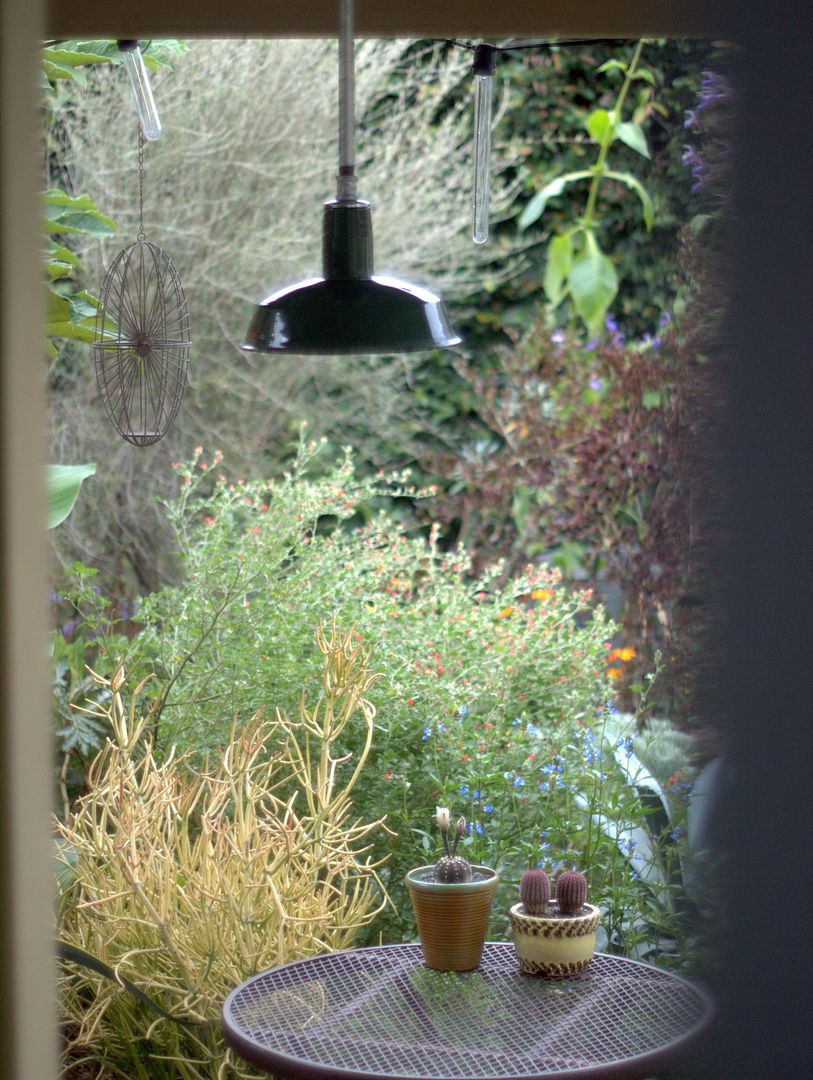 Might as well pull back from the kitchen doorway to include the lamp Marty just rigged. It's a Smoot-Holman, known as the "Gas Station Lamp." Based locally, out of Inglewood, Calif., the Smoot-Holman Company started in 1922 and sold to Sunbeam in 1972, dates which probably approximate the heyday of local manufacturing. I've gotten a little summertime crazy with lights under the pergola. But I'll be needing them to take care of all these little pots when the days shorten.
*I found his business card today. This pot reminded me of his work, but I don't think it's necessarily his.
Check out Jonathan Cross' work at jonathancrossstudio.com