It's spring. Feeling a little pressed for time yet? Join the club. Some of what I've been up to the past few weeks include: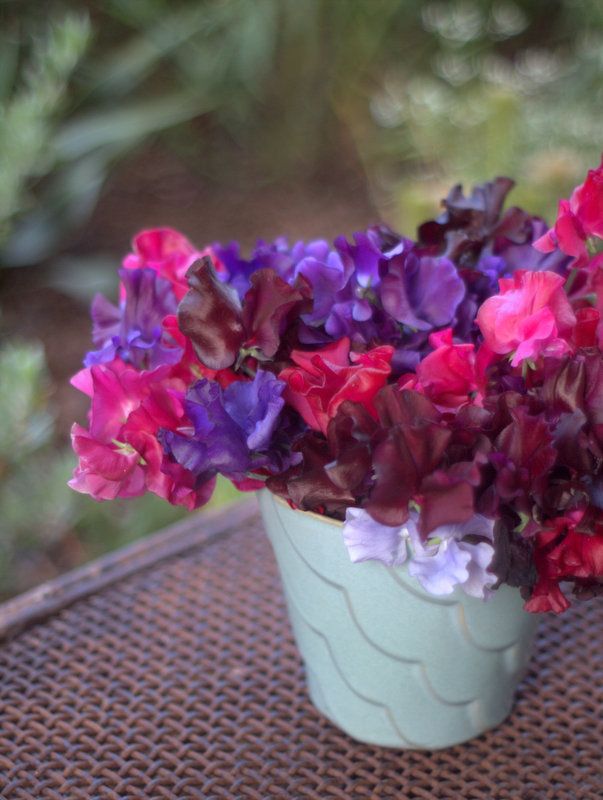 Cutting sweet peas from my mom's vines. Buckets and buckets. Mine planted at the community garden withered away from lack of attention/water. Suffering a severe case of garden-neglect guilt, I pulled out all my dead vines, along with the collapsed winter peas and fava beans, and got a few tomatoes and squash planted. There wasn't enough winter rain to sustain my plot, and being a bad garden gnome, I hadn't watered in a couple months. So my mom once again saved the day. Is it rude to call your mom a good garden gnome? I keep her little raised bed planted winter and summer, and she does the rest. I didn't buy her flowers for Mother's Day because her house is filled with scent and color from vases of sweet peas in every room. I did run over for a brief visit to bring her a card and share some cake, a two-hour window during which a thief took the opportunity to steal my bike from behind a locked gate. Nice work, thief, stealing a girl's bike on Mother's Day. Couldn't you switch your reptilian brain off for one day in honor of your mom? (Roger's in Newport Beach brings in the best only local selection of sweet peas in fall, award-winning types, all heavily scented, long-stemmed.)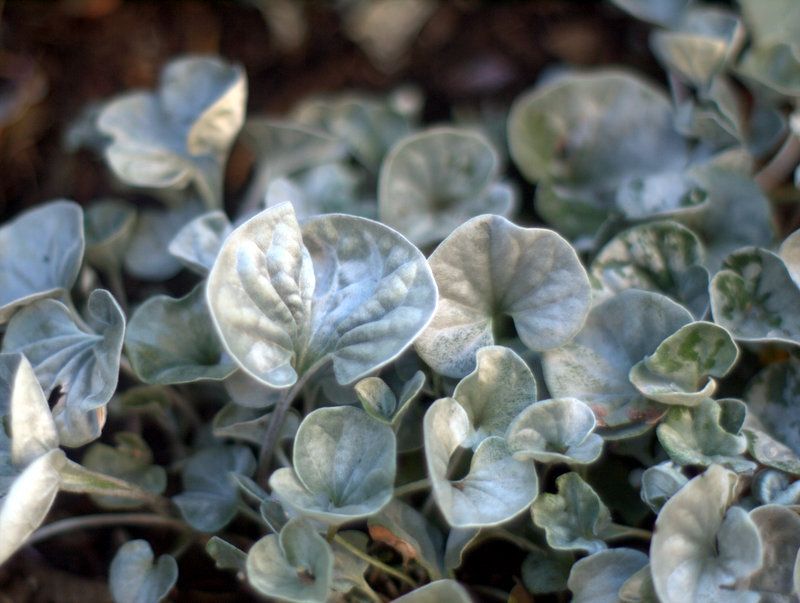 It's always exciting to stumble upon new plants, like this Dichondra sericea, found at Merrihew's Sunset Garden. At first sight I thought it must be some new brunnera cultivar. The leaves are leathery, about the size of a silver dollar. San Marcos Growers says:
"It has been found repeatedly in a single location in San Cruz County in Arizona but is more widespread farther to the south in the Río Mayo region of southern Sonora and Chihuahua. It is similar to Dichondra argentea, the plant commonly called Sliver Dichondra or 'Silver Falls', but it is evergreen in frost free climates and has much bigger leaves."
Merrihew's, a great little neighborhood nursery, was the first stop on last weekend's Garden Conservancy Open Day.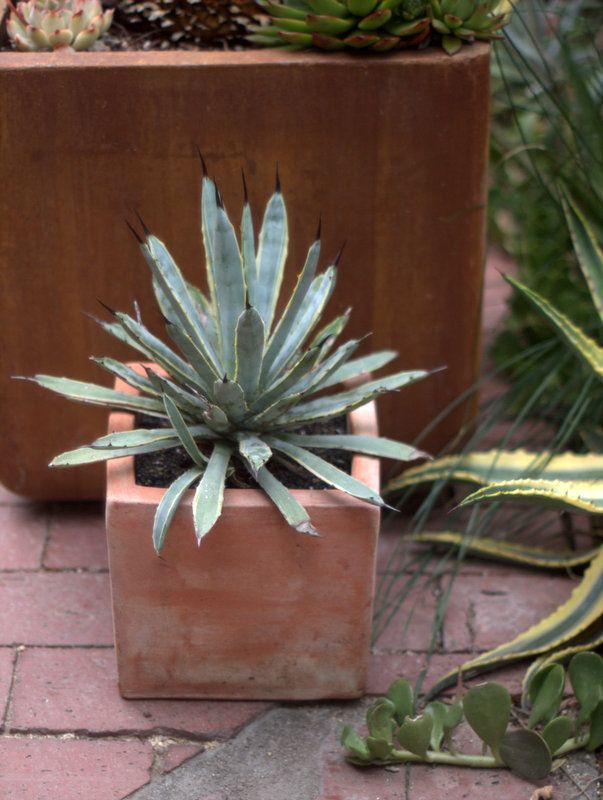 As usual, plants are perpetually on the move, sometimes out of the garden and back into a pot like this Agave macroacantha 'Blue Ribbon.' When I sentenced it to the rigors of the outpost that is the front gravel garden, it was a mess, with leaves pitted and rolling at the edges when they should be straight. Total neglect in the front gravel garden is apparently what it needed to mature out of its ugly phase. I moved it back into a pot because it was getting swamped by faster-growing agaves. And because it's so pretty now. Pups freely too. The bloomed-out poppies have been pulled and any big openings filled with grasses, mostly pennisetum like 'Fairy Tails' and 'Karley Rose.'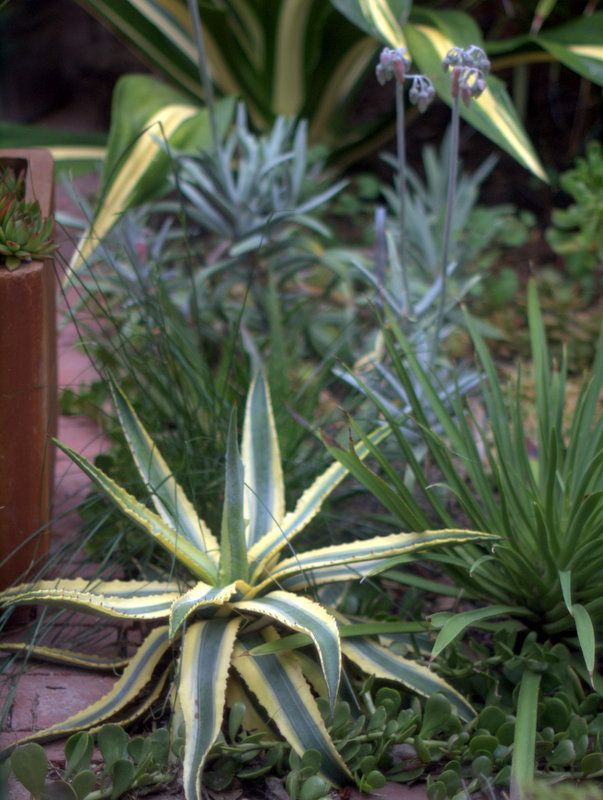 Might as well take 'Cornelius' portrait too. He's starting to get a nice arch to his leaves.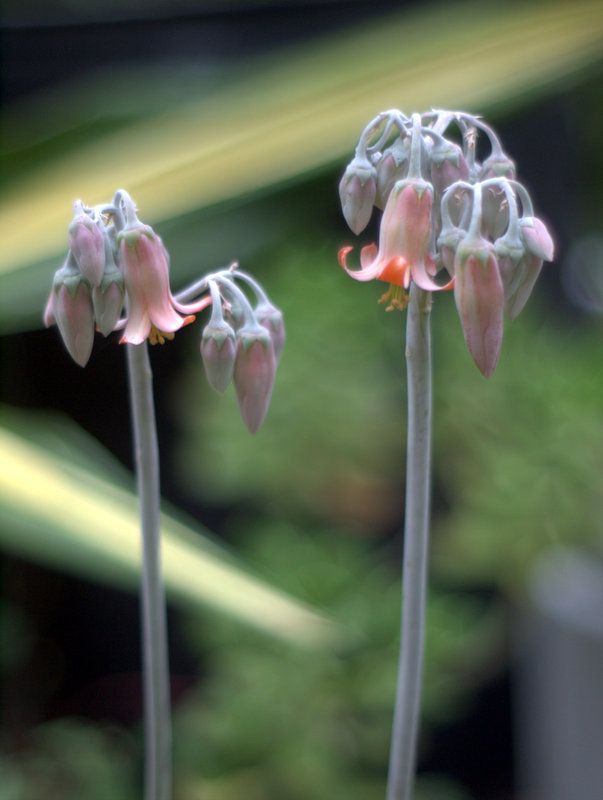 Behind 'Cornelius,' Cotyledon orbiculata deserves a portrait of those peachy bells and long, silvery stems.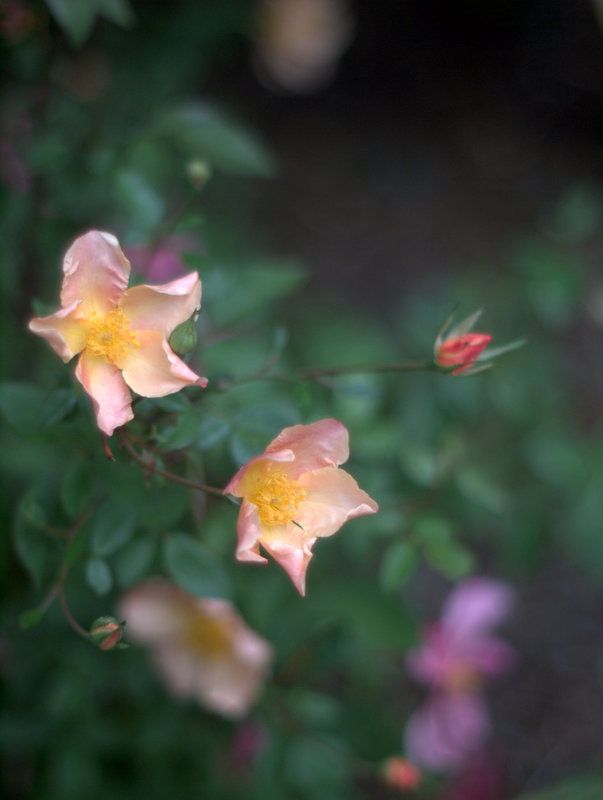 The Huntington plant sale had a couple Rosa 'Mutabilis,' so I fell off the no-more-roses wagon. In its favor, it's a single, which means it sheds its silky petals elegantly and doesn't need deadheading. It's reasonably tough and healthy, for a rose, and makes a nice shrubby shape. This unique rose of mysterious provenance is celebrated for summer-long bloom in colors that cycle through gold, orange, deep pink. It's been shoehorned in among the lemon cypresses at the east fence, with drip hose laid to give it a fighting chance.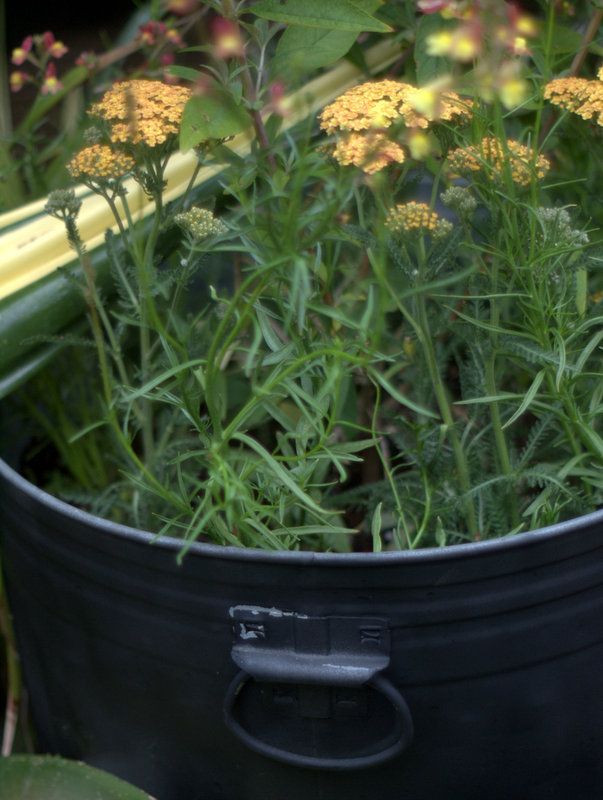 Last Wednesday was overcast, like today, and work was reasonably under control (unlike today). First thought under those conditions is: What do I want to get done in the garden? There's a chronic backburner plan to fill one of my trash can planters with blowsy summer stuff. Cheap, deep, and roomy, metal trash cans are great for seasonal extravaganzas. I bought them a few years ago but never really got with the program, using them more for overflow odds and ends.
A quick trip to the local nursery yielded a Buddleia 'Cranrazz,' Linaria 'Licilia Peach,' and Achillea 'Sunrise.' As I prepared to stuff the plants in, it was impossible to ignore what a rusted, pitted eyesore it had become. ("Hey, Marty, you got any spraypaint?") 30 minutes later the can was a sleek matte black, filled with compost and fresh potting soil, and the plants installed.
Buddleias drive me a bit mad in the ground. Too big, all that deadheading. I like the idea of being able to pitch it at the end of summer. Before I'd backfilled in soil and watered it in, the butterflies had already arrived. They don't call it the butterfly bush for nothing.
I was so pleased with my new, deep containers that I asked Marty to paint another one for a Mother's Day present. I'm thinking maybe orange tithonias for this one. The 'Hallelujah' bilbergia was planted up over the weekend with some aeonium and Euphorbia mauritanica. I'm testing its sun tolerance. I was told by Marina del Rey Garden Center that the more jagged the leaf, the more sun a bromeliad can take. Sun brings out the best color.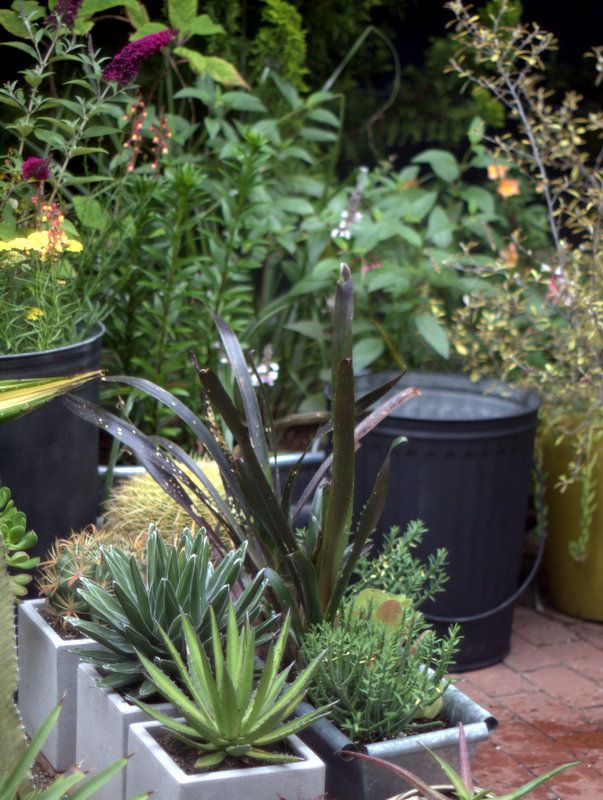 I usually keep a chair here on the bricks over the winter, but there's not much room….or time…for sitting in spring.