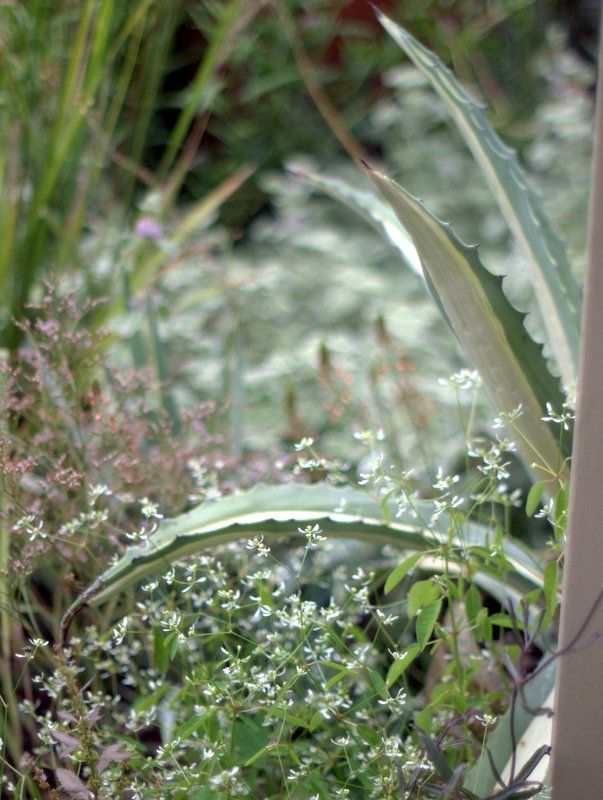 It must be August, because the Euphorbia 'Diamond Frost' is billowing. This tender perennial becomes activated by the heat of August. I pull it out by the handfuls when it gets too rambunctious but always leave a few roots. Any plant that likes this weather deserves a place at the table. And I like what it's doing with this potted agave. Remember when this euphorbia was the "it" plant several years ago? It had a brief moment in the spotlight as a go-to annual for containers. Here it's colonized the soil where the bricks meet the garden.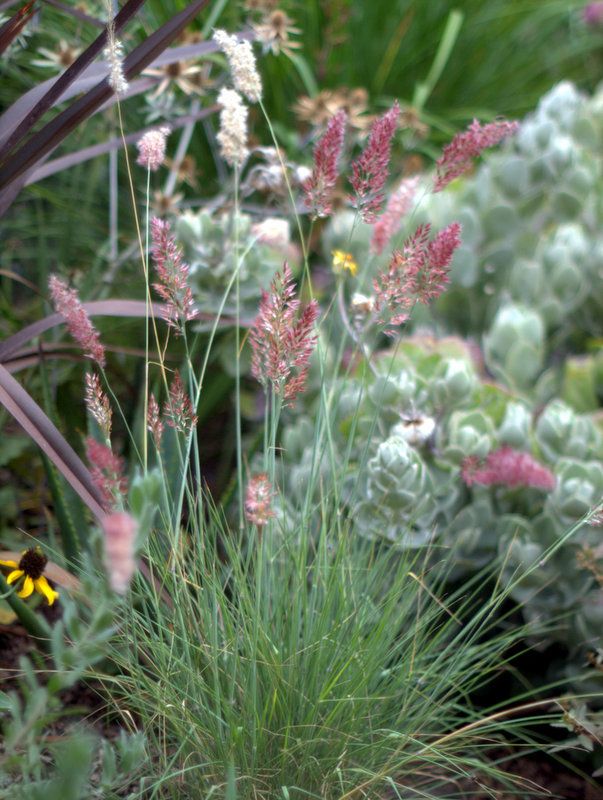 Otherwise, it's the grasslands of August and not much change since July Bloom Day. Same cast of characters. Most of what's in flower are oddball blooms only a bug would love, no real classic garden plants, so I'll spare you the closeups. (And I got home too late.)
I've been cutting back, thinning the gomphrena, cutting Anthemis 'Susanna Mitchell' to the base, so more more buttery daisies this summer. I've even cut back the brown eryngium flowers and Rudbeckia maxima seedheads. Everything looks fresh again.
I wanted to get some air circulation going in the jungle and deep water shrubs and stuff to get the garden through August and September and ready for winter-blooming aloes. At least I hope there'll be a good show from some youngish aloes this year. And there'll be room to add the irises, which shipped today.
I think I'm cured of trialing big blue agastaches like 'Blue Blazes.' Coarse leaves, not bad from a distance, but not so welcome in a small garden. Easy, stemmy, swaying bog sage, seen in the background, suits this garden fine and provides a film of blue all summer.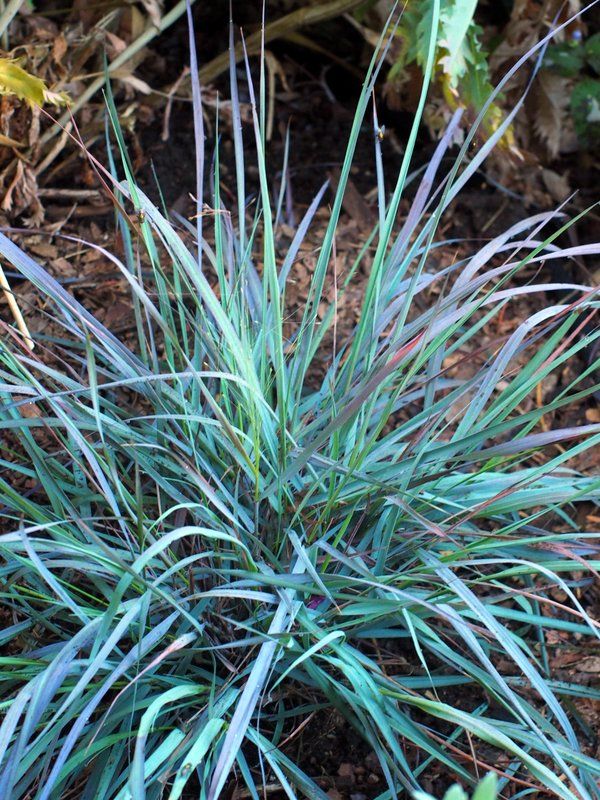 One of the most startling blues in the garden comes from this Eragrostis elliottii 'Tallahassee Sunset' I just planted mid-summer. Can you tell I'm seriously smitten with grasses lately? Plants' leaves may age and yellow throughout summer, but grasses always manage to look impeccable.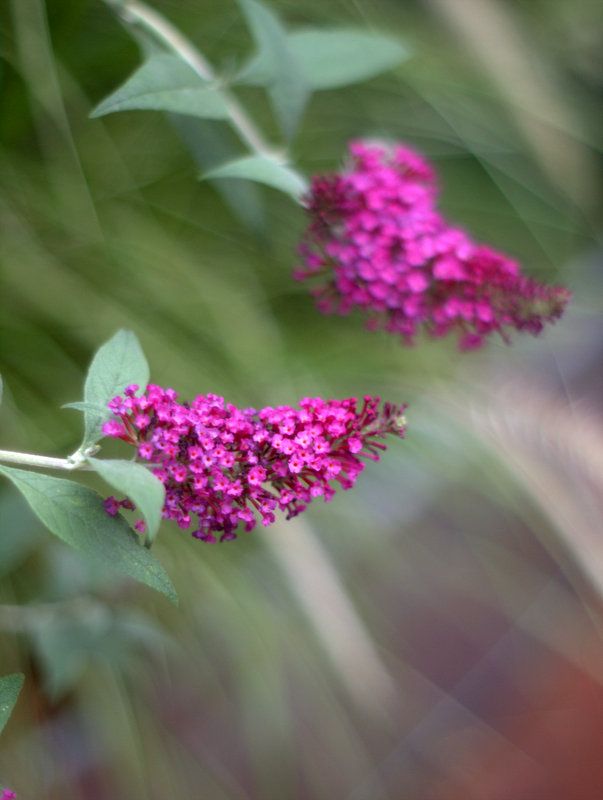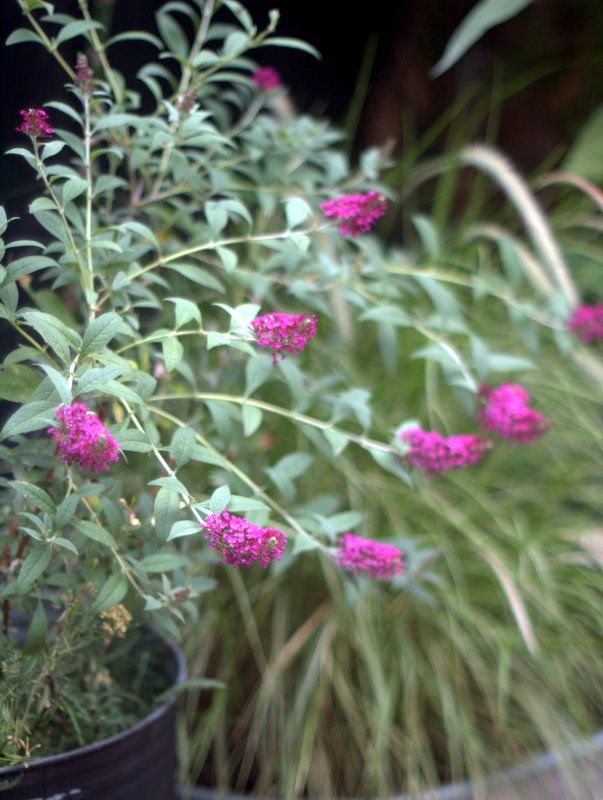 Buddleia 'Cranrazz' enjoying life in a deep container (trash can)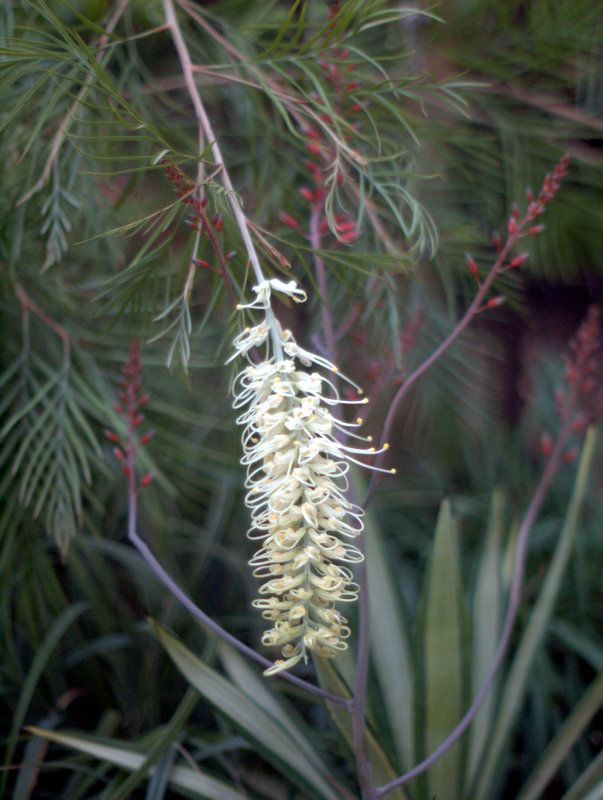 All grevilleas are in bloom, this 'Moonlight' and 'Robyn Gordon.' An 'Austraflora Fanfare' bloomed lightly earlier this summer but is still a youngster. Seen in the background, little aloe hybrids are sending out flares of orange flowers throughout the garden.
That's the abbreviated Bloom Day report for August. More thorough chronicles can be found at Carol's site May Dreams Gardens.