There's only one reason this wisp of a movie, Green Card, was screened again at the Cinema Botanica.

And that reason is the star of the movie, who literally oozes charm and charisma.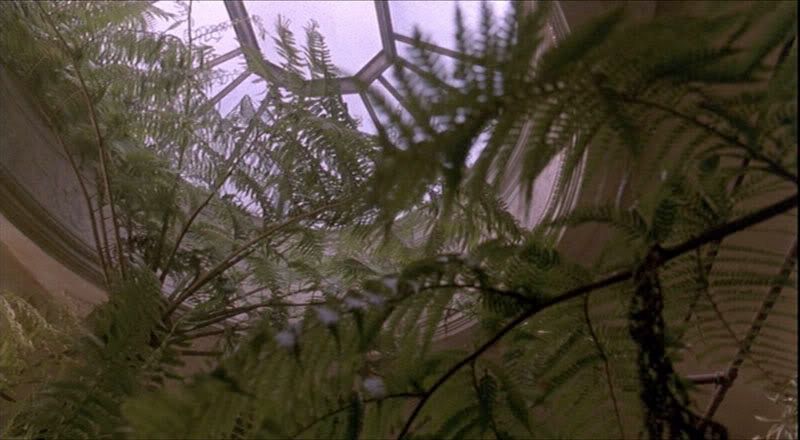 For me, the star is indisputably the greenhouse. They should have just named the movie Greenhouse and been done with it.
If asked to choose a movie based on a brilliantly orchestrated car chase scene or the interiors of a 19th century apartment with attached greenhouse, I know which one I'd prefer.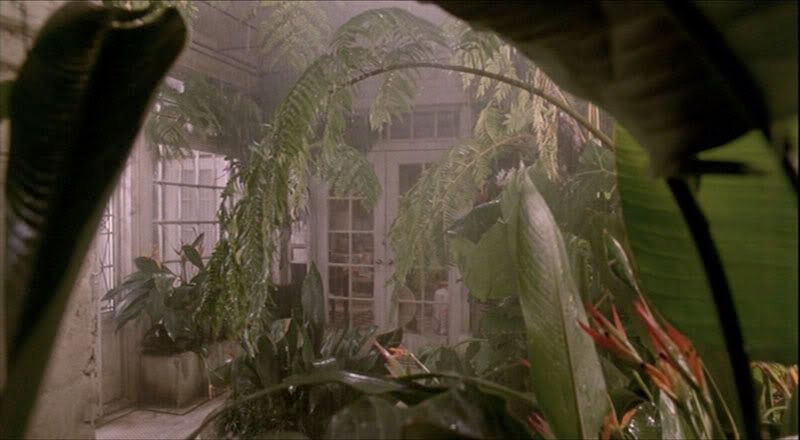 This movie has stuck with me since its release in 1990 for that simple reason alone, a spectacular greenhouse attached to a rooftop apartment in New York City.
These are the sort of dreams movies should peddle more often.


The only scene enlivened by people and not the greenhouse that I remembered was Andie MacDowell dreamily reciting to the building's co-op board how she'd restore the greenhouse and tend to its plants if they'd just give her the chance. Oh, the poor neglected cordylines and begonias! The board's insistence that only a married couple can buy the apartment starts the immigration/green card deception rolling and chugging down its rickety tracks. Hard to imagine a time when a light-hearted movie involving immigration issues seemed like a good idea, but this was long ago, in that innocent era of the late 1980s. (Irony intended.)
When a well-intentioned movie fails, made by talented people, it's a fascinating conundrum. Written, directed, and produced by Peter Weir, so there's no one else to blame. Weir, director of such movies as Witness, The Mosquito Coast, The Year of Living Dangerously, Picnic at Hanging Rock, The Truman Show. This man can make a watchable movie. My theory is that Weir came up with a high-concept movie premise, attempting to make a Faustian bargain by helming a Hollywood-style romantic comedy, then had too much subtlety as an artist to deliver it. He blurred when he should have sharpened, whispered when he should have shouted. Weir just couldn't be the hack this rom-com movie needed. I really think Weir was more interested in the greenhouse too.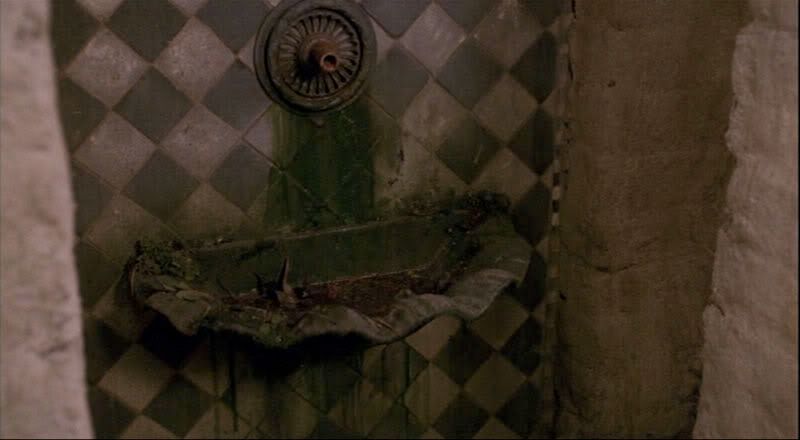 There's confusion in the way characters are drawn. Girl horticulturalist is uptight and not in touch with the juicy things in life and needs to be opened up by a man so basic he's almost feral. You're kidding me, right? Someone with their hands in the soil has lost the pulse of the natural world?
Are we supposed to see her as a defeminized, unsocialized wallflower because she likes plants and runs around in cargo pants and army boots? If so, that perception is canceled out by how she's done up the apartment, all vintage and shabby chic. Andie MacDowell just can't get anything across with this role, but you can follow the plot by watching her hair. When her hair is constrained in braids or buns, she's uptight. When it flows, she's softening toward our anti-hero Depardieu. Seriously. Follow the hair.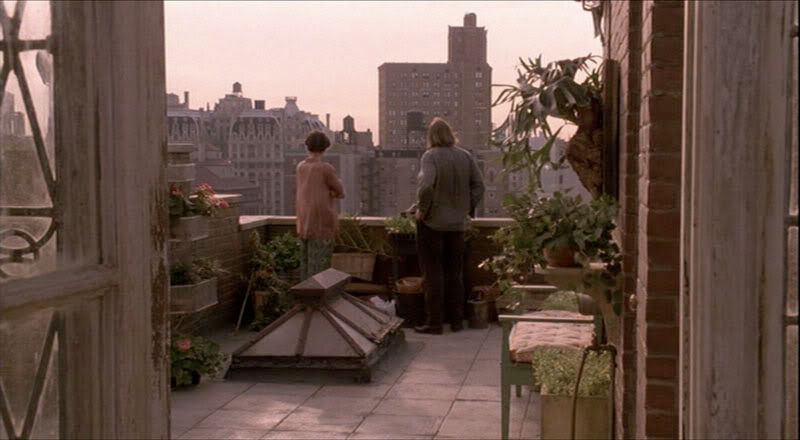 But Gerard Depardieu is even more perplexing. Think of a sculptor beginning a massive heroic statue, just slapping clay around into a rough outline, then leaving the studio briefly for a quick smoke. The enormous lumpy statue creaks, animates, then walks out of the studio in search of the nearest bar. This is Depardieu. An oak of a man. The body is all out of scale. Massive, rounded shoulders above narrow hips that seem unequal to the task of holding up his torso, he lumbers and lurches through the movie, wearing a dark, baggy Frankenstinian jacket. And along with the greenhouse, he's the
best
thing about the movie. Amazingly elemental. And when he gives the little speech about leaving school at the age of 12 to begin a life of petty crime, something in his delivery had me looking up his bio the next day. That little speech is indeed a description of Depardieu's early life. But this movie is not worthy of his talents. Check out
The Return of Martin Guerre
to see what he can really do.
In the army boots photo above, there's architectural salvage being made use of in the public garden MacDowell is working on with her group, the Green Guerrillas. Weir seems genuinely interested in the subject and brings in this level of detail.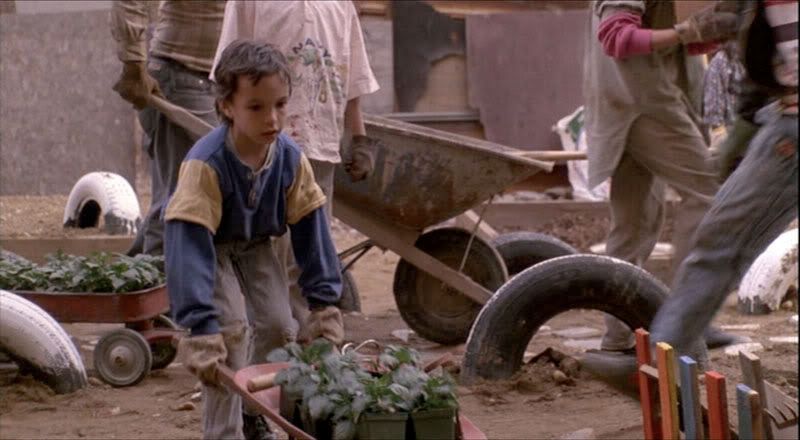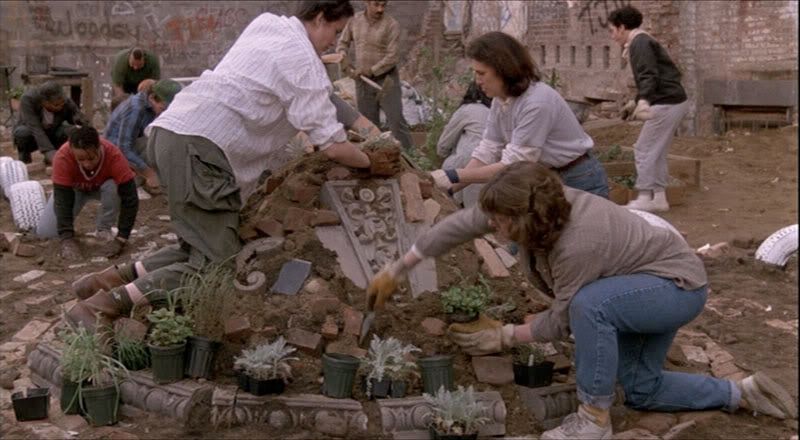 I usually end up doing a mental remake after watching an uneven movie such as Green Card. Mine would star French actor Vincent Cassel and Ellen Page of Juno and Inception. We only need a photo of Cassel.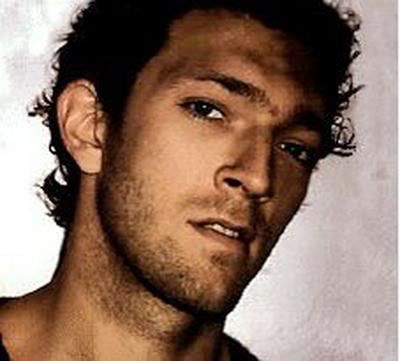 Maybe this time they'd both be horticulturalists, but the conflict would have Page growing edibles, while Cassel is interested in green walls. How will their relationship survive such a mind/body schism? That's as far as I got, but I do know there'd definitely be lots more screen time for the greenhouse.