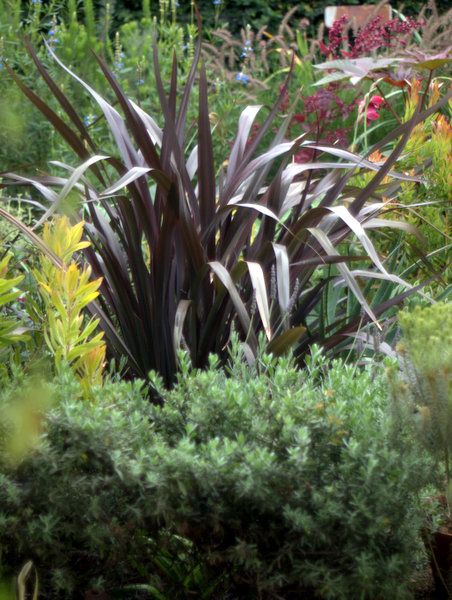 Looking out from the back porch this morning through the pergola which frames this view, my eye easily cut through the congestion like a laser to zero in on my June crush. Do you see it? No? I know it's crowded, so let me help. Just over to the distant right, near the orach seed heads. In fact, not counting the almost-black phormium ('Black Rage'), there's a trifecta of deep, saturated reds here; the orach, which will eventually fade to the color of wheat, the castor bean/ricinus just hoisting up its big, burgundy parasol leaves, and this little gem.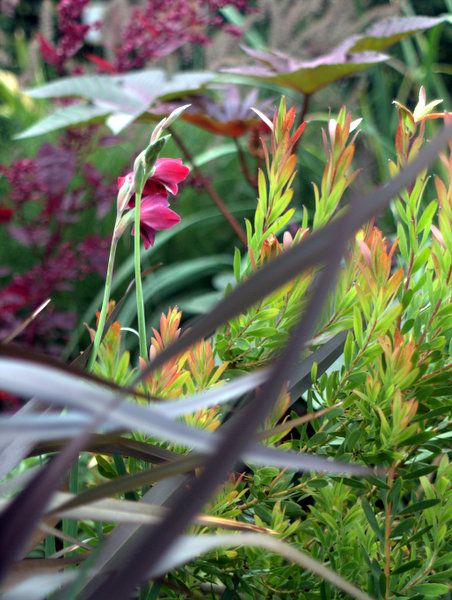 Let me see if I can get in a little closer. Of course it has to be shyly facing away from the porch, toward the back hedge wall and not in any convenient direction for the camera.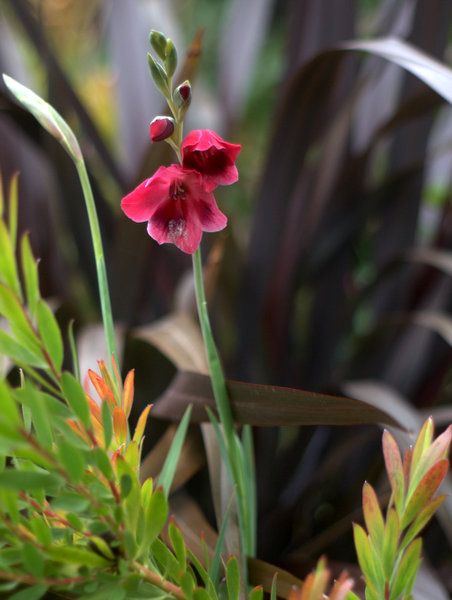 Here we go. With my back against the hedge wall, I can get a full-throated view of Gladiolus 'Ruby,' a papilio hybrid ever so slowly increasing. Fabulous and fleeting, I'd love to see a dozen in bloom instead of just two stems, but that won't be any time soon. It's still pricy and plain hard to find in the U.S., no doubt because of that slowness to bulk up.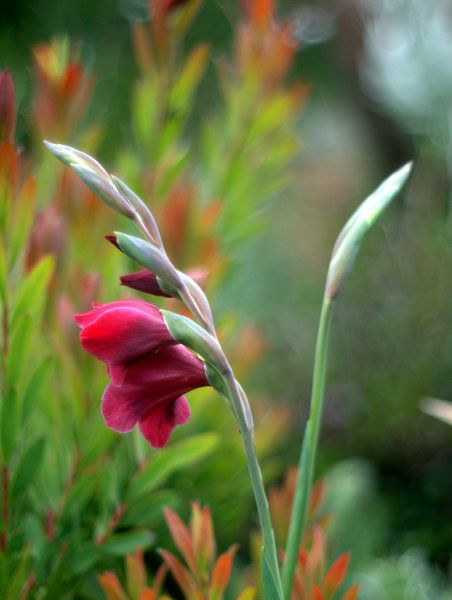 This is about as close as I can get without stomping on other plants. The access path behind the phormium stops several feet short of the glad.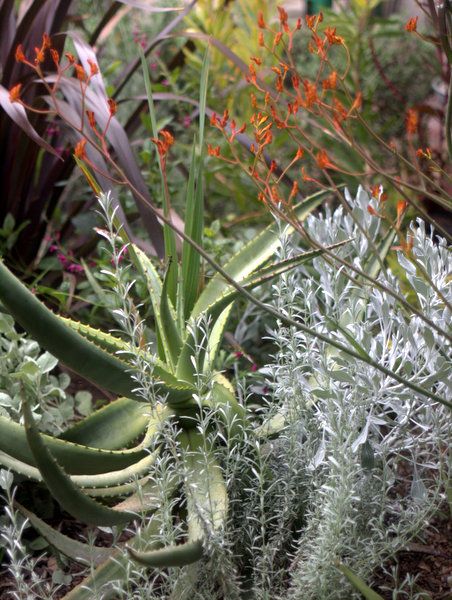 In fact the access path stops just about here. Adding further to the general congestion, I planted a new salvia just this morning under the wings of that ferox hybrid aloe that's forming a trunk, the sage Salvia hierosolymitana, found at Lincoln Avenue Nursery in Pasadena, grown by Annie's Annuals & Perennials. Also unexpectedly found at Lincoln Avenue Nursery was Persicaria 'Blackfield' — I mean that's just unheard of, to find such a plant in Los Angeles. Also on their sales bench was a mail-ordered, variegated calamint I grew a long time ago. (I would love to shake the buyer's hand!) I usually combine a trip to this very fine nursery with a visit to the Huntington, where I was headed yesterday to hear head gardener Seth Baker give a talk on the new gardens. The auditorium was surprisingly packed for the 2:30 lecture with plant sale afterwards.
'
Apologies if this post seems as rambling and incoherent as today's presidential news conference. I recently wrote about a lot of what's in bloom, so I'm skipping through all that. Here's Aloe 'Cynthia Giddy' edging closer to bloom. (At the Huntington plant sale, out of the propagation greenhouse I inadvertently picked out a couple plants expressly not for sale — Mangave 'Inkblot' and a dusky aloe hybrid. In my defense, they were in close proximity to the plants that were for sale. I was told both would be added to the ISI sale list next week. It was an amazing sight to see some of these new mangave hybrids lined up in a narrow bed outside the greenhouse, many of them sporting fat, promising bloom spikes.)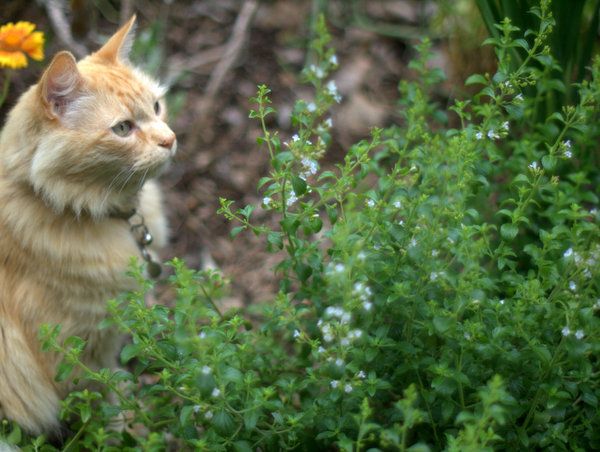 Calamints are getting started, which pleases the bees and me no end. Tough and tidy, they'll be looking good and holding it together until cut back around November. (Cat stares off into mid distance, no doubt thinking on obscure, cat-related matters, like where to nap today.)
He loves the summer jungle.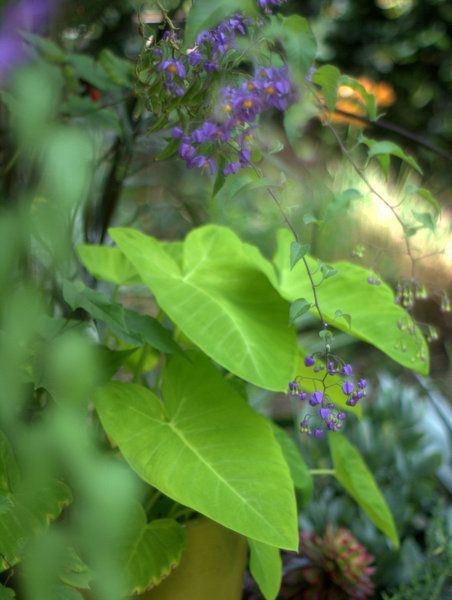 Tropicals are picking up speed, Xanthosoma 'Lime Zinger,' Solanum valerianum. Lime, purple — yum.
And orange. Gotta have orange. Leonotis leonurus.
I've carved out a little bit of ground on the former compost site for a couple dahlias, both returning from last summer. This is 'Twyning's after 8.'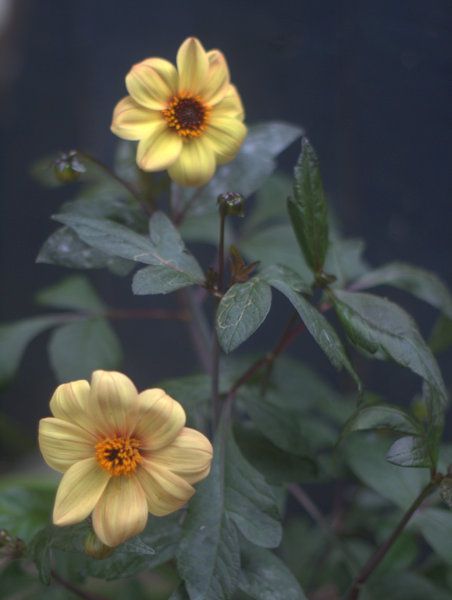 Dahlia 'Dark Side of the Sun,' leaves starting to mildew. Which is why I like dahlias waaay in the back.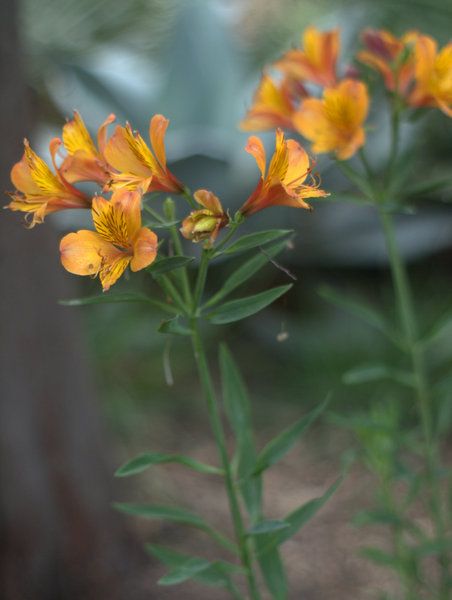 Near the dahlias is also where the Alstroemeria 'Third Harmonics' resides, and where the new persicaria was planted this morning. A small water hog zone, if you will.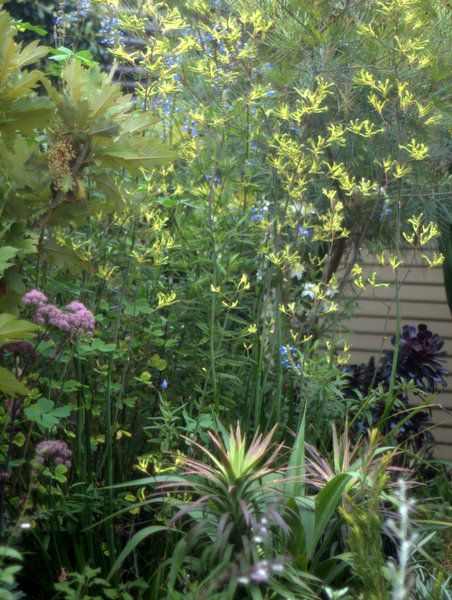 I think these yellow kangaroo paws are most likely 'Yellow Gem.' The deep reds paws are thrillingly mass planted along the rill at the Huntington, but they do fade terribly in the strong sun.
I need to go over those lecture notes, but for now just a quick and friendly wave — have a great weekend! Catch more Bloom Day reports at Carol's blog May Dreams Garden.