Returning to the June 2018 visit to Mendocino for the Garden Conservancy Open Days, the second garden we visited belonged to Digging Dog Nursery, also the home of co-owners Deborah Whigham and Gary Ratway. The garden comprises five acres, the nursery one acre. "Structured informality" is how the owners describe their garden, which draws on formal European garden traditions, especially the 19th century English Arts and Crafts movement, with some New World twists befitting its rugged setting amid Coast Redwoods. For instance, an above-ground pond makes use of industrial salvage, and the hard surfaces, columns and walls, are simple, functional shapes, smooth and devoid of neoclassical flourishes, built using the rammed-earth technique, a sustainable, ancient building method that uses the native soil mixed with sand and cement. The mix of formalism with experimentation with shapes and materials, the spectacular setting, and the detailed, lush plantings are some of what gives the garden at Digging Dog its unique flavor. (For more background, you really should check out Garden Design's spring 2018 issue on this garden, "A Fine Balance," written by Pam Penick, photos by Claire Takacs.)
One of the many rammed earth columns, a shape reverberating throughout the garden in plant forms as well.
I've happily strolled the borders surrounding the nursery many times. In every season they reflect the exciting range of woody and herbaceous plants that the nursery is known for, and that grow so well at this latitude and in this maritime climate. It might be an overly simplistic analogy, but the division of labor in making the garden at Digging Dog seems to bear some superficial similarities to Sissinghurst, with Gary handling the design duties performed by Harold Nicolson and Deborah standing in for Vita Sackville-West as far as the growing and selection of the plants themselves. But it is only a rough analogy because, on the tour, both Deborah and Gary interchangeably spoke to the design as well as the plants. This June thalictrums, astrantia, and hardy geraniums were still fresh, with ornamental grasses, persicarias, asters, joe-pye weed and many other late-season attractions gathering strength for fall.
A dogwood in spectacular bloom.
One of my indispensable plants for summer, Calamintha 'Montrose White,' was ordered from DD in January '16, a sterile form that doesn't reseed, just one example of how DD's plant list reliably keeps up with the best forms yet is always temptingly filled with beguiling new introductions that Deborah sources through extensive contacts with international nurseries. This visit, Deborah singled out Astrantia 'Buckland' in the garden as having the longest period of bloom of the astrantias they grow, for all you lucky astrantia growers — not a zone 10, dry summer plant, unfortunately.
Hornbeam columns are a recurring structural motif throughout the garden.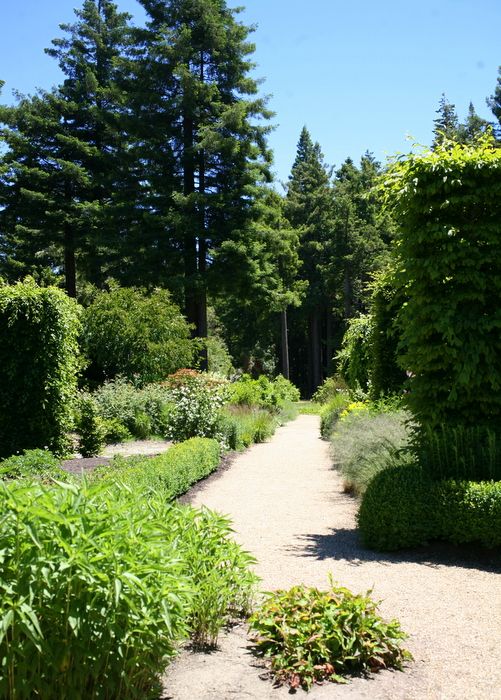 When he was ready to design the grid of hedges as the backbone for their exuberant plantings, and with few examples to study at home, Gary cited the usefulness of visits to European gardens to illuminate the intricacies of planting structural hedges, such as centering distances, maintenance schedules, and ultimate sizes. The hedges are trimmed twice a year, handled in-house with the help of two part-time staff.
This industrial salvage water garden has an interesting surface provided by its perforated outer cover, a wonderful detail not picked up in the photo. The tank was sunk to a surprising depth — I hazily remember the figure of 8 feet but didn't make a note.*
Also depicted is one of the 12 trained weeping silver pears (Pyrus salicifolia 'Pendula') leaping like dolphins at a four-way intersection of graveled paths, an unusual formal treatment for this tree that Gary says was inspired by Edwin Lutyens' use of it at Castle Drogo.
The thalictrum is most likely 'Elin,' a favorite of DD
Much as I love visiting the nursery and its surrounding garden, this Open Days visit also promised access to normally inaccessible areas of the property. As we slowly threaded our way through the familiar borders wrapping around the nursery on this uncharacteristically very hot day, I have to admit my mind occasionally raced ahead in excited anticipation of what was to come — as it turns out, something wholly unexpected.
Gary described how every nursery, whether operated organically or otherwise, will necessarily create nitrogen runoff. Fifteen years ago ponds were dug to handle this runoff to prevent it leaching into the water table, which is high, and ultimately the ocean. And to handle the excavated soil from the pond project, Gary tried his hand as a pyramid builder. Obviously, the man doesn't shy from a challenge.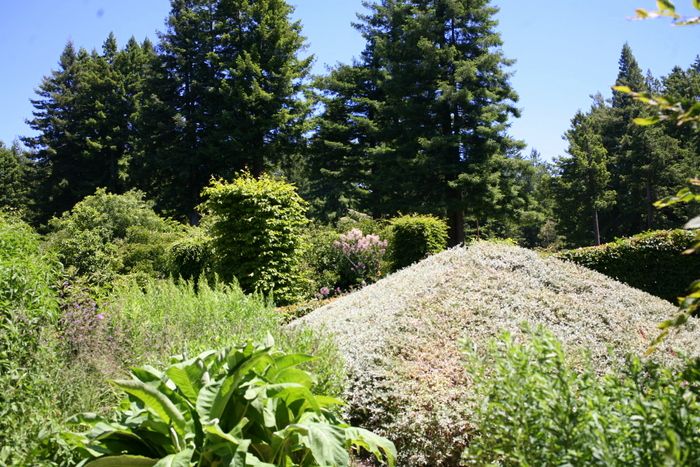 The pyramids are covered in tightly clipped germander, Teucrium fruticans 'Azureum.' Their silvery forms lay down luminous markers of a formal garden painstakingly sculpted out of an emerald green forest.
I call that an inspired solution to a prosaic problem like nitrogen runoff.
Irrigation is not set by timer — so many factors such as lengthy seasonal cloud cover or, like today, excessive heat, render a preset irrigation timetable useless. There are four wells on the property, one as much as 180 feet deep (can that be right? From phone notes…and Marty remembers only two wells mentioned but swears the depth of 180 feet is correct.*) The water is very acidic.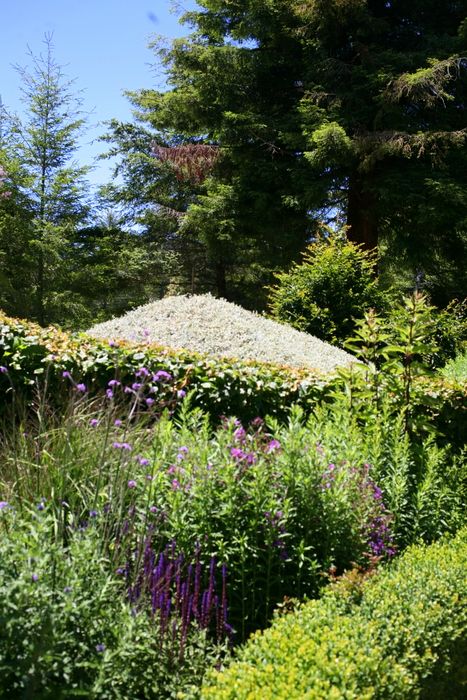 The pyramids introduce new angles for interplay with the hedges as well as mass to contrast with seasonal, thready perennials.
The eye eagerly traces the plant-based geometry, following sweeping curves of hedging punctuated by grasses, perennials, and the trees of the surrounding Mendocino forest.
And all these repeated design elements come together in a spectacular crescendo at the water lily-dappled pond.
Pyramid meets pond.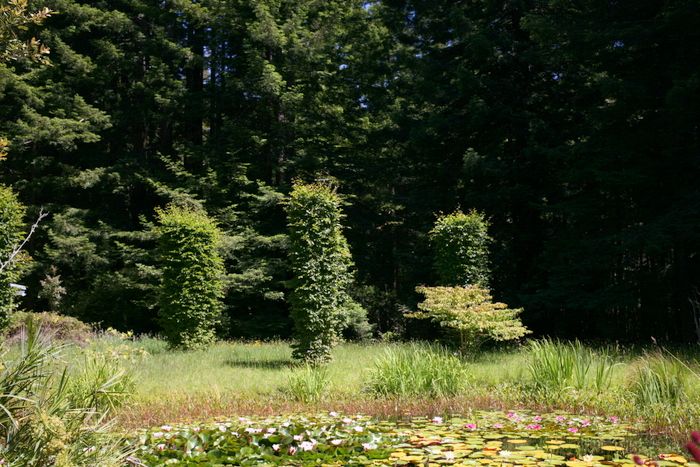 Hornbeam sentinel columns meet pond.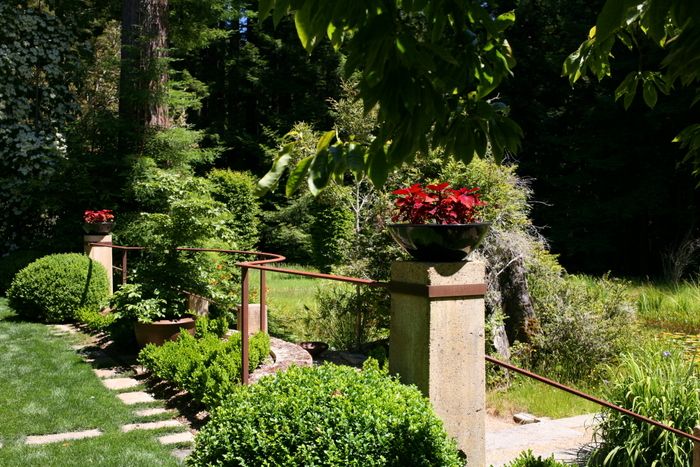 And the back of the rammed-earth house meets pond.
My only photo of the back of the house, which leaves out the fountain built into the base of the rammed-earth retaining wall. Marty in the foreground, with Gerhard (Succulents & More) in the blue t-shirt up above on the right.
I did catch some details of the retaining wall's upper terrace, railing and steps.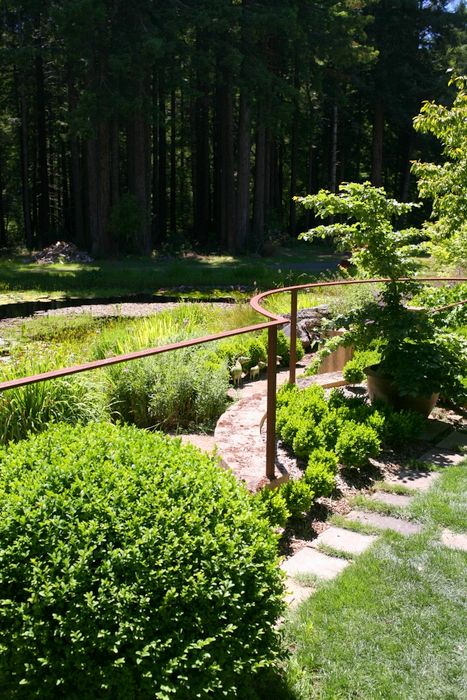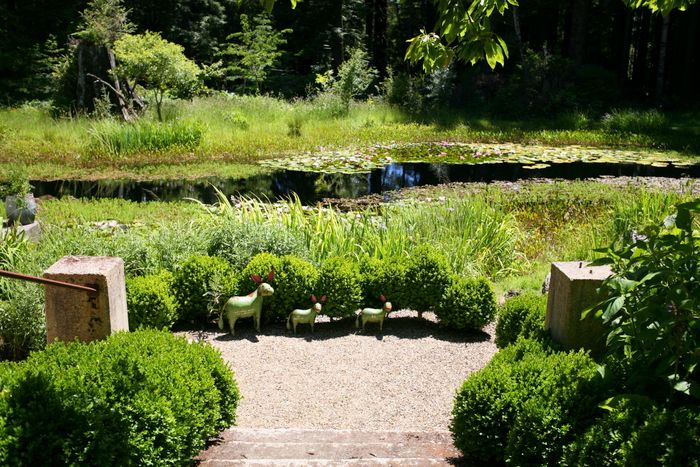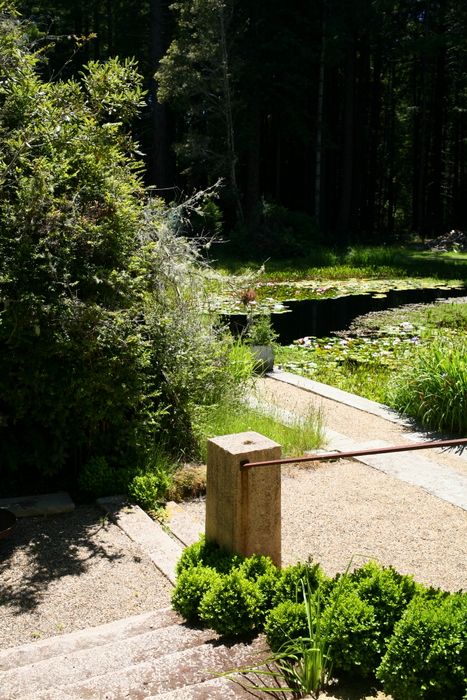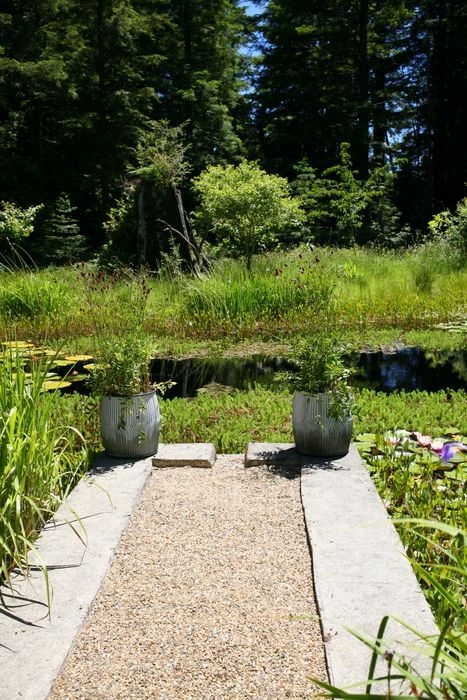 Piercing the pond is a short pier, a prime water lily viewing spot. That's so Digging Dog to plant sanguisorba in the industrial salvage containers at the pier's end.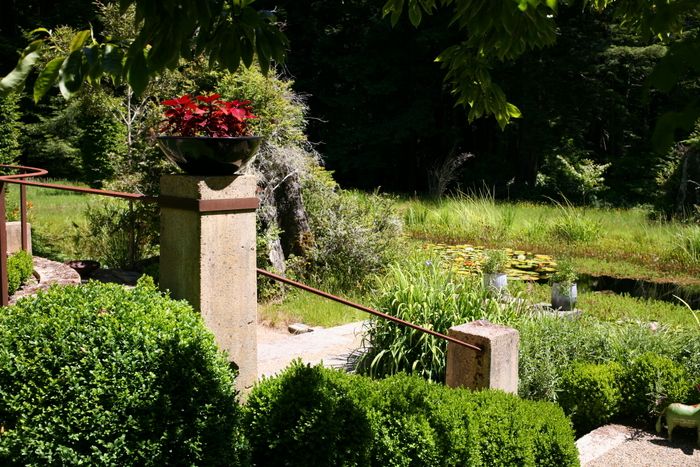 And believe it or not, there's still so much left unphotographed, like the private lawn near the house and outdoor dining area, but the tour was well attended and in some places too crowded for photos. Thanks so much to the Garden Conservancy and Digging Dog for including this special place on their 2018 Open Days.
*(Marty claims the water tank was not industrial salvage but was designed by Gary. My phone notes were a jumble, with references like "fast-growing katsura smells like burnt sugar in fall.")