I have even less impulse control when plant shopping now because…summer. Of the four seasons, summer seems to be the one that we're constantly admonished to savor to its fullest or risk being filled with inconsolable regret. And you won't get any argument from me. It can be hot, dry, and miserable, but since about 5 years of age the season has become baked into us as inseparable from adventures, vacations, vagabonding, daydreaming, and overall freedom from boring routines. Liberación! You can't fight that kind of hardwiring.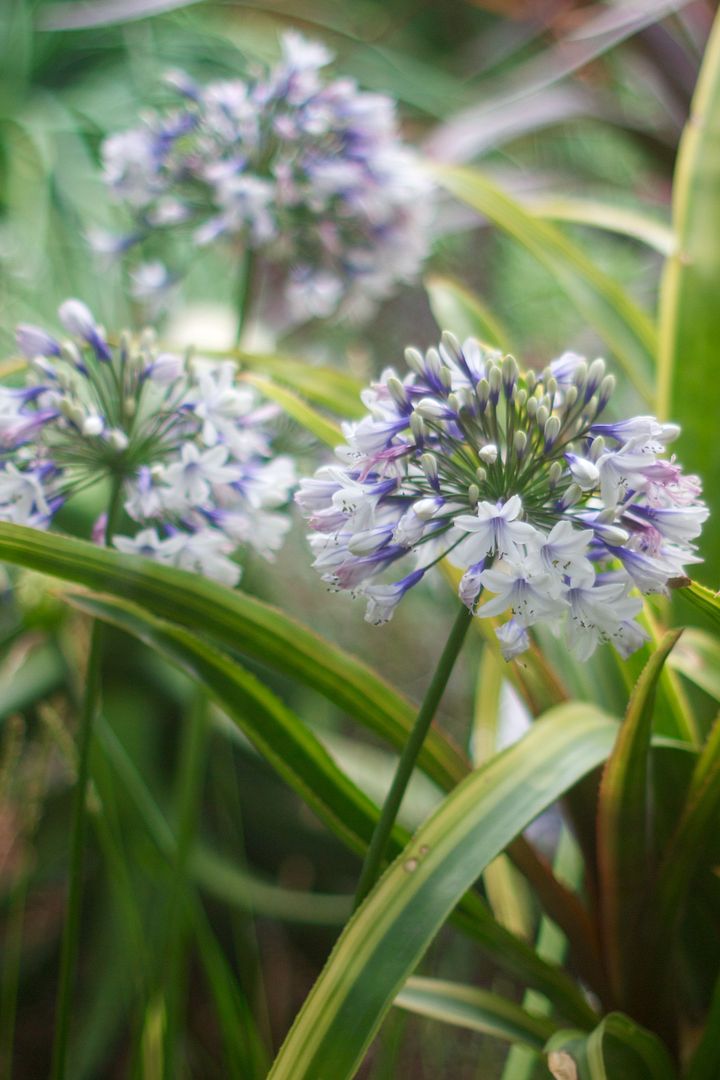 So when I sensed a need for a few more Sesleria 'Campo Azul,' because a few more of this grass are always needed, off I went to the local nursery, where I ran smack into Agapanthus 'Indigo Frost' and its seven swaying bloom stalks. It was definitely playing the summer card. Shamelessly playing it.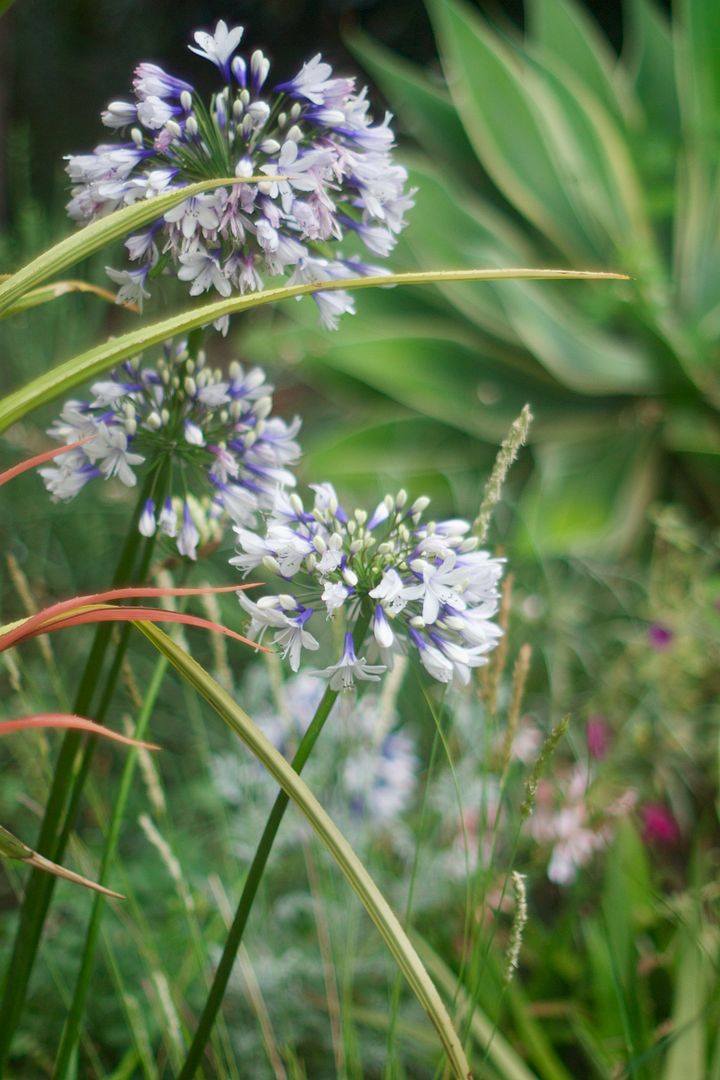 I see agapanthus all over town in summer and have never particularly desired to possess it for my garden. I've tried some dark, dark blues and some golden-leaved variegates as occasional novelties. But this 'Indigo Frost' number seemed to be a purpose-built messenger for summer: Psst, you know this summer will never come again, right? Sure, I'm a little OTT, but it's summer! Subtlety is for losers! So what are you waiting for!?
There's the Sesleria 'Campo Azul' in the foreground. A Salvia 'Love and Wishes' filled that pot winter and spring and needed a cutback for rebloom. But gardening is a fluid thing. A light cutback inexplicably turns into yanking the entire plant out of the pot and instantly deciding to move on to something else. Hmmm, what could it be? Oh, yes, the bromeliad just brought home from Ray's plant sale. I'll drop that in the pot, shove the pot a few feet this way, plant the base of it up with more sesleria, make a quick dash to the nursery to purchase said sesleria — oh, and a bicolor agapanthus too. As I say, it's a fluid process.
And as far as losing Salvia 'Love and Wishes,' a great salvia btw, I've got a much stronger bond with the willowy, smaller-flowered Salvia chiapensis. Comparing the leaves of the two, I'll always prefer chiapensis.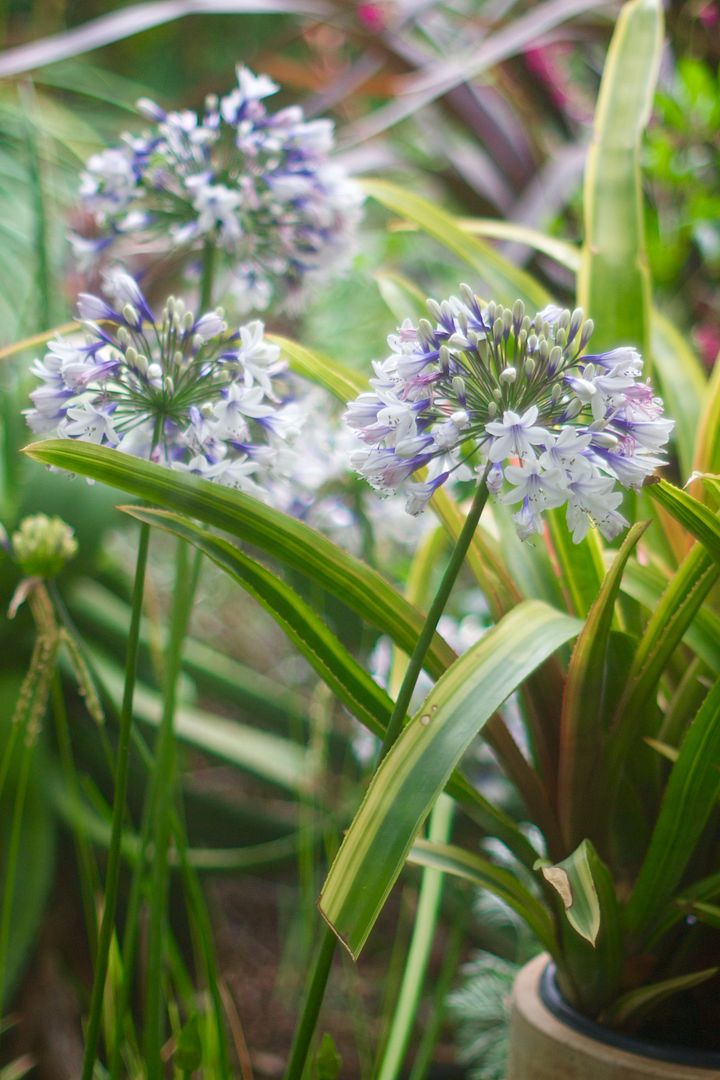 I've been regularly deep watering the eastern boundary cypresses, the indispensable privacy workhorses of the garden, but apparently not so much the rest of the garden other than containers. This area under the tetrapanax's canopy was spitless dry, not easy conditions to dig a hole for a 3-gallon agapanthus. (The dry conditions and increasing shade were no doubt to blame for the poor show this year of the big clump of kangaroo paws, Anigozanthos 'Tequila Sunrise' nearby, which was also dug up.) After planting I must have stood watering the area in for a solid half hour. Slow hand watering — another of summer's pleasures.
Agapanthus 'Indigo Frost' came bearing the Sunset Western Garden tag:
Feature: Multiple spikes of large, bicolor, white and blue flowers
USDA Zones: Hardy to 10°F – 20°F USDA Zones 8-10
Sunset Zones: 4-9, 12-21 (I'm technically in zone 24)
Special Features: Attracts Pollinators, Clumping Habit, Cut Flowers, Disease / Pest Resistance, Heat Tolerance, Upright Habit
Landscape Use: Border, Container, Cut Flowers/Foliage, Firescaping/Fire Wise
Exposure: Full sun to part shade
Flowering season: Summer (reputed to rebloom through summer)
Dimensions: 1-3′ H x 1-2′ W
Growth Rate: Moderate
Plant Type: Evergreen
Water Needs: Medium Water Once Established
Soil: Well-drained garden soil
Fertilizer: Yearly in spring and summer
Pruning: Remove old flower stalks after bloom. Divide every 2-3 years