Whether tearing up lawn or reworking small, targeted areas, it seems like everybody on the West Coast has some part of the garden in transition in response to forces out of our control. (One of which is running out of water. If there's an upside to this calamitous drought, it's seeing such ill-suited landscaping choices as large lawns finally being called out for the climate anachronisms they've always been, even pre-drought, those glory days when we'd get a whopping 15 inches of rain a year.) I've been filling unexpected gaps in the little back garden with big pots of bodacious succulents like agaves, place holders until cooler fall planting temperatures prevail. And it's why I always like to keep a few big pots ready for just such mid-summer deployment, preferably in cheap terracotta so I don't feel guilty about plunging them directly into the soil, sometimes as much as a foot in depth. Currently, it looks like pots have parachuted into the garden on a rescue mission, like a scene out of The Agaves Have Landed. Yes, getting a garden to survive through summer and have something to look at in fall can sometimes feel like a military campaign.
Agave recruits for midsummer gap deploment. Agave americana var. mediopicta 'Alba' in the foreground.
Agave attenuata 'Boutin's Blue' is just across the little dog path in the background.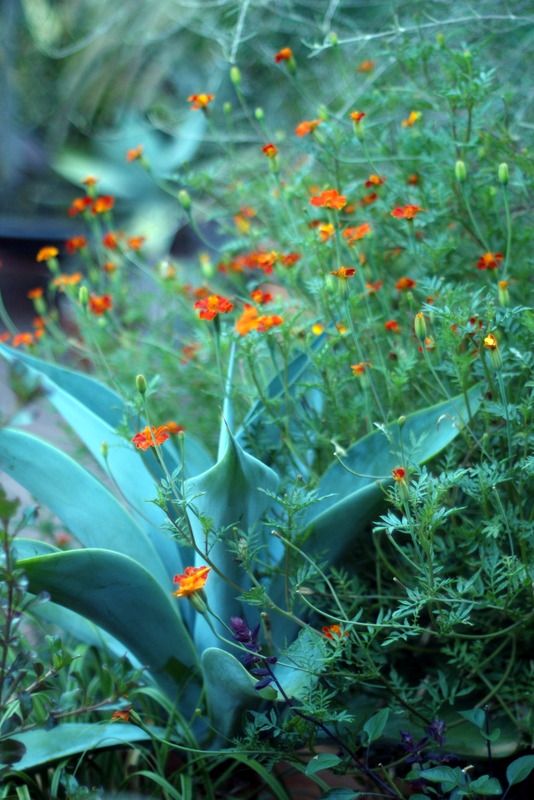 It's also a neat way to try out new shapes and plant associations, but I'll probably lift the pots and leave the space open for self-sowing poppies and such next spring.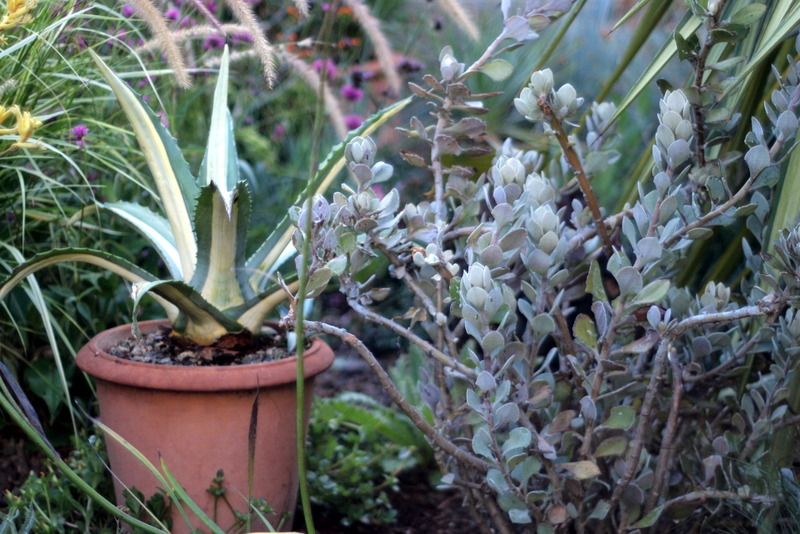 Baltic parsley out, potted agave in. Two midsummer-melted lavenders out, Senecio medley-woodii in, this time planted in the ground.
This senecio had been neglected in its pot and is luxuriating in its new digs. That's the amazing thing with succulents. So forgiving.
Not much to look at when small, it has an almost leucadendron-like quality to the arrangement of the leaves and stems when big and shrubby.
Growing succulents on in pots to big sizes for just such a bold remedy is why I prefer to grow them as singletons rather than mixed with lots of other kinds.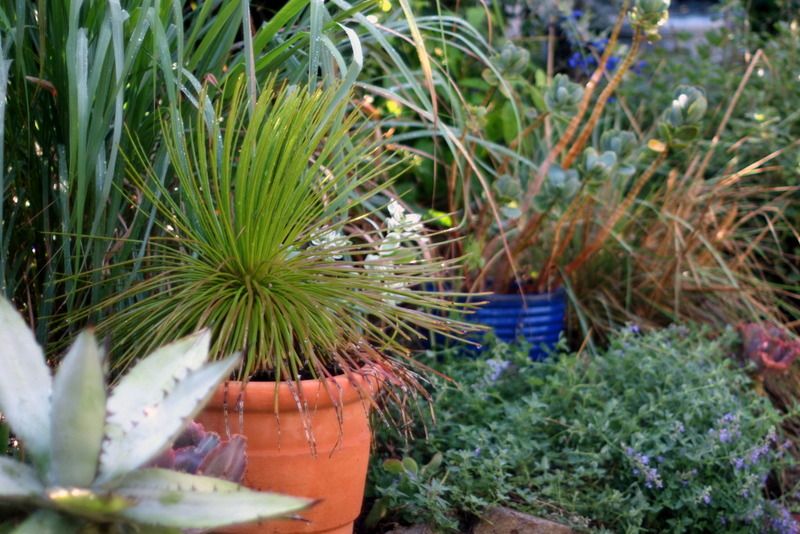 Agave geminiflora. I was this close to planting him in the ground this spring.
This spot turned out to be too dry for a digiplexis. One out of three remain in the back garden.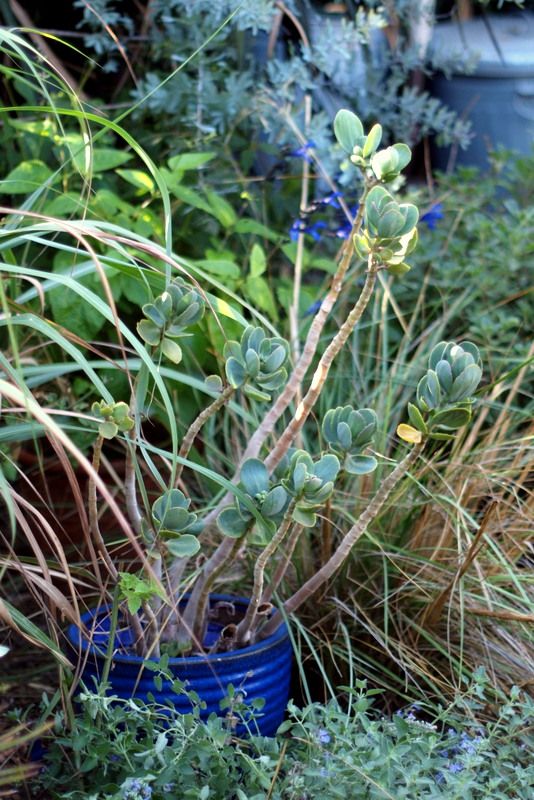 The Kalanchoe grandiflora in the blue pot was grabbed for back-garden duty off the front porch.
In fall so many succulents are stirring back into life and growth. We have that much in common at least.
I have an odd tendency of shuffling plants in their off season to the front of the house and then moving them to the back garden when they're beautiful again.
I'm too old to analyze such social tendencies anymore. It is what it is.
(I do like my neighbors. On Labor Day, when I smacked one of their side-view mirrors with mine, we immediately forgave and hugged and moved on.
Until I get the bill, that is. There is a culture in my neighborhood of cars stopping on our narrow streets to chat with friends on the sidewalk.
Cars wishing to travel through the streets must wait for the conversations to run their course, sometimes several minutes.
On Labor Day, I chose not to wait, because the guy tailgating me was obviously in a hurry, so I threaded through the narrow gap to the safety of my driveway about 50 feet away.
Unfortunately, I was in the wide-body Eurovan, not my Mini, and the sideview mirrors kissed a bit. Hey, move it or lose it. We're done waiting.)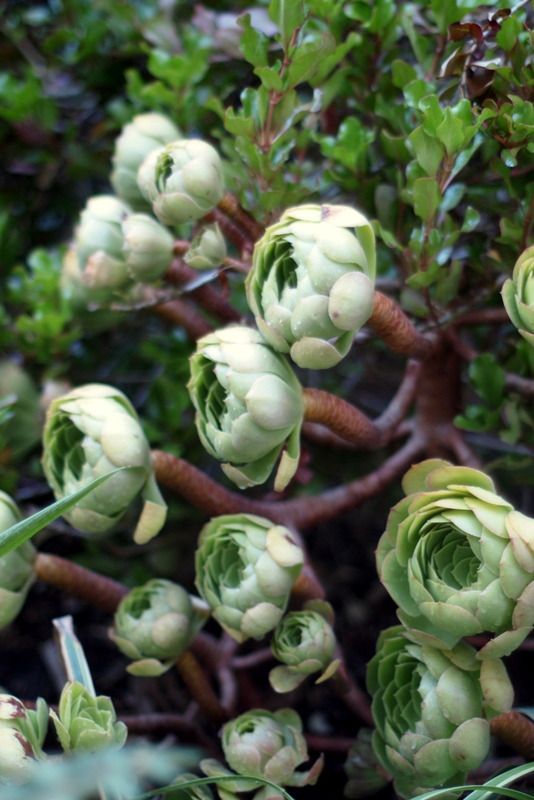 Aeoniums to varying degrees pull their horns in for summer and then gradually lose that shell-shocked expression as fall approaches.
This one was temporarily moved to spend summer in the shade near the compost pile and just recently brought back into the garden.
Although generally summer dormant, not all aeoniums have such an extreme reaction to summer. If I kept track of their identities, I'd know which are more sensitive.
This one might be Aeonium balsamiferum, but don't quote me.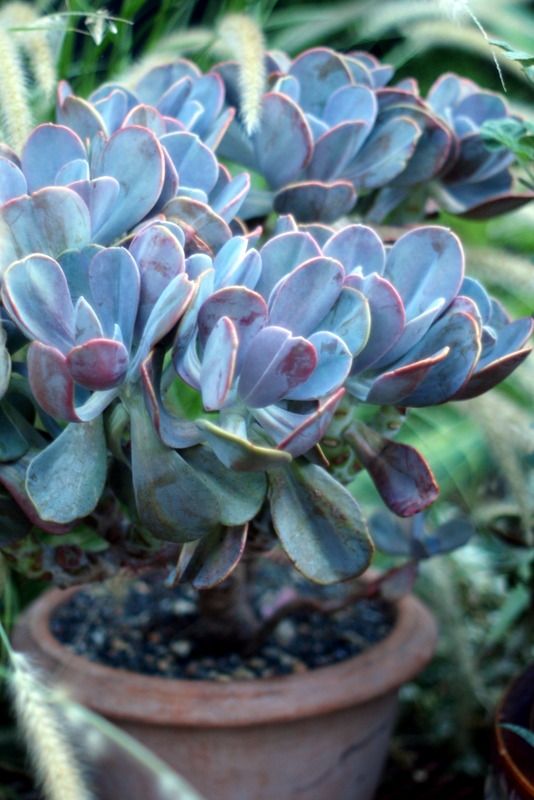 Echeveria 'Opal Moon' also spent most of summer near the compost pile, appearing more presentable by September.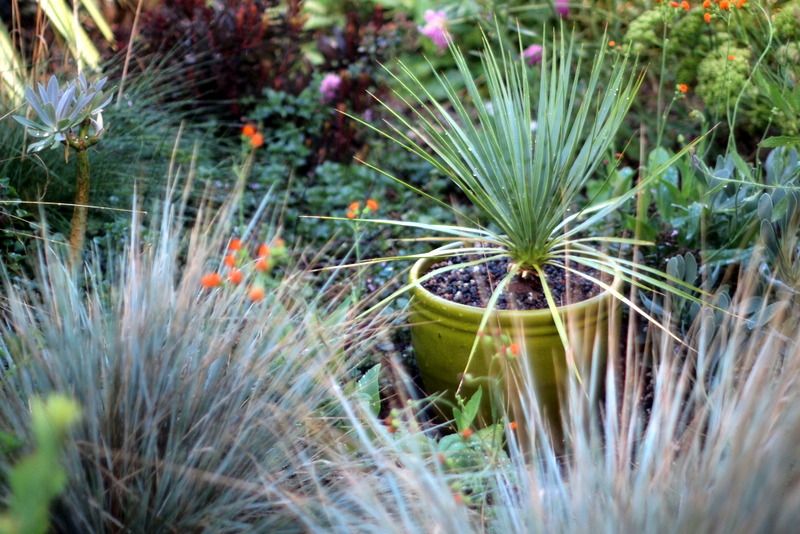 A potted Yucca rostrata was filling a gap for a few weeks but has since been planted in the front gravel garden to spur growth. A Grevillea lanigera 'Mt. Tamboritha' has taken its spot.
So I have been planting some of the (hopefully) tougher plants. We've been hitting about 90 degrees, with the 10-day forecast saying more of the same.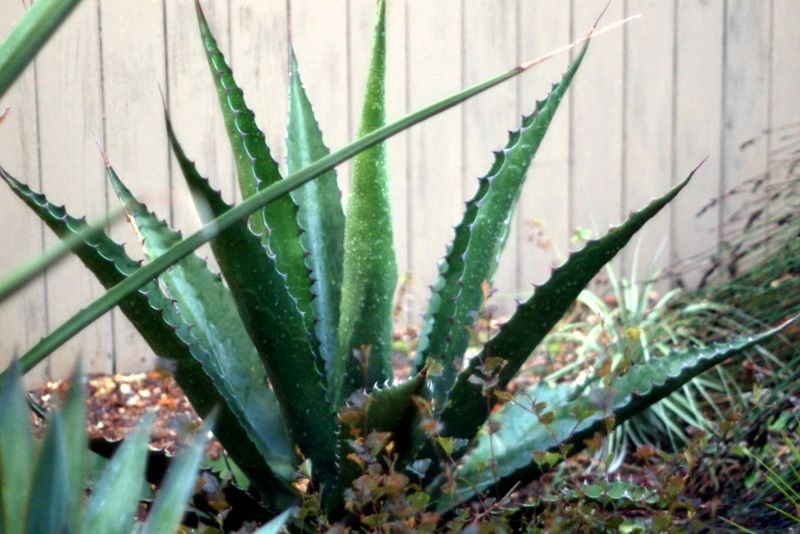 Taking out a phormium to make room for the yucca resulted in a much nicer view of Agave 'Jaws' (even if its still crossing swords with Furcraea macdougalii)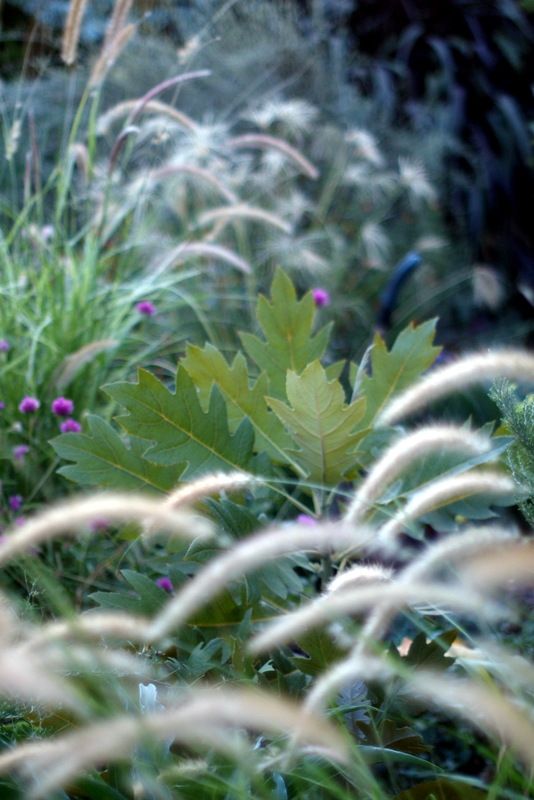 Checking nurseries yesterday for Grevillia 'Moonlight,' I stumbled into Bocconia frutescens.
I think the big leaf is a better choice here than the grevillea, so home it came, planted immediately.
It's been a bad week for phormiums. That makes two pulled out, one to make way for the Yucca rostrata and another removed for the grevillea bocconia.
The phormium here was a mid red in color, bought as the dwarf 'Tom Thumb' but obviously not, because it hit about 3 feet in height/width.
The bocconia can get big, tree-like even, or maintained as a cutback shrub. More shade might be desirable, so I'm keeping all options on the table.
Cenolophium denudatum this past April 2014, pulled out August 2014.

Where do midsummer gaps come from? (Obviously a question posed on behalf of the nongardening segment of mankind.) Well, one example would be the trial of the umbellifer Cenolophium denudatum coming to an abrupt end, both plants pulled. Three years is a fair trial. Also known as "Baltic Parsley," it never had much bloom at any one time, and better umbels can be had from many of the umbellifers usually consigned to our vegetable gardens without importing parsley from the Baltics. Evidence to the contrary, there is a method to my planting madness, but I may as well write the plans with my finger on a foggy shower door, for as long as they last. My experiments in the back garden have revolved around devising a mediterranean-adapted meadow for summer winding through evergreen shrubs and suculents for year-round structure, a plan which I'm in the process of re-evaluating, with probably greater emphasis in the future on evergreen shrubs, succulents, and grasses. The severity of the drought calls plans for a summer-centric meadow into question. Emphasis on spring, with the explosion of self-seeding poppies and other annuals in the cool weather just after winter rains, makes a lot more sense.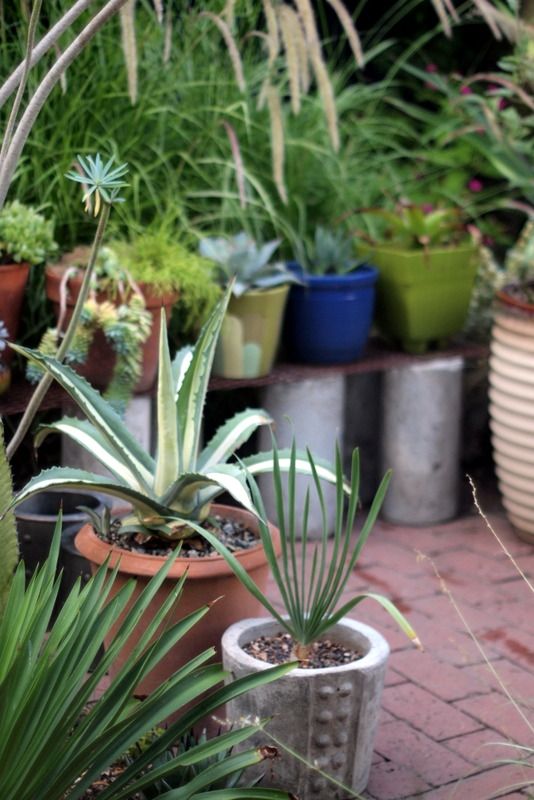 An old photo showing the mediopicta getting closer to its midsummer parachute jump. This is one of many pups of the mother plant given to my next-door neighbor.
It was forgotten, neglected, and tucked out of sight on the porch near the driveway, where the overly familiar plants are banished.
But by mid-summer, its presence was required in the back garden. An agave is always ready to serve.
Quite a few of the plants in pots have since been planted too, a Hechtia glauca, a Crassula 'Jitters,' the trailing pachyveria and rhipsalis used in the Wall Planter, etc.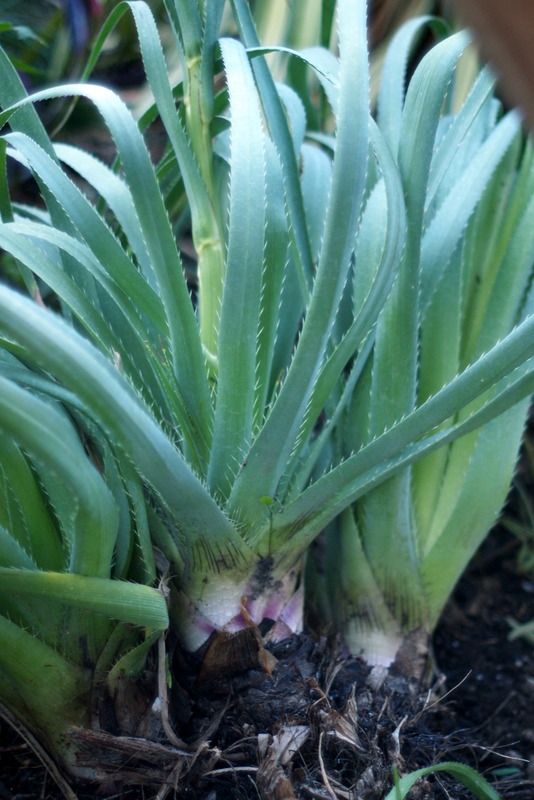 The Eryngium padanifolium was thinned out yesterday. In hindsight, it was planted a little too close to the little patio off the kitchen.
I guess it's a surprise when some plants actually thrive. I've got seedlings for insurance but still hated to move, and probably thereby destroy, a mature, flowering eryngo.
The bloom stalks were half the height of last year, topping out at about 3 feet. Last year they were as high as the pergola.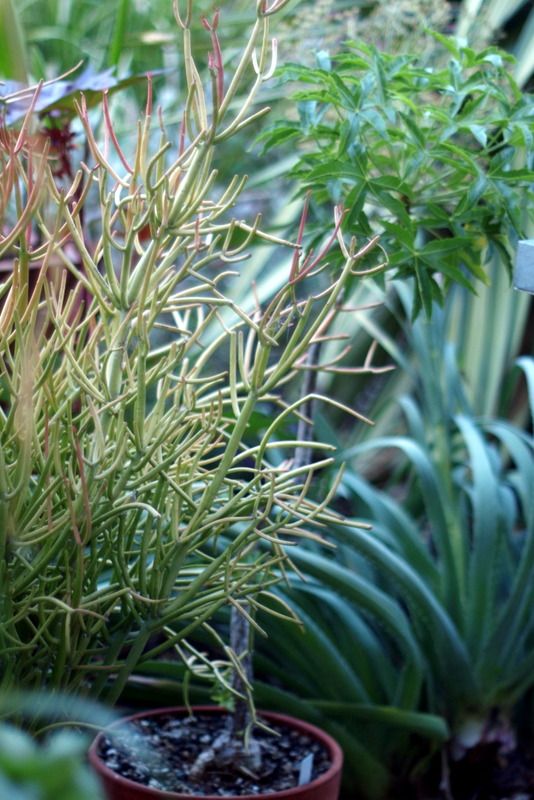 This pot of Sticks on Fire has been all over the garden this summer, moved to the little patio yesterday.
I cut the melianthus back in the garden just beyond, so something interesting to look at was needed here.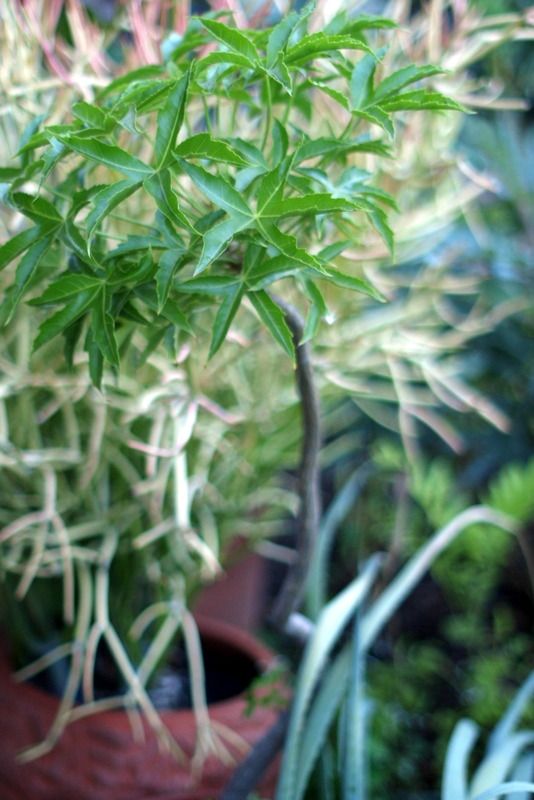 I love looking at my new Cussonia natalensis found at XOTX-Tropico in West Hollywood..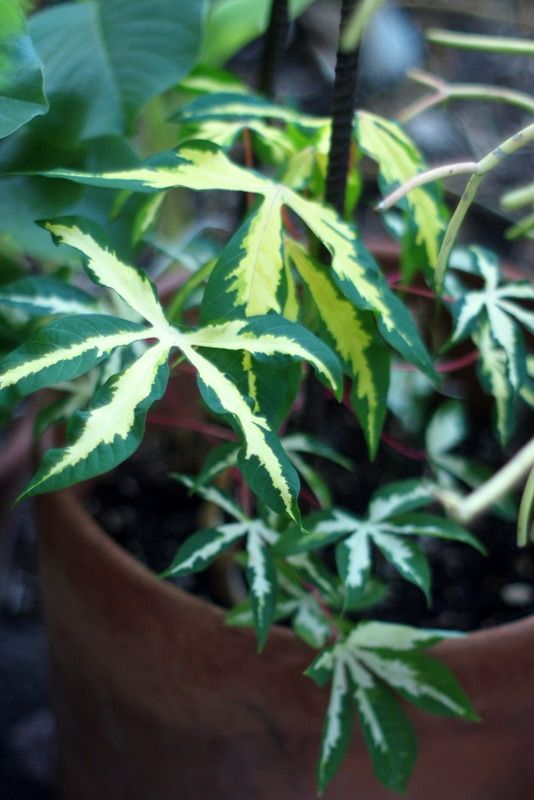 And the new Manihot escuelenta 'Variegata' too. I had a rocky relationship with the mail-order nursery that supplied this plant, Aloha Tropicals.
Some problems with billing have been made right, but the main reason for the order, Passiflora 'Sunburst,' seems to be dead, and very shortly after arrival. Caveat emptor.