The recent heavy rains in Southern California brought down a half dozen or so eucalyptus at a local park. A spectacular sight but not all that unusual. The gum trees are notorious for dropping branches and sometimes heaving out of the soil entirely during extremely rainy and windy weather. The full complement of evergreen leafage they carry creates a tremendous sail effect. Before the heavy winds, which lasted just a couple days, these trees had already fallen; the sopping, nonstop rain clinging to the leaves must drag on the evergreen canopy like a sea anchor.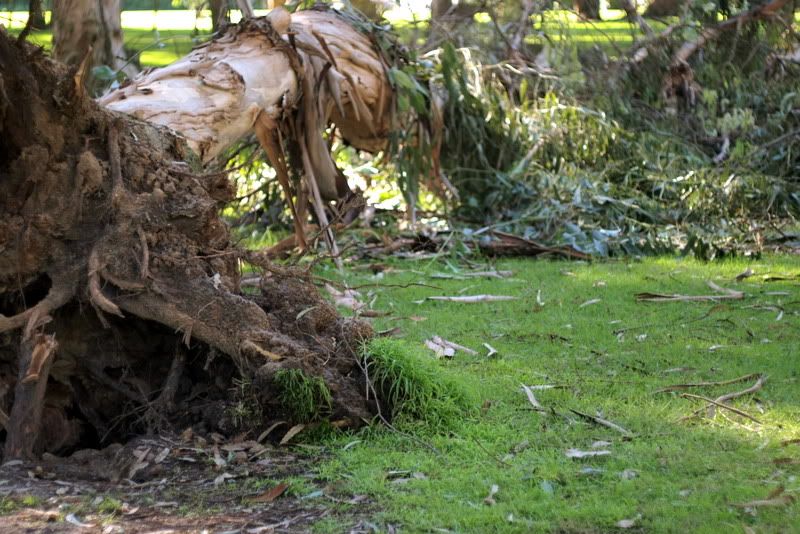 These fast-growing, shallow-rooted trees brought to California from Australia during the Gold Rush propagated their own commodities bubble, a mini-Eucalyptus Rush, when it was hoped their value as timber in Australia could be replicated in the similar climate of California. Unfortunately, unlike the timber from the 100-year-old-growth forests of Australia, the new trees were useless — too soft — as timber for shipbuilding or railroad ties. Trains lurched off the tracks built with ties made of eucalpytus, which curled and split. The combustible oil glands in the trees' leaves were later implicated as a cause of some California wildfires and led to firefighters nicknaming the eucalypt the "matchstick tree."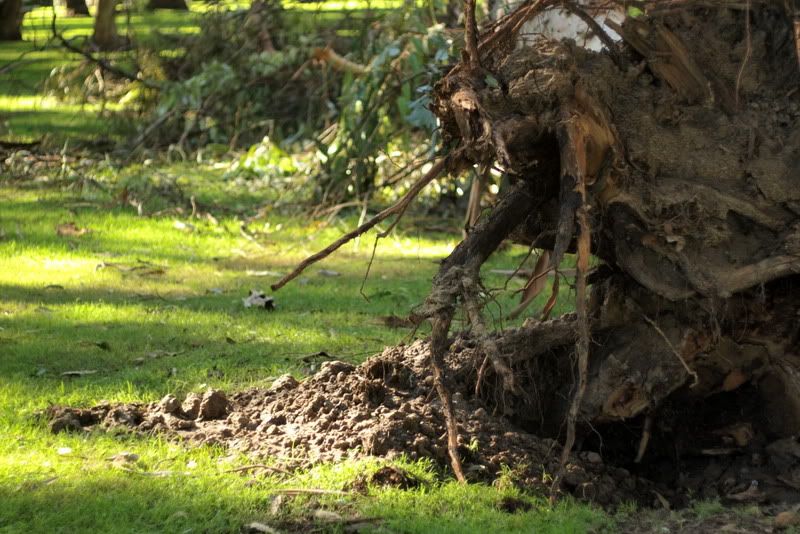 Despite some inspired 19th-century hucksterism, commercial prospects gradually dimmed, and it was the tree's ancient medicinal value and natural beauty that became its saving graces in the corrosive public opinion battles that followed its introduction and spread in California. (A recent profile on Elvis Costello in The New Yorker revealed that he straps on his "Blue Velvet" mask before shows to inhale eucalyptus oil to ease a hoarse throat.) Long-standing belief in the tree's anti-malaria properties is based on the simple mechanics of the root system vacuuming up and the tree transpiring so much moisture that no standing water is left in which mosquitoes can breed. Currently, it is a crop for firewood, biomass fuel, and pulp in paper production in many parts of the world, such as Africa, South America, China, Spain, and Portugal. Everywhere the eucalypt spreads, it seems fated to be accompanied by virulent controversy, whether over its role in wildfires in California or exploitation of peasant lands for cash crops in Spain. In some eucalyptus-angry lands, it has become known as the "capitalist tree," as Robert Santos writes in his comprehensive treatise "The Eucalyptus of California."

As to their shallow rootedness in California soil, in the December 2010 issue of Gardens Illustrated, Ursula McHardy (great name!), the former scientific advisor on southern hemisphere plants at the Palmengarten Frankfurt, now testing their northern limits in her garden north of Edinburgh, Scotland, says: "Australian soils are old and leached of nutrients, which means eucalypt roots have to search deep. In the UK, soils are richer, so eucalypts root across the surface, grow huge, and get blown over."

It seems like everyone in California has a blown-over eucalyptus story. The gentleman at the park who chatted with me as I took these photos had stability problems with the trees at his home in Huntington Beach. Any timeline tracing the eucalypt's history in California from the failed promise of a quick source of timber for the twin giant industries of 19th century transportation — shipbuilding and rail — through their commercial use now as mostly windbreaks in citrus groves and vineyards must derail from the historical view and zig-zag into the personal parallax view; in my case, to that moment in time when it seemed a good idea to a previous owner to plant two of these giants in what was to be my future garden, the continuing effects of which I wrote about here last year.




This same scene of destruction was visited on my garden a few years ago, when the last remaining eucalyptus inherited with the house crashed across the garden. A newly built pergola absorbed most of the fall, saving the house and minimizing damage to other plants. In Australia, branches and trees fall with such frequency that the tree is known as the "widow maker."
What's truly remarkable about these evergreen trees is the amount of leaf litter and seed capsule they can rain down 365 days a year. I'll take the once-a-year leaf drop of a deciduous tree over what a mature eucalypt can produce any day. Indeed, the litter is so dense, suppressing any growth under the tree's canopy, that the additional alleopathic effects seem like overkill. A growth-free zone under its canopy is assured by the sheer weight of all that detritus alone.
Introduced with such lush hopes when first brought to California in the mid 1800's, the eucalyptus is now considered an invasive "trash" tree by biologists.
Controversy, thy name is garden. Environmentalists now advocate removing all eucalyptus from Golden Gate Park, even the 100-year-old giants. If you must have a eucalypt for your urban garden, research the species carefully; thoughtlessly plant these trees at your peril. (Ursula McHardy recommends smaller, multi-stemmed trees like Eucalyptus pauciflora subsp. debeuzevillei and E. gunnii.) Plant any tree in a size as small as you can find to establish root systems able to withstand wind-rock. Tree-staking see-saws in and out of favor but is currently not advised if a tree is planted small enough. And may I suggest another Australian, the refined knife-leaf acacia instead?