I missed contributing to January's Bloom Day, the 15th of every month, hosted by Carol at May Dreams Gardens, but can't wait to check out the participating blogs, over 100 from all over the world. In my own zone 10 garden in Southern California, there could be a huge variety of plants in bloom, but my 800-square-foot back garden has little new to report for January. There are some blooms, like Begonias luxurians and hybrid 'Paul Hernandez,' that made the cut for this January bloom day, but not much else. Pam's blog Digging hosts the Foliage Follow-Up on the 16th, which seems the closest fit for this post. Warm thanks to Carol and Pam for hosting these memes, which will provide lots of good reading for the upcoming week.
(For record-keeping's sake, Salvia 'Waverly' has made every bloom day post, including January's, but another photo seems wearily gratuitous at this point.
It's a sad truism that good, dependable plants inevitably become boring, but constantly taking a chance on the rare and untried has more than once left me with a garden with not much thriving and lots of bare ground. And the hummingbirds would never forgive me if I gave this salvia's place to anything else.)


Begonia 'Paul Hernandez.'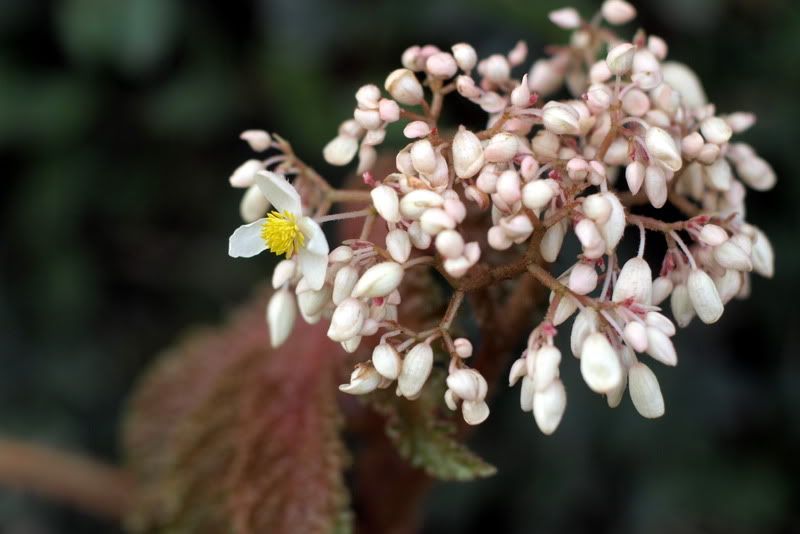 Both of these large begonias were planted at the base of the southern boundary, a 6-foot cinder-block wall that continues to "grow," aided and abetted by the creeping fig, Ficus pumila, previous owners planted to cover the wall. I welcome this extra privacy to an extent, but the wall has now reached an unruly height of 10 feet tall and is decidedly overdue for a winter trimming. I watched a possum snuggle into the fig's maze of branches a couple mornings ago after a night out on the town, the urban equivalent of a hedgerow. The shade against the wall is almost too deep for the begonias, but increasingly I'm preferring to find homes for plants in the garden as opposed to keeping them in pots. Watering containers 12 months a year quickly becomes the worst kind of ball and chain. I may dig up both begonias for summer and give them seasonal cushy container quarters. The roots of the creeping fig are probably too much competition for them. Whether they stay planted or get potted again depends on how many other containers the terraces have to contend with this summer. (For reasons too tedious to untangle, I can't bring myself to use the word "patio," most likely because my parents had patios, but "terrace" does seem out of place for Los Angeles. What else can we call these places where people and plants sit during warm months?)
The corsican hellebores temporarily have the run of the garden. They're all seedlings from one plant, providing ribbons of incredible acid-green coloring as if to taunt, "You want spring? I'll give you spring! How's that? Green enough for you?!"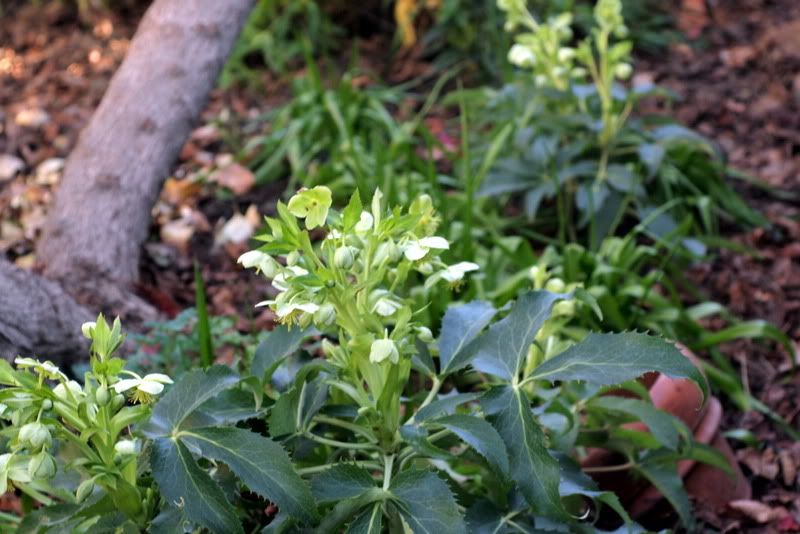 Anigozanthos 'Yellow Gem' and Pennisetum spatiolatum. It's time to cut this grass back, but it has such incredible energy, like little missiles being launched, that I'm enjoying it for as long as possible.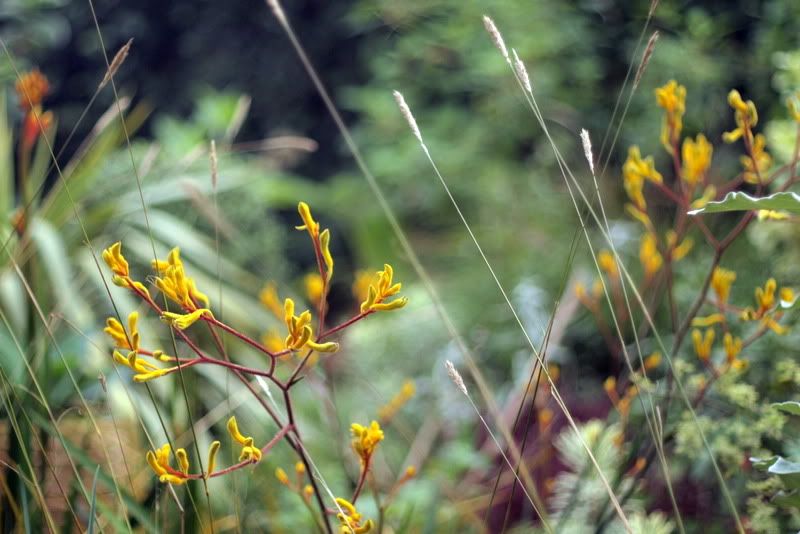 This young winter-blooming clematis, C. cirrhosa 'Wisley Cream,' threading through a coprosma, will probably sit out 2011.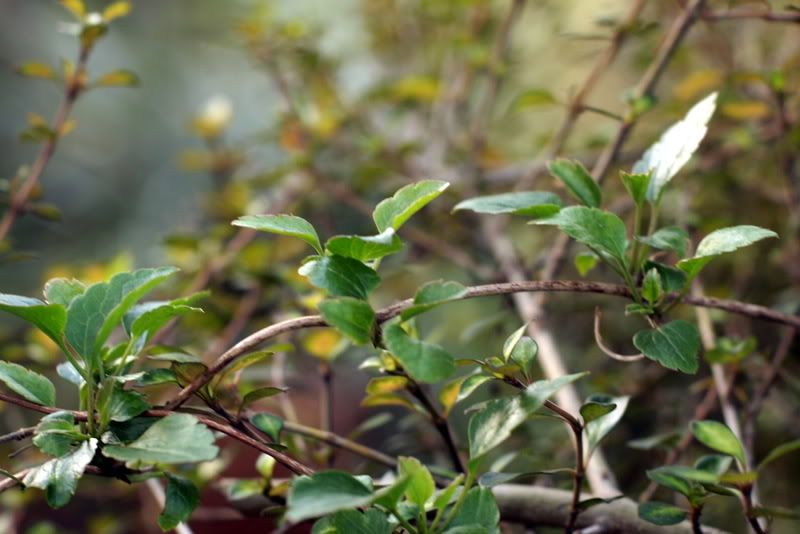 Astelia chathamica 'Silver Spear,' silver pony foot, and Lotus berthelotii are suitably chilly for winter. I wonder if I'll enjoy this pot as much in spring.