Fine. California Poppy Day. But there's a lot more Far Side of the World in the name Eschscholtzia.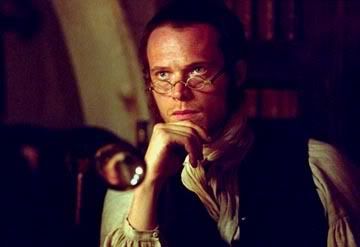 No, Paul Bettany hasn't played the role of Johann Friedrich von Eschscholtz, at least that I'm aware of. That's Bettany portraying the physician and naturalist Dr. Stephen Maturin from the movie Master and Commander, positions Eschscholtz held on his two voyages. The stories are glancingly similar: science, adventure, and strong friendships sailing aboard a tall ship to The Far Side of the World, before radar, satellites, or GPS, when there was still world left to be explored.
Because April 6 is California Poppy Day, I spent a few minutes searching for the great deeds of the naturalist Eschscholtz (an interminable length of time in the era post-Internet, but imagine how time passed on those sailing voyages!) but there was little to be found. I was certain he bore a close resemblance to Bettany's sexy naturalist in Master and Commander. As it turns out, not really, but still handsome in his own way. He was only 37 when he died but had traveled the world by sail twice, 1815 to 1818 and 1823 to 1826. We're talking circumnavigation.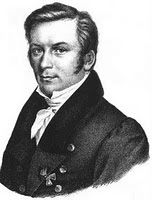 Eschscholtz sailed on Otto von Kotzebue's scientific expedition to California and the greater Pacific in 1815 to 1818 aboard the Russian ship Rurik with a crew of 27 men, one of whom was his friend Adelbert von Chamisso, the German botanist. It was Chamisso, who was also a poet, who named our state flower after his friend. So the mouthful of mostly consonants that is the state flower of California has this awkward name because of a friend's affection. All is forgiven.
Eschscholtzia californica, our golden poppy.
Unlike the friendship of Dr. Stephen Maturin, scientist, and Jack Aubrey, commander, detailed in the movie from Patrick O'Brian's novel, the friendship of Eschscholtz and Chamisso differed in that they were both scientists. Eschscholtz did name a lupine after his friend, Lupinus chamissonis.
""…It is during the months of spring that this queen of California flowers holds her especial court….It is a true poppy, a member of the same drowsy family with the immemorial flower of sleep and the Shirleys of our garden. Our Spanish people have several names for it, as 'torosa' and 'toronja'….and the name it shares with other poppies, 'dormidera,' the sleepy one, because of its habit of closing its petals at the approach of evening, as though dropping off to sleep…"
– Charles Francis Saunders, With the Flowers and Trees of California, 1914″
Apparently, this poppy beat out another member of the poppy family, Romneya coulteri, or the Matilija Poppy, for the title of state flower. Romneya got zero votes. Personally, I'd have been hard-pressed to choose between the two.
I'm reprising a 2/23/10 photo of a local wildflower meadow because I have no California poppies to show from my garden. I planted two 'Apricot Chiffon' varieties of eschscholtzia, one of which died soon after planting and the other of which produced far more leaves than flowers, no doubt a consequence of soil too rich for these wildflowers.
I hope all this history hasn't caused anyone to become dormidera (the sleepy one).