The paths of the garden at Western Hills, which I visited a couple weeks back, were crowded with the mauve blossoms of self-seeding honesty, the biennial Lunaria annua. Because it was ubiquitous, I took no photos but of course now sorely wished I had. MB Maher took this photo, which still doesn't begin to convey the crush of mauve-flowering honesty round the bend of nearly every path.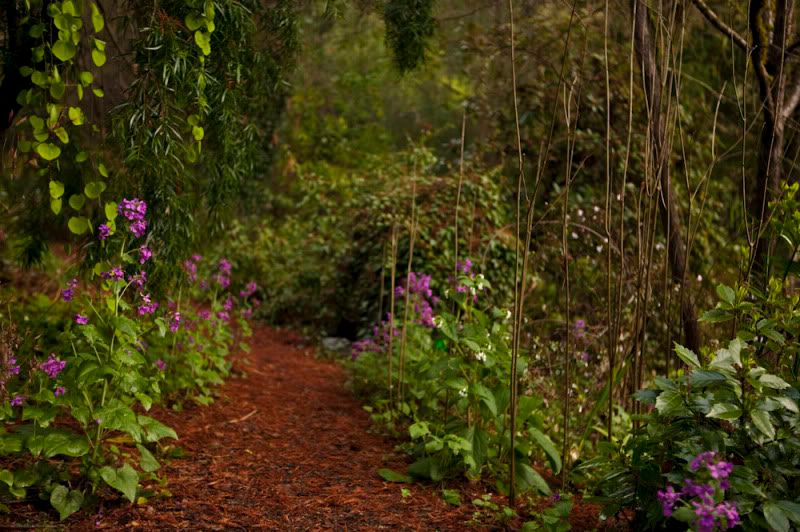 I wished I had taken a photo of the carpets of lunaria because the color of the flower is so definitively mauve. And mauve, I just learned, was the first chemically created color. (No, I never took high school chemistry but was shunted into the girls-only ghetto of the clerical courses. And this was in the 1970s!)
At a time when the British Empire was being seriously inconvenienced by malaria, a boy of 18, William Henry Perkin, stumbled into this seminal link between chemistry and industry in 1856, when his experiment to discover a synthetic quinine went awry but inadvertently resulted in the first permanent chemical dye. Following Queen Victoria's lead, the Victorians draped themselves in mauve.
Despite its historical significance, it would surprise me if anyone actively sought out this color to include in their gardens. For one thing, as colors go, it's a bit of a non-starter. Does anyone really desire the color or just tolerate it for the sake of the useful plant on which it blooms? ( e.g. Erysimum 'Bowle's Mauve')
But mauve also seems to carry the whiff of Victorian drawing rooms, aspidistras in copper pots on the entryway table alongside calling cards of visitors for tea later in the afternoon. In other words, mauve has been accused of being old-fashioned. But for next year, I'm thinking how well mauve sets off all the yellows and tender white flowers of spring. And there are dark-leaved and variegated varieties of lunaria worth searching seed catalogues for too. These are the kind of easy (some might say weedy but not me), billowy plants that give a garden body. A rather elusive concept, but the shorthand would be that which separates a garden from a landscape installation.
I found this April 5 photo, year unknown but within the last few years, of some lunaria blooming in my garden, to the right in the photo. This supposedly easy naturalizer for shade hasn't found conditions here to its liking….yet.