Buy tickets and a map at the Las Doradas Children's Center, apply the lime-green wrist band, and we're off on the VGHT 2011 (Last year's post here.)
Under overcast skies, thirty houses, covering several miles. Bikes would be the preferred mode of travel, but, like last year, sore feet will have to suffice.
Come in and warm yourself by the fire.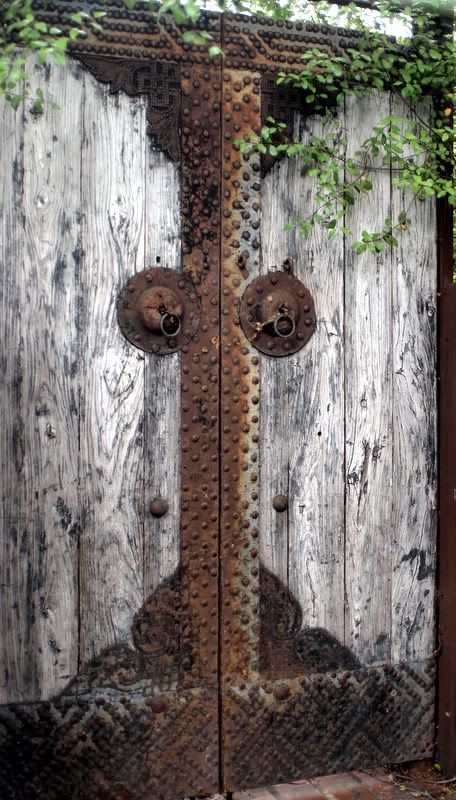 Outdoor gas firepits were a prominent feature of many gardens on the tour this year.
The VGHT is becoming a victim of its own success. Advance purchase tickets were sold out, although tickets could still be bought the day of the tour. It was a mob scene, albeit a well-mannered, design-enthusiastic mob. A flash mob, garden style, which means cameras, water bottles, and sensible shoes. Lines snaked down the narrow sidewalks outside tour houses. Many tour houses required attendees to remove shoes before entering, which was partly responsible for the bottle-neck, but it was mostly due to the extremely small sizes of these houses. Having worn lace-up shoes, I confined myself to the outdoors.
(Two Three suggestions for future tours: Bikes, bike locks, and slip-on shoes.)
By the way, the house behind that imposing gate in the first photograph was not on the tour. And neither was this parkway's house on the tour. Phormiums, variegated dianella, and Mexican feather grass. Nothing horizontal to balance all the verticals, but the careful scaling of sizes, contrast of colors and textures, and rhythmic use of the dark phormium, combined to make this an ingenious solution to the eternal design conundrum of parkways/hellstrips.
That's photographer MB Maher. His photos of the tour bear his watermark.
More inspired parkways, Agave attenuata, golden sedge, and a rogue pennisetum. Keeping these narrow parkways simple seems to be the secret to stunning.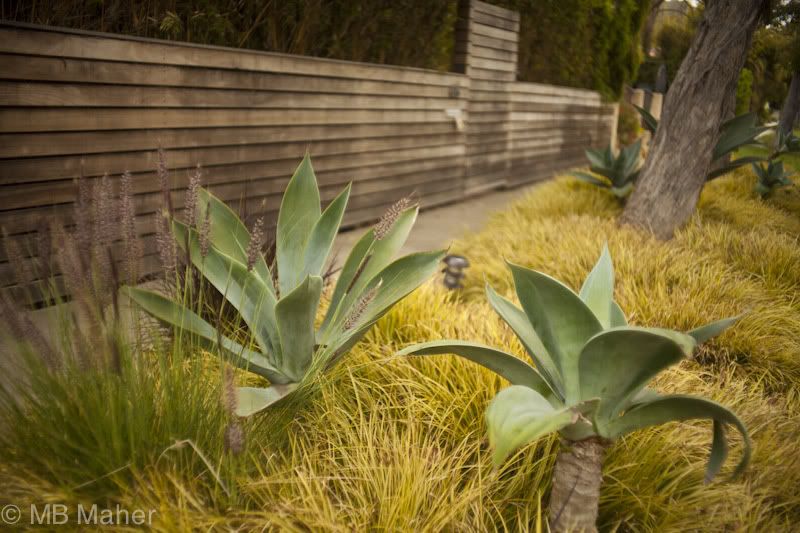 Also not on the tour. Glass lamps hanging from trees.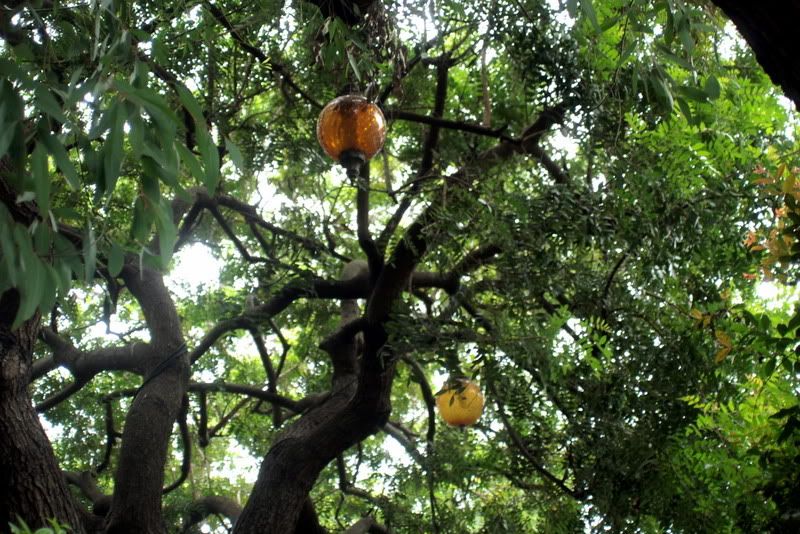 And Hot Wheels satellites twirling suspended on chains.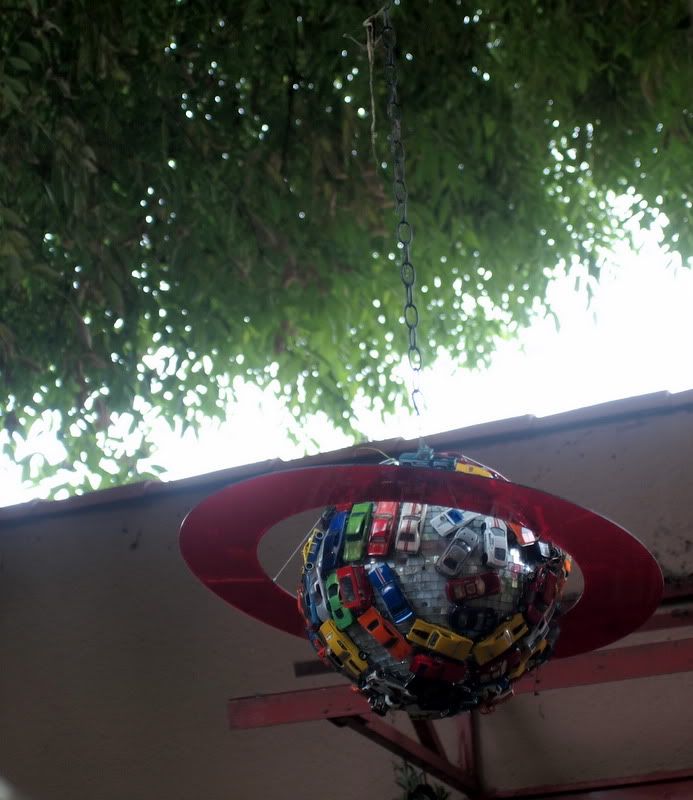 Another house not on the tour.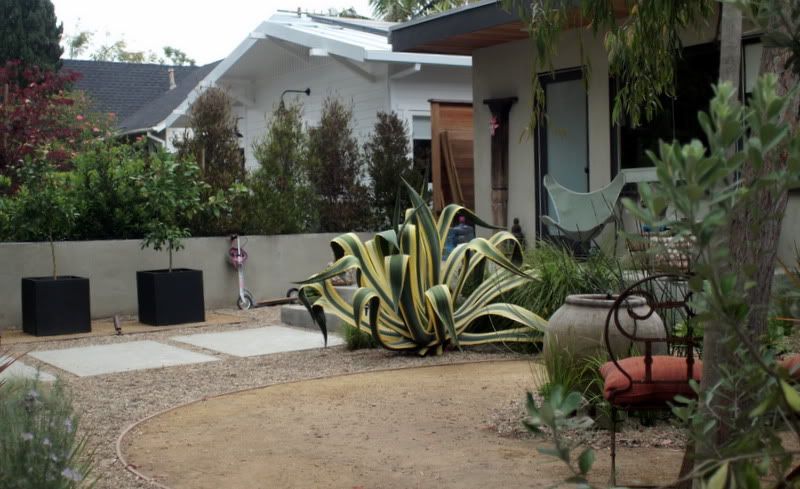 Let's try to stick to the tour, shall we?
Some tour houses: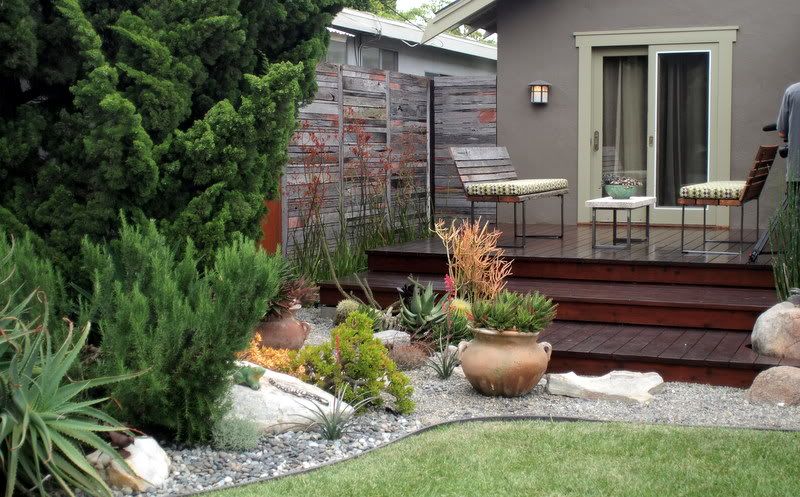 Ipe, Brazilian Walnut, is the new "it" wood for outdoor decking.
(Edited 5/29/11 to add owner Christy Belt's comment: "It is actually a 10 year old deck in redwood, using the deckmaster system of screwing it from below and has held up beautifully. The stain is teak from Sikkens an oil based stain and sealer. It has aged over the years and I think the recent coating of Sikkens Teak made it look more like mahogany. I made the gates and furniture out of 100 year old barn wood.")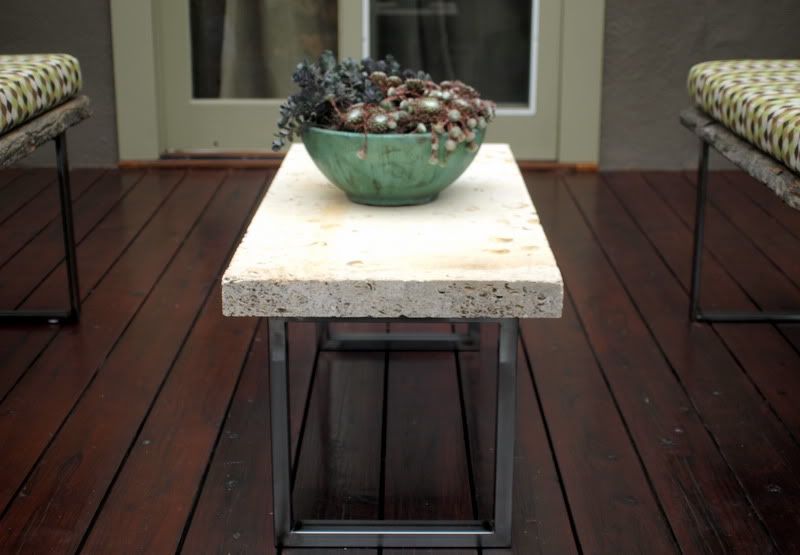 Same fabric used for the tablecloth as the bench cushions.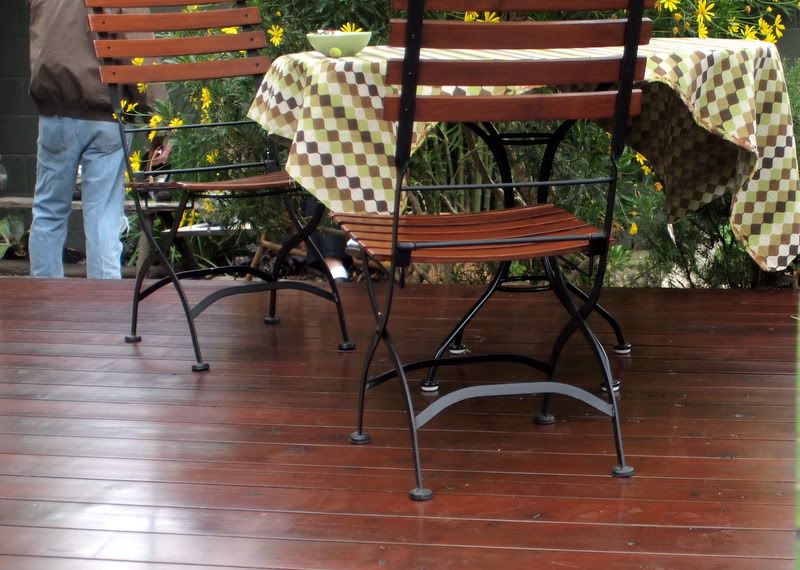 Can't ever have too many tables and benches and impromptu shade pavilions.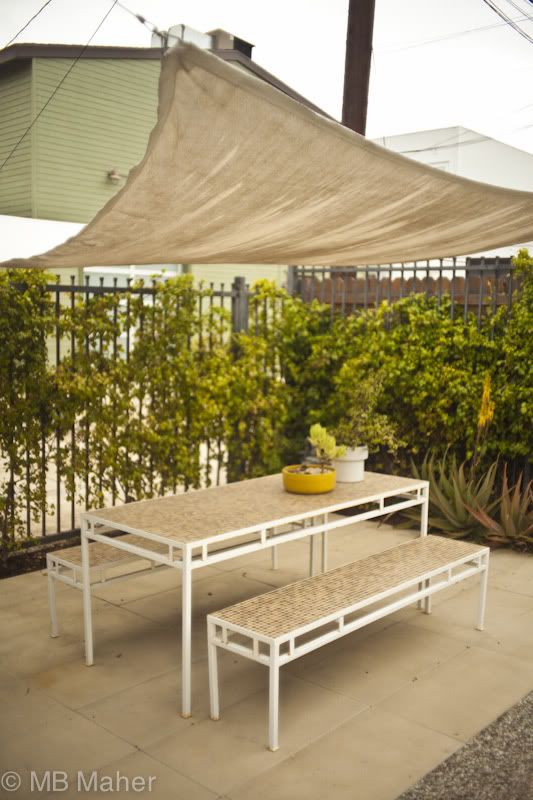 Succulents and agaves abound in this coastal enclave.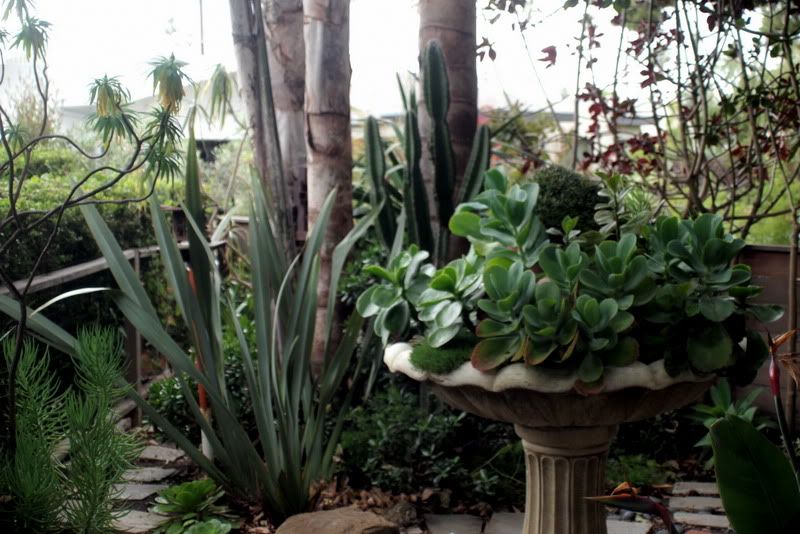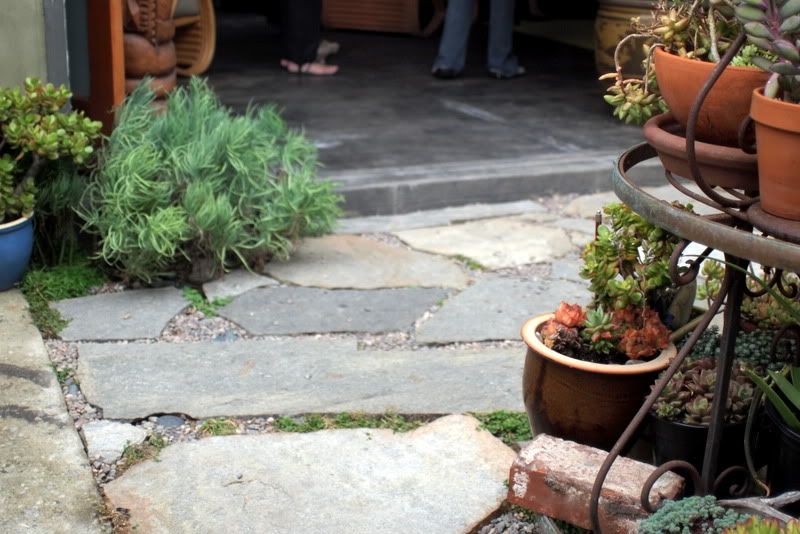 Interesting work in progress, succulents in rusty metal letters. I'd like to see them left on the ground, simply outlined in gravel.
I'm not sure the succulents would have enough grip inside the shallow metal forms to withstand being hung vertically and may spill out.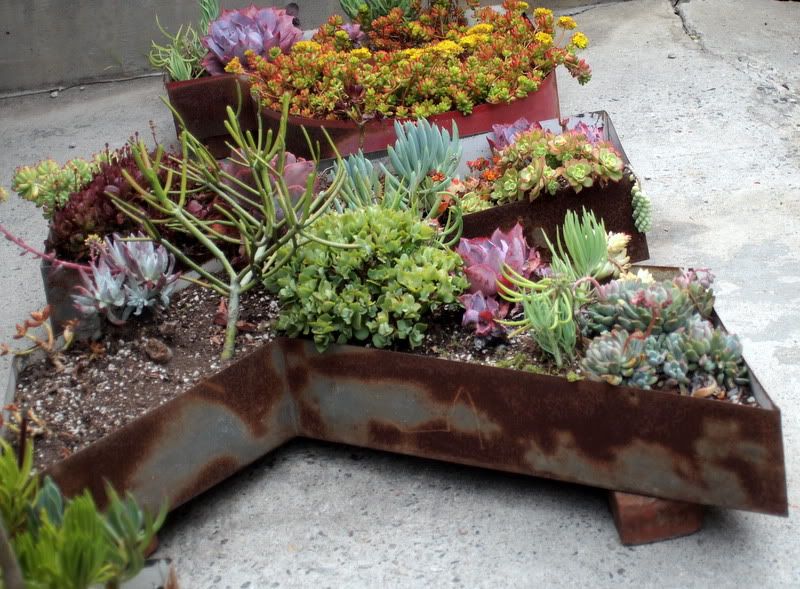 A very large potted 'Blue Glow.'
(Lots of Dymondia margaretae on the tour, this ground-hugging silvery plant from South Africa, to infill among pavers or post as duty for small lawns. Tolerates light foot traffic.)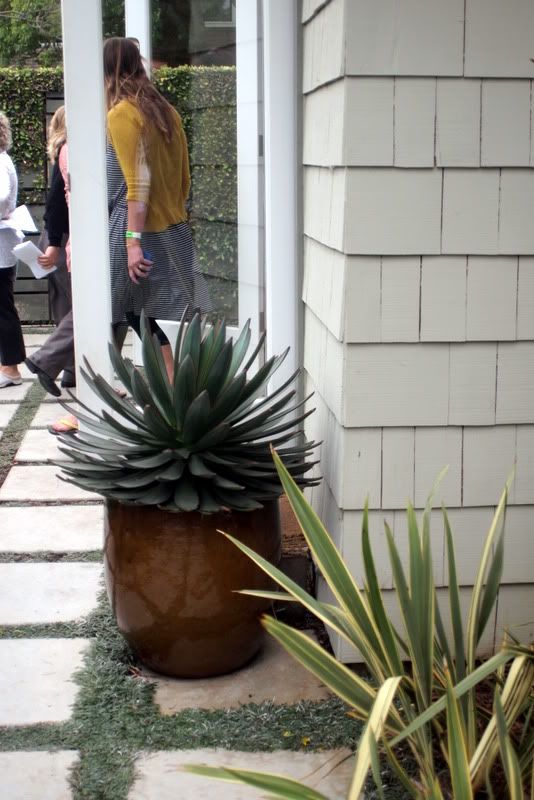 Evidence that there was a pre-tour succulent planting frenzy.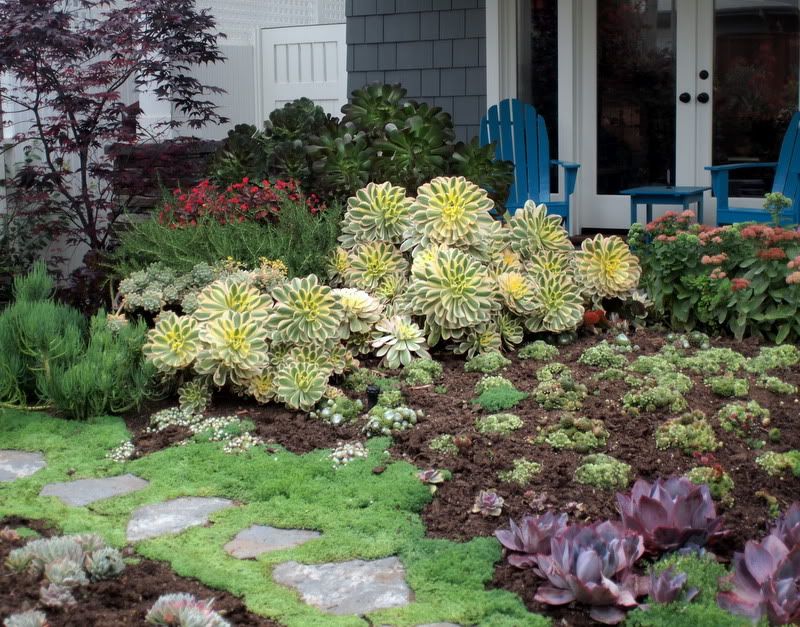 More mature plantings of the same garden.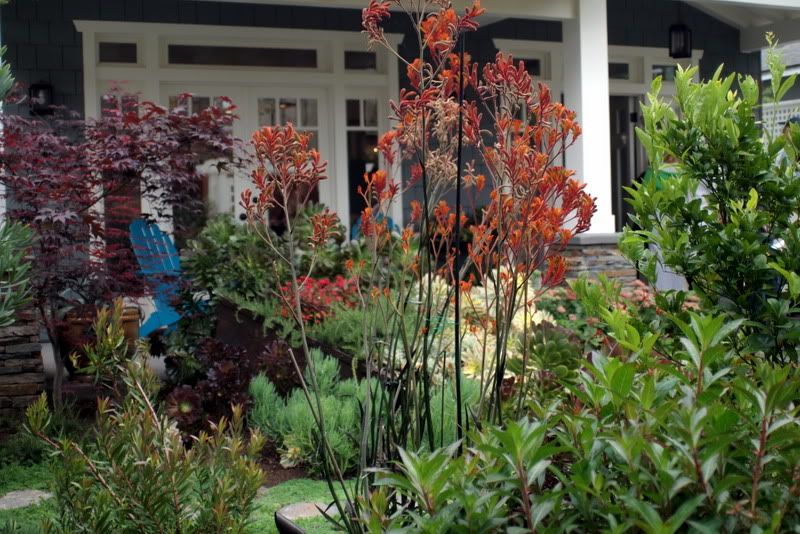 Naomi Sanders recently finished this front garden, a fairly large one by Venice standards. The stark white paint with no contrast trim, a bleached-out bungalow effect, works to unify the house with the stone work and gravel of the garden.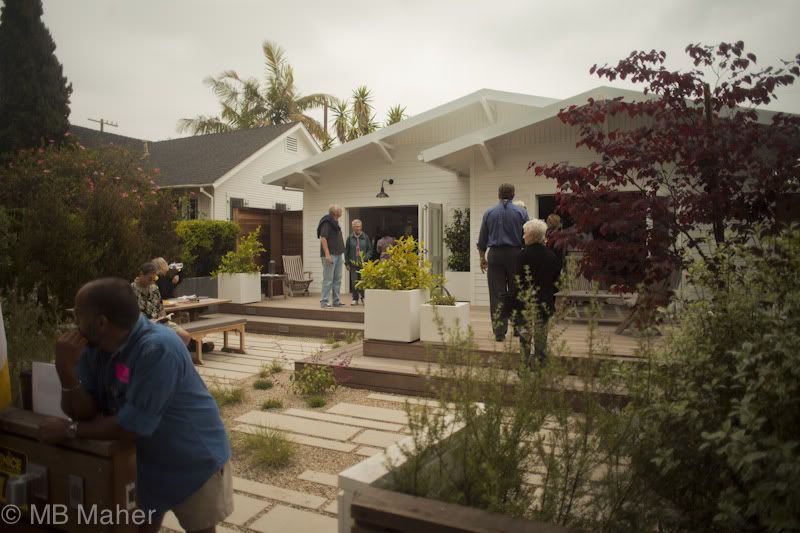 Scroll-work carving on the table one of the few non-rectilinear flourishes.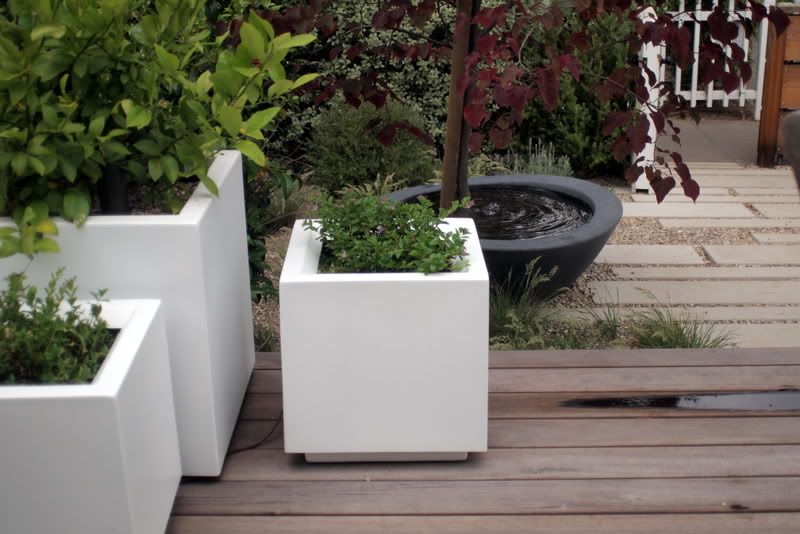 Tidy raised beds of vegetables, herbs and calendula in a front garden.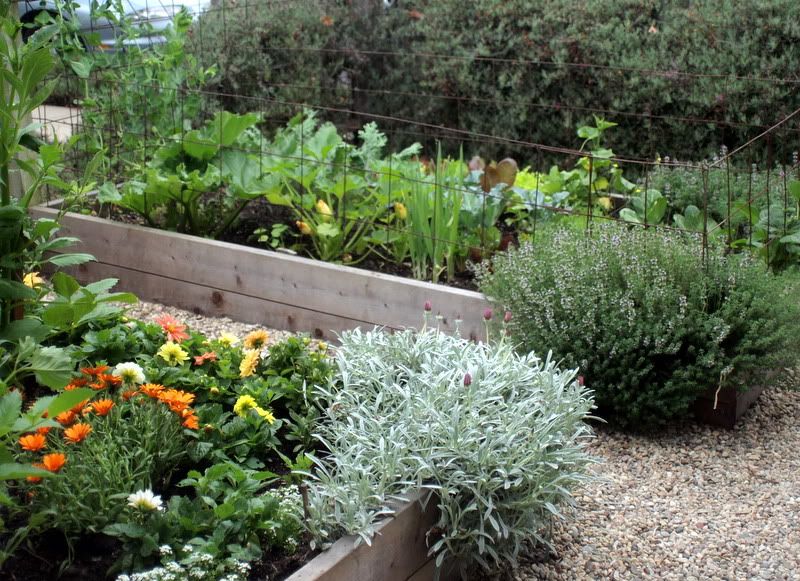 The house where I bumped into Dustin Gimbel, a garden designer who blogs at non-secateur. More dymondia, pavers, and permeable decomposed granite.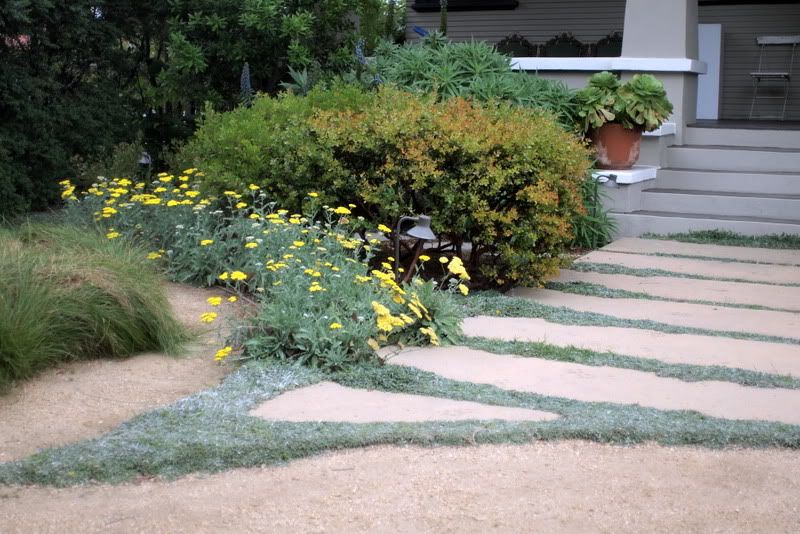 I also bumped into a plant I'd seen from last year, growing wild in a parkway, and was determined to track down its identity. Grows like agrostemma, tall, slim, and willowy, but with blue, catanache-like flowers.
Image found here.
Chicory, Cichorium intybus.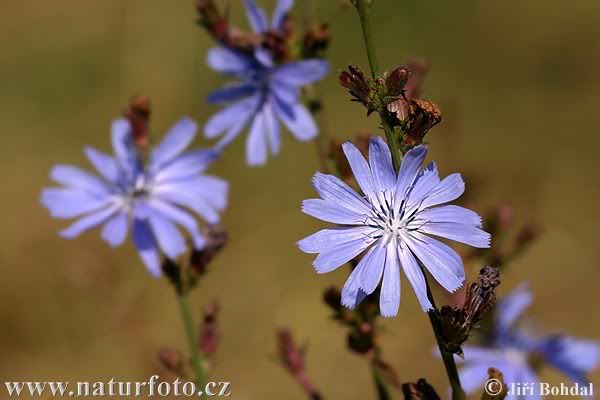 A reality rinse for design-soaked eyes.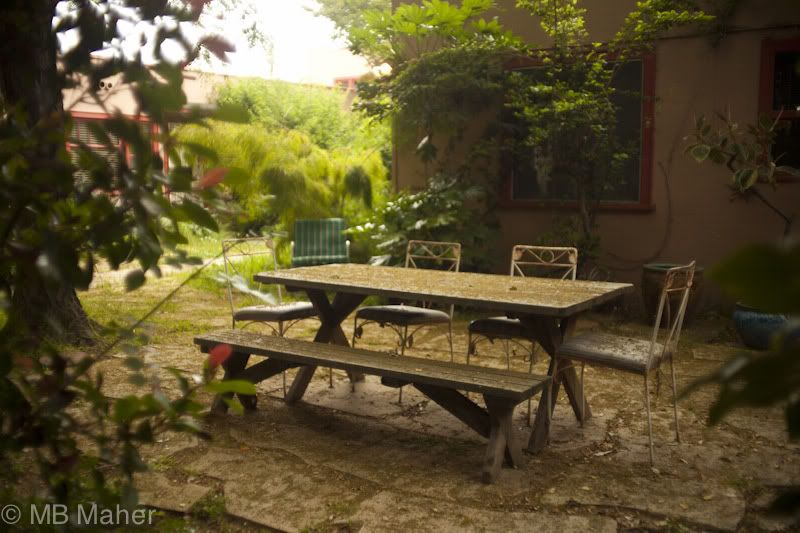 A bus roaming the neighborhoods to rescue weary tour-goers found us and deposited us near our car, which we had parked, coincidentally, near Jay Griffith's office. Mr. Griffith is the legendary Los Angeles landscape genie who was one of the progenitors of the VGHT. Note magic lamp.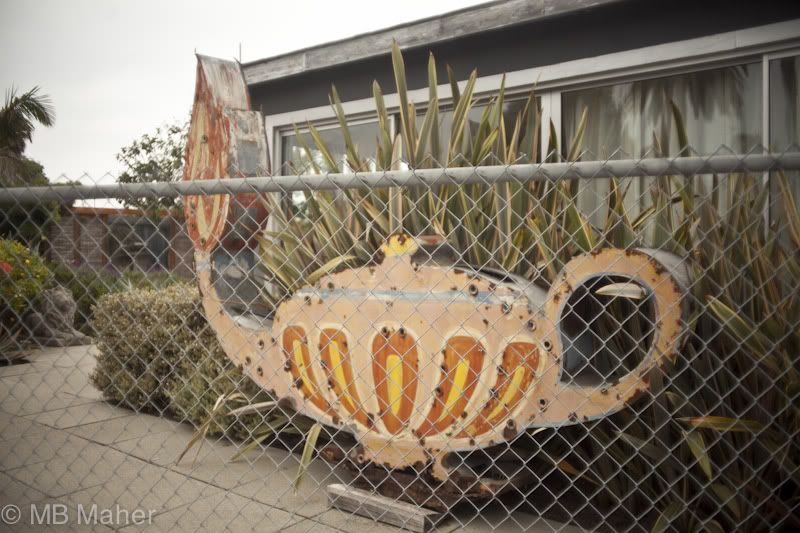 See you next tour.