I took the day off from work yesterday and worked played in the garden all day.
Needing potting soil, I stopped at a local nursery, where I found this:
(Photo is a little dark, taken late last night.)
Pedilanthus bracteatus (aka Euphorbia bracteata) from Mexico.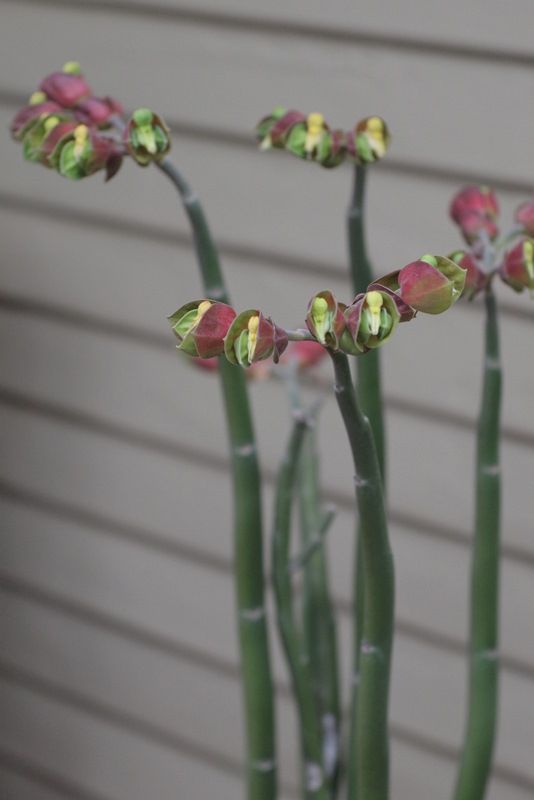 A huge empty pot, formerly a fountain, sits in the front garden, just outside the gate to the east side of the house, so I dropped this 5-gallon into that pot.
A plain backdrop is a priceless asset. I was new-plant tingly all over.
A half hour or so later, I heard the dreaded sounds of an impromptu twilight soccer game in my neighbor's adjacent yard and rushed to the east side just as a soccer ball whooshed over the low fence separating our front gardens and landed in a restio, a mere couple feet away from the not-cheap pedilanthus. A herd of kids, tops of their heads just visible at the 3-foot fence line, were politely bleating, "Lady, please get the ball." The Agave 'Mr. Ripple' is a formidable guard, as are the row of dwarf olives lining the fence, so they know better than to climb the fence. (These encounters are always amiable. Kids have gotta play somewhere, since there's not a park in walking distance.) As soon as I tossed the ball over, I grabbed the pedilanthus from the pot and rushed him to safety inside the gate, where I took the photo.
Summer is twilight soccer game season, and no pedilanthus is safe.