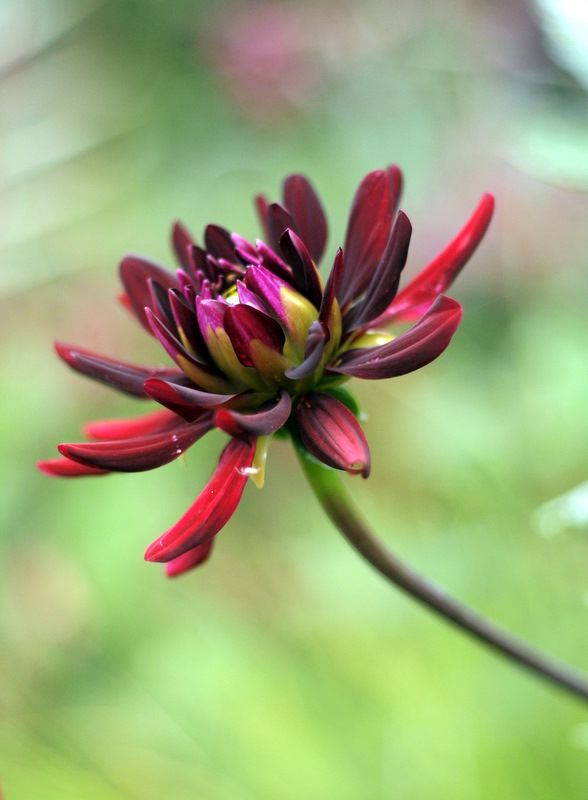 Man cannot live by tomatoes alone. (The first dahlia opened today.)
There's no way I'm going to keep the garden moist enough simply for a few dahlias to thrive, but I'd hate to face August and September without them. So this year I planted my one dahlia tuber in a 5-gallon nursery can in March, amping up the potting soil with lots of compost. The container was then plunged into the garden, hidden from view behind some grasses but still in full sun and easily accessible for watering. This prestidigitation with containers, popping them into the garden in season, whether tulips, lilies, or dahlias, keeps things interesting, and has the added benefit of allowing the water runoff from the containers to go directly in the garden's soil. Checking the blog, I find this dahlia was bought in 2009 at a garden show, and I neglected to note the name.
As far as tomatoes, so far it's been a disaster, and I'm miserable about it. 2010 was a raging success. Never having had a garden before, my mom was thrilled with her daily summer bounty of tomatoes and zucchini from the 5X8 foot raised bed we built off her patio, and probably has the world's unofficial record for number of zucchini breads baked by one woman in a 3-month period, which she froze then gave as holiday gifts. I knew the first year of living alone after my dad died would be difficult and, of course, my predictable solution was to plant a garden for her. I can't help it. My mind finds the solution to all problems at the end of a garden path. (If the U.S. Congress can't get this debt ceiling debate reconciled, they should be made to tend the White House vegetable garden in the sweltering heat of August and September, and then distribute the vegetables among the Capitol's needy. And with their paychecks suspended in limbo.)
This year for her raised bed I foolishly chose a San Marzano tomato on a whim, knowing nothing about this legendary sauce tomato from the Campania region of Italy. As a sauce tomato, it doesn't crop like tomatoes grown for the table, and while her friends are boasting of the ripe tomatoes they're picking, she's had zip. Right now it's loaded with huge, bright green tomatoes, but over the past week the vine looks to have become diseased. I wouldn't know cucumber mosaic virus if it bit me on the ass, but I'm guessing this is the affliction.
My mom is heartbroken. After her happy, carefree foray into vegetable gardening in 2010, except for the surprise success with Persian cucumbers, this year is all confusion and pain. Which is a common state of being for vegetable gardeners, something I'm trying to explain to my mom. But she just thinks she's done something wrong, when the fault is all mine for choosing a late-cropping, finicky variety meant for sauces and not eating fresh.
Today I'm running to the local nursery to find a run-of-the-mill, dependable tomato to plant in a large container for her. There's plenty of time left in our long growing season to turn this sad tomato situation around. Wish I could say the same for any prospect of turning this sad political season around as well.