The inspiration to include some seed pods from the castor bean plant in leftover Thanksgiving vases already filled with chamomile and hypericum came from this photo from thequintessentialmagazine. Nice touch with the alocasia leaf too.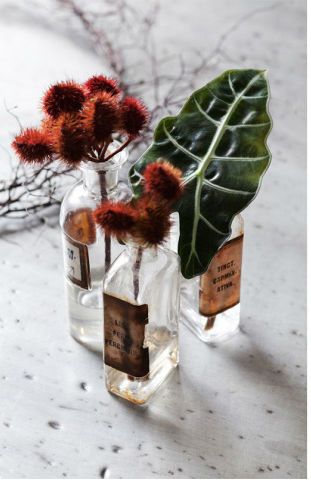 Like a bloody echinops, the ricinus makes striking cutting material. I suppose it's the awareness of the castor bean plant's intensely poisonous properties that prevents me from ever considering it suitable for vases. It's obviously causing me alliterative fits just talking about it…poisonous properties prevent…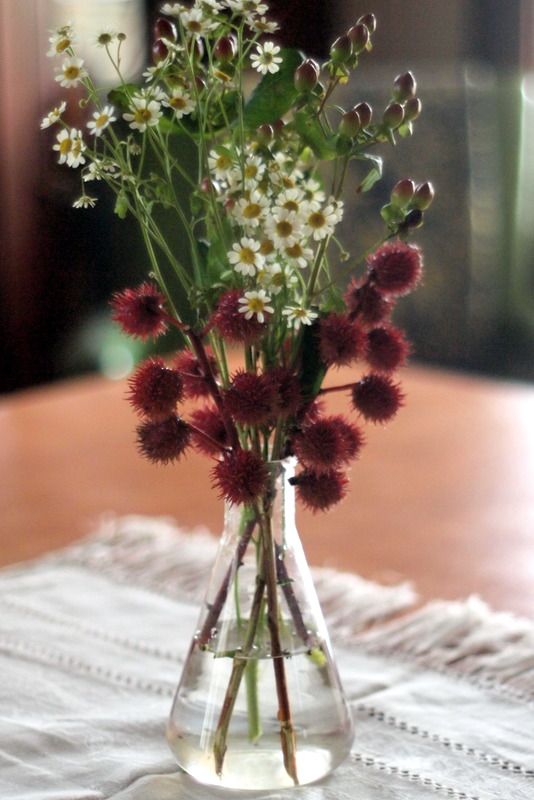 Yet that theory doesn't really hold water, because the hypericum berries are poisonous too, and I brought those home for vases.
I wonder if any guests would even know that either or both of these plants are poisonous, and if so, would close proximity to them arouse mental discomfort or squeamishness?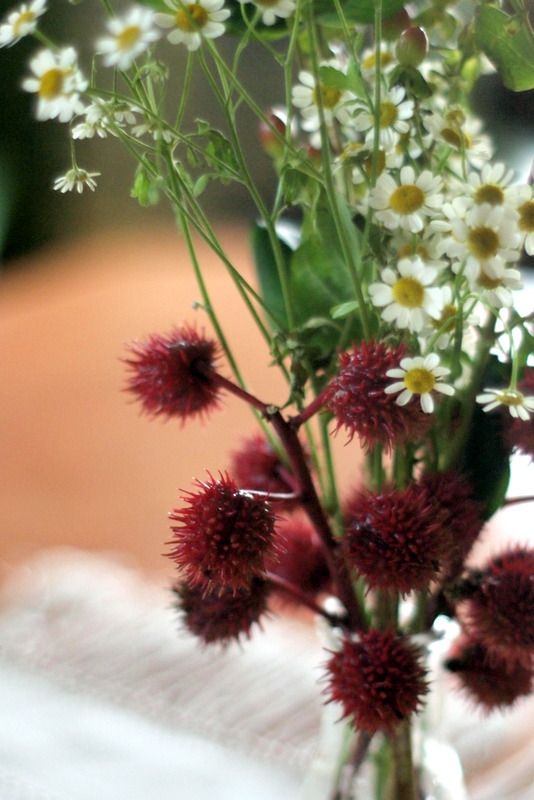 And over the holidays we'll be surrounded, as usual, by toxins amongst all the sparkly lights and baubles. That's not indulging in bah-humbug sentiments, just talking practicalities. Soon homes will be filled with that other holiday plant suspicious for ill effects when ingested, the poinsettia, though that turns out to be mostly urban legend and not medical fact. Still, it's a euphorbia, with the typically caustic milky sap that euphorbias possess, that's known to cause skin rashes. Holly and mistletoe also are reputed to be moderately toxic.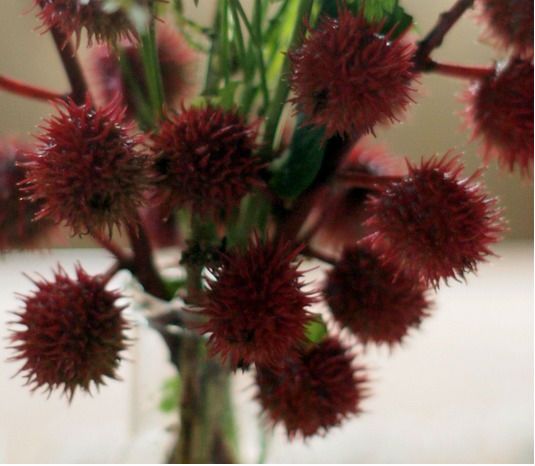 Toxicity issues aside, I think the castor bean seed pods would look amazing in wreaths. Ricinus has naturalized in Southern California, and though many of the seed pods are a dessicated brown this time of year, there's still lots of bright scarlet pods to pick. The seed pods I picked today are Ricinus communis 'New Zealand Purple,' that lives over the winter in my garden, but I bet there's plants in gardens everywhere that, for whatever reason, just aren't considered vase-worthy and might be due for a second look. Obviously, use care (gloves?) when handling this kind of plant material for holiday decorations, and site them well away from pets and small kids.