I had some time late yesterday afternoon so decided to dip my toe into holiday retail.
In truth, all I did was look at plants. And even bought a few. For myself.
This season of giving is off to a roaring start.

But look, Christmas trees in the background. See? I was holiday shopping!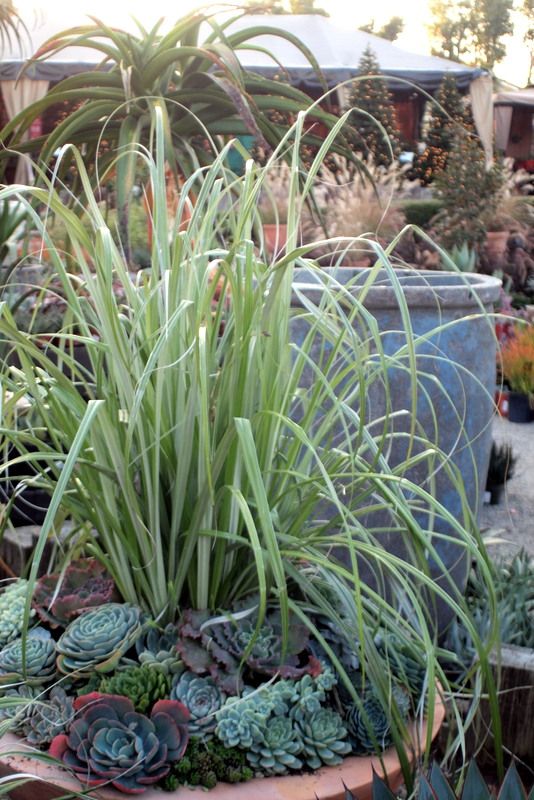 Astelia and echeverias

Agave 'Blue Glow'
Roger's Gardens in Newport Beach is where I like to drum up some holiday spirit. There's lavish holiday displays, antique glass ornaments, beautiful table linens, stationery, wonderful gift ideas — but I just wasn't ready for the full holiday immersion yet. I stayed outside with the plants.

Tree aloe, Aloe bainesii, Yucca 'Bright Star'

Aloe marlothii, Yucca 'Bright Star,' Agave 'Cornelius and Agave desmettiana 'Variegata' in the background

More tree aloes, with aeoniums this time and fountain grass.
The large slope currently planted with fountain grass, potted magnolias, and other grasses is changed out four times a year.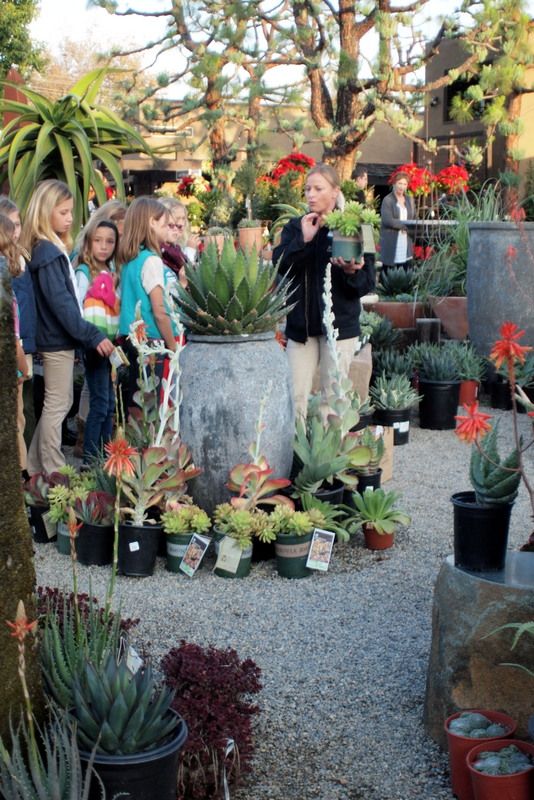 I know this because I eavesdropped on the tour given to a troupe of Girl Scouts who straggled into the succulent section while I was taking photos. The guide told the Scouts that succulents were the most popular plants at the nursery currently and briefly explained how they tie in so well with our mild temperatures, rainfall patterns, and extended seasonal drought.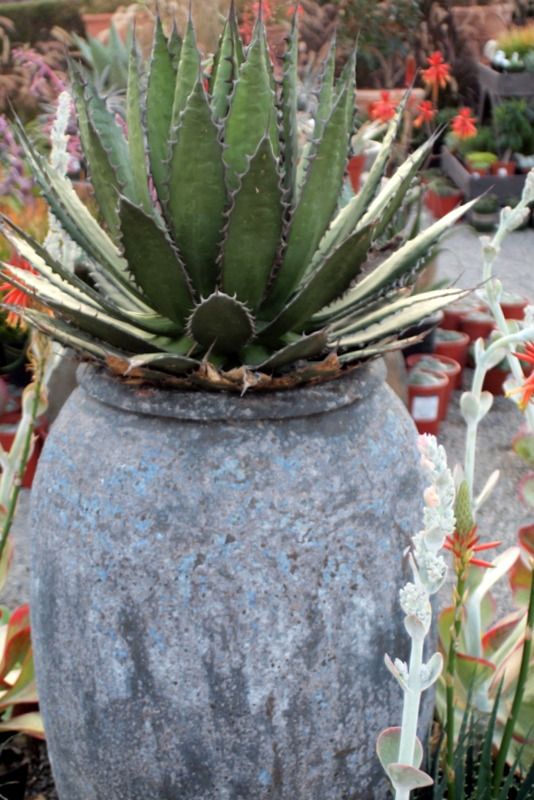 Agave lophantha minus the Girl Scouts.

There must be a way to gift wrap barrel cactus.

Aloe marlothii getting its turn to star in a big urn.

Cordyline and phormium

Enormous potted Ligularia dentata.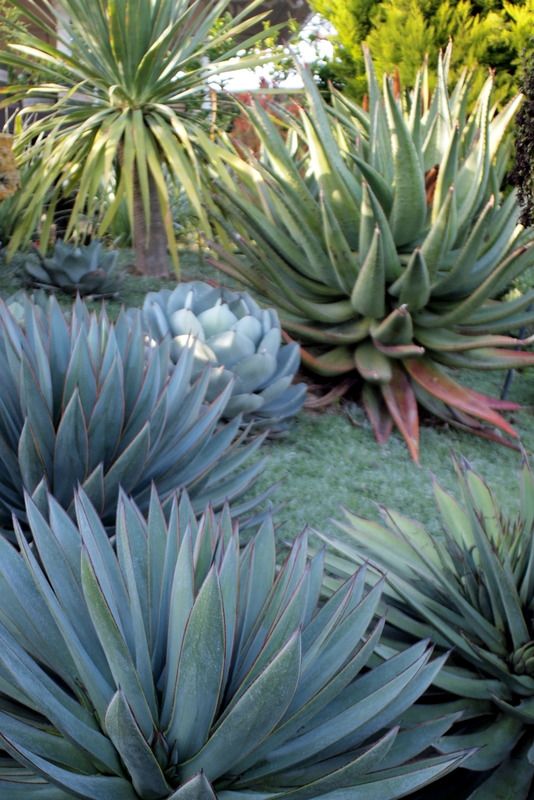 Agaves and aloes liberated from containers, showing what they can do in the landscape, planted inside the nursery grounds.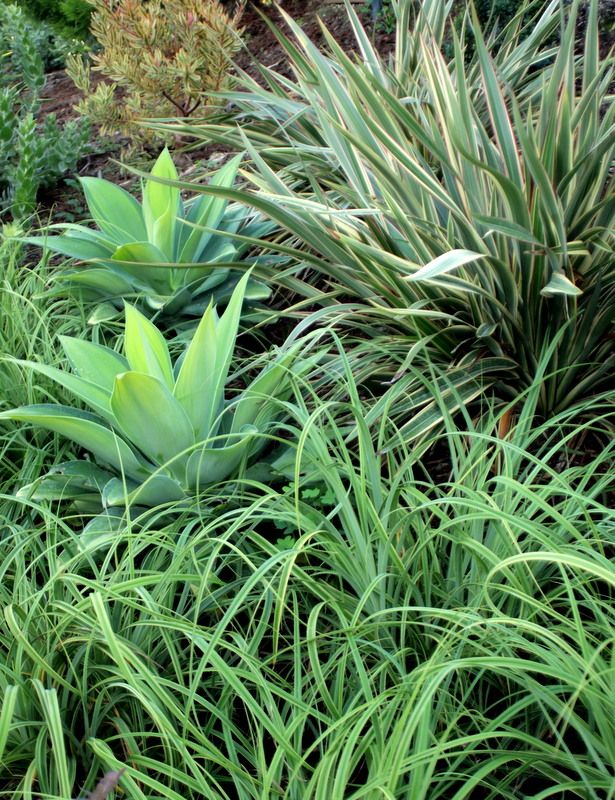 One of the plants I brought home, Carex trifida 'Rekohu Sunrise,' very broad-leaved with a lovely habit of growth. Zones 7-10.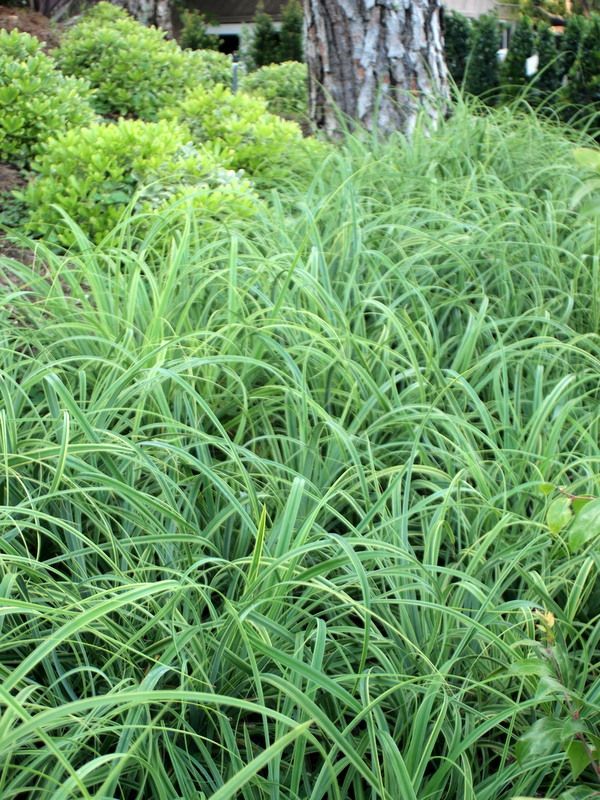 Or ask for Variegated Tataki Grass. Can you tell it hails from New Zealand? Via the nurserymen at Monrovia.

You can tell from the abundance of terracotta, without a pop of glazed orange or lime green anywhere, that Roger's Gardens concentrates on classic mediterranean style — French, Italian.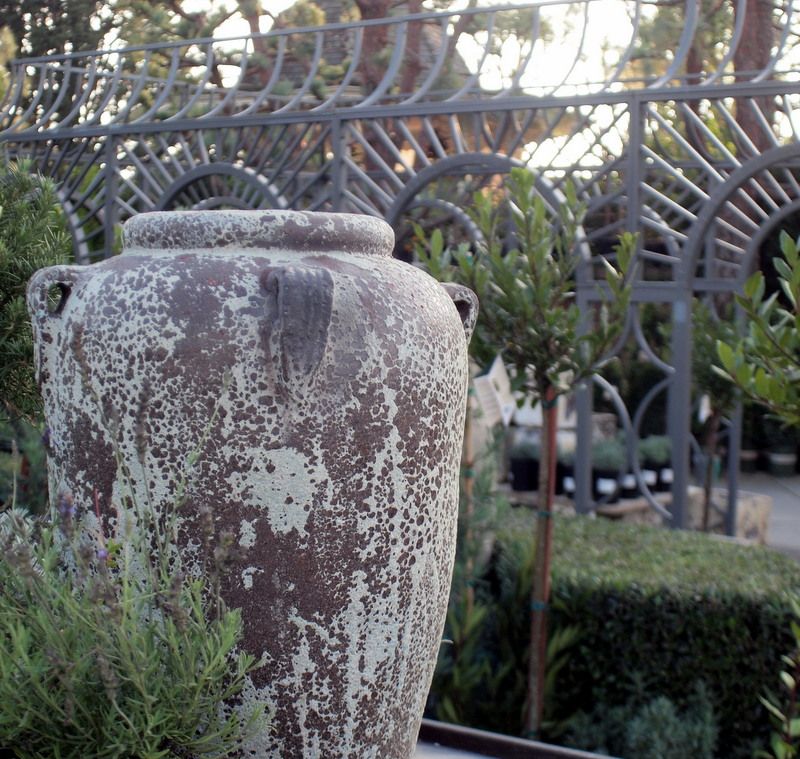 Whatever the style, their plantmanship is first rate. Outside the nursery, the entire perimeter bordering the sidewalk is landscaped to maximize drought tolerance. Mediterranean fan palms.

Underplanted with the crown of thorns, Euphorbia milii

Palms, agaves, and leucadendron

This agave looks a lot like A. guadalajarana.

Agave 'Blue Flame'

A leucadendron bursting with holiday cheer.

I've rarely walked along these plantings and have mostly driven by when arriving and leaving.

Roger's has been helping me ease into the holiday spirit for many years, and never fails to do the job.
for Deanne