I'm still puzzling over the winter exuberance of the nicotiana I sowed from seed early last spring.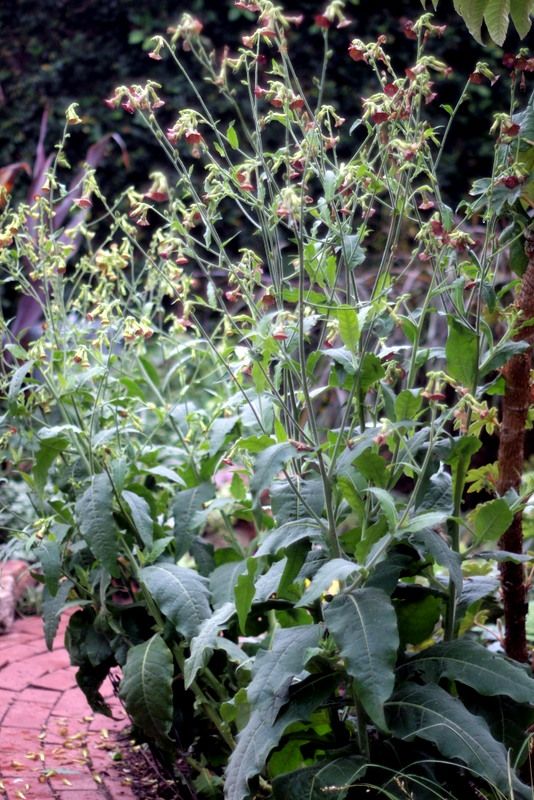 Now over 5 feet tall, the seed came from 'Ondra's Brown Mix,' a selection made by Nan Ondra from her garden Hayefield. Annie's Annuals sells something similar called 'Hot Chocolate,' which she feels has some Nicotiana langsdorfii blood in the mix. It also looks a bit like the strain sold as 'Tinkerbelle.'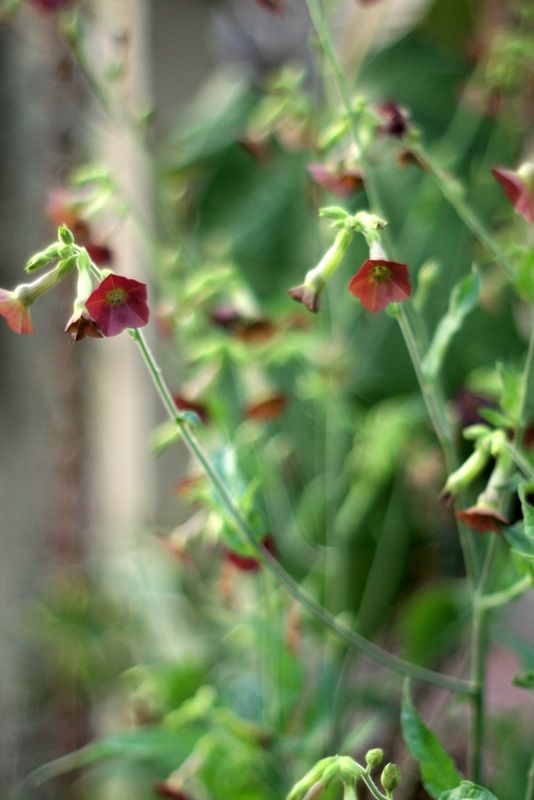 Because I'd like to duplicate this success again, it only makes sense that I understand the reasons for that success. At this point, I haven't a clue. These nicotianas are grown as annuals but can be perennial here in zone 10, albeit short-lived perennials, so that could account for it persisting into winter. But persisting versus thriving are poles apart. Yesterday I tried googling short-day length properties of nicotiana, also known as photoperiodism. A classic example of photoperiodism in plants is the chrysanthemum, which blooms as the days shorten in autumn. Some plants are indifferent to day length, some require long days, other short days to bloom. I found that tobacco is included in lists of short-day plants.
These four plants of 'Ondra's Brown Mix' were planted in part shade, and the two most robust were shielded from the summer sun under the dappled shade of a tetrapanax most of the summer. One plant in particular has the darkest coloring and is also the tallest.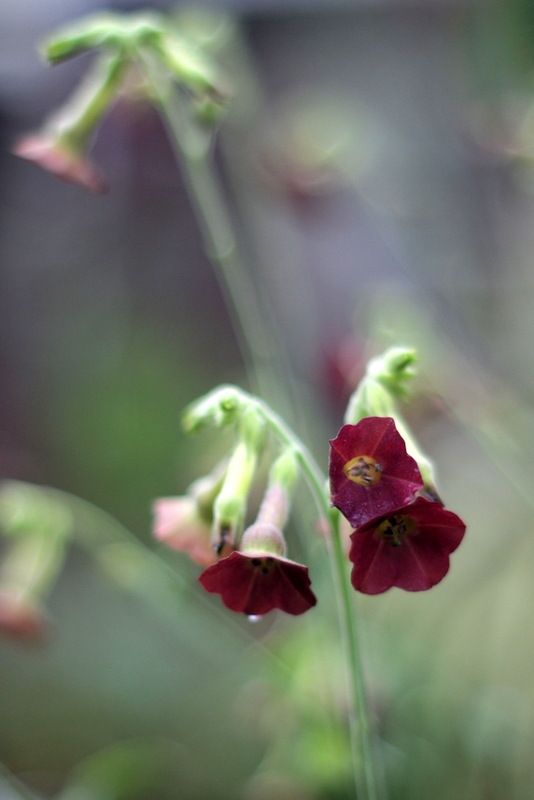 Is it the mild, semi-drizzly weather this winter? Not much rain, just drizzle and fog. I pulled out a lot of my overgrown winter-blooming salvias this year, so these flowering tobaccos are picking up their slack, drawing in hummingbirds several times a day. I never got this kind of profuse bloom from those reputed winter bloomers like Salvias wagneriana, which were invariably more leaves than flowers.
It's possible that this could just be the fluky year that I had nicotiana in bloom for the winter solstice. Since they reseed so profusely, I'll have plenty more plants to experiment with next year.