If nature abhors a vacuum, then I am nature's willing handmaiden. By late May, the garden is stuffed, bursting at the seams like this potted Euphorbia tirucalli.
Echevarias and sedums tucked into every available spot. Euphorbia 'Diamond Frost' filling in again after laying low over the winter.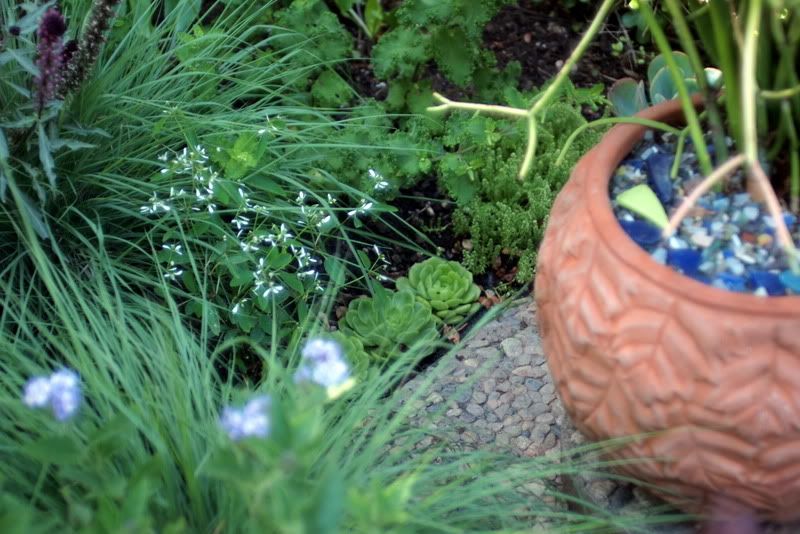 Atriplex hortensis, the purple orach, and Verbena bonariensis dominate the air space.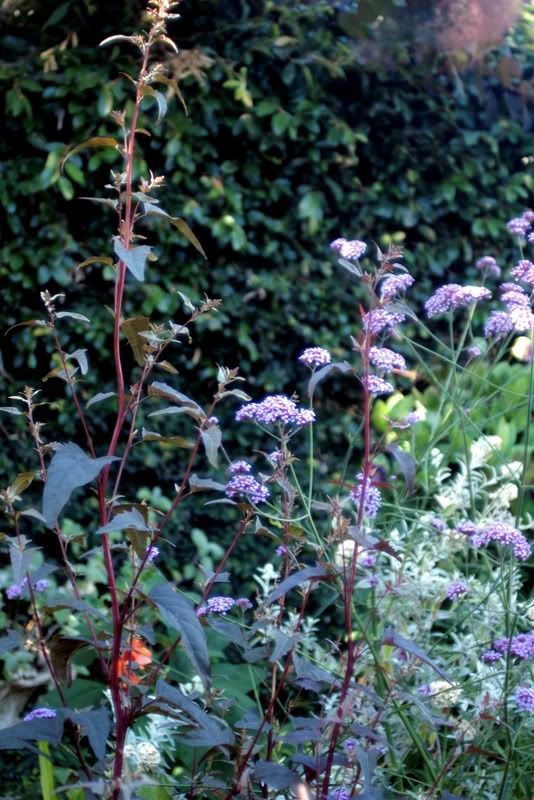 Yet the plant purchases keep on coming. This summer was to be about downsizing. Fewer pots to maintain and water throughout a very long growing season. The small garden in situ would have to absorb it all. Must have let down my guard because, boy, did I fall off the wagon — fell off it hard, then loaded it up with plants.
I'm still puzzling over what switch flipped that had me racing madly through the nursery, slowing the cart down only for small children and the elderly. For one thing, I never grab a cart. That way lies madness. One must have some rules, however arbitrary, and then stick to them.
The first rule is, only what I can carry with two hands (surprisingly, a lot).
Second rule is, for those moments of extreme weak will, a small hand basket. (Nurseries tend to hide these hand baskets, for obvious reasons, so I've often spent up to 20 minutes searching for one.)
There is no third rule, and this just might be the weak link. For that day, there was the second-rule hand basket overflowing with pots, sitting atop the large cart, also overflowing with pots, clearly an unforeseen set of circumstances lying well outside any known rule.
What separated this trip from one of my usual composed, judicious nursery saunters was that it came at the end of Debra Lee Baldwin's talk at Roger's Gardens. I'm guessing it has something to do with the "compadres" effect, sitting in solidarity on those bleacher seats with my tribe. Permission to purchase electrified the air. All I know is, after Debra's talk, the brakes on the wagon were off. I even tossed a couple heucheras on the cart, very uncharacteristic, since I'm not at all a heuchera junkie, but this one has a big, soft leaf, supposedly bred for southern climes. (The best heuchera I ever grew was our native Channel Islands Heuchera maxima, which grew to the size of a zucchini and was often mistaken for one by visitors.)
I never keep a ghetto for new plant purchases. There's no room, for one thing, so they'd surely expire in some out-of-the-way spot awaiting planting. A planting frenzy always follows a nursery shopping frenzy the very day of, if not morning after, and this planting frenzy had to be the biggest in recent memory. You know that smug, clever feeling when you've managed to squeeze in the last impulse buy? Well, it's fleeting, and there's always a hangover the next day as you survey your lack of self-control writ large upon the garden.
The spreadsheet (AA denotes a plant from Annie's Annuals):
Heuchera 'Southern Comfort'
See note above.
Chrysocephalum apiculatum 'Flambe Orange' (2 ea 4-inch pots)'
Impulse
Teucrium hybrid 'Fairy Dust' (2 ea 4-inch pots)
Impulse
Eryngium tripartitum AA (2 ea 4-inch pots)
Tap-rooted, will take up little space.
Aeonium spathulatum var. cruentum AA
Aeoniums need no justification
Arthropodium cirratum 'Renga Lily' AA
Impulse
Neoregelia 'Purple Stoly'
Impulse
Saxifraga stolonifera
Replacing last year's
Venidium 'Orange Prince'
Impulse
Tanacetum niveum AA (2 ea 4-inch pots)
Started this from seed last fall but missed a watering cycle(s)
Euphorbia rigida AA
Euphorbias need no justification
Verbascum bombyciferum 'Arctic Summer' AA
Verbascums need no justification
Nicotiana suaveolens AA (2 ea 4-inch pots)
Started N. mutabilis from seed last fall but missed a watering cycle(s).
And nicotianas need no justification
Polygonum orientale, variegated (2 ea 4-inch pots)
Hasn't prospered for me yet. Third time's the charm.
Sedum nussbaumerianum was trimmed back just a bit to make room for Euphorbia rigida, etc., etc., until all new acquisitions were merged into the garden.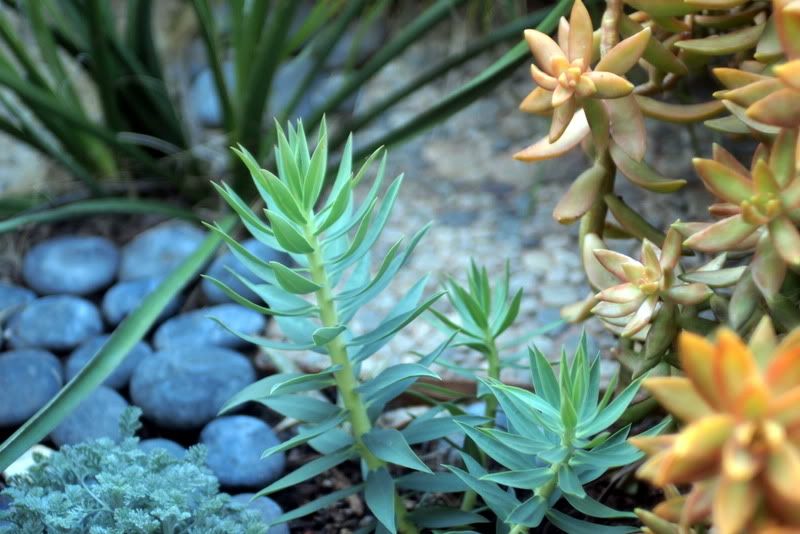 This weekend were staying miles away from plant nurseries.
Edited spring 3/31/11: Polygonum orientale was spectacular summer 2010. Heuchera 'Southern Comfort' made the best of a poor site, showed beautiful new spring growth, and has been moved to better digs. Teucrium 'Fairy Duster' amazingly durable. Euphorbia rigida might be my favorite new euphorb. The neoregelia is robust and thriving. Aeonium is now in bloom. The verbascum bloomed well and a new one was brought in. All others mentioned in above list are not around to greet spring 2011 and did nothing to speak of in 2010.