"Small moves, Ellie." No, I didn't read the book Contact by Carl Sagan but am quoting from the movie, where Jodie Foster as Dr. Ellie Arroway is advised as a child by her father to take it slow when scanning for alien radio transmissions, and cover small patches of space at a time. So I quote movie dialogue as I work in my garden — where's the harm in that?
In a small garden, it's all about small moves too. The two blue pots of Calceolaria 'Kentish Hero' were moved closer to these terracotta urns planted recently with mostly orange arctotis and some golden lotus vine, Lotus maculata. The urns had been filled with tulips for early spring, and now the arctotis will bloom through summer. The lotus and arctotis are perennial here in zone 10, but like lots of tender perennials can exhaust themselves in bloom and be fairly short-lived.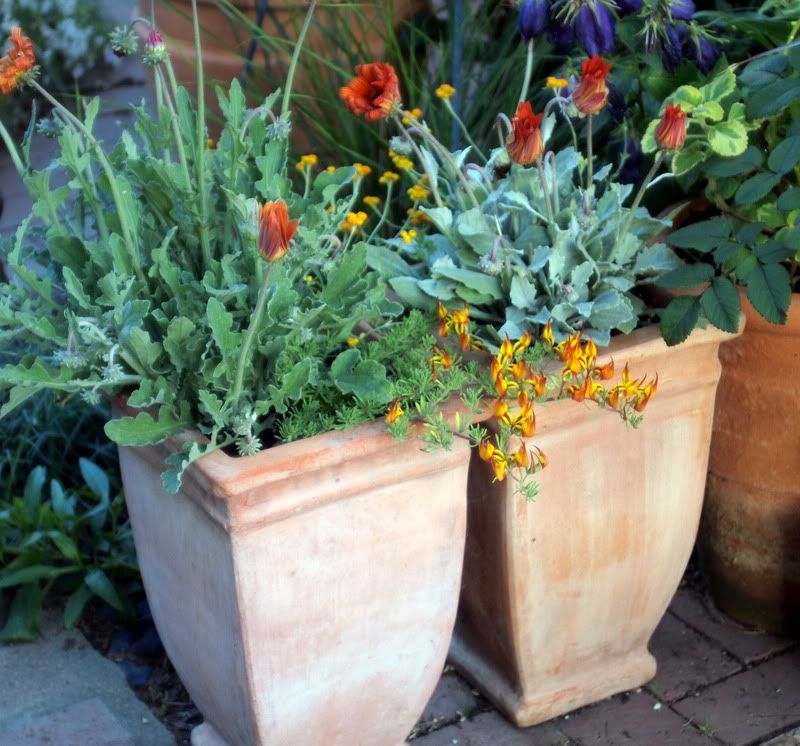 This is my first year growing the lotus/parrot's beak vine. This one is L. maculata 'Gold Flame.'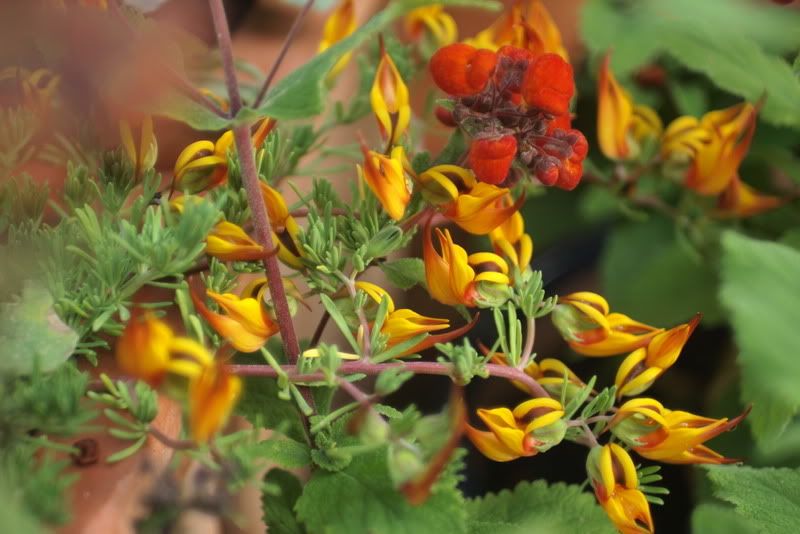 Small moves, sometimes shifting pots from just a few feet away, and something entirely new is started. I like keeping container plantings fairly simple to afford these kinds of opportunities. And stuffing too many plants in one container turns watering into a summertime ball-and-chain chore. Just one 4-inch potted arctotis was used in each urn, so they'll have plenty of root-run. Directly behind the urns, planted in the narrow border behind them, a Stipa arundinacea will add it's own tawny tresses to this grouping as it thickens up over the summer, the concept of "borrowed landscape" rendered on a tiny scale. All of these containers have some filling out to do.
I say with orange, the more smolder, the better. Formerly, the two blue pots were grouped with this tall green ceramic pot filled with succulents and staged on a small paved area in the center of the main border, which sees a lot of pot-switching action too.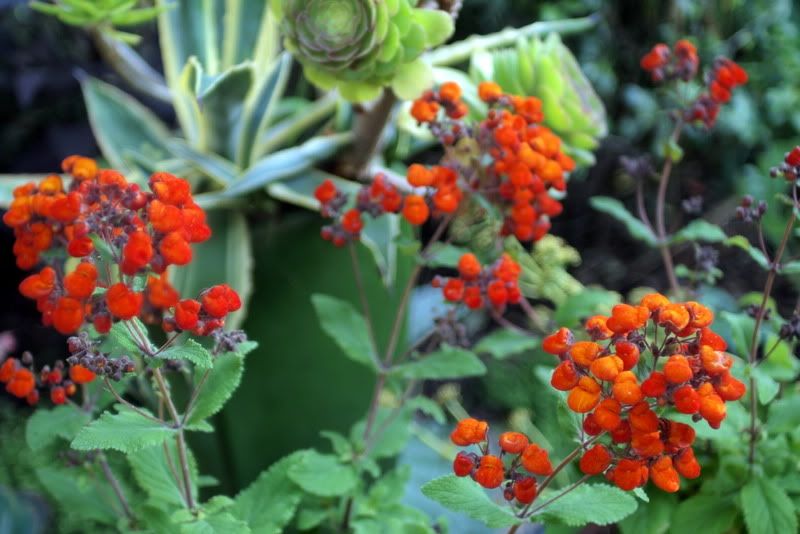 Hard to get definition from the pouchy, orange blobs of the calceolaria, but they do have the typical "pocketbook" flower:
I tucked in a couple of these Chrysocephalum apiculatum 'Flambe Orange' in the terracotta urns too. The leaf has a chartreuse cast to it. Must have been a helichrysum in a former life.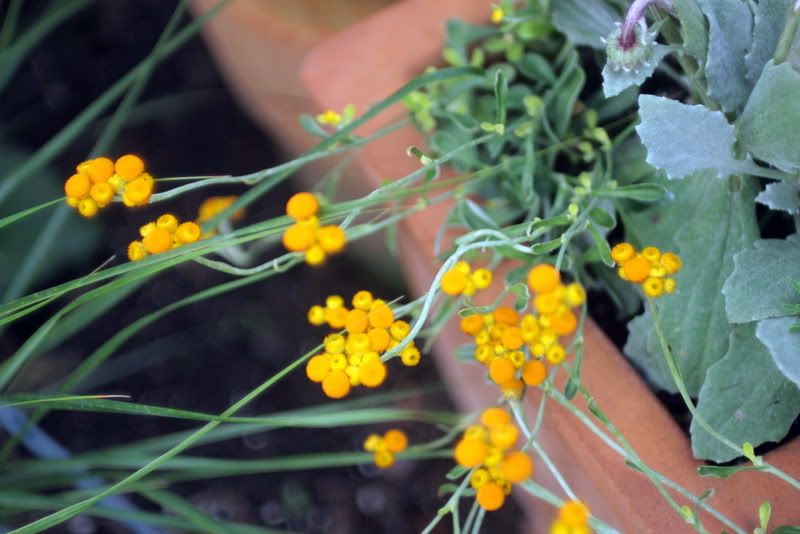 I'm cutting way back on pots this summer except for a few potted tropicals. Succulents in pots don't count, of course. But no elaborate, thirsty, potted confections with coleus this year. Still, that doesn't mean I can't find recruits for these modest, impromptu groupings. The potted amaryllis is much better here, with these other strong colors, than by its lonesome. Under the pergola, where these pots are staged, it's kind of an "outdoor conservatory" approach, where what's looking its best briefly gets center stage.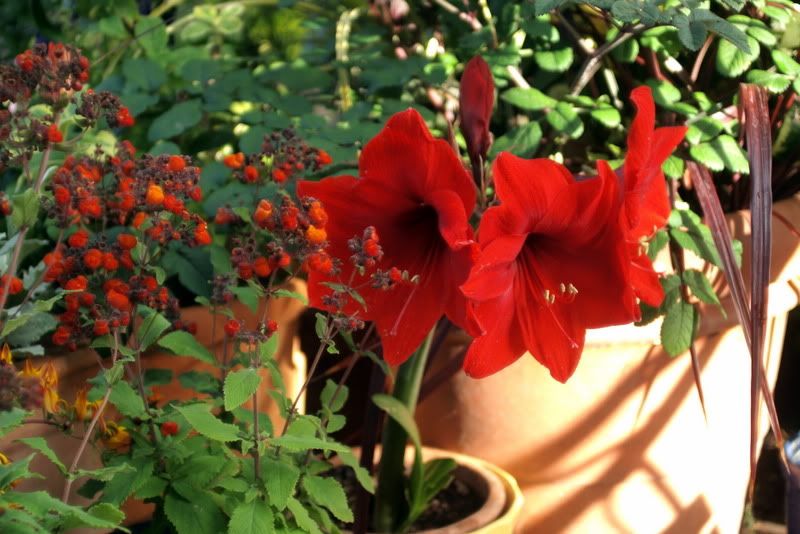 I've been in a bit of a mopey, "why's my garden so tiny?" funk, so these small moves, these slight shifts in perspective can be momentous in a small garden. I wonder if anyone thinks their garden is the perfect size.