A garden book among the many I've read that I'm reminded of almost daily is Pamela Harper's "Color Echoes." My synopsis goes like this: The eye is lonely and craves relationships, and will wander around restlessly to seek them out, but is easily satisfied even if you provide only the barest of excuses for associations, like echoes in form and color. I can't remember whether Ms. Harper intended to offer comfort to plant collectors, but to my way of thinking she did.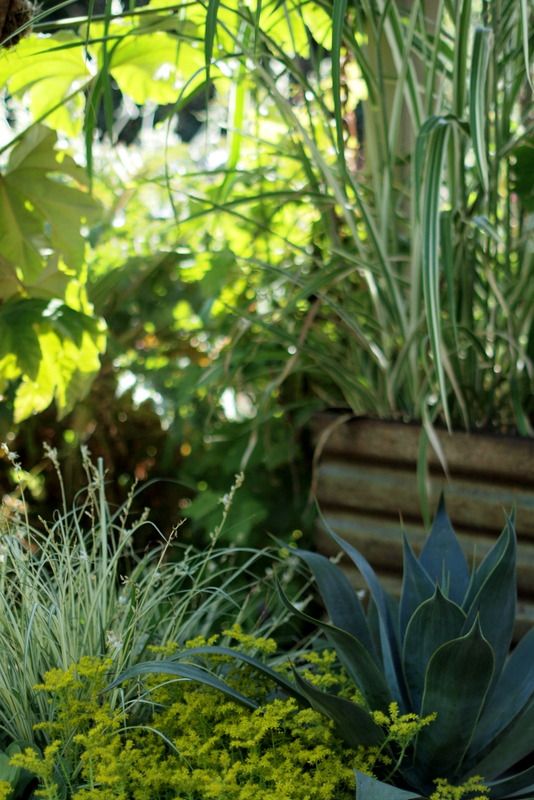 Often — okay, almost always in plant collectors' gardens the associations are not planned outright, like this variegated anthericum echoing the variegated pampas grass in the tank, a stripey echo that only became apparent when some tall nicotiana were pulled out. But the restless eye picked it up in a heartbeat.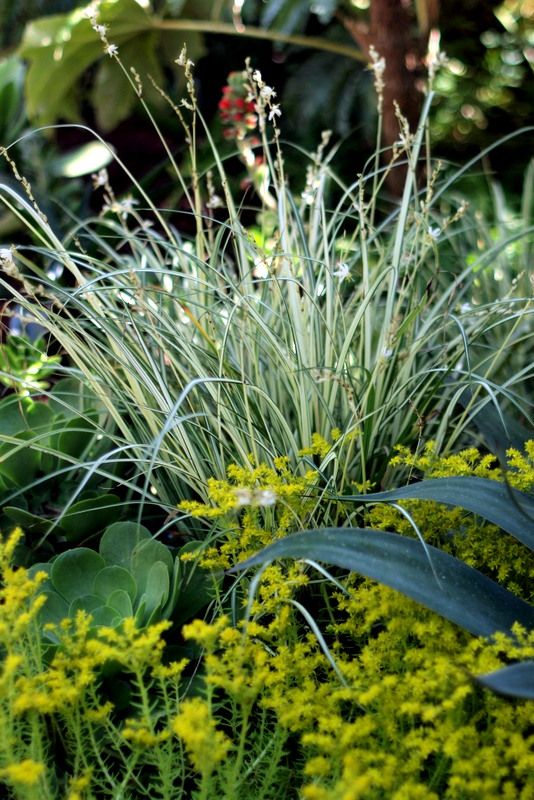 I love this little Anthericum saundersiae 'Variegata,' aka, per Tony Avent of Plant Delights, Chlorophytum saundersiae 'Agristripes.' (Pausing for breath.)
And it loves the dry shade under the tetrapanax/rice paper plant.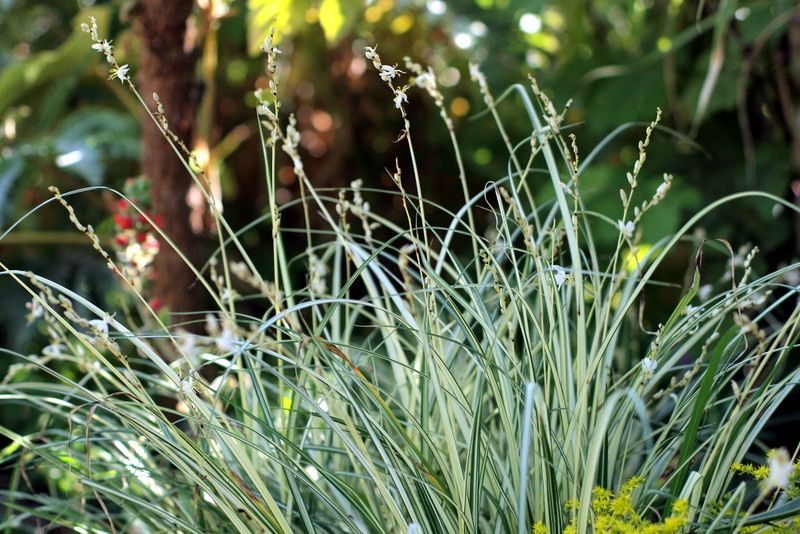 Wonderfully subtle, nubby texture when in flower, as it is now.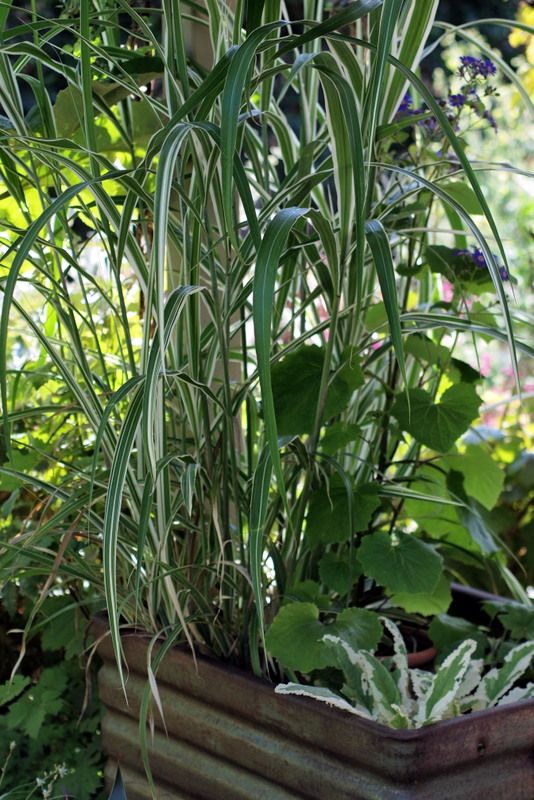 And then this figwort (Scrophularia aquatica 'Variegata') I stuck in the corner of the tank because it wants constant moisture did me the amazing favor of actually enjoying the spot I selected for it. Another unplanned echo, this time with a twist on leaf shape. I think it qualifies.
The eye seems to like a narration, a good story, a punchline, as much as the brain does, but there's so many competing interests to consider. Within minutes after pulling out the flowering tobacco, an irate hummingbird skidded into the now empty air space and hovered there emphatically, cycling through a half minute's worth of blurry, angry beats of his wings.
Just calm down, pal. There's plenty more where that came from.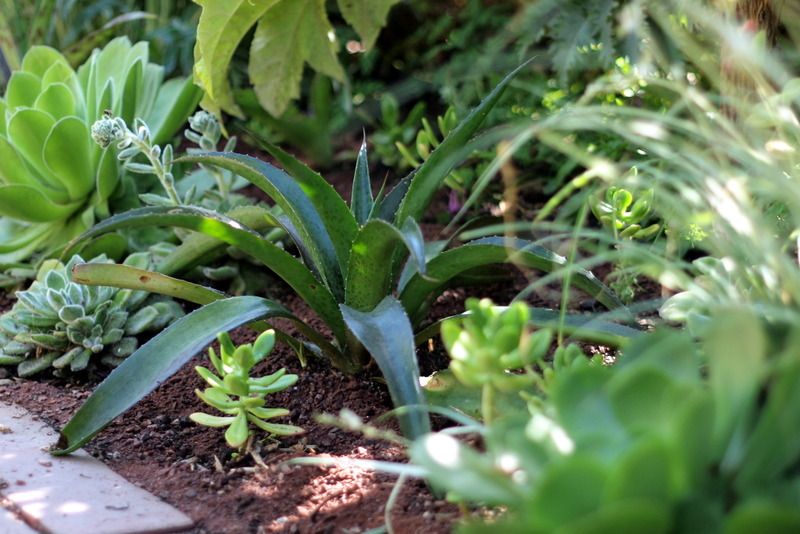 I needed the space for my new mangave from Dustin.
Apart from hurting a hummingbird's feelings, it's incredibly painful to pull out a gorgeous, flourishing plant, especially one performing without complaint in dry soil. (Shockingly dry soil, I found out when I slipped the shovel into it, which is probably best. I hate to imagine what a well-watered tetrapanax might be capable of.)
But when I saw that beautiful mangave snug in its new home, I got over it.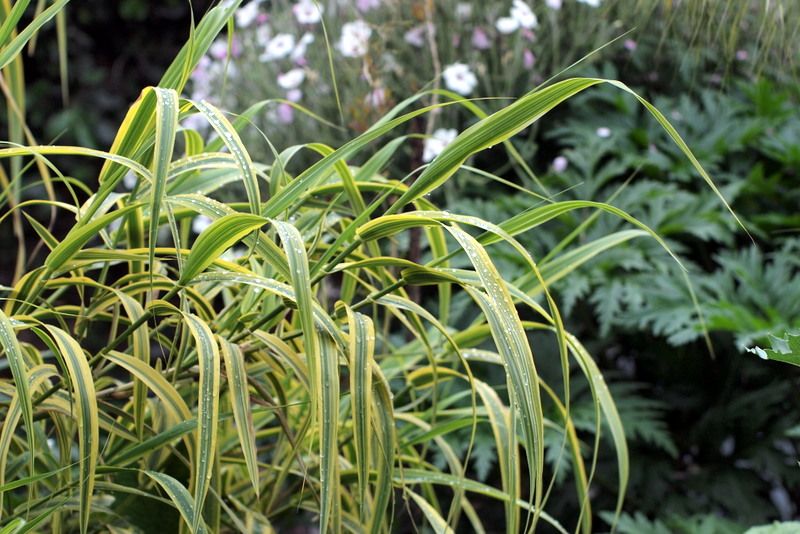 The Yucca recurvifolia, planted years ago, now echoes the 'Golden Chain' Arundo donax, a young plant just beginning to hit its stride.
My eye predictably ricochets from one to the other and sighs happily.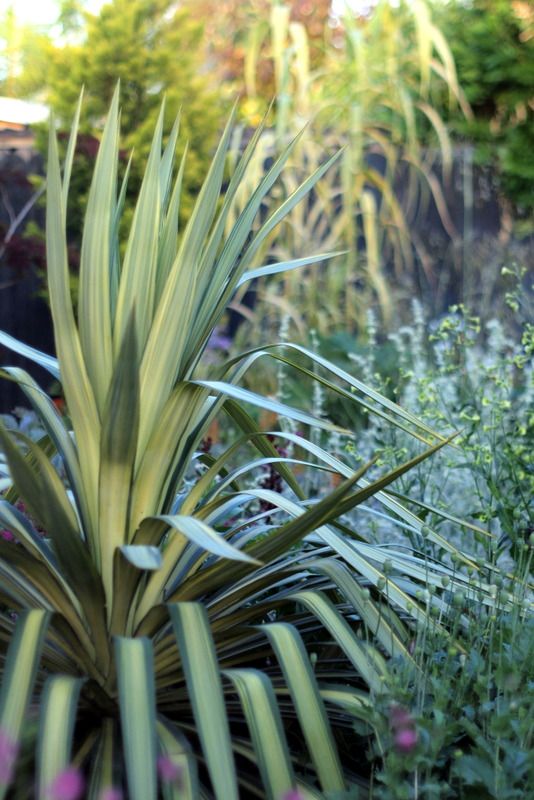 And the plant collector in me sighs happily too, because I didn't have to resort to using the same plant over and over to strengthen intention and association. (Hummingbirds visited the green nicotiana last evening after the photo was taken. They seem to prefer the dark red strain but will settle for green in a pinch.)
I'm also counting the Eryngium pandanifolium as an echo for the shape of the yucca. A photo from March.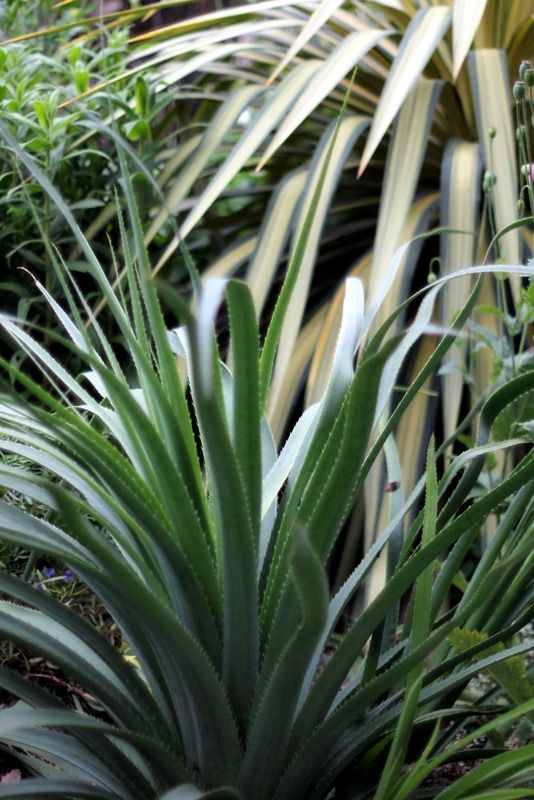 It's twice as high now, with lots of offshoots from the base. Reputed to be the biggest eryngo.
The Princess Caroline pennisetum moved to this spot last fall now echoes the burgundy phormium just about equidistant on the other side of the footpath.*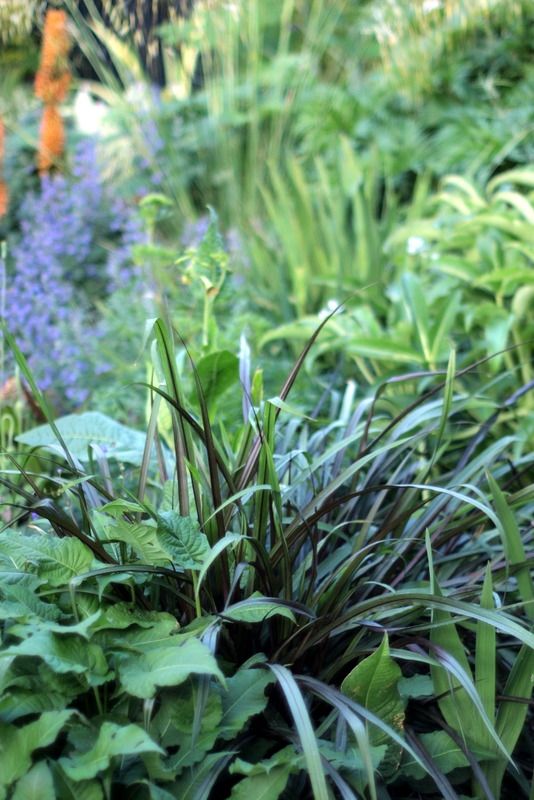 This pennisetum was over 6 feet tall by the end of last summer, which well passes the phormium in height. But we're not talking mirror image in the plant collector's garden. Plant collectors feel the eye is easily led and becomes satisfied with the smallest gesture, quickly making the connection.
Albizia julibrissin 'Summer Chocolate' — Vavavvoom, what a leaf. (I'm warning you not to google-check my spelling on that. There will be silicone implants involved.)
Bought last fall, the albizia in its pot on the small patio near the fence echoes the full-grown Euphorbia cotinifolia tree, a self-sown seedling on the opposite side of the garden closer to the office. It's been warm enough the past week to trigger that familiar sound of euphorbia seed explosions as they hurl themselves into space like little astronauts, hopefully to land on suitable ground. With the onset of mid-summer heat in a couple months, it'll sound like I'm making Jiffy Pop in the garden. Euphorbia rigida does this too. I can't remember if E. characias does it or not. The Euphorbia cotinifolia, like the other tropicals, is late to leaf out, so no photo.
I think shape echoes work on the same principle. That I subscribe to this principle has nothing to do with my insatiable appetite for agaves.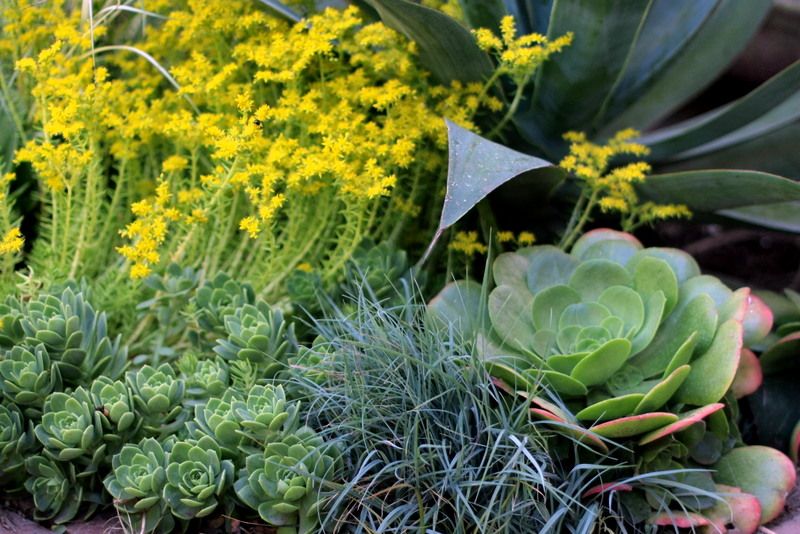 Big green rosettes, little green rosettes. The eye sighs.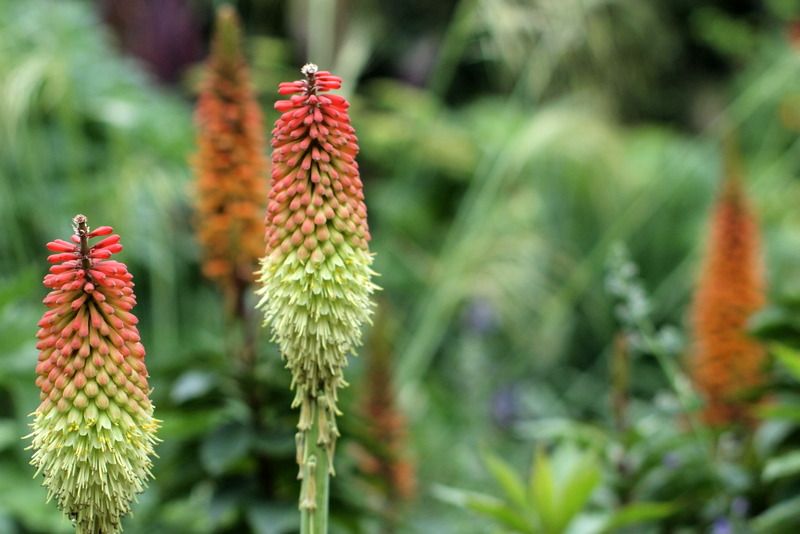 This one didn't last long, since the kniphofia's blooms were finished in a few weeks, but it was a twofer, hitting both shape and color. Kniphofia with Isoplexis canariensis in the background.
A handy trick for plant collectors. Just stuff I've been thinking about during this dangerous season of spring plant sales.
*(The footpath was added last fall too, just about slicing through the exact spot where a gigantic 7X7 Salvia canariensis grew. I added a couple of its cuttings to the verge area at the community garden, where I just learned last night that, yes! there is a pipe leak under my garden plot. All last summer I was Ingrid Bergman in Gaslight, pointing out that never having to water a garden during a Los Angeles summer is unusual, and it being assumed these were the rantings of a novice with a compulsion to surreptitiously overwater. If anything, I'm incredibly lazy about watering.)