I've gone through a couple online plant catalogues this morning and checked out the online index to John Greenlee's Encyclopedia of Ornamental Grasses. Nada. Still no ID. I brought this grass home from Western Hills long ago, when Maggie Wych was running the Northern Californian nursery after the original owners bequeathed it to her. The grass has been an afterthought since then, not much more than a memento from Western Hills straggling along in too much shade, placed too close to pathways where it gets a good stomping, never watered. Blades are dark green. I usually forget about it until a few of these sparkly, tassel-like flowers appear.


Like the nursery Western Hills, this grass is a survivor. Last fall I moved it into a full-sun position, just to test its mettle even further. I also wanted to get it away from my clumsy feet trodding on it, breaking those beautiful tassels. It handled with aplomb temps that precipitously climbed into the 90s the past two days. I think it's proven itself. It deserves a name. Any grassophiles out there, help would be appreciated. About a foot high, topping 2 feet when in bloom. Evergreen here. A small division this fall is offered in exchange for a name. Email me if you don't want to guess in public.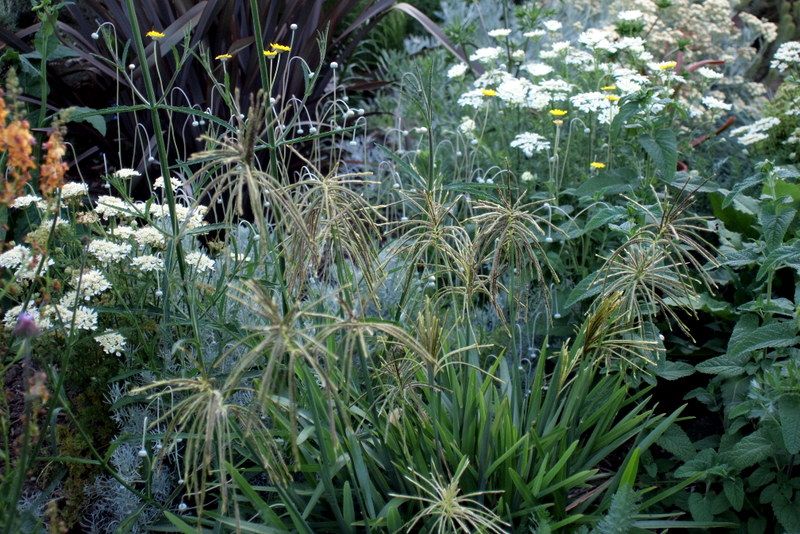 unknown grass with Orlaya grandiflora and Ursinia sericea
Edited 5/17/13: Thanks to Stacie at Western Hills for contacting Maggie Wych (former owner of Western Hills). The grass is Chloris virgata, the feather windmill grass.