Second garden on Friday, designed for a work/live fabrication studio and sculpture display space in a light industrial neighborhood of San Francisco. We are an avid bunch, craning necks, snapping cameras, firing off questions (my bad habit). I have to constantly check an impulse to blurt out a question and query myself first: How would I feel if this were my garden and I came face to face with me as a garden visitor? God forbid. But it is just so exciting to see these special gardens that questions tumble forth. And by special I mean wholly individual responses to climate, topography, and the space one has to work with — all the really important variables. After all the ink spilled on formal/informal and all the other garden principles drilled into us by books and public parks, seeing the imaginative responses of garden artists to the circumstances they find themselves in is unbelievably refreshing. And liberating. Bay Area gardens whisper seductively: Do what you want, where you want, how you want, and as best fits available resources and how you live, work, and play.
Amen. And then let us come visit, please.
Or, alternatively, bring in a talented Bay Area garden designer, as artist Matt Gil and his wife Lesa Porche did, when they asked Dan Carlson of Wigglestem Gardens to create a garden in which to display their sculptures, all of which are for sale. (And then let us come visit, please.)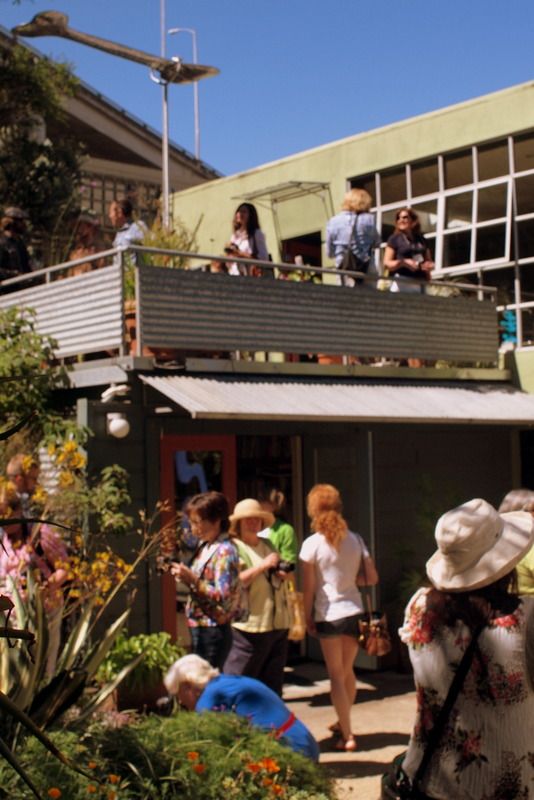 This blurry photo is the best I had looking at the upper deck from the garden, the office at ground level under the corrugated awning.
On the Fling we were split into two groups, so no more than 40 visited each garden at a time.
The dining room window, light flooding in from the deck
The hillside just visible through a scrim of backlit container plantings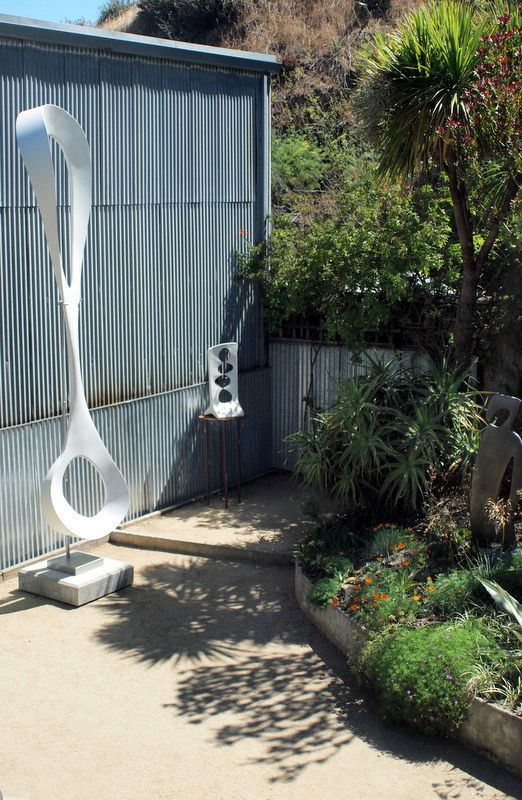 The view from the deck down into the garden with its low retaining wall holding back the plantings at the base of the steep, rocky hillside
Descending the stairs, fountain at the bottom, bamboo against the hillside
Colocasia growing in the fountain at the base of the stairs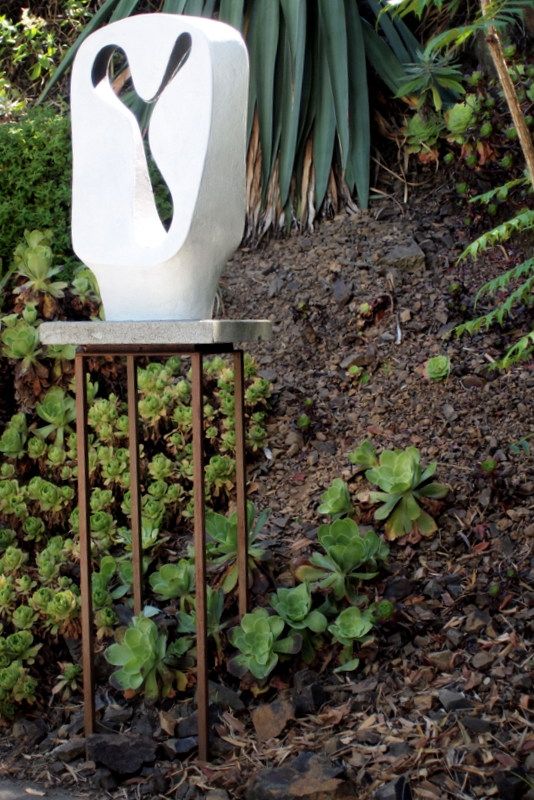 And stepping into the sculpture garden
The steep hillside, which the owners eye nervously during the rainy season. San Francisco averages around 20 inches of rain per year, usually in the winter, but I was told there were two solid days of rain just before the Fling began.
Succulents planted into the slope, shown draped here with mahonia
Protea, Agave 'Blue Glow', Geranium incanum, echeverias, aeoniums, yuccas
Further back, Geranium incanum spilling over the retaining wall, tall yellow kangaroo paws, aloes, California poppies, silvery dudleyas
Using the Agave americana var. medio-picta 'Alba' as a visual pivot point. Kangaroo paws just behind. Aloe plicatilis almost out of frame in the top left-hand corner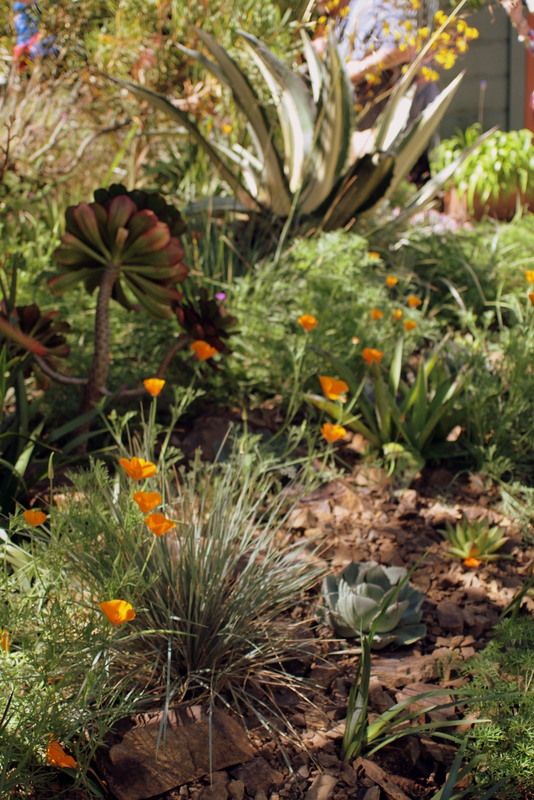 With grasses, aeoniums, poppies, and Agave parryi var. truncata
Mangave and California poppies
A potted cussonia streetside as we leave the sculpture garden and head back to the bus for lunch and frivolities at Annie's Annuals & Perennials.
There will be no photos about the visit to AA&P, because honestly all I did was shop after lunch and the demonstration of nifty hose nozzles put on by a Fling sponsor, Dramm. Matt at Growing With Plants has a nice post on the visit to AA&P here.