There's an unspoken Upstairs/Downstairs, front garden/back garden dynamic at home, as I suspect there is with most hands-on gardens. Most of the front garden isn't tinkered with much anymore, needs little attention, more of just keeping an eye on sizes. I rarely think to chronicle the front garden, and the dyckias bloomed this year without a single photo. But the light was especially burnished last night. Just to the right of the phormium there once grew an enormous leucadendon, something I've been mulling over since touring Bay Area gardens full of members of the wonderful Proteaceae family such as leucadendrons, leucospermums, banksii, proteas. There was once a large leucadendron in the back garden too. I miss them both. In the front garden the leucadendron grew much too large for its position, but in the back garden it was removed for a different reason. That reason revolves around the constant tension between the tantalizing beauty of shrubs and other big, long-term plants and wanting to retain space for the spontaneity of ephemeral self-seeders, new plant enthusiasms and acquisitions. One approach produces eventual boredom and the other always brings some regret. For now, I seem to prefer regret to boredom, but that could easily change.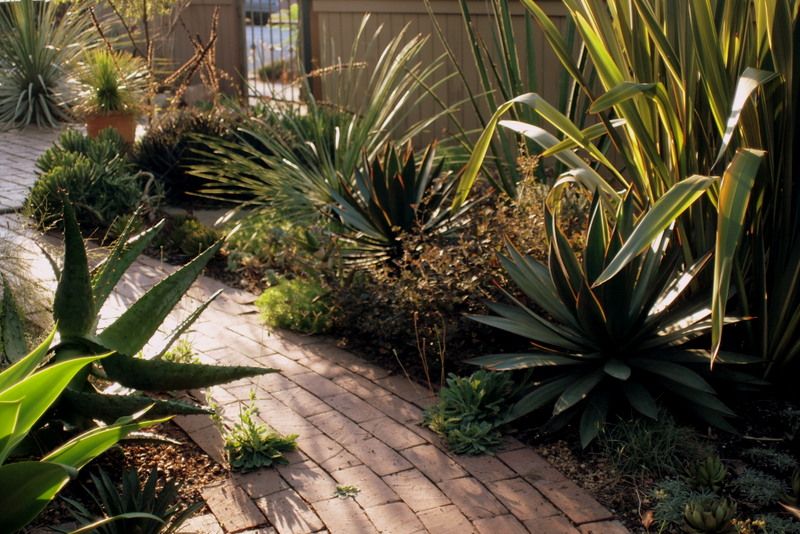 Phormium 'Alison Blackman,' Agaves 'Blue Glow,' Furcraea macdougalii, assorted sotols, aloes, dyckias, succulents. Not much work or attention is needed with the front garden. (Kind of an "empty nest" feeling here.)
At the site where the leucadendron once grew to a size of 6X6 feet in the front garden, Echeveria agavoides and Dymondia margaretae are covering the ground on a much smaller scale and injecting some breathing room into the plantings. I did tuck in a tiny Euphorbia atropurpurea here, just brought home from Annie's Annuals & Perennials. All last summer I chased this plant locally from cactus show to cactus show after seeing it at the Huntington. I'd given up on finding it but then there it was at Annie's, bless her exotic plant-loving heart.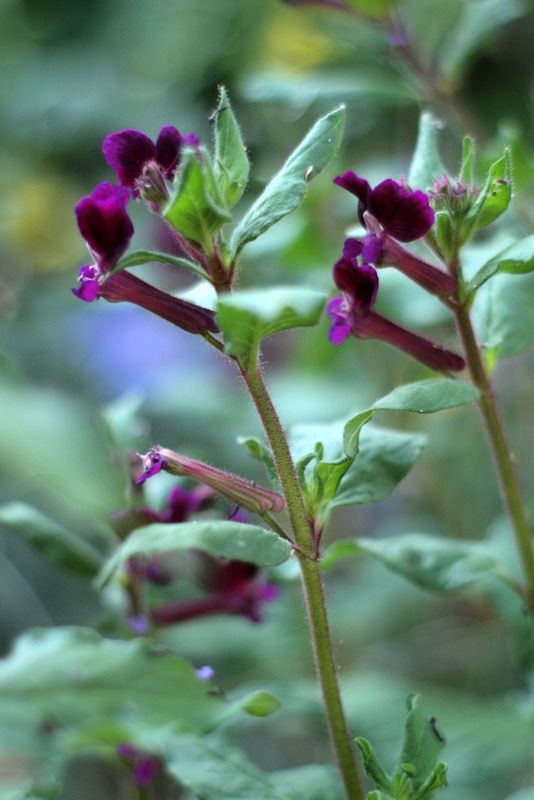 The back garden is where I change things up every year, try out new plants like this tall, sticky-leaved Cuphea viscosissima, started from seed this spring, or combine familiar plants in new ways.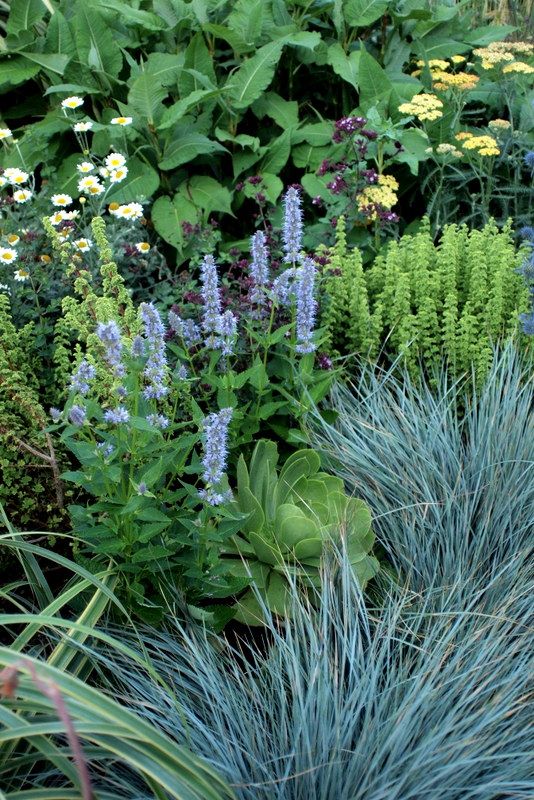 Remember that tree that toppled mid-June? This green aeonium and a couple 'Blue Fortune' agastaches were just moved into the vacuum. Even aside from falling trees, the back garden is in constant flux and frequently gets churned up with new plantings.
The small purple buds mingling with the agastaches are from Calamintha nepeta 'Gottlieb Friedkund.' I've grown calamints before, but I don't remember them having the dark purple flower buds as on this one, Calamintha nepeta 'Gottlieb Friedkund.' I keep breaking off a leaf and sniffing it, expecting it to smell like a mislabeled oregano, but it's the unmistakably minty scent of a calamint. Digging Dog is where I ordered mine last fall. I'm smitten by this one and would love a bigger swath of it.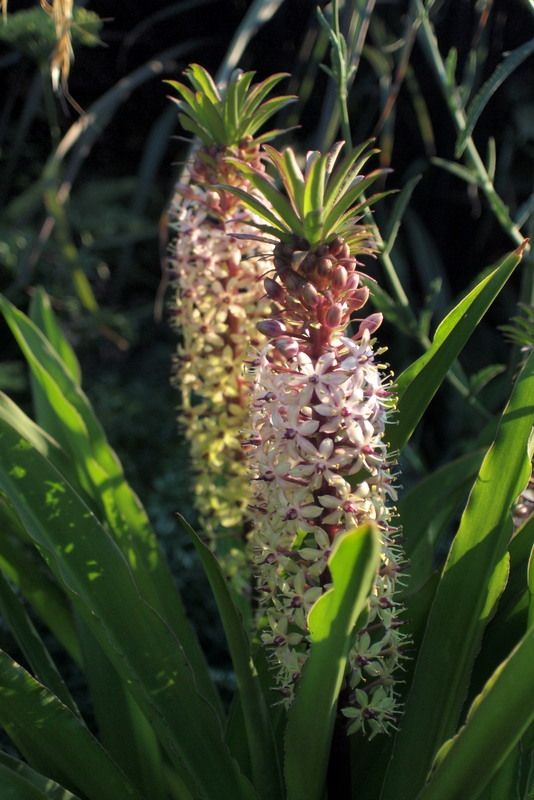 Eucomis have started to bloom, another plant designated for the back garden so its leaves can die back gracefully.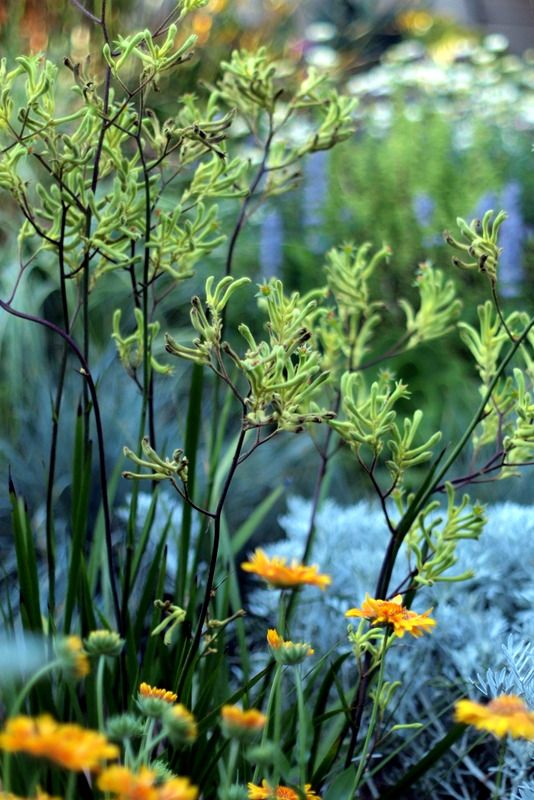 "Never pretend that the things you haven't got are not worth having." – Virginia Woolf, The Diary, Vol. 2: 1920-1924
In writing those words, Woolf was probably thinking of the children doctors advised her not to have, but I always find them useful in any situation requiring critical honesty.
I never like to pretend that things I haven't got are not worth having. A bigger garden, for example, would be very much worth having, but I think I can hum along just fine as things stand, with very little boredom and manageable regret. Travel for me always results in turning over choices and tapping them for soundness. But coming home I'm always reminded that to have any garden at all is such an amazing gift.