I moved the dahlias to the community garden this year and am so very glad I did. Just as in my own small home garden last year, the plant is a sprawling mess, but now I don't have to look at it daily anymore and can pillage the flowers for vases as much as I like. No matter how many vases I own, it's always this lab beaker that I grab first. Wide mouth, perfect height. The dahlia is 'Chat Noir.' I could easily get very serious about a cutting garden and wished I'd sown some 'Green Envy' zinnias this year.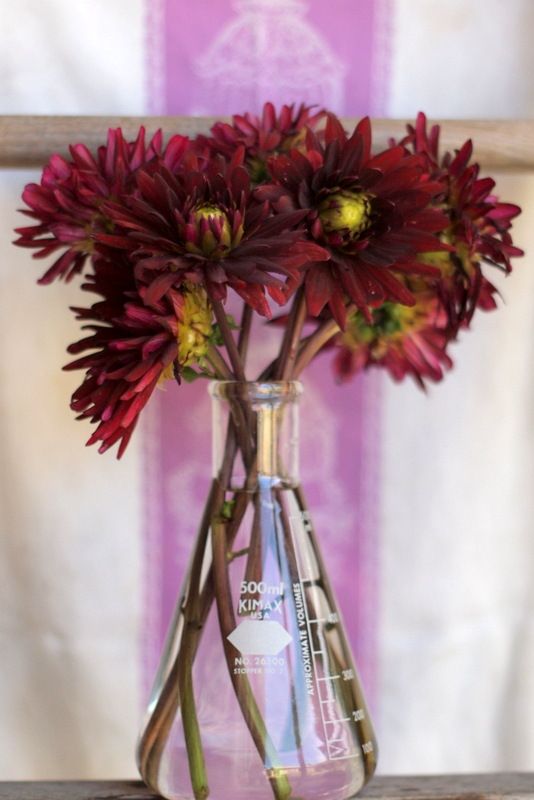 So my little 10X10 plot is producing exactly three things so far this summer: dahlias, kale, and Trionfo Violetto pole beans. Plus a little basil. I've never felt compelled to grow every vegetable A to Z in the summer garden. In fact, I'm late this year with tomatoes, just planting a couple earlier in the week. I admit, it's la-la land's long growing season that makes this lackadaiscal attitude possible. The community garden's disease control rule of thumb is no tomatoes/solanaceae crops left in the ground past December, and none of the solanaceae group (aka nightshade family, including potatoes, eggplant) makes it into the compost piles. The down side of that long growing season and lack of winter chill (and isn't there always a down side?) is the heightened risk of soil-borne pathogens.
Oh, and it rained today, a rare occurrence in a mediterranean climate, where all the rain (all 12 inches of it!) typically comes in the winter months. On the personal water conservation front, an ongoing domestic discussion since the dishwasher broke is which consumes more resources, hand washing or a dishwasher? I'm finding lots of articles like this to support my pro-dishwasher position. All opinions welcome.