A 2-year-old mossed basket with sedums, agave, and oregano 'Kent Beauty.' I was surprised to see the oregano return this year. Life in a mossed basket can be rough.
The urns of arctoctis. Hopefully, the next time I replant the urns will be the day after Thanksgiving, to fill them with tulips. July is not too early to get a tulip order in for the best bulbs!
Salvia verticillata 'Purple Rain' and Libertia peregrinans. This libertia actually is in bloom, tiny and white, but it's the tawny leaves I'm after.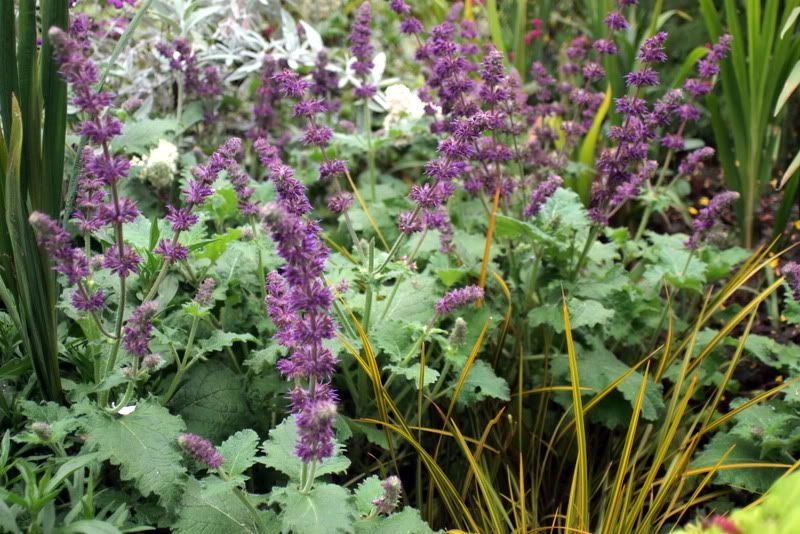 Crocosmia just budding up, different kinds of forgotten names. Running in ribbons throughout, not in big clumps. I'm always amazed they find their way up and through at all in June.
Phygelius and kniphofia warming up in June.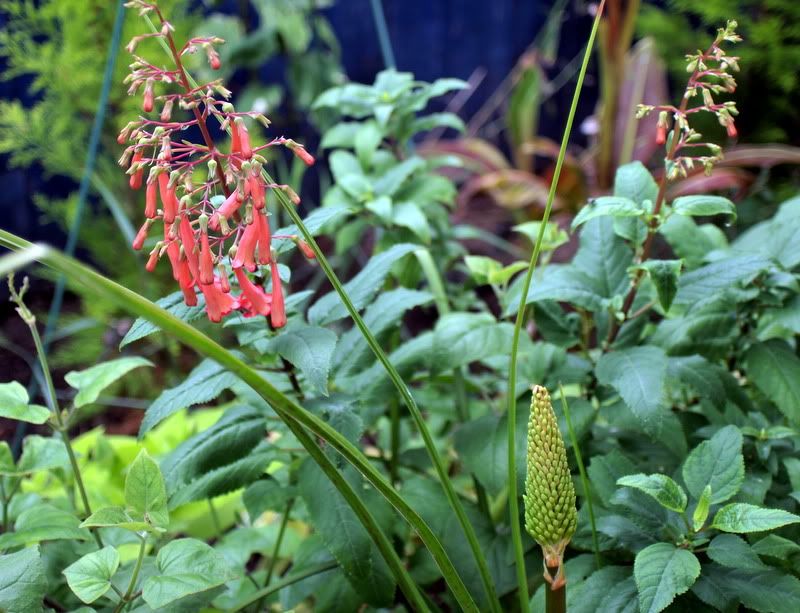 Kniphofia underplanted with Euphorbia 'Ascot Rainbow.' White 'Ice Cracker' diascia almost out of frame on the left, a Bloom Day alumnus.
Catanache caerulea, the Cupid's Dart. Cheater alert: Bought a couple weeks back already in bud. If I hadn't been systematically scaling the garden down, down, way down over the past couple years, there'd be no point to planting these delicately bracted beauties. I'm vowing to keep the central area low and open for the summer tidal rush of similar wispy flowers and grasses.
Heliotrope. Breathe in deep. Orangey blur of an abutilon in the background.
A different heliotrope 'Simply Scentsational,' with the seaside daisy Erigeron glaucus 'WR.' These erigerons were also recent purchases but should bloom into fall.
I'm including the about-to bloom. Trachelium seeded into the bricks.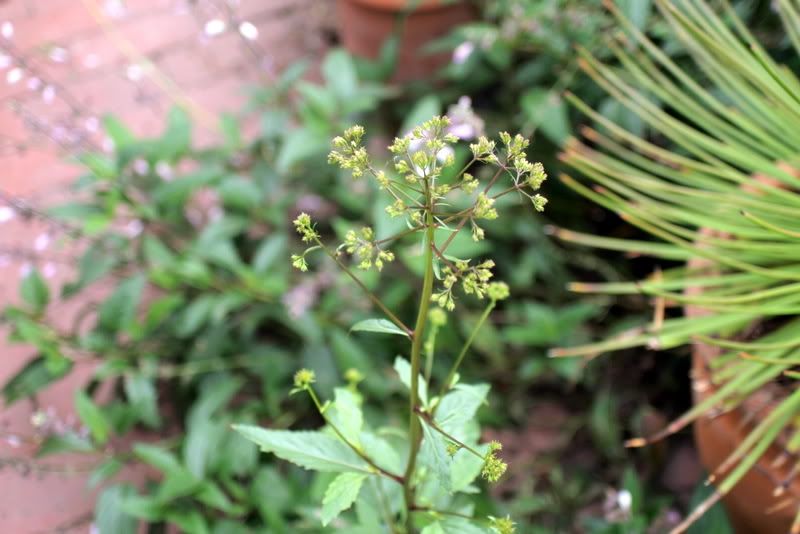 Repeat Bloomdayers, Calindrinia spectabilis still going strong, Salvia 'Waverly' too. Heading for Bloom Day Hall of Fame.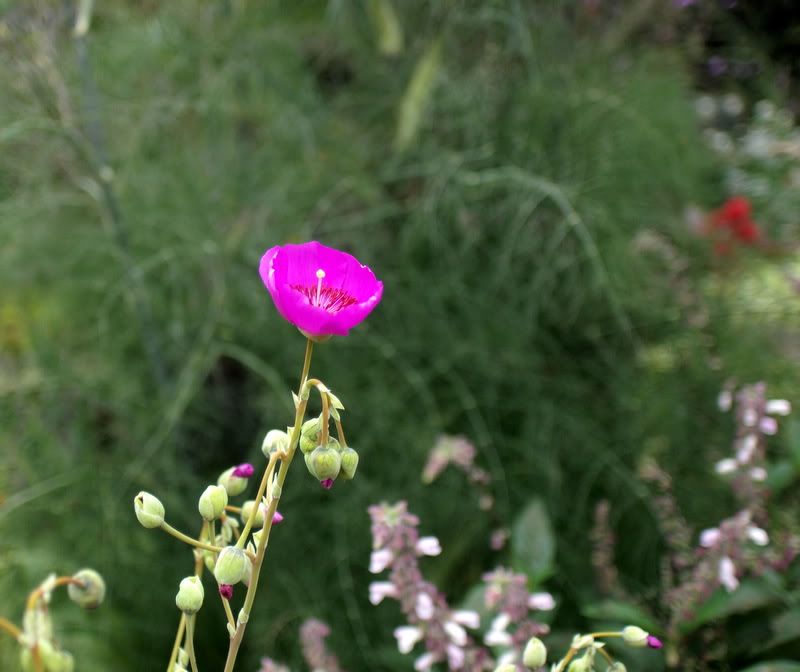 A pink-flowered Phlomis italica barely visible on the lower left.
Variegated Agave americana exudes calm amidst the summer sprawl. A dark pink verbena weaves through here too.
More sprawl. Scabiosa caucasica 'Fama,' white valerian, purple verbena, the latter two from seed. In the background Geranium 'Dragon Heart.' Yellow Achillea 'Moonbeam' just beginning bloom.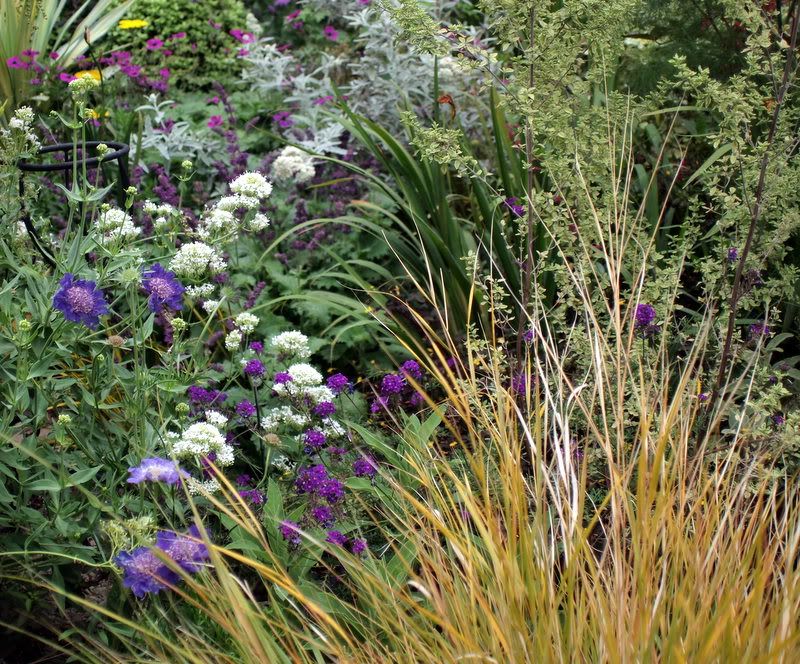 In bud, in flower, in decline.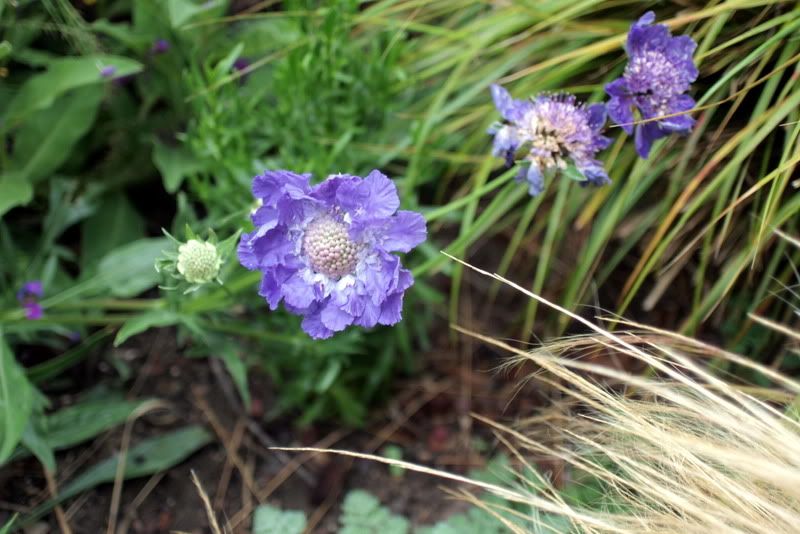 More repeat Bloomdayers, Cobaea scandens and solanums.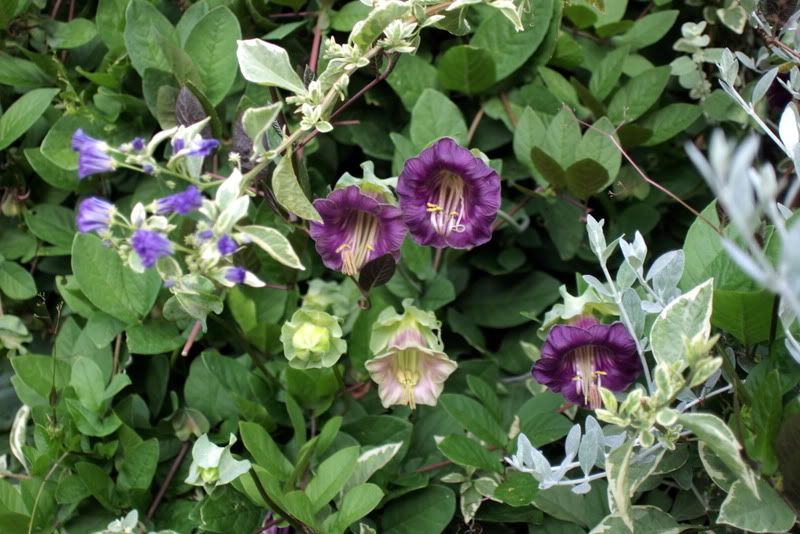 Lysimachia atropurpurea mostly bloomed out. Gaillardia 'Oranges & Lemons' taking over this area, with lime green nicotiana, and the white rehmannia.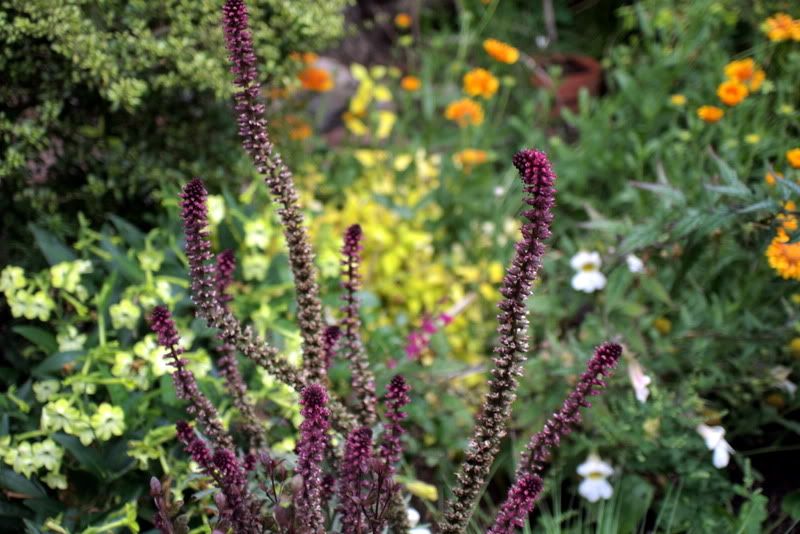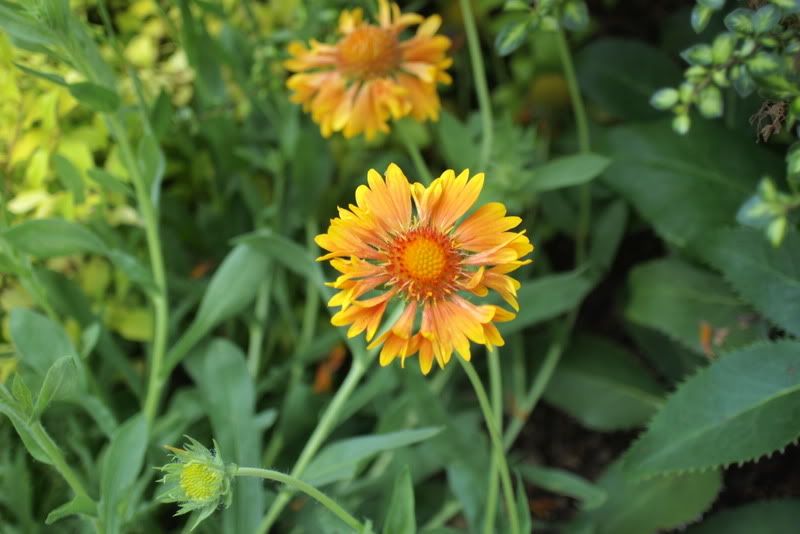 The aerial acrobatics of purple orach and Verbena bonariensis goes on and on. Gaura, though unseen, is covering their ankles. The white shrub is Buddleia 'Silver Anniversary,' scented white flowers.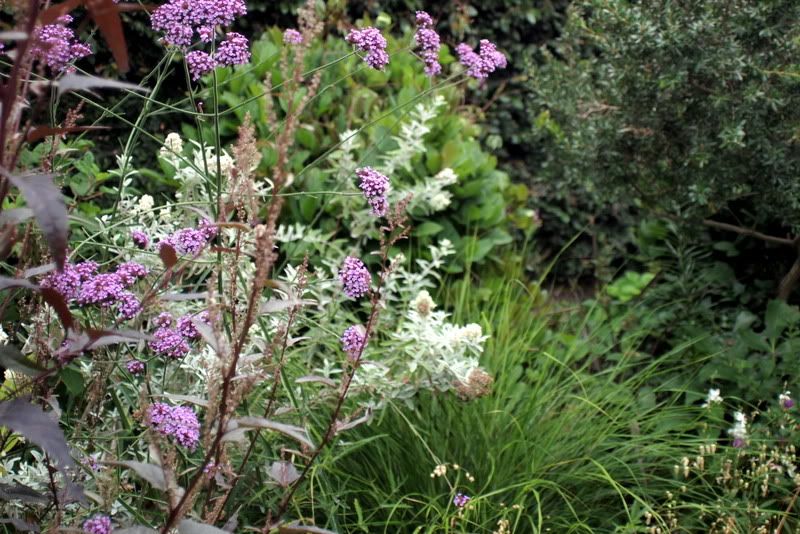 The buddleia is still working on its symmetry of form.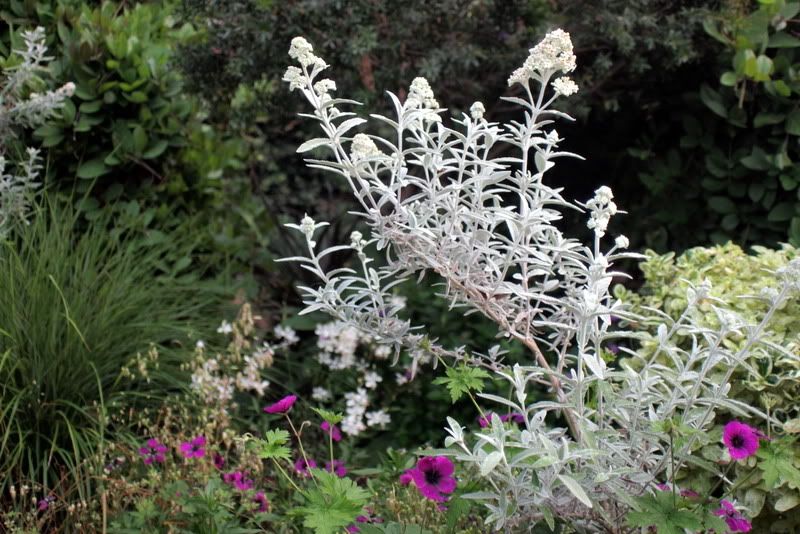 Self-sown Miracles of Peru, Mirabilis jalapa. (Sounds redundant, since the self-sown are always miracles in my book.) New plants are still popping up, so there will be guaranteed intense chartreuse/fuchsia all summer. Not for the weak of heart.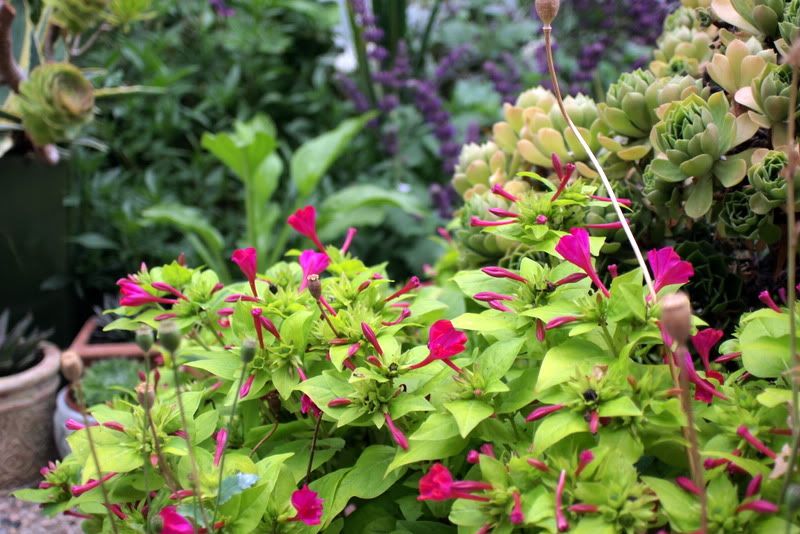 Punctuated by string of pearls, Senecio rowleyanus, the end of another Bloom Day.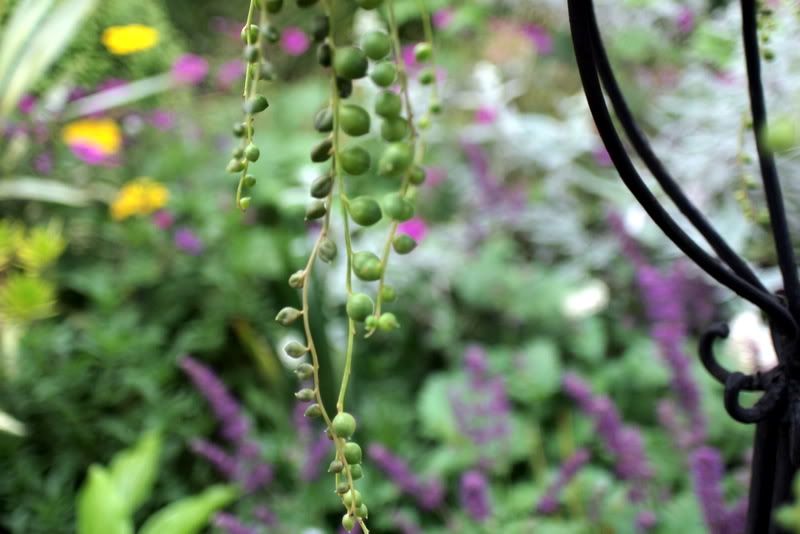 Now I'll be heading over to our Bloom Day host's site at "May Dreams Gardens to explore what's blooming in your gardens for the month of June (and I'll be taking notes for June Bloom Day 2011) and check up on Carol's ongoing garden transfiguration. Thanks again, Carol.
[And speaking of punctuation, or the lack thereof, in honor of another Bloomsday on the 16th of June, from James Joyce's Ulysses (which I really do mean to get through, ahem), the end of the book and Molly Bloom's soliloquoy:
("I was a Flower of the mountain yes when I put the rose in my hair like the Andalusian girls used or shall I wear a red yes and how he kissed me under the Moorish wall and I thought well as well him as another and then I asked him with my eyes to ask again yes and then he asked me would I yes to say yes my mountain flower and first I put my arms around him yes and drew him down to me so he could feel my breasts all perfume yes and his heart was going like mad and yes I said yes I will Yes.")
Yes, indeed. This interminable post is now nearly as long as Ulysses. Happy Bloom Day.