Leaves, leaves, extravagantly shaped, juicy leaves. It's all about the leaves with succulents. Or is it? There are a couple kalanchoes in bloom now I've been noticing around town, Kalanchoe luciae with striking vertical spires, and Kalanchoe orgyalis, with lime green candelabras hoisted over its copper spoon leaves. Subtle blooms? Maybe. But in flowering, these plants become shape shifters that present entirely new outlines in landscapes where there's no danger from frost.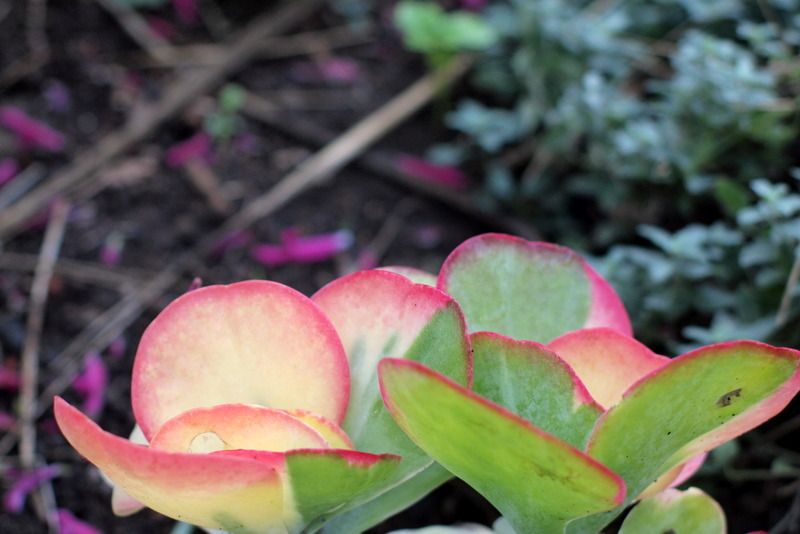 Of the two, the leaves of the flapjack kalanchoe are by far the attention grabber. You rosy-cheeked devil.
This is a selfie from my garden of Kalanchoe luciae 'Fantastic,' the variegated sport of K. luciae, but I've been noticing the flapjacks coming into bloom all over town.
The flapjack kalanchoes, K. luciae and K. thyrsiflora, are distinguished from each other by the shocking pink color rimming K. luciae when the weather turns chilly. (Chilly but not frosty.)
The bloom spires also have subtle differences. San Marcos Growers discusses the differences and shows comparative photos here.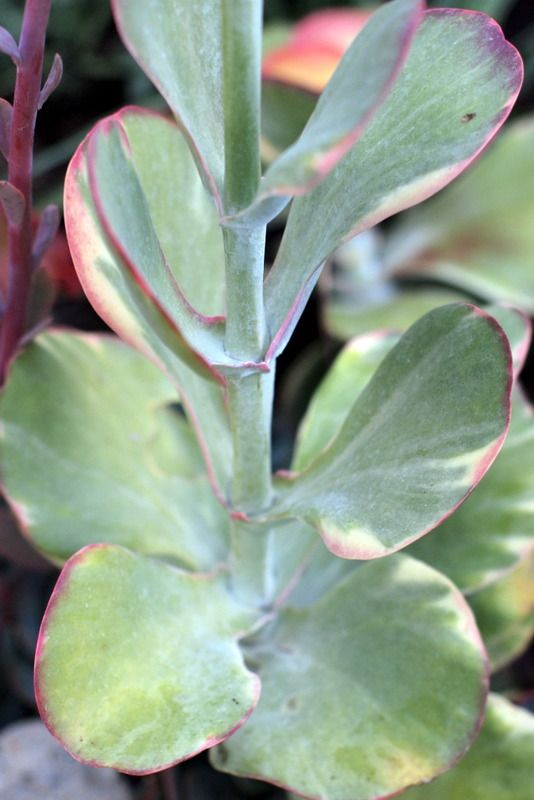 As the bloom stalk elongates, it acts like a flag pole, sending chunky, earthbound leaves aloft at intervals like pennants. Or flying flapjacks.
Either way, it's a very different look for this succulent, turning the plant into a tiered, fleshy pagoda.
The solitary spire in my garden. Mature clumps are the most striking, with multiple spires.
The variegated 'Fantastic' is so new in nurseries, I wasn't sure what to expect as far as blooms.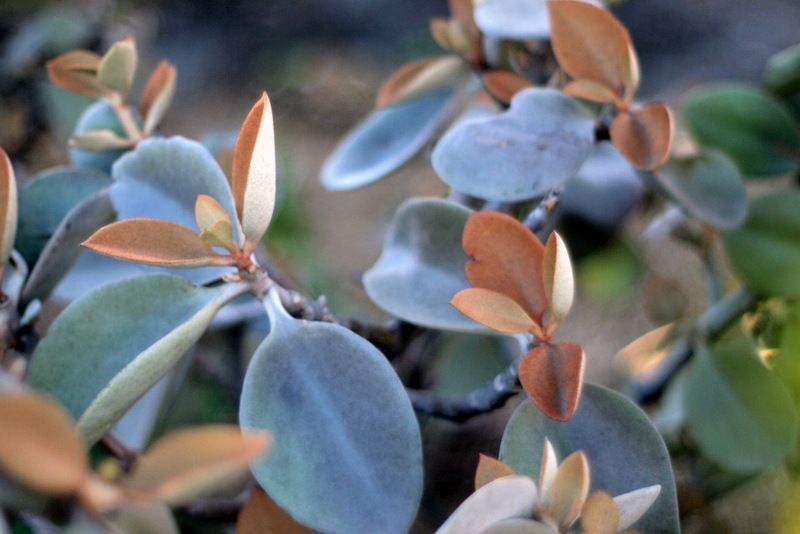 As far as the Copper Spoons plant, Kalanchoe orgyalis, I've passed this shrubby succulent up for sale countless times.
I've always admired the fuzzy, cinnamon-colored leaves and the two-tone effect, but throw in some finely drawn, chartreuse floral architecture and now you have my undivided attention.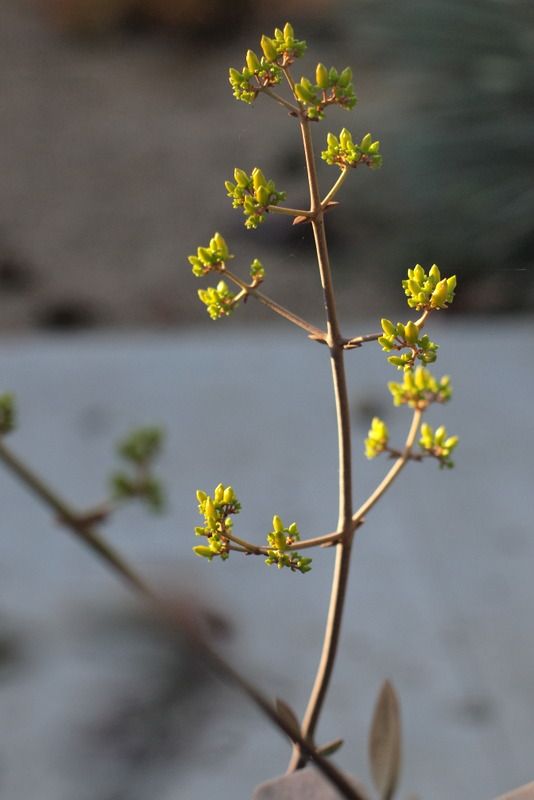 The Copper Spoons kalanchoe was mass-planted under a magnolia in a parkway/hell strip. I'd never seen mature specimens of this succulent before, just a couple leaves in 2-inch pots.
I have nothing but admiration for the designer who made the commitment to repeat multiples of this succulent under the magnolia. Maybe it wasn't as difficult a decision for them as it would be for me, but that simple gesture really sold me on this otherwise almost nondescript plant. Thank goodness we're not all rabid plant collectors. Though I did note a few aeonium and some newly emerging bulb foliage. It's so hard to resist complicating things, isn't it?
Almost any succulent can be grown as a single, spectacular specimen. The Copper Spoons succulent really shines when planted en masse.
I did admit the blooms were subtle. After all, what initially drew my attention to this little hell strip was not the kalanchoe.