The Smog Shoppe, a special event venue in Culver City owned by Woolly Pocket creator Miguel Nelson, famously deployed the pockets on its cinder-block facade in 2009, which has since been regularly reported on by local media and blogs. I'd previously only seen Woolly Pockets at garden shows, with always more pocket than plant visible, and filed the product away as a novelty for the garden deprived. Green walls have only gained momentum since 2009, and are famously curtaining the buildings in many cities around the world, with spectacular examples in the city state of Singapore, which has dubbed itself the Garden City, but these are highly engineered, soil-less, hydroponic affairs. (And why wouldn't Singapore take advantage of their approx. 2,300 inches of rainfall a year? I'd love to some day take a "rain" vacation there.) The modular, soil-based Woolly Pockets I remembered from garden shows were targeting interiors and exteriors of homes and small offices, the DIY version of green walls. How were the Woollys faring in arid Los Angeles? With admittedly low expectations, traveling through Culver City on La Cienega Boulevard enroute to the Pacific Design Center back in March, as I drove by The Smog Shoppe, I was taken aback at the five-year-old plantings, with nary an edge of Woolly Pocket in sight, just undulating greenery.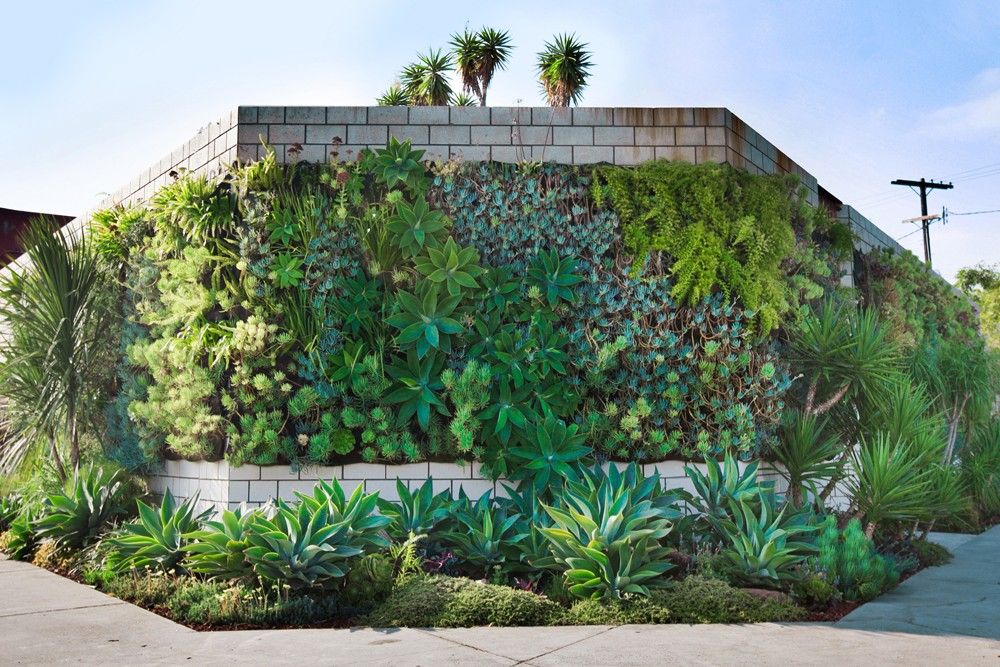 Above photo from the Woolly Pockets website. I didn't dare risk stepping into La Cienega's brutal traffic. The linear band of plants dramatically envelopes the corner-lot building on the three street-facing sides, linked to the ground plane by many similar plants in the narrow border below. These WPs have no reservoir, so plants in the ground benefit from the runoff.
With the plantings mature, this little corner in Culver City has the exotic air of a lost Mesoamerican jungle temple. A neatly maintained lost temple.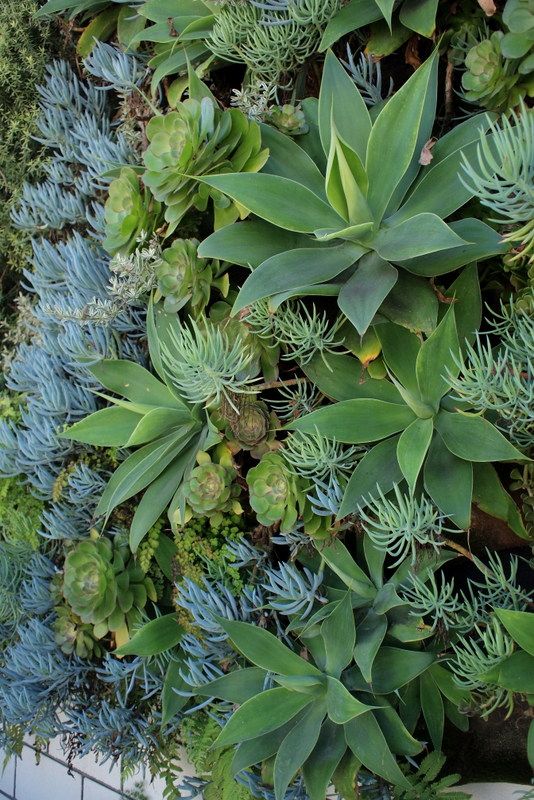 And what a surprise to see the big, fleshy rosettes of Agave attenuata both in the ground and on the wall.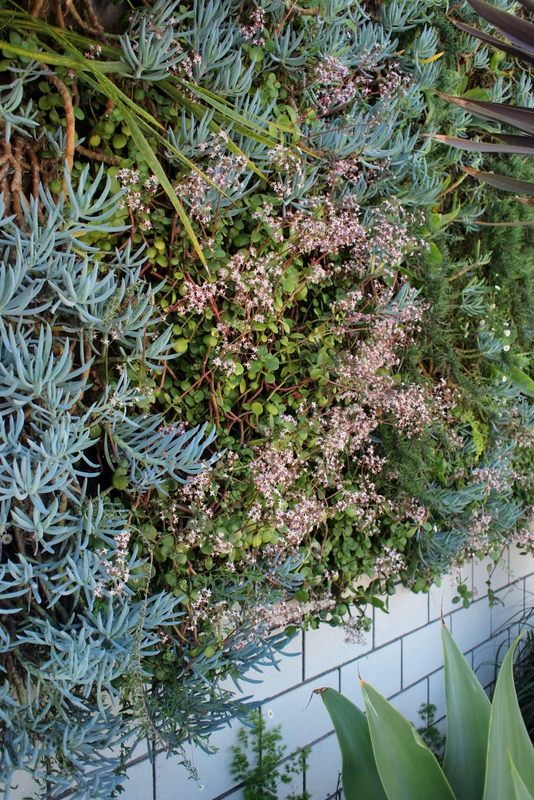 The pink foamy flowers I believe are Crassula multicava, which reseeds like mad and doesn't mind shade on the northern exposure. The blue succulent is Senecio mandraliscae.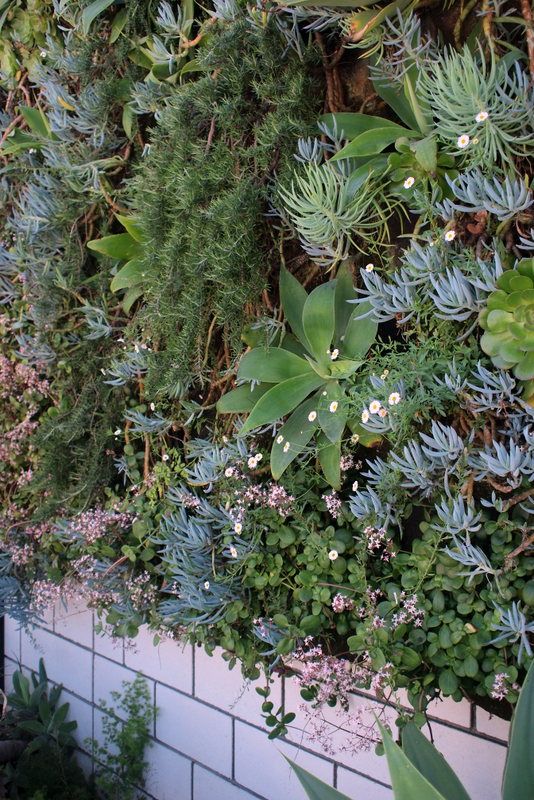 Aeoniums, Agave attenuata, Senecio vitalis, Erigeron karvinskianus, and possibly rosemary too. The naturalistic blue-green palette would take on an entirely different character if, for example, deep burgundy or variegated 'Sunburst' aeoniums were used, or the chartreuse and variegated forms of Agave attenuata. On such a broad wall, the visual flow would be jumpy and interrupted.
Senecio vitalis is dominant in this photo. Drip irrigation is used on big projects like The Smog Shoppe.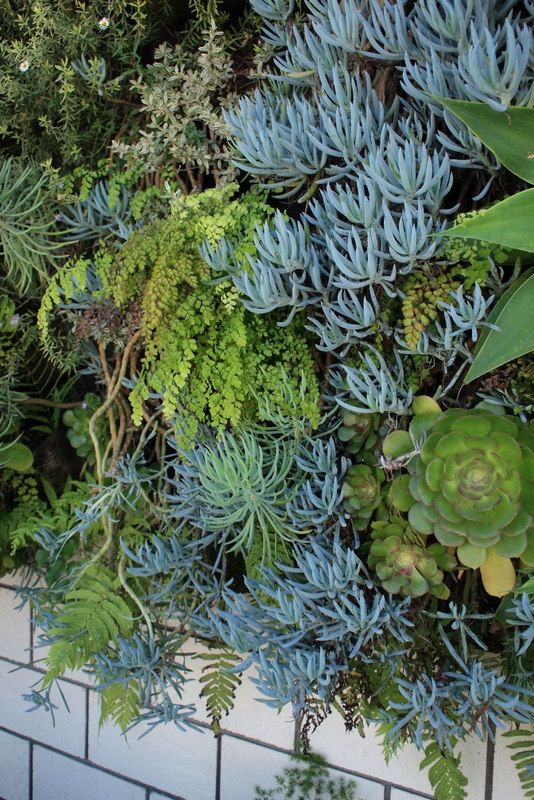 Even maidenhair ferns were mixing it up with the succulents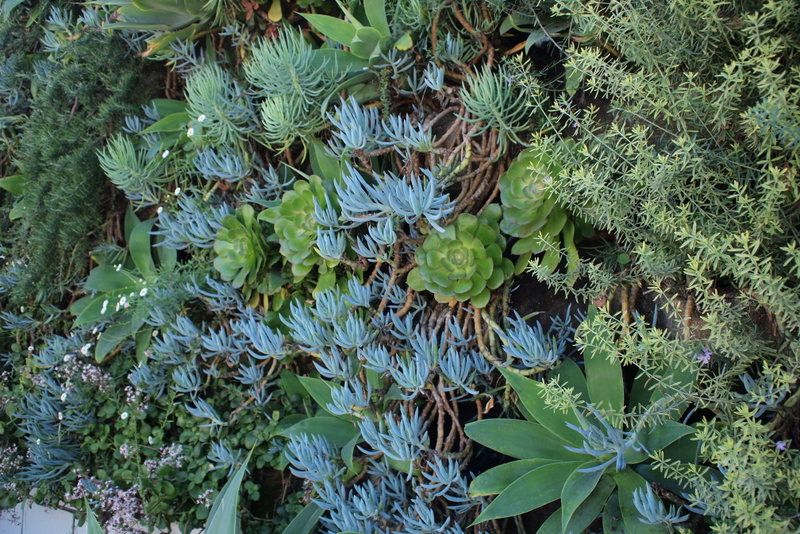 I subsequently contacted Woolly Pockets with some basic upkeep questions regarding the plantings at The Smog Shoppe.
"We have a team of professionals that maintain our gardens twice per month. Our plants our thriving which means they need a bit of maintenance to trim them back. There's a lot of growth! Trimming them back is our biggest challenge. Also it took some trial and error initially selecting the right plants since our interior exterior living wall is over 120ft x 15ft and faces north south east and west! Basically, we had to determine different plant mixes for 4 different aspects of the wall which also shift slightly depending on the season."
Gina Goesse, Customer Service, Woolly Pockets, also confirmed that these are the original Woollys from 2009.
And out to dinner with my mom this week, a new restaurant on Pine Avenue in downtown Long Beach was swagging their doorway with what looked like Woolly Pockets.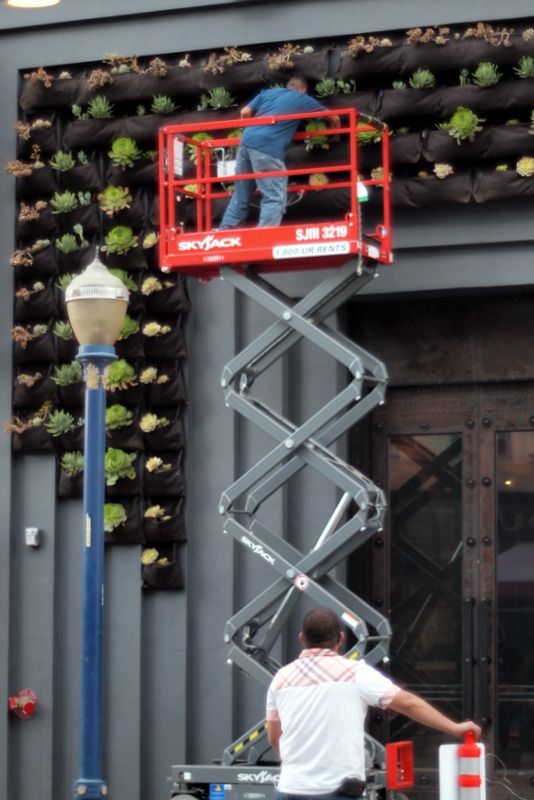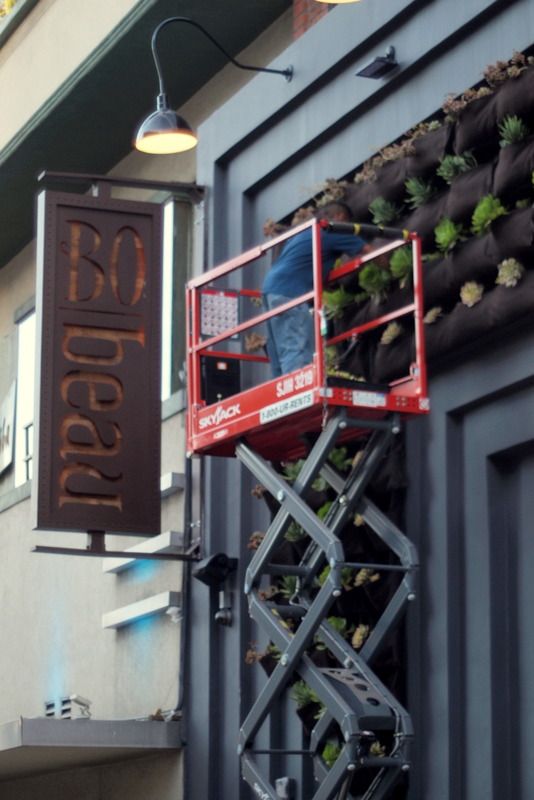 In this installation, there seems to be emphasis on the pockets themselves as living drapery, accentuating the architectural lines of the facade. Many of these plants, such as aeoniums, have no trailing capabilities, and are instead geometrically spaced at rhythmic intervals.
Woolly Pockets were also featured recently in an interior in Apartment Therapy
This might be my favorite, and what really has me convinced that the Woollys have left novelty behind and are all "grown up," the "Wally One" in camel in Mad Men actor Vincent Kartheiser's Hollywood home, as seen in Dwell.
At Ramekin's in Los Feliz, from Woolly Pocket's blog.
It's pretty obvious that my dated view of Woolly Pockets hasn't kept pace as this business adds new products and customers continue to engage and innovate with the Woollys. Why, if our concrete wall wasn't already shrouded in creeping fig…