Bloom Day on Father's Day? Really? I figured this out about 7 o'clock last night, but by then I was too sun-blasted to muster a post. Marty wanted his day spent at a local Irish fair. Guinness and "trad" music for him, Irish wolfhounds and sheep herding displays for me. Running late, on to my experiments with herbaceous stuff for a dryish zone 10 Southern California garden. A counter-intuitive direction in the land of palms, agapanthus, and bougainvillea but for now my idea of summer.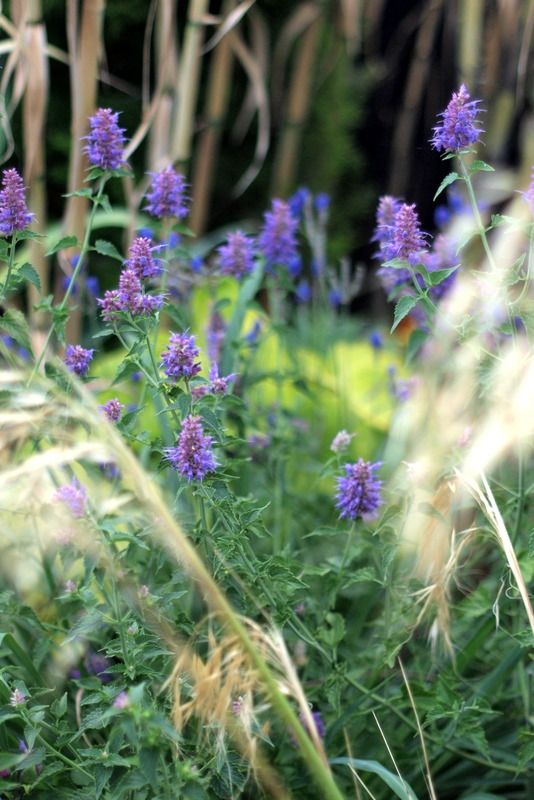 June brought the agastaches. Dark blue in the background is Lavandula multifida.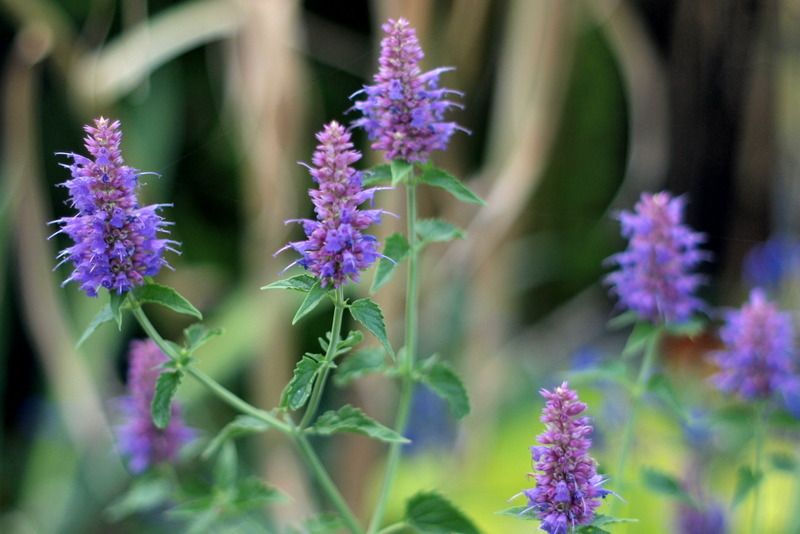 Agastache 'Blue Blazes' planted last fall 2013
So now the blue spikes of Plectranthus neochilus have been joined by agastache to make quite an unplanned wash of blue in the corner under the Acacia baileyana 'Purpurea.'
No complaint from me. A corner of blue isn't a bad thing on a warm day. The lavender and catmint 'Walker's Low' is here too.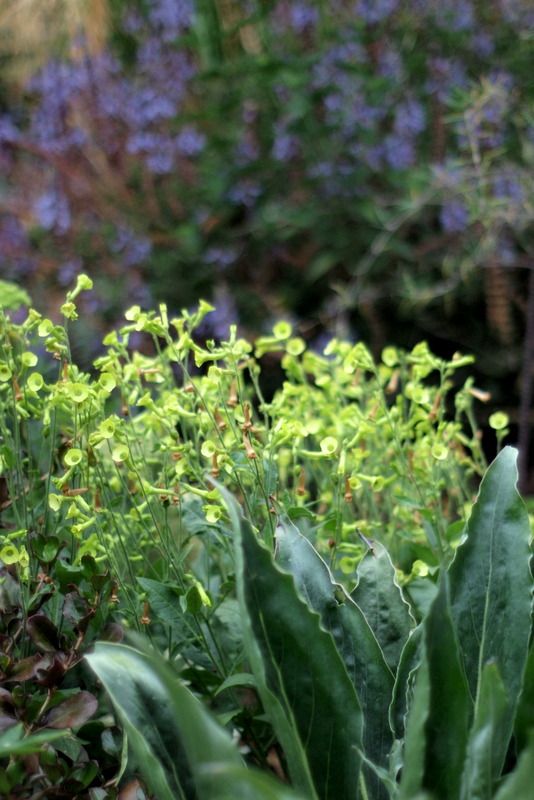 Self-sown nicotiana with the plectranthus, leaves of Echium simplex in the foreground.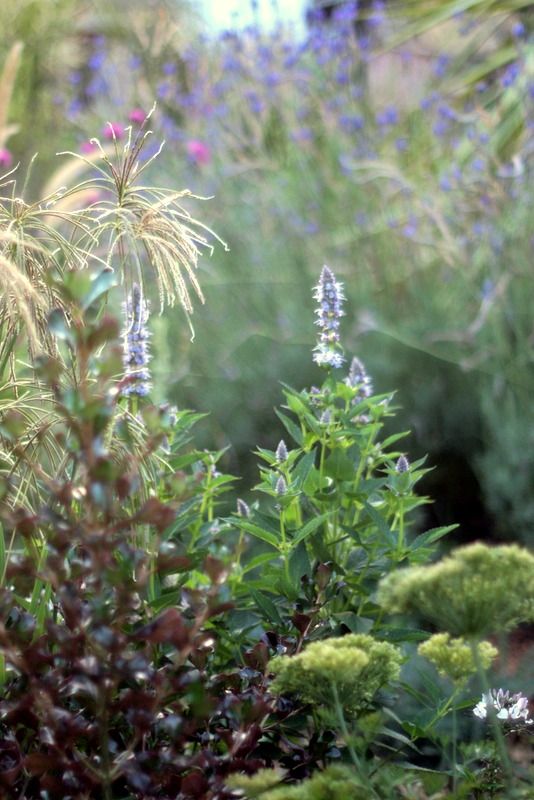 Agastache 'Blue Fortune' is a pale, milky blue. Maybe a little insipid compared to some of the darker blues like Agastache 'Purple Haze,' which I neglected to photograph. But BF has an admirable chunky structure and wonderful leaves. Umbels of Baltic parsley in the lower right.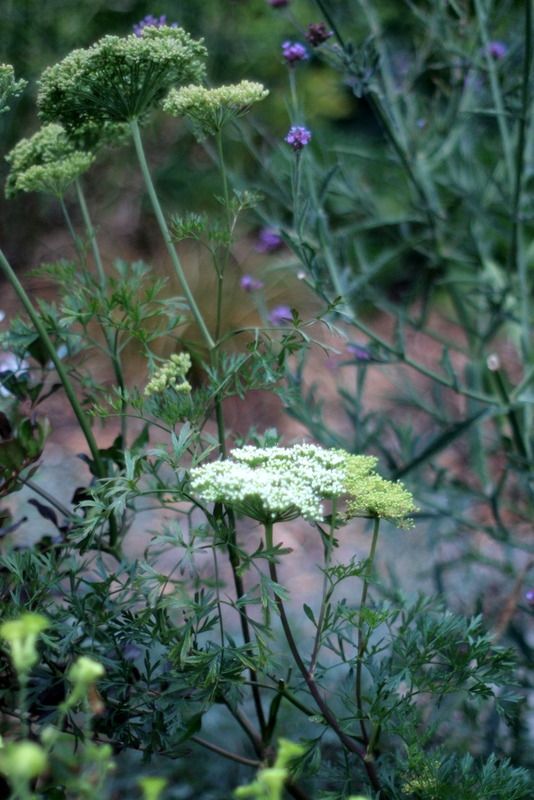 Cenolophium denudatum, the Baltic parsley, was started from seed a couple years ago. I think it would be happier in a wetter garden. Stays green and lush but not many flowers.
Maybe I should try it in soups.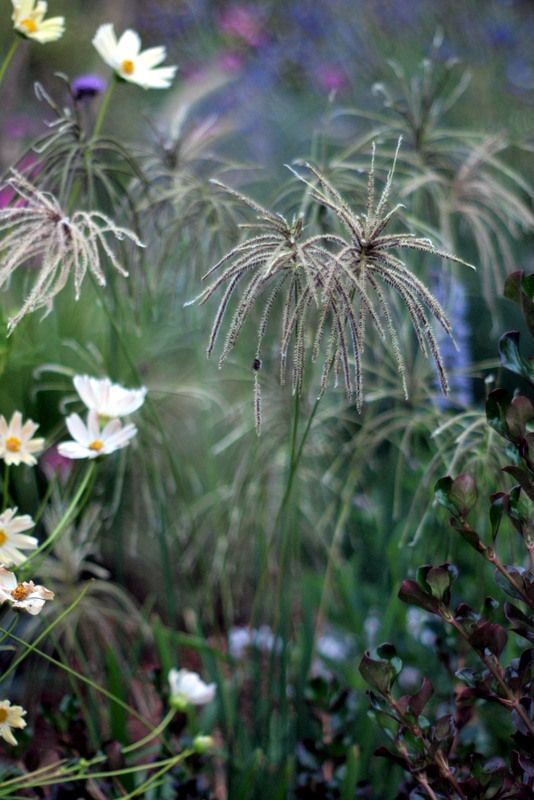 I lifted and split the enormous clump of the grass Chloris virgata and started with smaller divisions last fall. It thickens up fast and does self-sow so no danger in losing it.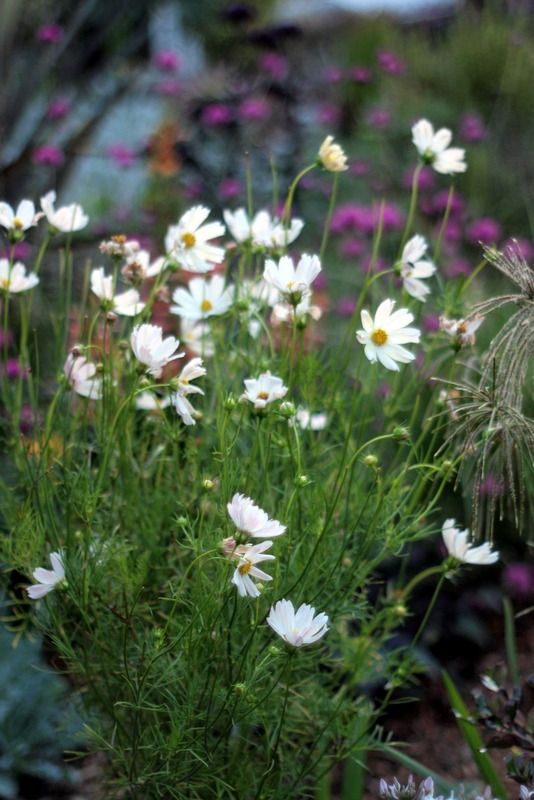 In a small garden, a large pot of cosmos makes for a summer full of daisies. This one has a faint halo of yellow. Cosmos 'Yellow Garden'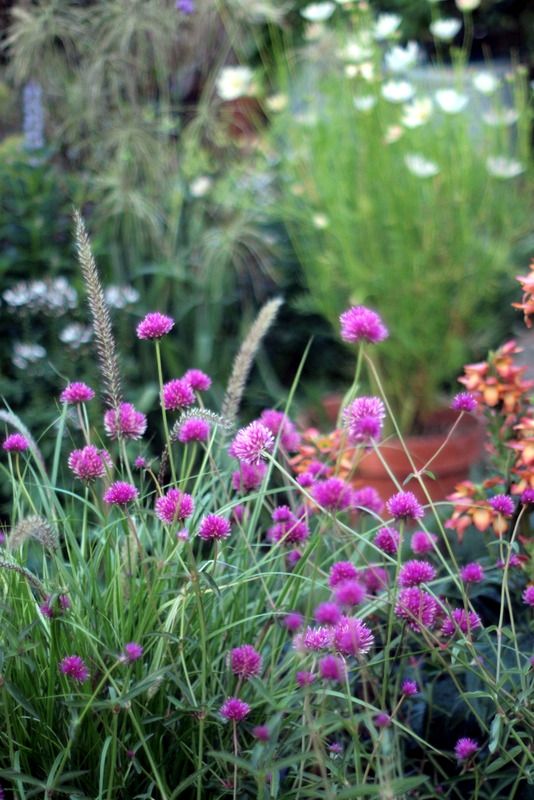 Pot of cosmos in the background. Gomphrena 'Fireworks' and digiplexis. There's some white cleome in here too I didn't photograph. For animating a dry summer garden with just two kinds of plants, it'd be hard to beat this gomphrena with grasses.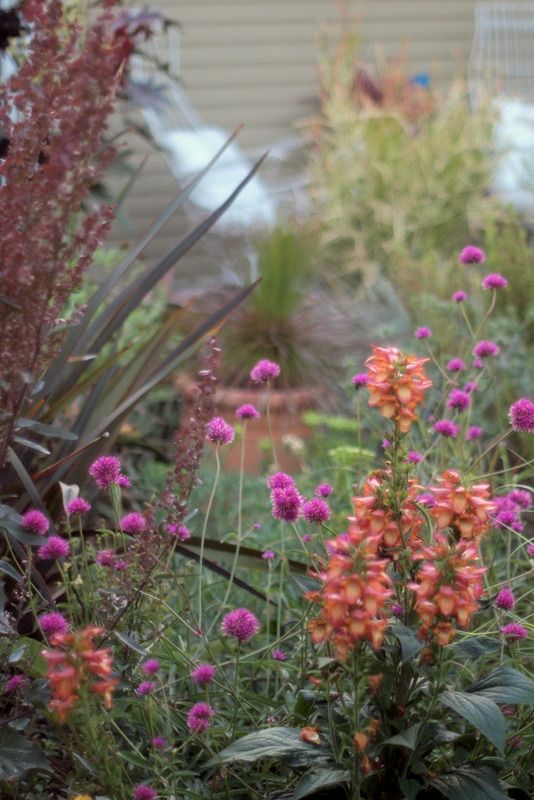 Purple orach on the left.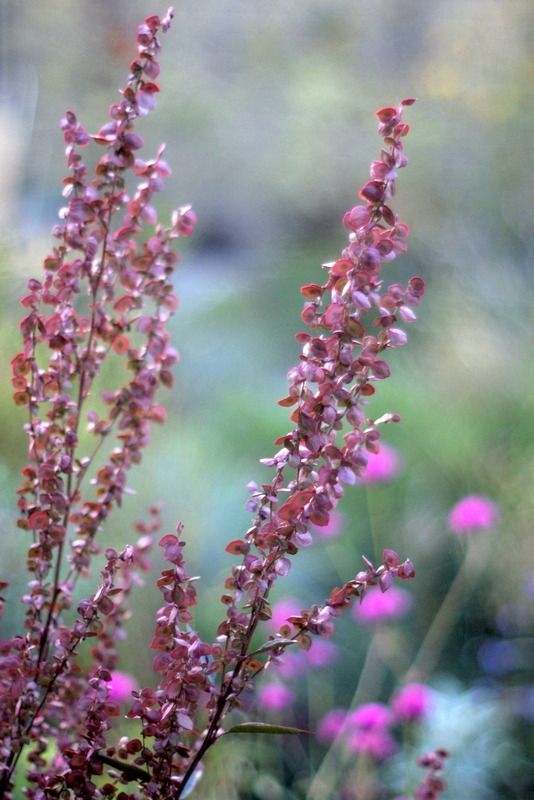 Seedheads of purple orach, Atriplex hortensis. Wish it did more than very lightly self-sow. The edible orach would no doubt be happier in the rich, moist soil of a vegetable garden. I once grew a fantastic chartreuse form too but couldn't get it to reseed. The lower leaves are fed to the parakeets.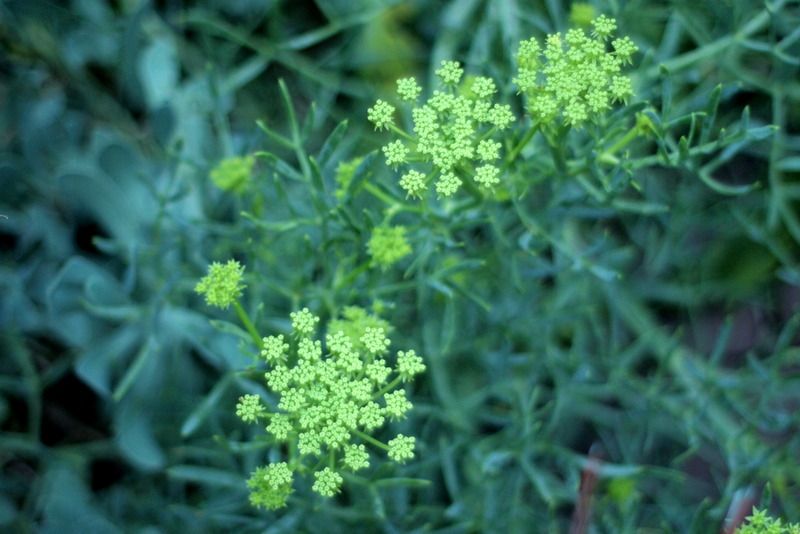 The best umbellifer I've found for dry zone 10 is Crithmum maritimum.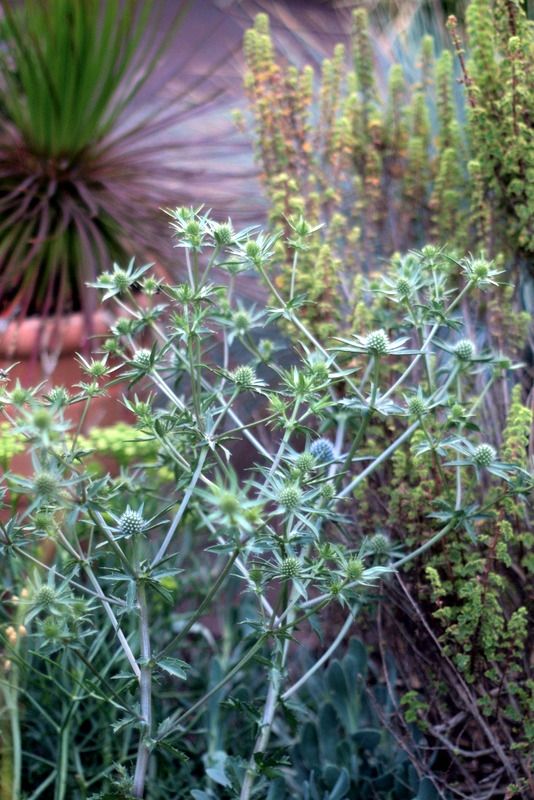 I love the crithmum growing among Eryngium planum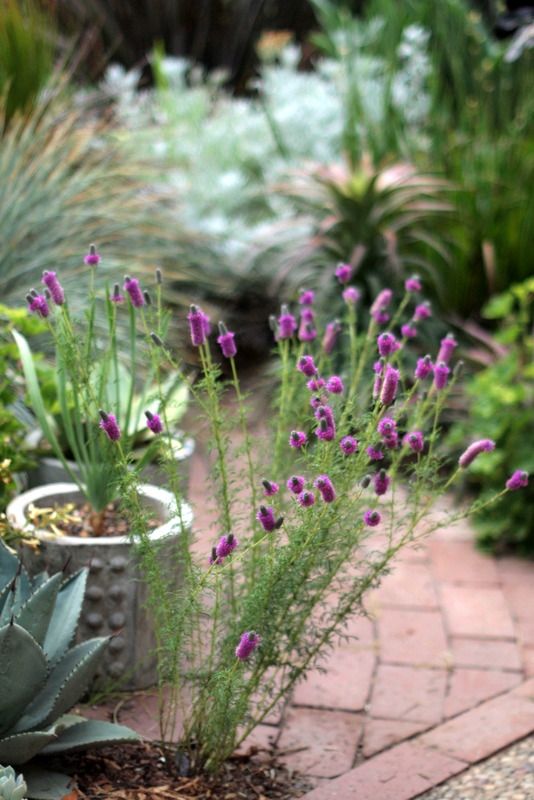 Dalea purpurea's first year has been very impressive.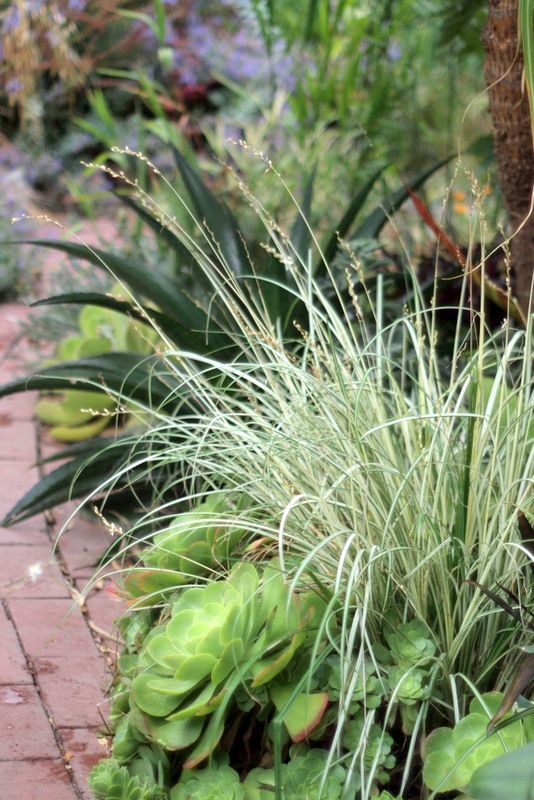 Tiny blooms on the grass-like Anthericum saundersiae 'Variegata' which thrives in the morning sun/afternoon shade in very dry soil under the tetrapanax with bromeliads and aeoniums.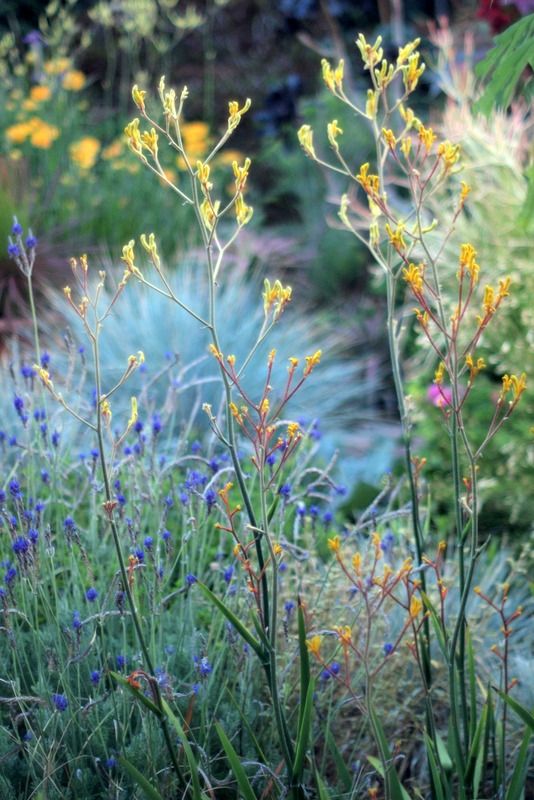 The kangaroo paws don't seem as tall this year. Not long-lived anyway, the lack of winter rain may have contributed to smaller size. ('Yellow Gem') More fern-leaf lavender, with Gaillardia 'Oranges & Lemons' in the background.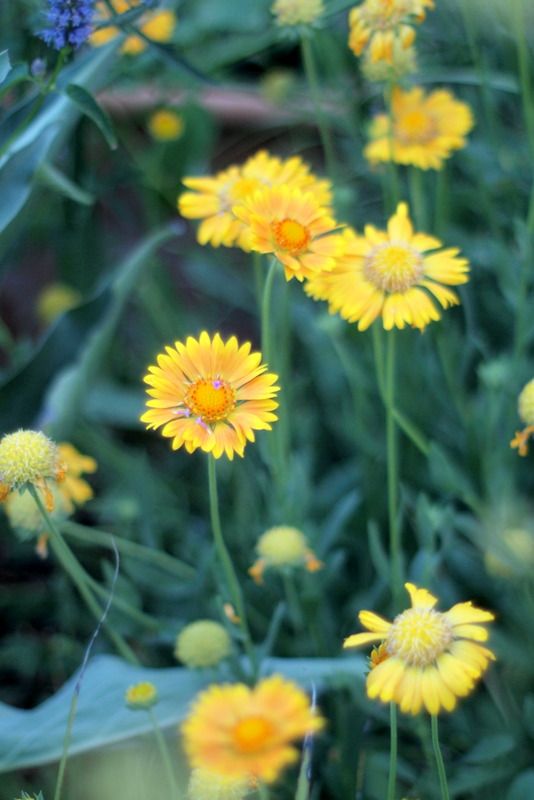 My garden is really too small for big clumps of rudbeckias, too dry for heleniums. Gaillardias are just right. This one is sunshine on stems.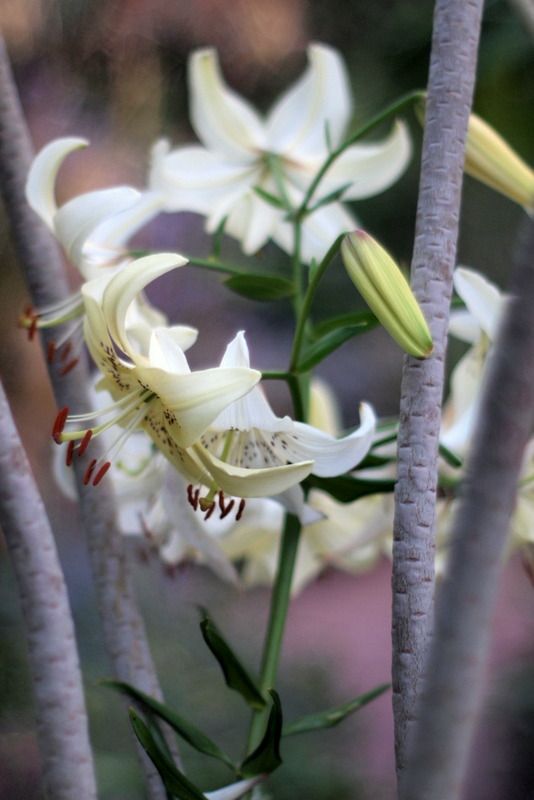 Out of three pots of lilies, only the white returned in spring, supported here by the trunk of Euphorbia lambii.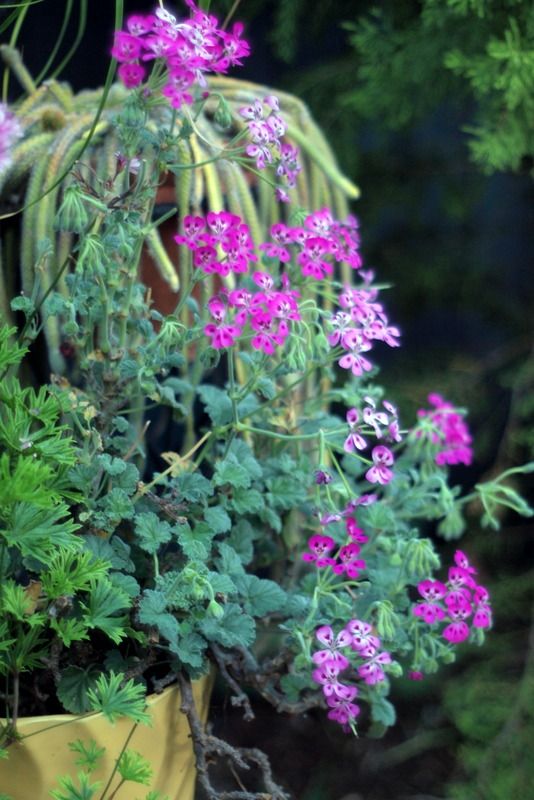 Pelargonium echinatum has started a new flush of bloom in the mild June weather.
Catch up with other June gardens at May Dreams Gardens.