Future shock for me has arrived in the guise of an orange wristband.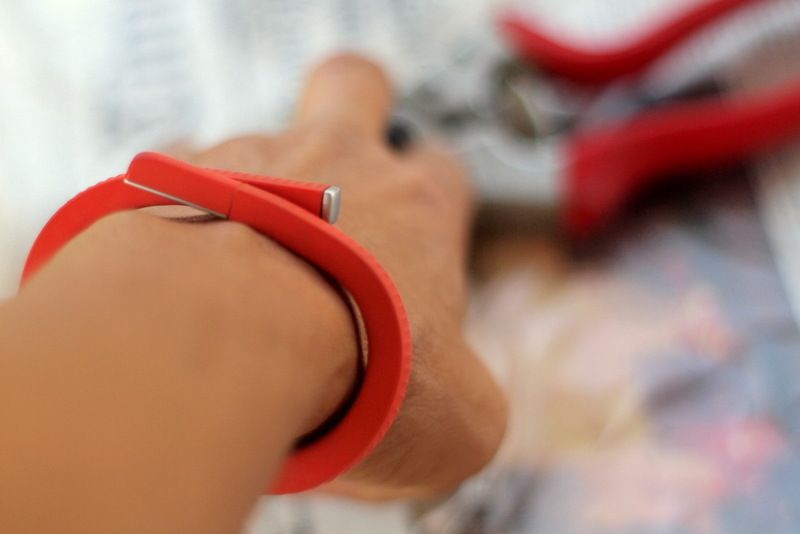 "Congratulations! You moved 24,995 steps, 12.07 miles, 249% of goal!" Jawbone's UP pedometer calculates all that aimless garden puttering and tallies up some surprising stats. My orange UP came as a side benefit to Father's Day, when Marty was presented with a twin set of wristbands, black for him, orange for me. As someone with zero interest in gizmos and in constant war with remote controls, someone who still hasn't learned all the intricacies of a smart phone, the pedometer function of the wristband has already become addictive. Every day feels so much more productive, and there's no more remorse for not "getting out and exercising." It also knows how many times you woke up in the night (last night only once, but I don't remember doing so), and it logged that near all-nighter I had at the computer last week when I clocked under 3 hours' sleep on Tuesday. After wearing it only a few days and already finding its data stream astonishing, a real Star Trek moment come true, I checked out some Internet reviews. Quite a few claim it isn't long-lived and breaks down after a few months. We'll see if there's some merit to these reviews or if it's just trolling from competitors. By the way, those stats were yesterday's, which included a 4-mile walk to dinner and a movie, but the bulk of those steps were logged at home, in the "compound." I call that power puttering.
A lot of those steps were logged checking on the progress of Musschia wollastonii, which at last looks to be thinking about blooming. The perfect exposure in summer turned out to be on the north side of the house, under the triangle palm, morning dappled sun, afternoon shade. This spot was no good in winter, being in deep shade until spring. Speaking of the triangle palm, Dypsis decaryi, I've been thinking about attempting to climb a Philodendron melanochrysum up its trunk, image here, with that amazingly elongated "drip tip." So far Logee's is the only source, and shipping would be crazy expensive. Cissus discolor is another possibility, also only available via mail order.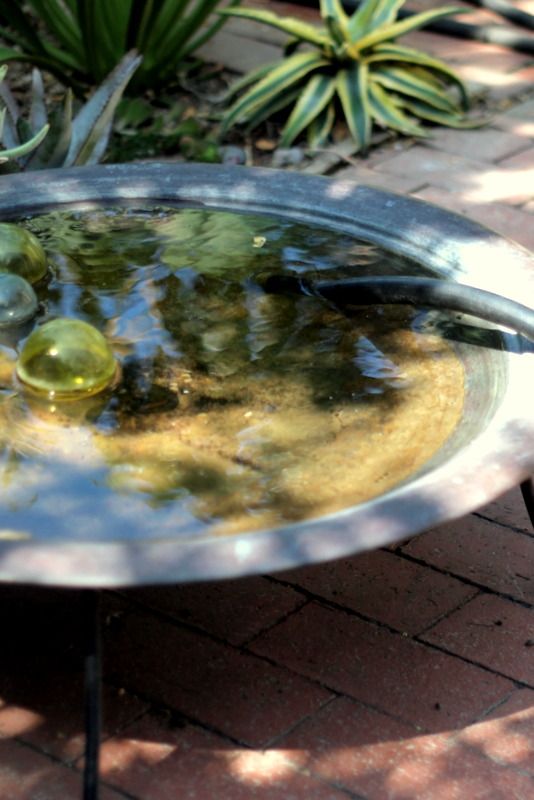 Lots of steps were logged to and from the watering basin, where I can quickly dip pitchers without having to wait for them to be filled up by the hose and there's less waste. Containers are scattered throughout, with seedlings and cuttings way in the back. It's basically a hand-watered operation here, with containers and plantings under a year old needing frequent attention. And since I change things up all the time, there's lots in the year-old category. I'm hoping the seedlings of Hibiscus trionum for planting out late summer will survive the visit to Portland this coming July 11. Nothing makes me feel more like an obsessive lunatic than explaining how to care for the garden during a summer absence. This solar-powered soil sensor I read about in The New York Times ("Planting for Profit, and Greater Good," June 7, 2014) would make things a lot easier on anyone volunteering for the thankless job of vacation garden duty.
Other plants I'll be worried about while at the bloggers' meetup are newly potted cuttings of Brillantaisia subulugurica, a plant I'd never heard of until a couple weeks ago. I was handing out fliers on Dustin's plant sale at the local community college horticultural department, which was a debacle since it had already closed for summer. But heading back to the car, hoping the fruitless mission wouldn't be further compounded by a parking ticket, I noticed a mass of blue climbing the chain link fence at the end of the parking lot. Too late for sweet peas, too early for late-season salvias, what could it be? In dusty dry soil, full sun, covered in enormous, comically exaggerated, salvia-esque blooms, with the distinctive lower lip pout, opposite leaves, square stems, but unlike any salvia I'd ever read about or seen. I grabbed some cuttings jutting through the fence and did some Internet research when I got home. Voila, Brillantaisia subulugurica. All the excitement of a plant hunting expedition without the bad food and sore feet. It rooted amazingly fast in water. I need to go back for photos.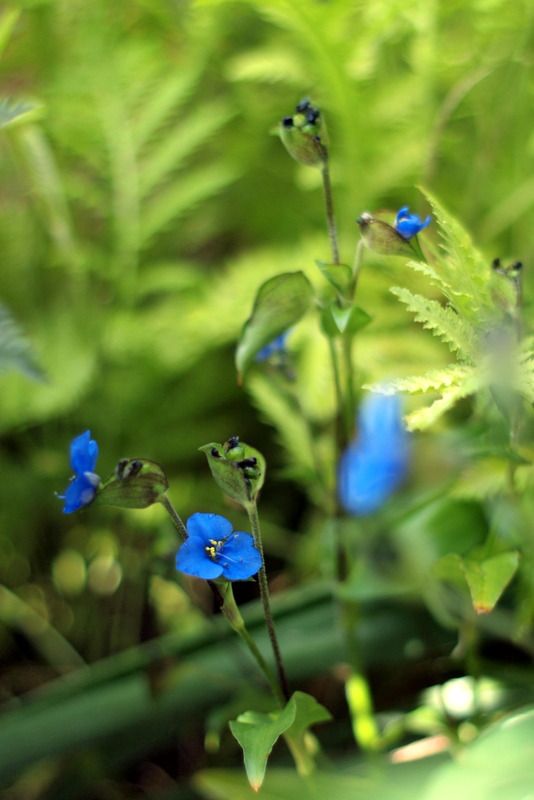 Commelina coelestis
More new things to water. I took a flying leap at this little powerhouse factory of deepest blue, Commelina coelestis, hoping it makes a big clump here with the gold-leaved tansy 'Isla Gold.'
Locally from Annie's Annuals & Perennials. And then I wonder why there's so much blue in the garden this summer.
"Jennifer van der Fluit waters the succulent fence in the front yard of her Long Beach home."
An update on the "fedge," a living fence I blogged about here in 2010, appeared recently in The Los Angeles Times in this click-through photo gallery "DIY succulents: Tips for decorating with drought-tolerant plants." (I'd get current photos myself but I've lost the address.) I've found that articles from paywall-protected sites can be read if the title of the article is copy-and-pasted into a search engine.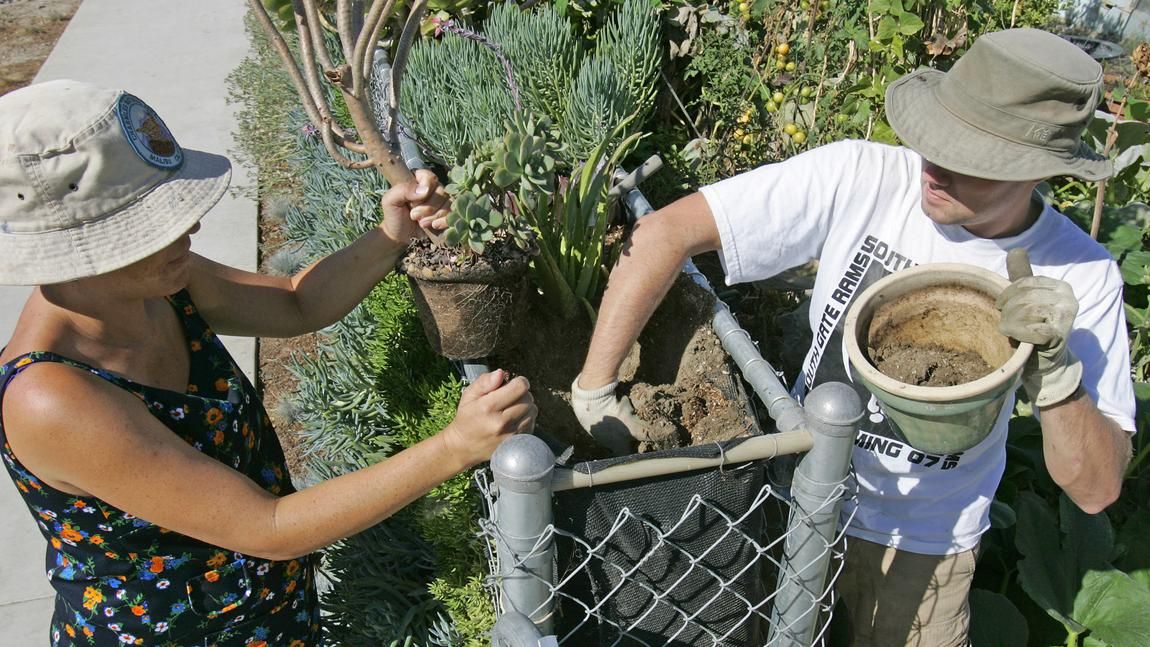 "Jennifer and Appie van der Fluit plant succulents in their 30-foot-long, 4-foot-tall chain-link fence, with a 1-foot-wide channel in between filled with soil."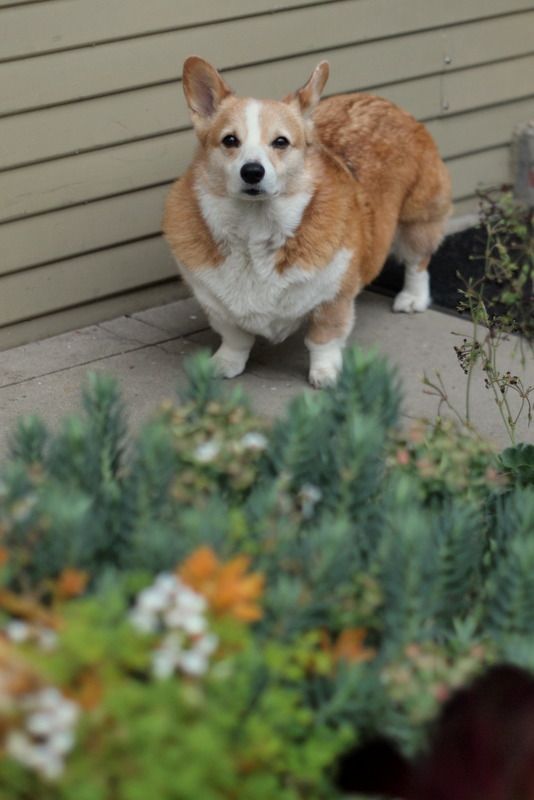 If you're looking for some weekend reading, The New Yorker did some great reporting on the new direction The Nature Conservancy is taking, such as partnering with corporations like Dow Chemical in an "eco-pragmatic" spirit ("Green is Good" by D.T. Max, full article available to subscribers.) Featured in the piece was Mark Tercek, formerly of Goldman Sachs and now heading up TNC. He writes about the article in a blog post here, which I haven't fully read yet but the comment section looks explosive. As long-time donors to the TNC, we've been arguing over discussing this article at home. Somehow a photo of Ein seems appropriate here, who does such a good job taking care of us.
And lastly, there's a Cactus & Succulent Sale and Show at the Huntington beginning this coming weekend, June 28, 2014.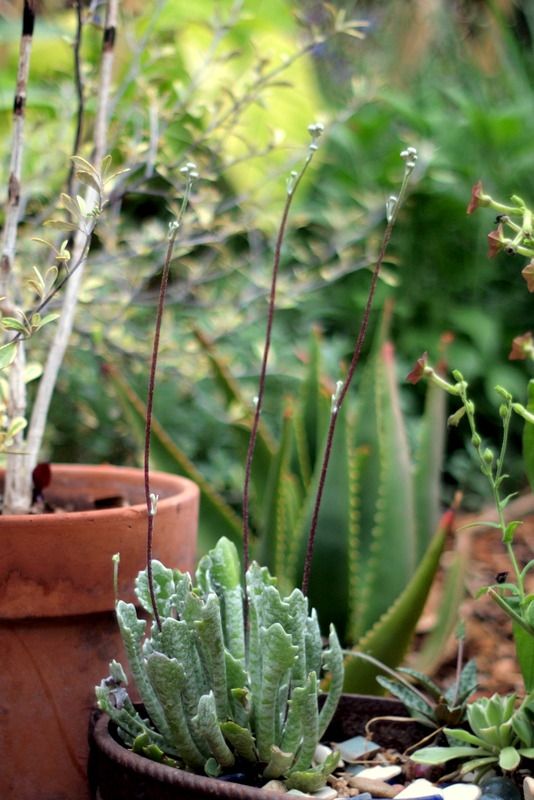 Such sales are where I pick up succulents like this one about to bloom. I lost the tag, but it's possibly Senecio scaposus v. addoensis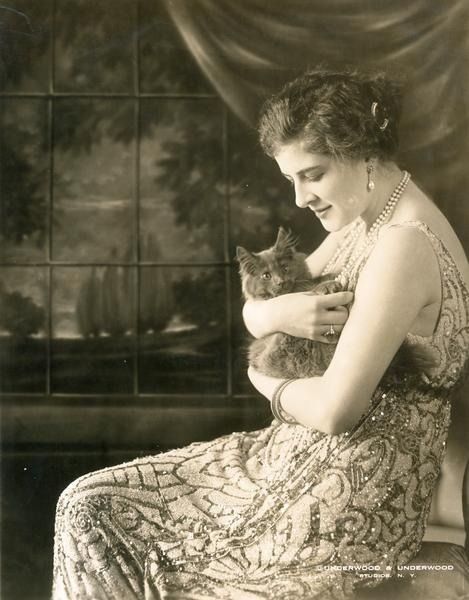 I'll end with a photo of Ganna Walska in a Gatsby getup, cradling a crazed-looking cat. I bet she'd drive down from Lotusland for the Huntington's upcoming plant sale this weekend.
(P.S. Timber Press is running a Hellstrip Contest to celebrate the release of "Hellstrip Gardening" by Evelyn Hadden. $250 is up for grabs. Contest ends July 6, 2014.)