I've been going over the monthly water bills, which this year give usage in 100-cubic feet per month instead of gallons per day. Beyond exasperated with the inscrutable tables and tiers on July's bill, I made my very first cranky call to a public utility yesterday. Why, in the name of all that's sensible, and in the midst of this horrific drought, have you stopped listing water usage in helpful and easy-to-comprehend gallons per day? I had known exactly where I stood each month of 2013 by checking the daily gallon usage under the heading "Evaluate Your Conservation Efforts," and it became a game to see how low we could go. (And not to boast — well, forget it, I am going to boast: Our water usage has always clocked in at well below average.) On the phone, I tried not to sound shrill, aiming for Friendly But Concerned Citizen, but I could sense the voice on the other end was taking my inquiry in the spirit of Oh, great, my first wild-eyed crazy caller of the day and it's still two hours until lunch. I was left waiting for maybe 3-4 minutes, which pre-Internet might have been an effective ploy to tire us out. Not so much anymore. (Someone had mentioned Lawn Chair Larry earlier in the week, which drew a blank, so that was four minutes productively spent learning about the modern-day Da Vinci of San Pedro, Calif.) She eventually came back on the line and was ready to walk me through the numbers. "A cubic foot of water is 748 gallons…" She started out strong but immediately sputtered out, sounding as wobbly as I am with math. Yes, I know. That formula is in tiny print on the back of the bill, but what about this tier usage? There's several numbers. Which do I use? At this point it was clear I was guilty of torturing an innocent bureaucrat, so I asked for the Suggestions Department. She suppressed a snicker and then gleefully kicked my can down the road to the "Suggestions Department" (probably someone she was mad at that day), where I left an impassioned voice mail to help us deal with this ferocious drought by sending a bill we can easily read, calculator not required. That's probably been replayed several times by the "Suggestion Department" for a good laugh.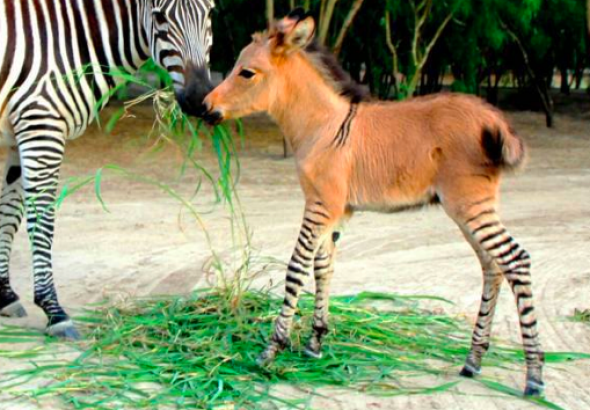 photo of zonkey found here

Leaving the water department and on to fresh mysteries, like the mangave in my garden. Mangaves are the zonkeys of the succulent world, intergeneric hybrids between manfredas and agaves. (Save up
zonkey
research for your next phone complaint.) It's an offset from a mangave
Dustin Gimbel
bought at a Riverside plant sale. Not 'Macho Mocha," which from what I can tell from photos has a wavier, almost flabby leaf and is overall a bit more relaxed in form. "Macho Mocha' is thought to be a manfreda hybrid with Agave mitis (nee celsii) This mystery mangave has a thinner leaf and that snap-to, at-attention look of an Agave desmettiana. It might have more color in full-day sun. It gets only morning sun here, afternoon shade under the tetrapanax. At 28 inches in height and 34 inches across, it's many times the size of Mangave 'Bloodspot' in bloom in the front garden, which is about as large as an Echeveria agavoides.
For scale, shown with Agave 'Blue Flame' in the foreground.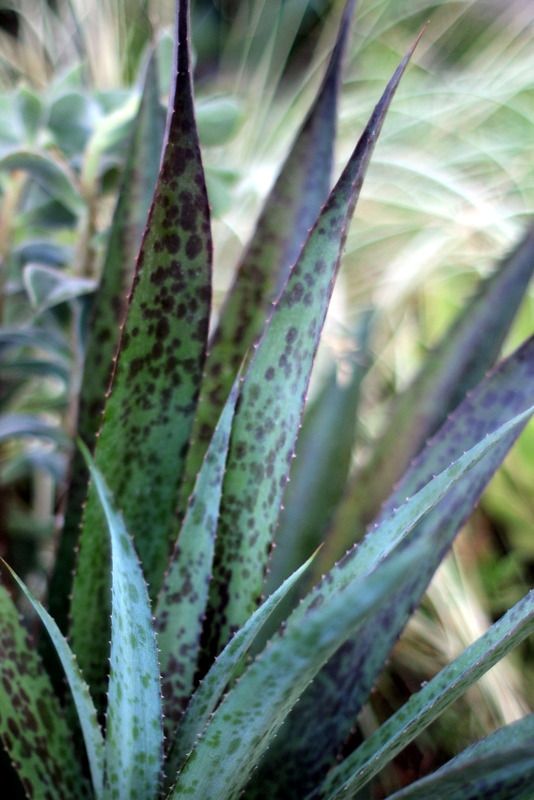 New leaves are typically spotted, which fades on the older leaves. Very small teeth on the margins.
I need to try some of its many pups in full sun, but attempting to remove a pup seems to destabilize the whole plant, so I've been reluctant to force the issue.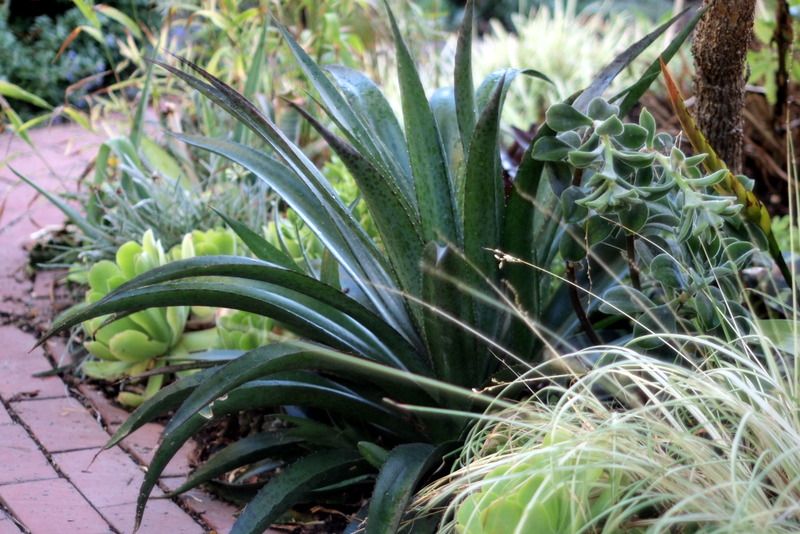 That this mystery mangave has turned into such a big presence in the garden has been a nice surprise.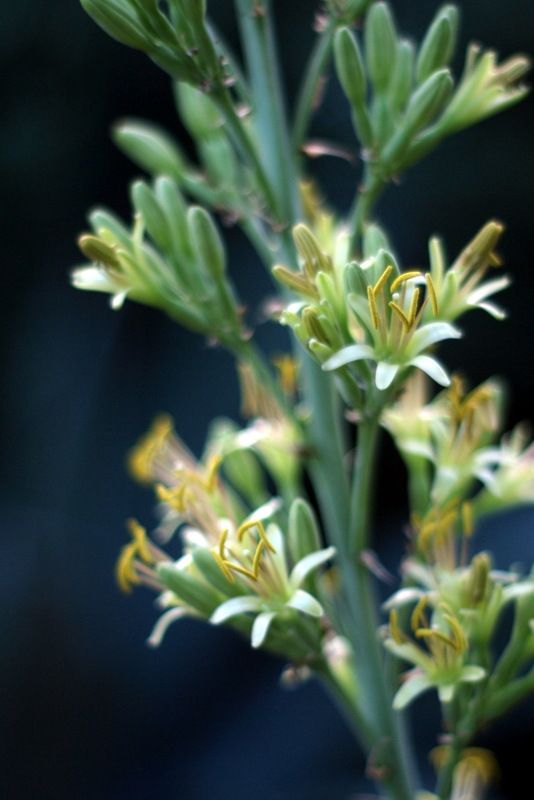 In the front garden under the triangle palm, the Mangave 'Bloodspot' is in delicate bloom, which is where its manfreda/tuberose heritage becomes most apparent.
And whether expressed in teaspoons, gallons, or cubic feet, mangaves, manfredas, and agaves are all very easy on the water bill.